We've been breaking down our list of 16 classic fashion icons everyone should know. Last week, we covered Janis Joplin, the soulful singer with a wardrobe as iconic as her voice.
This week, we're going all the way back to the 1920s (think flappers, Gatsby, and jazz!) because it's all about someone outrageous, provocative, and completely ahead of her time—Josephine Baker.
Josephine Baker was an American entertainer who became famous in France in the 1920s for her singing, dancing, and scandalous costumes. But even more amazing was her passion for civil rights. She fought against segregation and supported the French Red Cross and Resistance during WWII.
If you've never heard of her, you need to! So keep reading to find out more about Josephine's early life, claim to fame, and amazing activism.
All About Josephine
Born to Dance
Josephine was born in St. Louis, Missouri in 1906 to a low-income family. She was only educated up to fifth grade before dropping out to work and support herself and her family.
Josephine was married twice as a child. Once, at age 13, and again at age 15 (which is where she got the last name Baker).
She escaped by performing. She was part of a vaudeville troupe and worked as a dancing street performer. This is where she was discovered and started dancing in stage shows.
Soon after, Josephine made it to Broadway, performing in massive hits like Shuffle Along as a chorus line dancer. She got an opportunity to tour in Paris, France, and never looked back.
Au Revoir, NYC!
Josephine made a huge impact in Paris. People were obsessed with her comedic skills, which she incorporated into her routines, as well as her provocative dancing and costumes. She could often be found performing topless or in wild, silly ensembles.
Her first iconic role was in a production called La Folie du Jour where she wore the now famous banana skirt costume—yes, you read that right. Baker performed in a skirt made of 16 bananas strung together (and almost nothing else)!
She found even more success as a singer and continued to get starring roles in the pictures and on stage.
She shifted her focus from performing during WWII to work for the Red Cross in France and the French Resistance. Some of this included top-secret undercover work, in which she would transmit hidden messages through her sheet music. So cool!
Paving the Way
Josephine returned to the states briefly in the '30s, and she was shocked at the brutal racism she encountered. The European star was exposed to awful headlines and mistreatment from people who were appalled to see an African-American woman be so successful.
Though she was bitterly disappointed, she didn't let that stop her. Through the '50s and '60s, Josephine made many trips back to The States to combat segregation.
She refused to play at segregated clubs, and even managed to get one of the most popular places in Miami to desegregate. She toured the country promoting integration.
She was applauded by the NAACP, but one of her most influential actions was in her personal life. Josephine adopted 12 children of different ethnic backgrounds hoping to teach people that anyone and everyone could be brothers and sisters. She raised them in a castle she purchased known as the Château des Milandes.
Josephine passed away in 1975 just days after performing a show celebration her 50 year-long career. The French government buried her with military honors, and her funeral was a star-studded affair.
Fashion Inspired by Josephine Baker
Josephine's style was famous for how little she wore on stage. From her cutout bras to her dangly necklaces that just barely kept her covered, Josephine's flashy accessories always stole the show. And while you probably won't be able to replicate her outrageous stage costumes, you can definitely still take inspiration!
Showgirl Status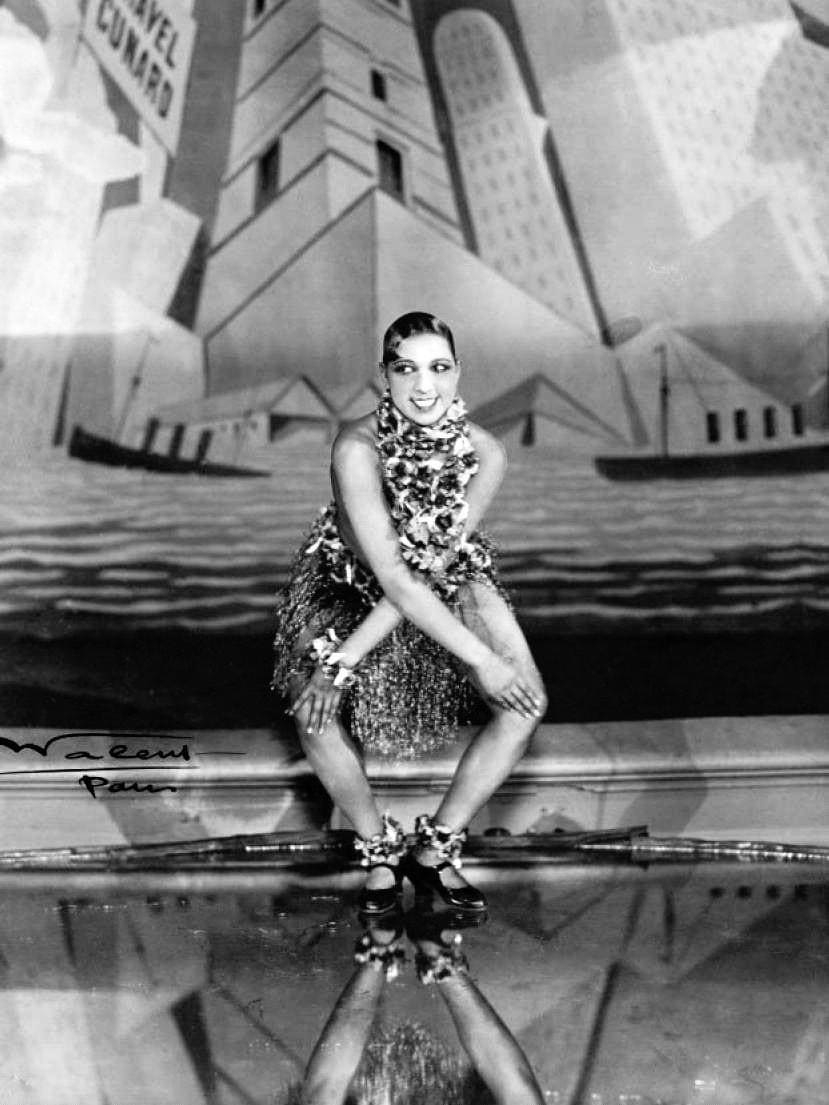 Josephine was a French diva, but she brought with her the soul and style of the Harlem Renaissance. It was edgy, fresh, and unapologetic. In her stage costumes, she could rock tassels and fringe like there was no tomorrow. These kinds of fabrics made her dancing look even more fluid and eye-catching.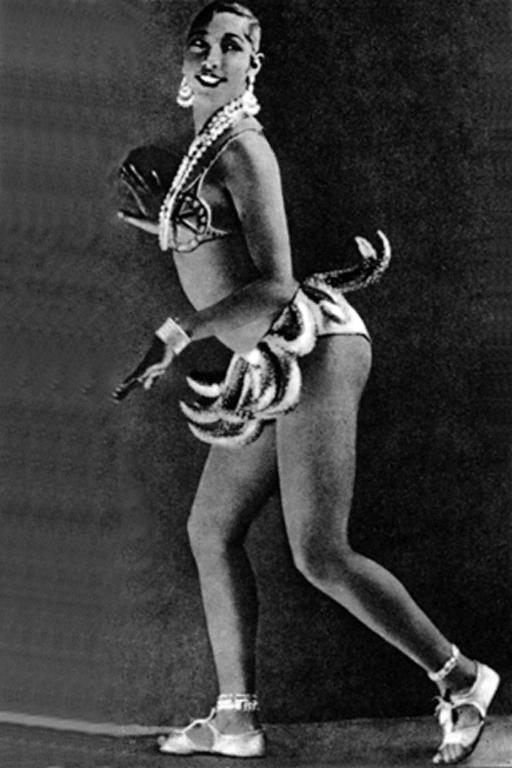 But she was best known for her risqué approach to fashion when performing almost nude. She had fun mixing crazy ideas into her style, much like the pop stars of today do!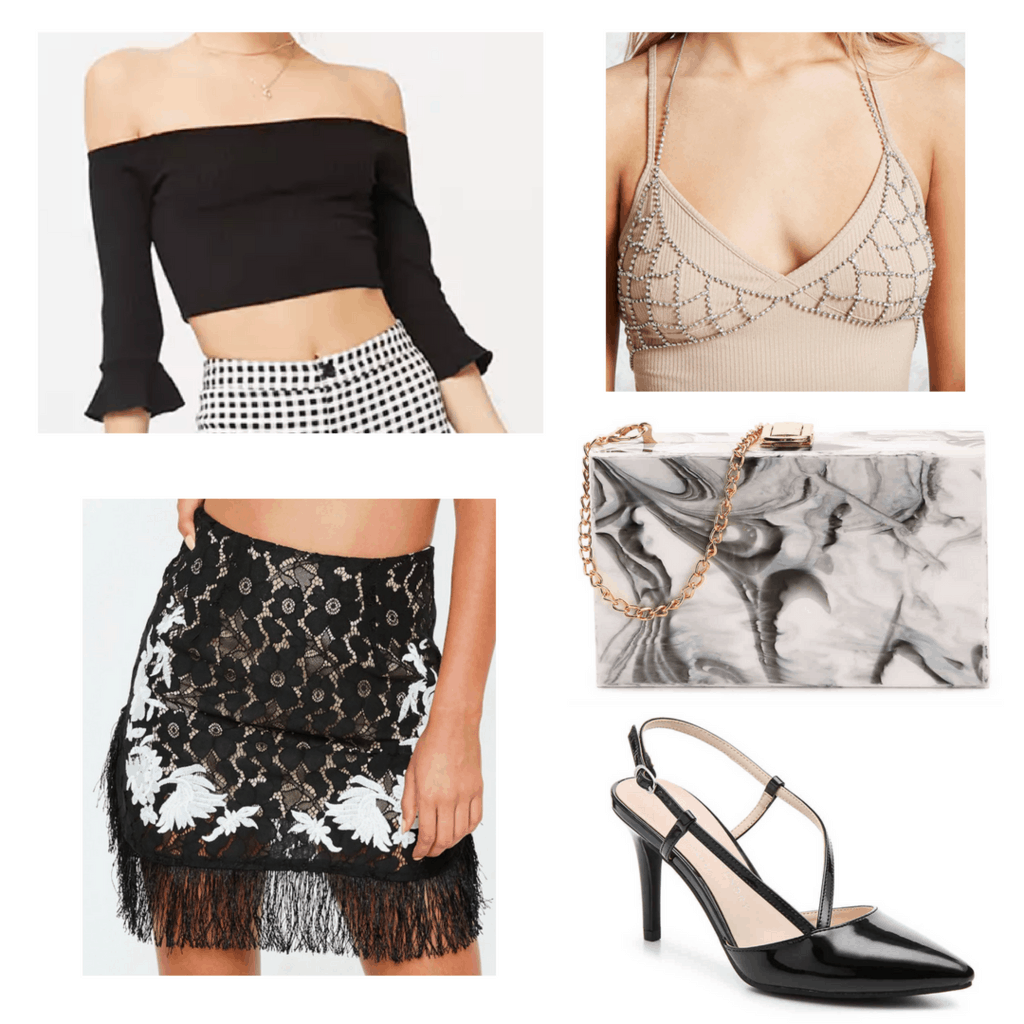 Products: Top – Forever 21, Skirt – Missguided, Bralette – Forever 21, Bag – DSW, Shoes – DSW
1920s style is perfect for a going out look! But finding flapper-style pieces that don't look like costumes is a challenge. Try something more subdued, like a fringe skirt with retro details. (Unless you want to go all out with an actual banana skirt, then please don't let anyone stop you!) It has the fun, flowy movement of a flapper dress while still being modern.
Josephine wore chain bralettes way before they were in style (like almost a hundred years ahead of the trend!) so don't be afraid to sport one. You can pair it with an off-the-shoulder top for a cute peek-a-boo effect, or even try exposing the piece a little more with a low-zipped bomber jacket or button-down shirt.
Curtain Call
Don't let the over-the-top kitschy accessories fool you. When the performance called for it, Josephine stunned audiences in decadent pieces, too.
The 1920s are a great decade for fashion inspo for formal cocktail outfits. Think pearls, feathers, and beads! Those may sound a little gaudy by today's standards, but they can add a beautiful and unexpected retro aesthetic to your look.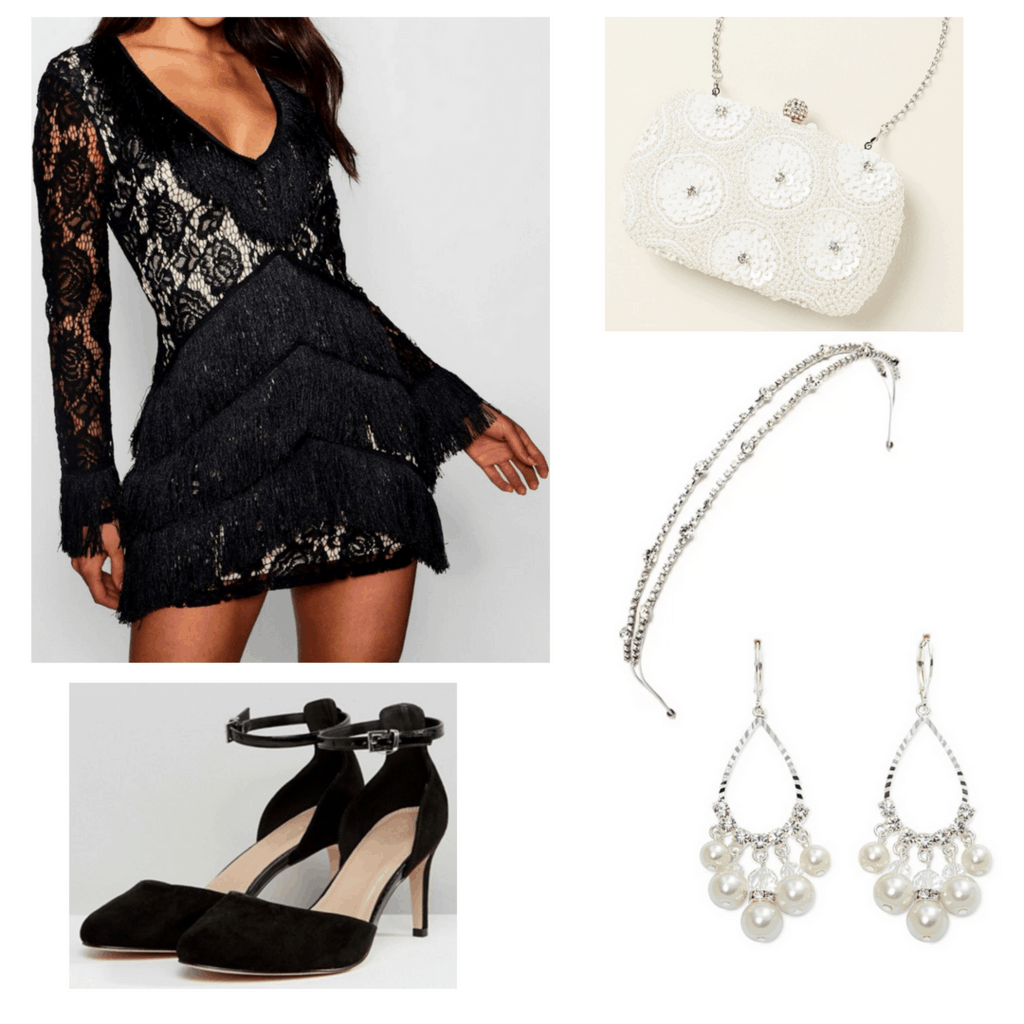 Products: Dress – Boohoo, Shoes – ASOS, Handbag – Modcloth, Headband – Forever 21, Earrings – JCPenney
This flapper-inspired dress is gorgeous and can easily be glammed up for an event with some classy heels and accessories. Beaded handbags were the trend in the '20s and are still a gorgeous and elegant choice today. If you're looking for an edgy cocktail look that stands out, think '20s!
I can't condone shaving your eyebrows off and going with a tiny penciled-on line as per traditional '20s makeup, but adding dark lipstick is totally okay, and laying your edges in waves is an easy way to cheat the flattened curls of the era.
Professional Powerhouse
Remember that at one point Josephine lived in a literal castle, so she knew all about elegance, both in her on-screen costumes and off-screen.
And her career expanded way past the 1920s. She was a civil rights hero throughout the '50s and '60s and an activist for her entire life. She dawned professional, powerful, and classically beautiful outfits that reflected her super-modern lifestyle. I mean, in this video she's wearing a slitted maxi skirt with matching crop top. Talk about legend!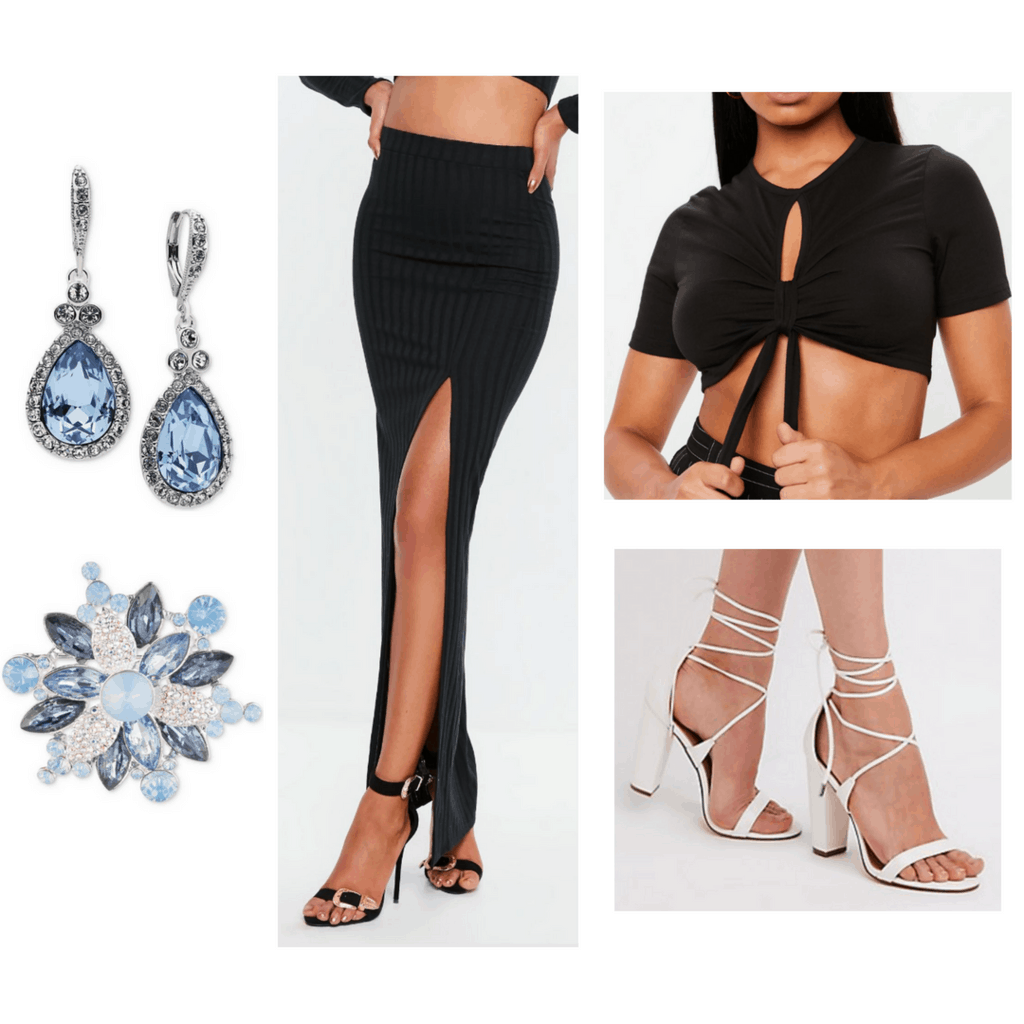 Products: Earrings – Macy's, Brooch – Macy's, Skirt – Missguided, Top – Missguided, Heels – Charlotte Russe
Two-piece sets were a popular look from the '40s on, though Josephine's were always a little more flirty than the norm! The combo can be dressed up with a brooch (like Josephine did, an instant way to look classy and vintage) and a nice pair of earrings, or paired with sandals and a tote bag for a laid back look. Chances are, you've already got the two pieces, so experiment with what's in your closet!
Josephine's looks were always amusing, so have fun with pops of color in your jewelry. Wearing all one color (like JB did so flawlessly in that video) can be tough to pull off…as can a banana skirt or just a few strands of pearls instead of a top. So infuse your own style quirks. I personally love grandma-looking jewelry that's super sparkly and a little bit too much, so I went with classic teardrop earrings and a brooch. But Josephine had a very modern approach to fashion.
Will you be channeling Josephine Baker?
Whether you're ready to go out and buy a dance costume or motivated to get involved with civil rights causes, it's hard not to be inspired by Josephine Baker in some way! She was a beautiful entertainer with a passion for making the world a better place.
Are you ready to buy a flapper dress? Are you sewing together some bananas for the perfect Josephine costume? Let us know in the comments!
For more information on Josephine Baker, check out these great sources:
Biography.com Josephine Baker
Biography.com Josephine Baker – The Activist Entertainer (video)
Encyclopedia Britannica Josephine Baker
National Women's History Museum Josephine Baker
The State Historical Society of Missouri Josephine Baker
Wikipedia Josephine Baker