We've been breaking down our list of 16 classic fashion icons everyone should know. Last week, we covered the mysteriously fabulous actress Katharine Hepburn. This week, it's all about equal rights activist and actress Dorothy Dandridge.
Dorothy made her mark on Hollywood during one of the most tense periods in American history. Fighting racism and prejudice within the industry, she went on to become one of the most adored African-American actresses of all time. Keep reading to find out more about her career, battles against racism, and style legacy.
All About Dorothy
Dorothy Dandridge was born in 1922 in Cleveland, Ohio.
Dorothy often toured the South with her sister as part of a song-and-dance act instead of going to school as a child. Her mother was also an entertainer, and pushed the girls into show business.
During her teen years, Dandridge continued performing with her sister and also got small roles in a couple of films. Because of racial tensions and segregation, it was difficult for her to find work. Sometimes she'd play a venue but not be allowed to use the bathroom or fountains there.
Dorothy's big break came in 1954 after she'd struggled through a rocky marriage and given birth to her daughter, Harolyn, who suffered from brain damage.
She was cast as the lead in Carmen Jones and became the first African-American actress to be nominated for the Best Actress Academy Award.
But Dorothy found it difficult to get roles because of her race. She turned down many offers (notably refusing to play a slave in The King and I) and spoke openly about the prejudice and racism in Hollywood.
She was an equal rights activist and became involved with the NAACP to combat the racism she encountered in the film industry.
She had success again with her starring role in Porgy and Bess in 1959, and she starred in a few pictures after that.
But Dorothy's life took a tragic turn when her second marriage and finances fell apart, and she died at age 42 of an overdose.
Fashion Inspired by Dorothy Dandridge
Dorothy Dandridge was, and still is, an inspiration to so many women, especially actresses of color. Stars like Halle Berry, Jada Pinkett Smith, and Angela Bassett have all praised Dandridge's influence in the industry (Halle Berry even won a Golden Globe for portraying her in an HBO movie).
Dorothy's style was graceful and sensual. She was always perfectly styled and totally in line with the movie star glamour of the era. With her luxurious dresses and jewelry and stunning hair and makeup, Dorothy stole every second of screen time.
Sophisticated Starlet
One important aspect of Dorothy's style was how sophisticated it was. She had something to prove to the world—that she was just as talented as any other actress in the era. Her style reflected that. The beautiful actress made sure looked amazing whenever photographed.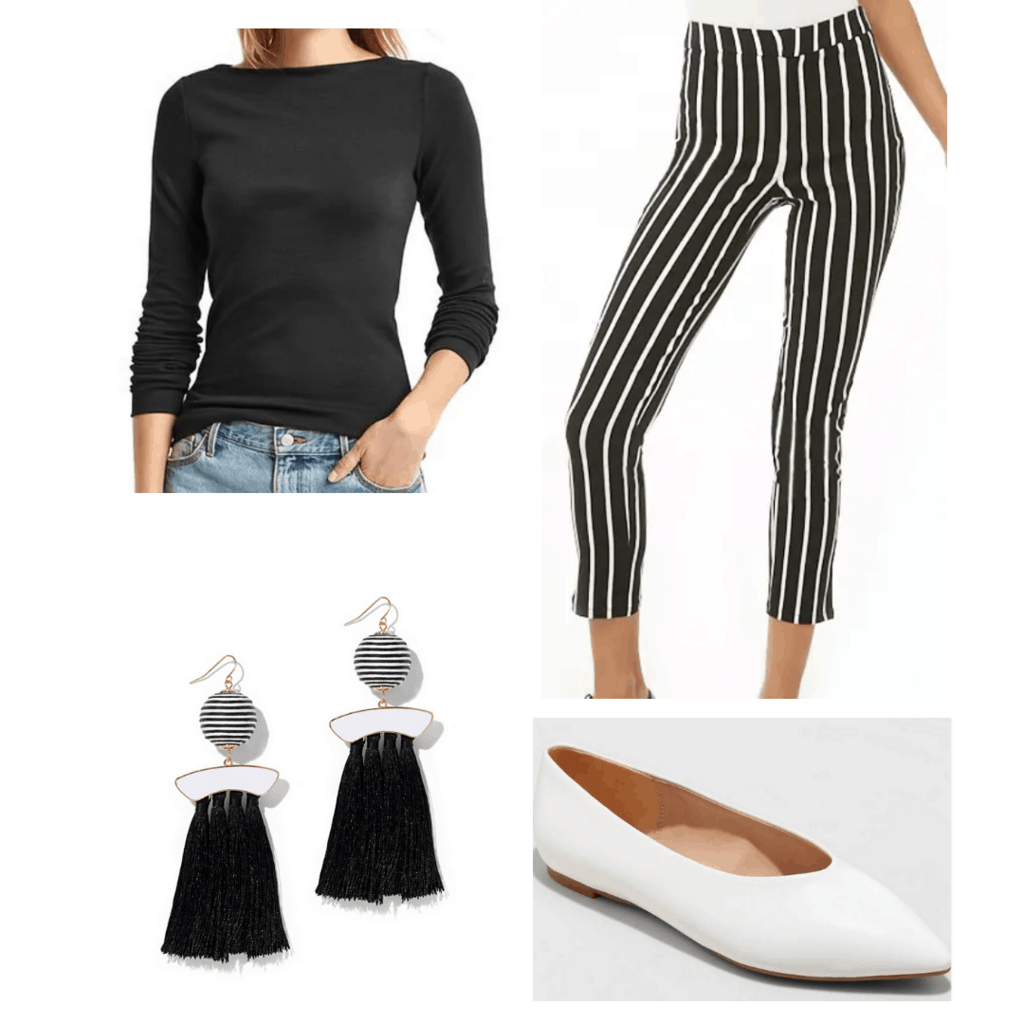 Products: Shirt – The Gap, Pants – Forever 21, Earrings – New York & Company, Shoes – Target
This set is classic sophisticated Dorothy. The combo looks smart and elegant, two things Dorothy always aimed to portray both on and off screen. Finding funky patterns or accessories will add a youthful glow to the traditional look should you go for more tailored, professional pieces.
Dorothy's photo-ready blouse and pants sets are great inspiration for work or internship clothes, family functions, and any other semi-formal event that requires something on the conservative side.
'50s Fashionista
But it wasn't always so serious. Fans loved Dorothy's fun and flirty image. Her gorgeous smile was a trademark and lit up the silver screen, and she could pull-off strapless tops and jumpsuits that look like they belong in a magazine today.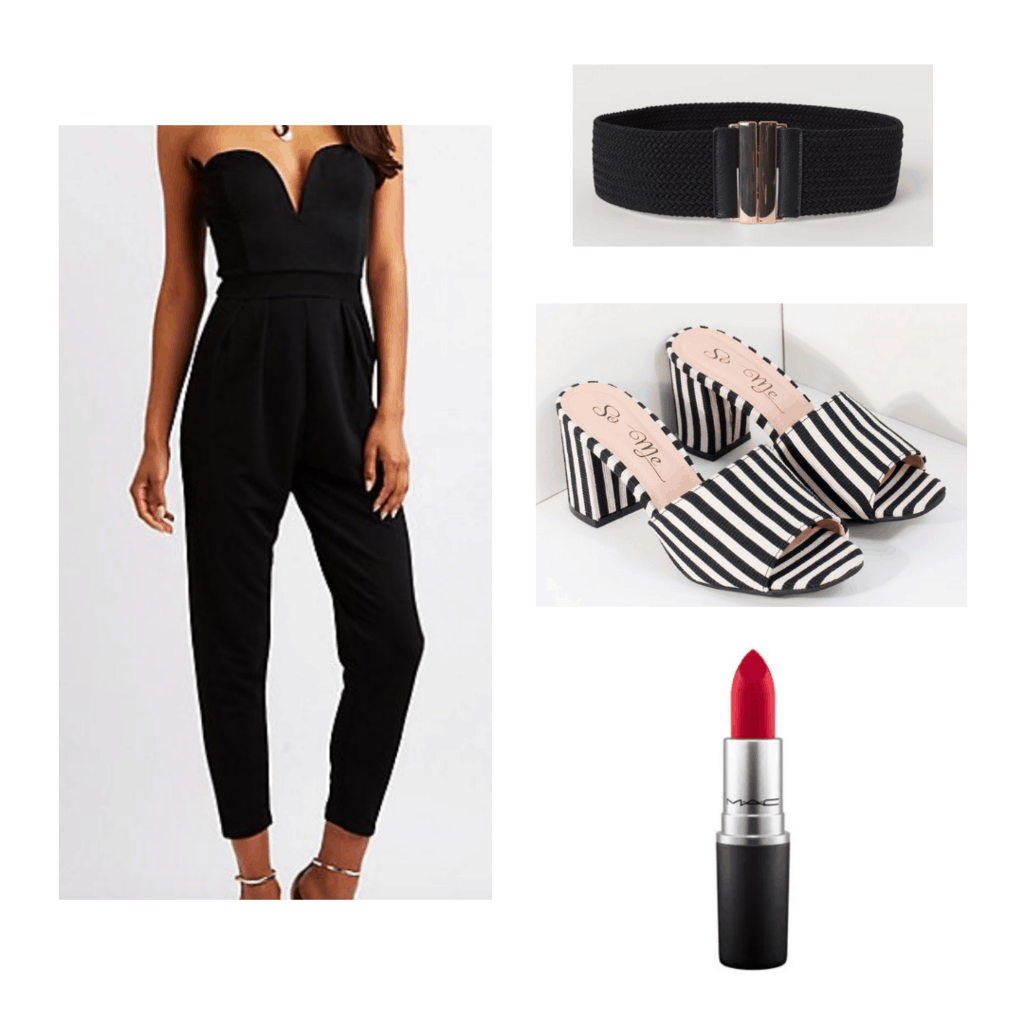 Products: Jumpsuit – Charlotte Russe, Belt – H&M, Shoes – Unique Vintage, Lipstick – MAC
For an authentic 1950s look, go for a thick belt that accentuates the waistline. But if you prefer something a little more modern, you can choose one with more trendy buckle or even forgo a belt altogether. You can achieve this look with either a jumpsuit or two separates. I recommend a bodysuit if you want that ultra-slim fit.
Accessories are a must when it comes to Dorothy Dandridge's style. Be sure to get some cute earrings (hoops are a great option) and classic red lipstick if you're hoping look like you just stepped out of the 1950s yourself.
The Legendary Carmen Jones
We had to cover the most iconic Dorothy Dandridge look of all time—her famous Carmen Jones costume. This photo has been replicated by stars like Beyoncé and Rihanna, so needless to say, it's definitely still striking. The bold color and timeless silhouette perfectly capture the lively flair of '50s fashion.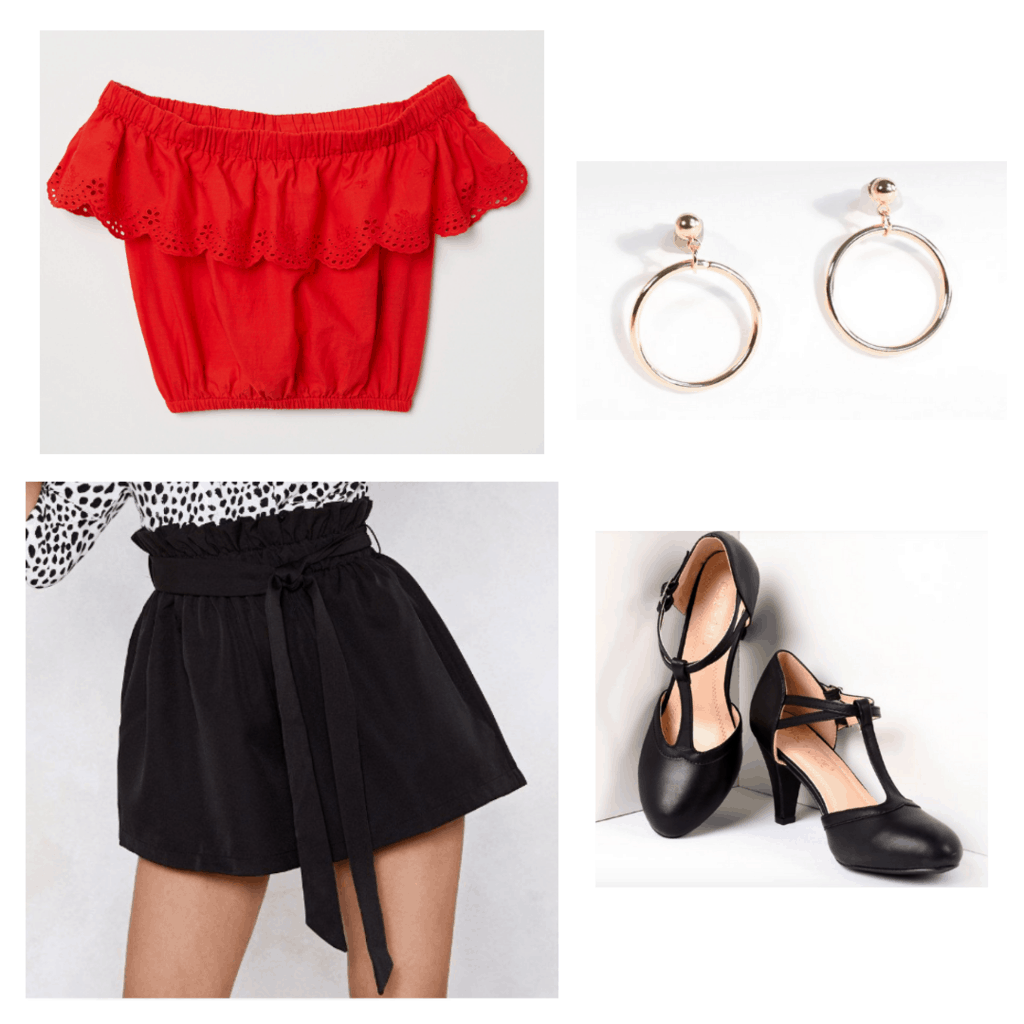 Products: Top – H&M, Shorts – Nastygal, Earrings – Unique Vintage, Shoes – Unique Vintage
You could absolutely copy the original look piece-for-piece and still come across looking modern and chic. But you can also update it a little for something more casual and comfortable. Try switching out the bodycon skirt for a trendy pair of paper bag shorts.
An off-the-shoulder top like this is versatile, so if you have a bunch of bottoms that could work, try them all! You might end up with a handful of new go-to outfits. Drop-hoop earrings are a classic symbol of 1950s accessories (another fashionista, Marilyn Monroe, wore them quite often!), so get yourself if a pair if you find that you want to do more '50s looks.
Will you be channeling Dorothy Dandridge?
Her rise to fame is inspirational, and though her life came to tragic end, she left behind a legacy that paved the way for so many actors and actresses of color.
Are you thinking about giving her classic, short hairstyle a go for yourself? Maybe just picking up that red lipstick? Or buying your own Carmen Jones costume? Let us know in the comments below!
For more information on Dorothy Dandridge, check out these great sources:
Biography.com Dorothy Dandridge
Thoughtco. Biography of Actress Dorothy Dandridge
Turner Classic Movies Dorothy Dandridge
Wikipedia Dorothy Dandridge