We've been breaking down our list of 16 classic fashion icons everyone should know. Last week, we covered Lucille Ball, queen of American entertainment. This week, we're going back to the 1940s to take a look at one of cinema's greatest stars, Katharine Hepburn.
Katharine is the most decorated actor in Oscars history! She's a movie legend and pioneered a new movement in women's fashion. Keep reading to find out more about her career, accomplishments, and how you can channel her killer style.
All About Katharine
Katharine Hepburn was born in Hartford, Connecticut in 1907.
She was the daughter of a doctor and a suffragette and grew up wealthy, surrounded by progressive and feminist values.
Katharine graduated from Bryn Mawr College with a degree in history before following her passion for acting.
She starred in a few successful shows on Broadway before making it big in Hollywood and winning an Academy Award for her third movie ever.
Katharine has more Oscars than any actor ever! With four awards to her name and 12 total nominations, that puts her ahead of both Daniel Day Lewis and Meryl Streep (each with three wins).
She was known for her fiercely private and independent attitude. She never gave interviews or interacted with photographers on the street. This, of course, just made the press more obsessed with her and created her famous, mysterious image.
Katharine dressed casually and rarely wore makeup. She also wore pants in public which, at the time, was unheard of for women. She totally contradicted what an Old Hollywood starlet was expected to be.
Katherine pulled off the ultimate career comeback. When her movies kept flopping at the box office, she bought out her own contract and the rights to the picture The Philadelphia Story with the contingency she play the starring role. She was nominated for an Academy Award.
She continued her career her entire life, appearing in her final film at age 87 when her health began to take a toll. But Katherine was active in her old age, swimming and playing tennis routinely. She passed away in 2003 at age 96.
Fashion Inspired by Katharine Hepburn
Katharine Hepburn was the original cool girl. She was too fierce for the paparazzi to capture and way ahead of her time with fashion trends. She popularized the modern, go-getter 20th century woman aesthetic. Pants, flat shoes, little makeup. Katharine never let the social structures of Hollywood dictate what she wore.
She's best known for her pant suits, which challenged the traditions of women's fashion back in the 1940s. Her alluring look is one of the most sought-after of all time, and even today's celebrities often channel Ms. Hepburn when doing an old-school Hollywood glam look.
Katharine Hepburn's style is perfect inspiration if you're looking for something bold and powerful that's still understated.
Mysterious Muse
People loved Katharine's distant, mysterious attitude. No one really knew who she was, and that's part of what made her so fascinating. Her powerful outfits only helped to establish her persona. This classic 1940s look is strong and feminine, though more traditional than Katharine's more famous choices.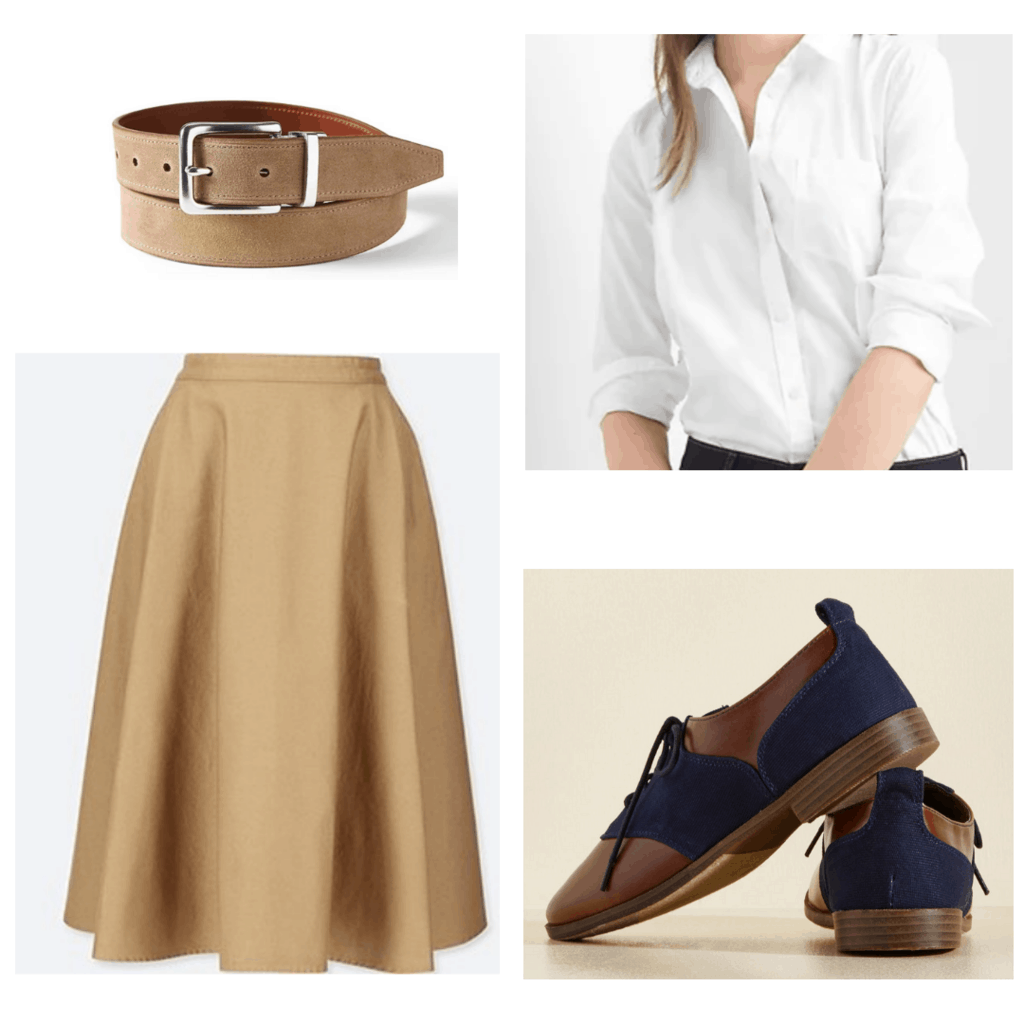 Products: Belt – Banana Republic, Skirt – Uniqlo, Blouse – The Gap, Shoes – Modcloth
The circular skirt is a stunning style choice. There's something universally flattering about its shape. The bold and classy silhouette has a lot of movement without too much volume. A skirt like this can be used in a bunch of different retro looks from around the '40s and '50s, so if you're interested in the traditional piece, you should definitely try one!
Oxfords are perfect for channeling Katharine Hepburn. She often donned the cool and sophisticated style herself. They have a traditionally masculine look to them, which is exactly why they pair so well with Katharine's looks. Clothes aren't gendered, and Katharine knew how to play with elements from both menswear and womenswear, so have fun throwing in untraditional pieces.
Breaking Boundaries
It really wasn't the norm for women to wear trousers out, especially not for glamorous Hollywood actresses. Katharine's insistence on wearing what she wanted to made her a fashion inspiration to style enthusiasts everywhere.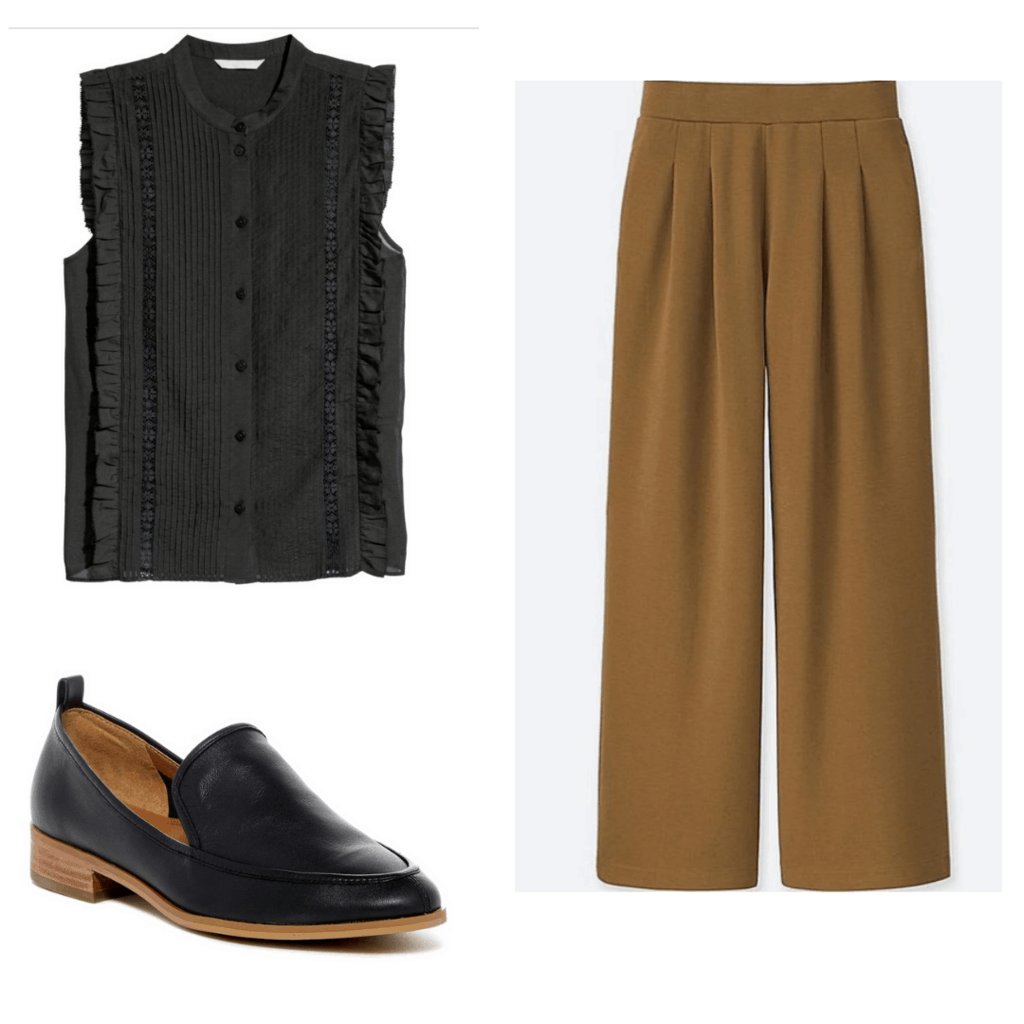 Products: Blouse – H&M, Shoes – Nordstrom Rack, Pants – Uniqlo
Wide-legged trousers are the most fun pants to wear, ever! They have a chic flow to them and are so comfortable. Katharine wore them all of the time. They pair perfectly with a tucked-in blouse. You can play around with whatever style of blouse you'd like–you can't go wrong with a plain button-down. I like this slightly ruffled top because its frills contrast with the straight look of the loafers and pants and create an interesting balance.
Katharine wasn't crazy about accessories. Unlike other actresses of the era, she didn't dress up in expensive jewelry or accessories. But you could add even more contrast to this look by putting on some dazzling earrings or a super cute, colorful bag. Make the look your own.
Untraditionally Fabulous
What's so amazing about Katharine Hepburn's style is that it was considered untraditional back in the 1940s, but today is considered as traditional as it gets! She changed women's fashion and brought a new look to the forefront of pop culture that's stuck around for decades.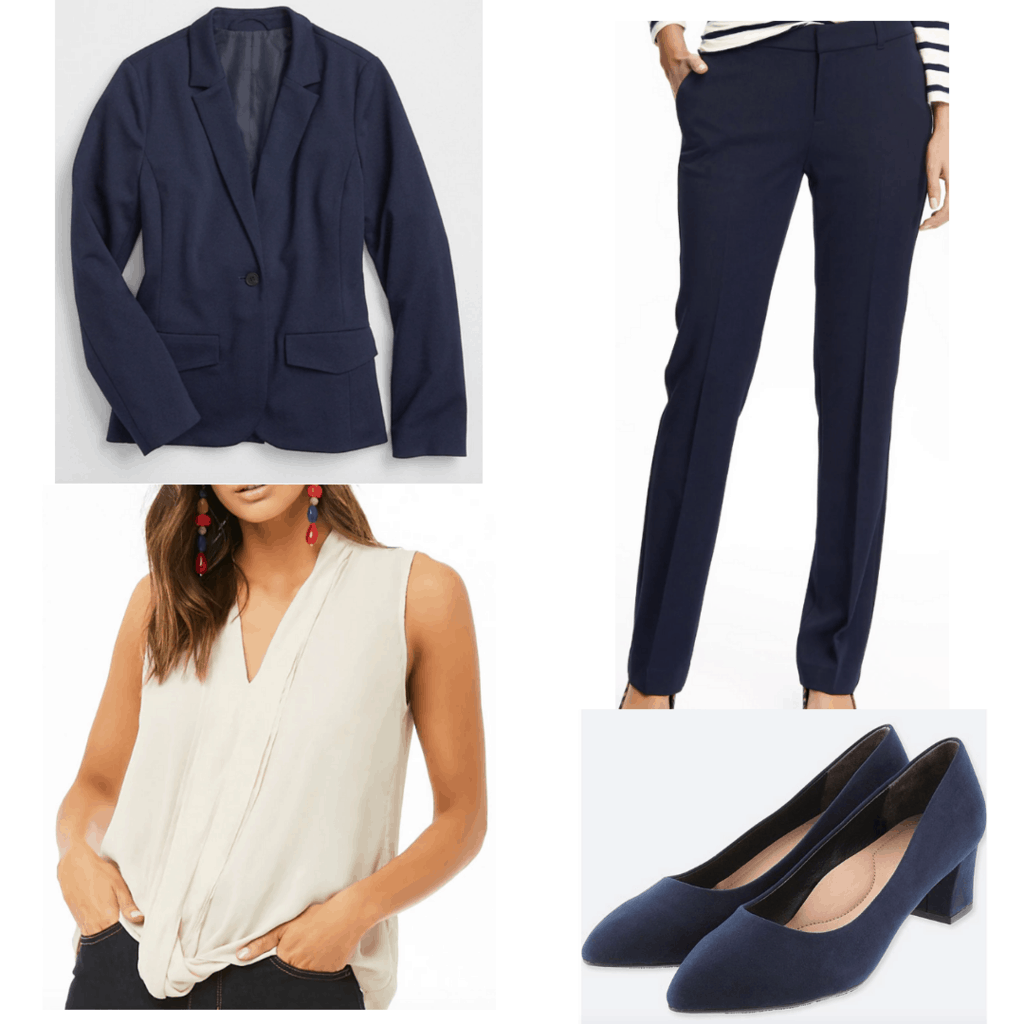 Products: Blazer – Gap Factory, Blouse – Forever 21, Pants – Old Navy, Shoes – Uniqlo
Katharine Hepburn is a great style guide for business/professional clothes, but don't think that the power combo of a blazer with pants stops at the workplace! You can definitely take this outfit out to other events. Katharine wore laid-back suits like this all these time. You could switch out a workplace appropriate blouse for a more modern, going-out shirt and add less formal heels. There are so many ways to wear a blazer and pants outside of the office, so try wearing these basics in other styles.
Will you be channeling Katharine Hepburn?
What's not to love about her modern, comfortable-meets-powerful style? Are you running out to buy some flared trousers? What about a chic blouse and blazer? Let us know in the comments!
And for more information on Katharine Hepburn, check out these great sources:
Biography.com Katharine Hepburn
IMDb Katharine Hepburn
Turner Classic Movies Katharine Hepburn Biography
Vanity Fair "Katharine Hepburn Never Cried"
Wikipedia Katharine Hepburn