We've been breaking down our list of 16 classic fashion icons everyone should know. Last week, we covered Debbie Harry, rock star and rebel fashion pioneer. This week, we're covering traditional beauty and girl boss Lucille Ball.
We've all heard of I Love Lucy, but there are so many reasons to love Lucille Ball, who was a comedian, producer, and CEO! Keep reading to find out more about Lucille's early work in the industry, rise to fame on her hit TV show, lifelong career, and how you can copy her look.
All About Lucy
Lucille Ball was born in 1911 in Jamestown, New York.
She auditioned for her first acting role when she was 12 and got the part! She started her career as a model and by acting in small roles both on stage and on screen.
Lucille worked steadily throughout her early career, first becoming known as "the Queen of B Movies" for the dozens of roles she took starring in lesser-known pictures. Her first serious role was alongside Katharine Hepburn and Ginger Rogers.
Lucille and her husband, Desi Arnaz, pitched I Love Lucy to CBS, but the network rejected it thinking American viewers wouldn't want to watch an interracial couple on TV.
Desi and Lucille turned the concept into a vaudeville production and took their act on tour. The show was a hit, and CBS offered them a TV deal. They then became the first interracial couple on TV.
Lucille Ball was 40 years old when I Love Lucy first aired.
The couple started their own production company and largely controlled the show. Lucille bought out Desi from Desilu Productions after their divorce. This made her the first female CEO of a major production company.
Lucille's company produced other hit shows, like the original Star Trek, alongside her hit comedy show. She later sold the company for 17 million dollars.
After Desi and Lucy's divorce, Ms. Ball continued her success on the small screen with another top show, The Lucy Show.
She received the Cecille B. Demille Golden Globe award, the Kennedy Center Honors, and four Emmy awards throughout her career. She also has a star on the Hollywood Walk of Fame, has been inducted into the Television Hall of Fame, and countless other honors to her name, from theatres and awards named after her to that infamous Scary Lucy statue.
She kept working as an actress throughout her entire life, eventually taking on more dramatic roles and even another comedy sitcom before passing away in 1989.
Fashion Inspired by Lucille Ball
Lucille Ball is still one of the most respected women in entertainment today. She paved the way for not just female comedians, but for all women hoping to work in front of or behind the camera in Hollywood. Audiences still watch I Love Lucy all over the world, and it's difficult not to be obsessed with the super lovable leading lady.
But alongside all of her achievements, one of the reasons why we love Lucy is her fashion. I Love Lucy costumes are always a popular choice for Halloween or themed parties, but Lucille's costumes from the show are cultural landmarks. She was the depiction of a classic American woman at that time (and she was breaking boundaries in traditional female style, too)! Her full skirts and pulled-in waistlines are the definitions of retro.
Classic '50s
The 1950s and Ms. Lucille Ball go hand in hand. The show ran from 1951 to 1957, so it's pretty much impossible to separate the era from one of its biggest stars. Lucy's costumes on the show are what immediately come to mind when I think retro.
Though Lucy Ricardo was best known for her wacky costumes that made her sketches even funnier, her beautiful and classic outfits demonstrated the kind of current and well-to-do lady that Lucille Ball was.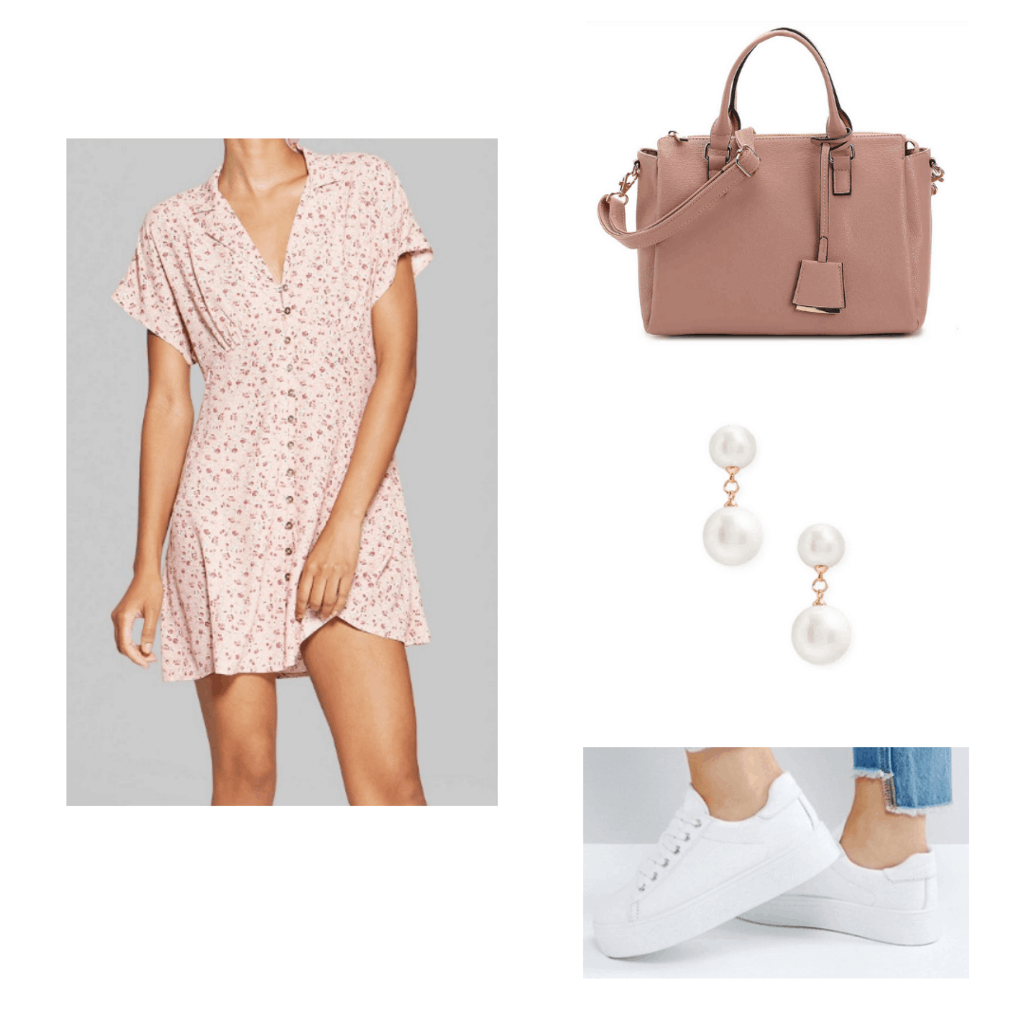 Products: Dress – Target, Shoes – ASOS, Bag – DSW, Earrings – Forever 21
The midi-length dresses with collars and full skirts, the bright red lips, and lavish curly hairstyles—all 1950s staples! But you can definitely modernize these concepts. Look for dresses with collars and buttons that will give off the modest, vintage look.
Instead of something like t-strap heels or oxfords, switch things up with sneakers. A look like this can be accessorized with pretty much anything, but for a little '50s tribute, try pearl earrings.
Casual Lucy
It wasn't all dresses and skirts for Lucille. She could comfortably and effortlessly wear a casual ensemble, too. The blouse and jeans combo is a look that's still in style. We've seen it reappear throughout so many decades I don't think it ever went out of style!
So chances are, you already have everything you need. Pair a button-down blouse in whatever pattern you like (I love stripes!) with some cuffed jeans, and add a belt for a more polished look.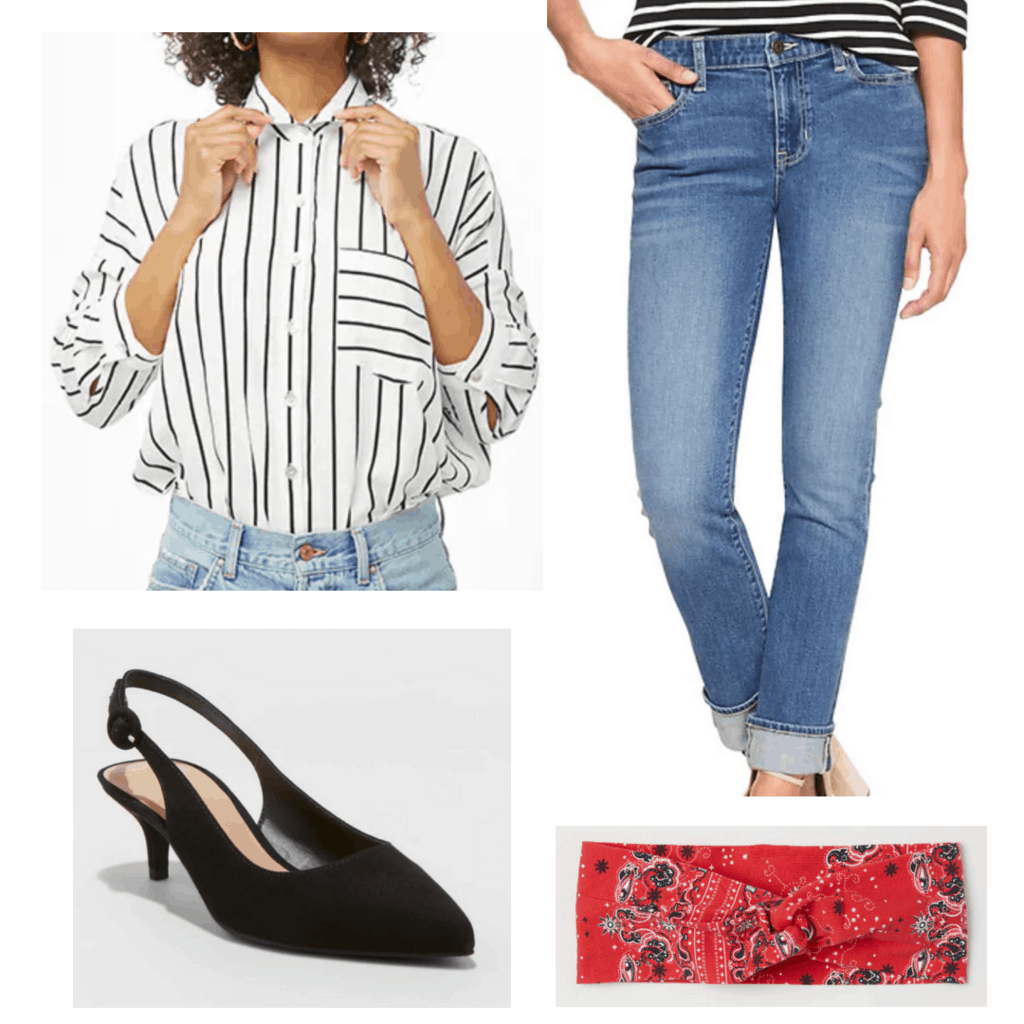 Products: Blouse – Forever 21, Jeans – The Gap, Shoes – Target, Headband – H&M
This style of outfit is already modern, but for a fun '50s flair, try wearing a pair of kitten heels! They're kind of pointless when it comes to adding any height, but they look and feel super cute and definitely add an interesting element to the otherwise standard look. A bandana or bandana-style headband also signal the '50s.
Girl Boss
Lucille Ball was the original girl boss, and this CEO knew how to dress like it. Lucille was the picture of sweet and flirty in her traditional dresses, but she could also throw a blazer on and look like she was in charge no matter where she was.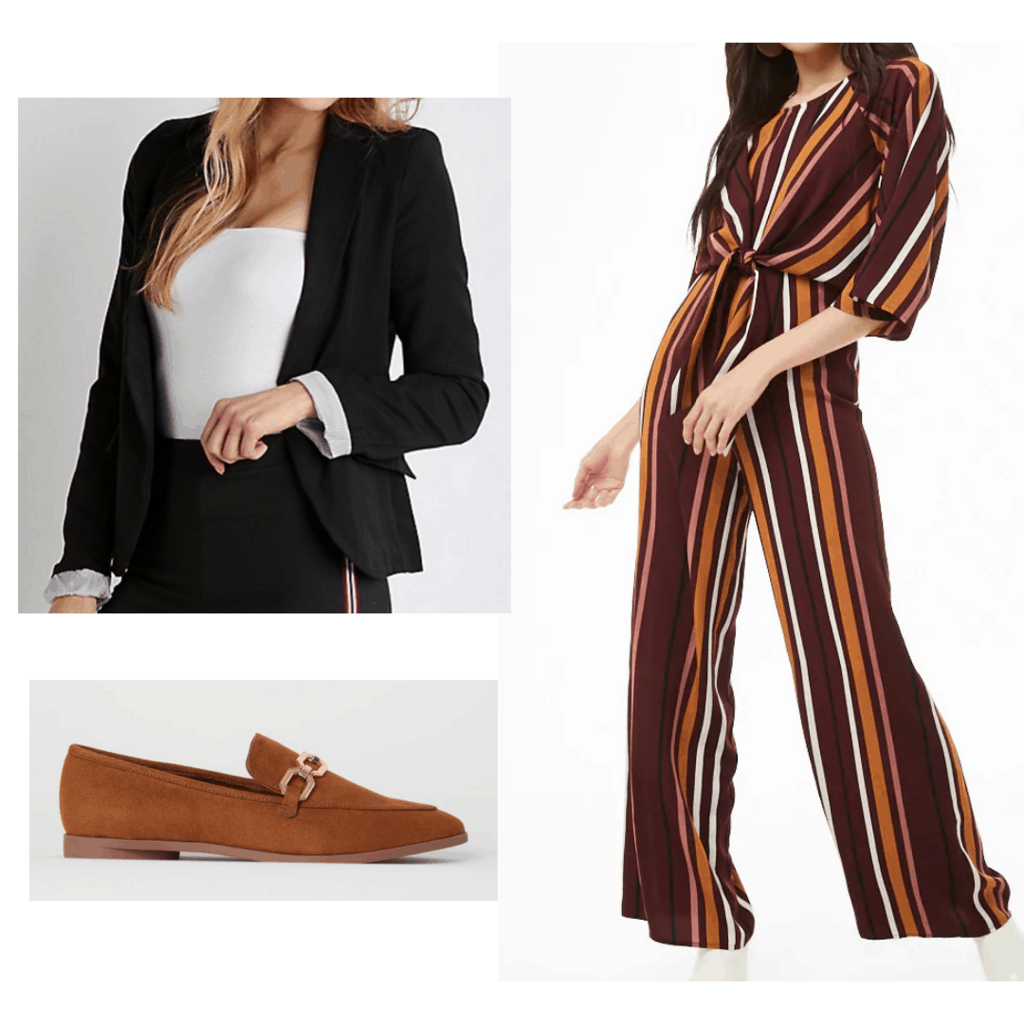 Products: Blazer – Charlotte Russe, Jumpsuit – Forever 21, Shoes – H&M
A blazer is still the easiest way to amp up any outfit for a more professional event (or if you just want to feel powerful). Pairing one with a jumpsuit is a total power move, and jumpsuits are making a transition into the business casual scene, too. But be careful with accessories. Bold prints like this are already eye-catching enough, so you don't need to add much to them.
Getting a tailored blazer or one from a business clothes retailer may cost you a bit up front, but they'll last forever. But if that's not an option right now, you can find tons of affordable ones at most fashion retailers to wear casually. With the right pieces, they can look just as good as the expensive ones for a fraction of the price.
Will you be channeling Lucille Ball?
What's not to love? This hilarious lady paved the way for all of our favorite female comedic actresses and producers in Hollywood.
Could you pull off Lucy's iconic red hair? How about a sensible pair of kitten heals and some red lipstick? Let us know in the comments!
For more information on Lucille Ball, check out these great sources:
Biography.com Lucille Ball
Biography.com "A Ball That Never Ends: Why We Still Love Lucy"
Good Housekeeping "11 Things You Didn't Know About Lucille Ball"
History.com "Lucille Ball born"
Mental Floss "20 Things You Might Not Have Known About I Love Lucy"
Wikipedia Lucille Ball