We've been breaking down our list of 16 classic fashion icons everyone should know. Last week, we covered Jackie O, the classiest fashionista in American history and a historical figure all her own! This week, we're completely mixing it up and covering a rock star rebel, Ms. Debbie Harry.
Also known as the lead singer of Blondie, Debbie is a fantastic musician who has made waves in the music industry for decades. Her edgy, cool look has been the envy of many a rock star at heart.
To find out more about her early life, career as a musician, influence on modern fashion trends, and how you can copy her look, keep reading.
All About Debbie
Debbie was born Angela Trimble in Miami, Florida in 1945. She was adopted as a baby and her parents renamed her Deborah Harry.
Her biological mother was a concert pianist, and as a kid, she sang in the church choir.
She has an Associate of Arts degree and worked as everything from a secretary for the BBC to a Playboy Bunny in her early years as a young woman.
Before she started the famous rock band, Blondie, she broke into the music industry as a backup singer.
Blondie released two albums with moderate success before hitting it big with Parallel Lines. The record featured the track "Heart of Glass", which is still one of their most popular tunes.
Debbie was a media sensation in the '70s and '80s. She was known for her wild, rock 'n' roll ways and made headlines for things like trashing dressing rooms and being spotted at the craziest parties. Of course, she pulled it all off since her band was such a success.
Other massive Blondie hits include "Call Me" and "The Tide is High," both off of the album American Gigolo.
Blondie broke up for a period of time, but Debbie continued her career as both a solo artist and an actress.
She's released five solo albums and starred in dozens of movies.
Debbie still makes music today, but is also an active philanthropist. She cites Elton John and his work fighting the HIV/AIDS crisis as her inspiration for getting more involved in charity work.
Fashion Inspired by Debbie Harry
Debbie is the ultimate it-girl of alternative style. With the new wave rock music Blondie put out, Debbie helped changed the face of women in music. Her aesthetic is something she still sports today and that today's rockers still copy all of the time. The "Blondie" look is nothing short of iconic!
She's the go-to if you're interested in late '70s or '80s fashion (that's not all about neon colors and leggings). From the leather jackets to the miniskirts to all of the thigh-high boots, Debbie's look twisted the boundaries of women's fashion. Her messy and slept-in stylings–think tousled hair and smoky eyes–created the original I-woke-up-like-this aesthetic. She's an inspiration to rebellious teens everywhere and the gold standard of tough-girl chic.
Thigh Highs
Thigh-high boots are a Debbie must-have. They're sexy and dramatic, and when paired with something super-casual, like a shirtdress, they perfectly capture Debbie's messy, IDGAF attitude. They could also be paired with a cut-out dress or crop top and skirt for another going out or concert look. Debbie is rarely photographed in super-girly pieces. Her looks are bold, edgy, and flirty.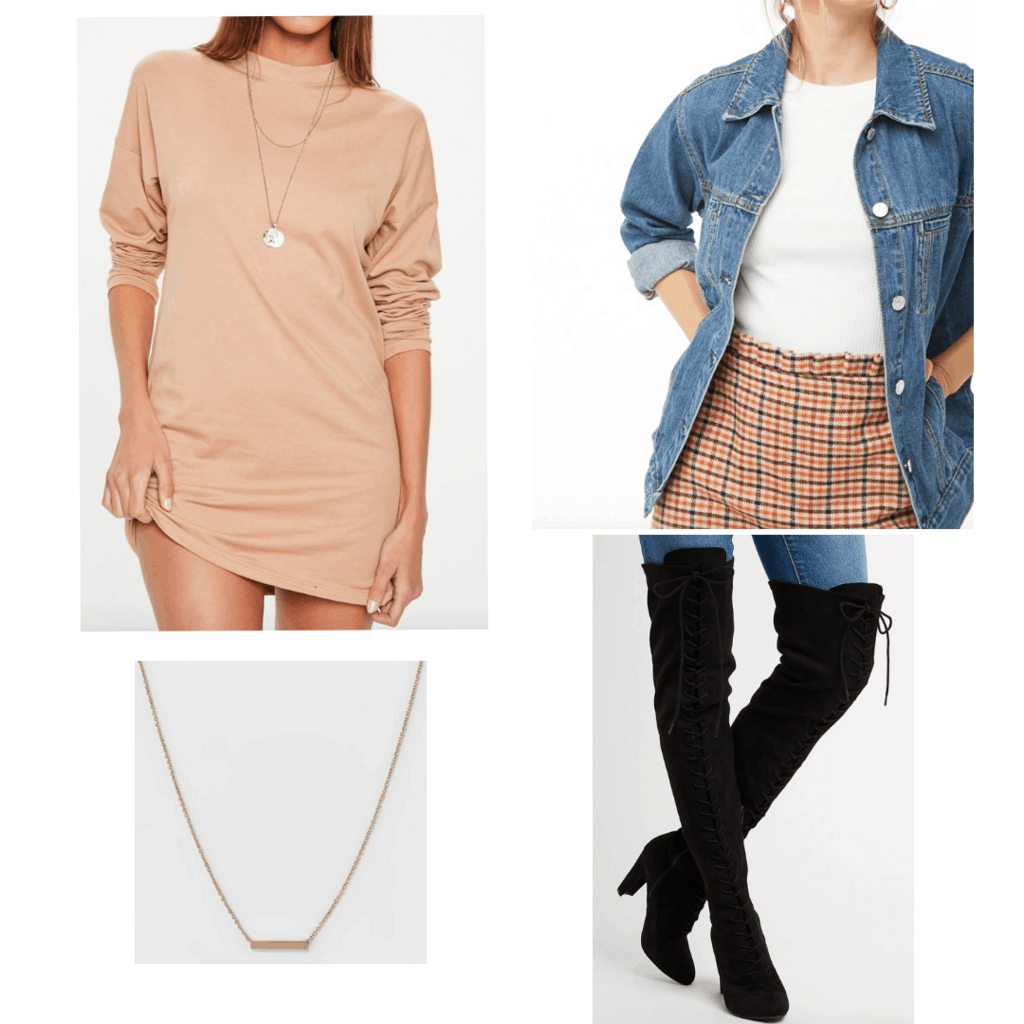 Products: Boots – Charlotte Russe, Necklace – Target, Jacket – Forever 21, Dress – Missguided
Debbie usually went light on accessories. Her jewelry was pretty simple, and she let her bleached hair and bold makeup looks take over. It may be tempting to throw on your old spiky bracelet or finally get to wear that old checkerboard belt you've been waiting to bring back, but try to hold off! Instead, experiment with edgy makeup looks. Bold colors of eyeshadow or a classic smoky eye will work far better! When in doubt, just get a killer pair of sunglasses. The Blondie front-woman knew how to pull off the shades.
Bare Minimum
Products: Shirt – Target, Sunglasses – American Eagle, Skirt – Forever 21, Shoes – Old Navy, Bag – American Eagle
There are so many amazing pictures of Debbie stunning in the simplest outfits. As an actual rock star, no one could work the classic rock look of a t-shirt and jeans like her. Her outfits were low-key, but something about being the lead singer of Blondie made her look like a superstar no matter what she wore! Still, Debbie knew how to spice things up.
She played with color, bright prints, and shapes, too. She'd sometimes trade in the usual jeans for a miniskirt and accentuate her legs with some hosiery. For added edge, try a pair of fishnets or seamed tights. Don't be afraid to throw in a pop of bright color, too.
Glam Rock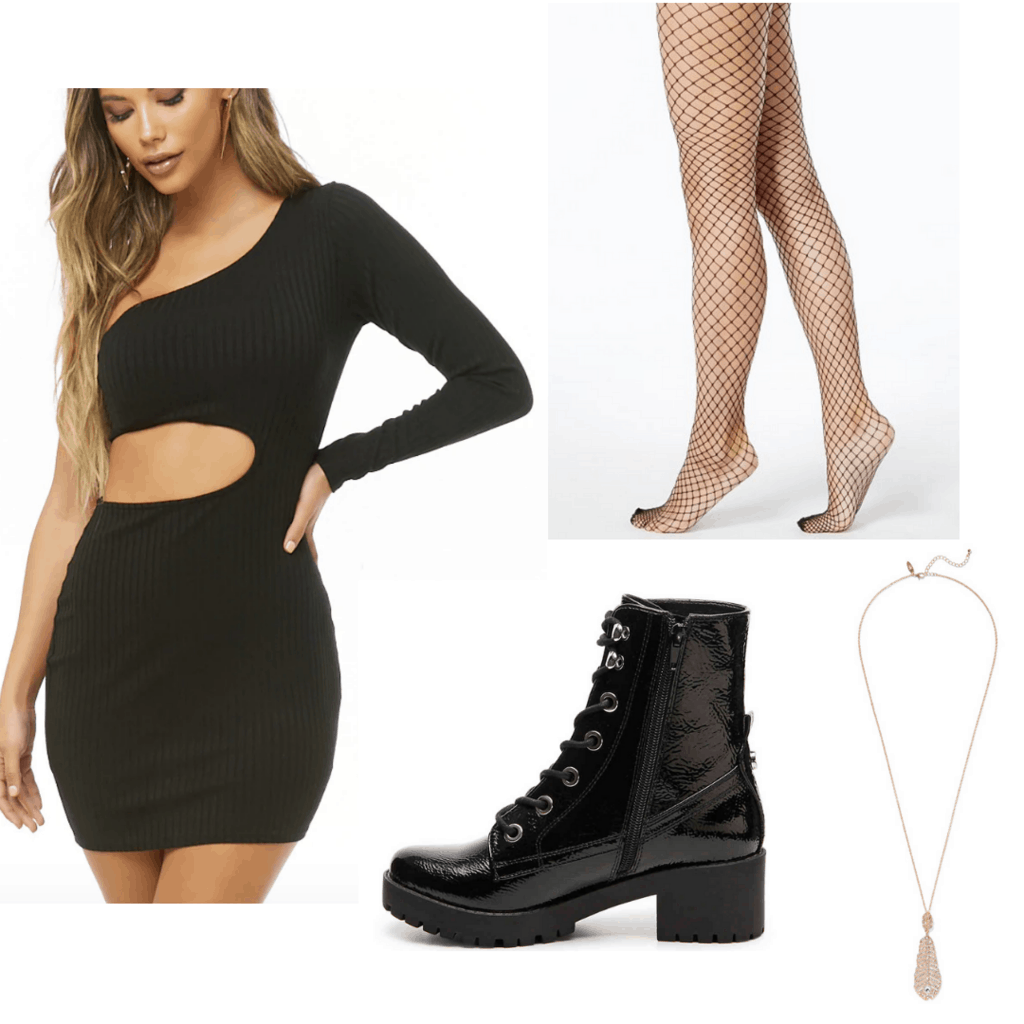 Products: Dress – Forever 21, Tights – Macy's, Shoes – DSW, Necklace – New York & Company
But just because Debbie was a female rocker who often donned band shirts and jeans doesn't mean she never put together a show-stopping, glam look. Cut-out dresses and nontraditional shapes, like single-sleeves, were popular in the '80s because they were so new and modern. Debbie helped popularize the styles, and fortunately for us, they're still around today.
When channeling Debbie for a going out look, go wild. Debbie always did! There are not many events where fishnets and combat boots are super-appropriate during the day, so concerts and nights out are the perfect excuse to go a little crazy with '70s and '80s-inspired pieces.
Will you be channeling Debbie Harry?
Debbie is one of the coolest women around. A rock star, philanthropist, and female icon, there's so much about her to love!
Is it time to buy a new leather or denim jacket? Maybe we'll catch you bleaching your hair to match Blondie's? Or at least adding some Blondie to your playlists? Let us know in the comments!
An for more information on Debbie Harry, check out these great sources:
Biography.com Debbie Harry
Buzzfeed "14 Things You May Not Know About Blondie"
Hello! Magazine Deborah Harry – Biography
NME.com "25 Things You Never Knew About Blondie"
Wikipedia Debbie Harry