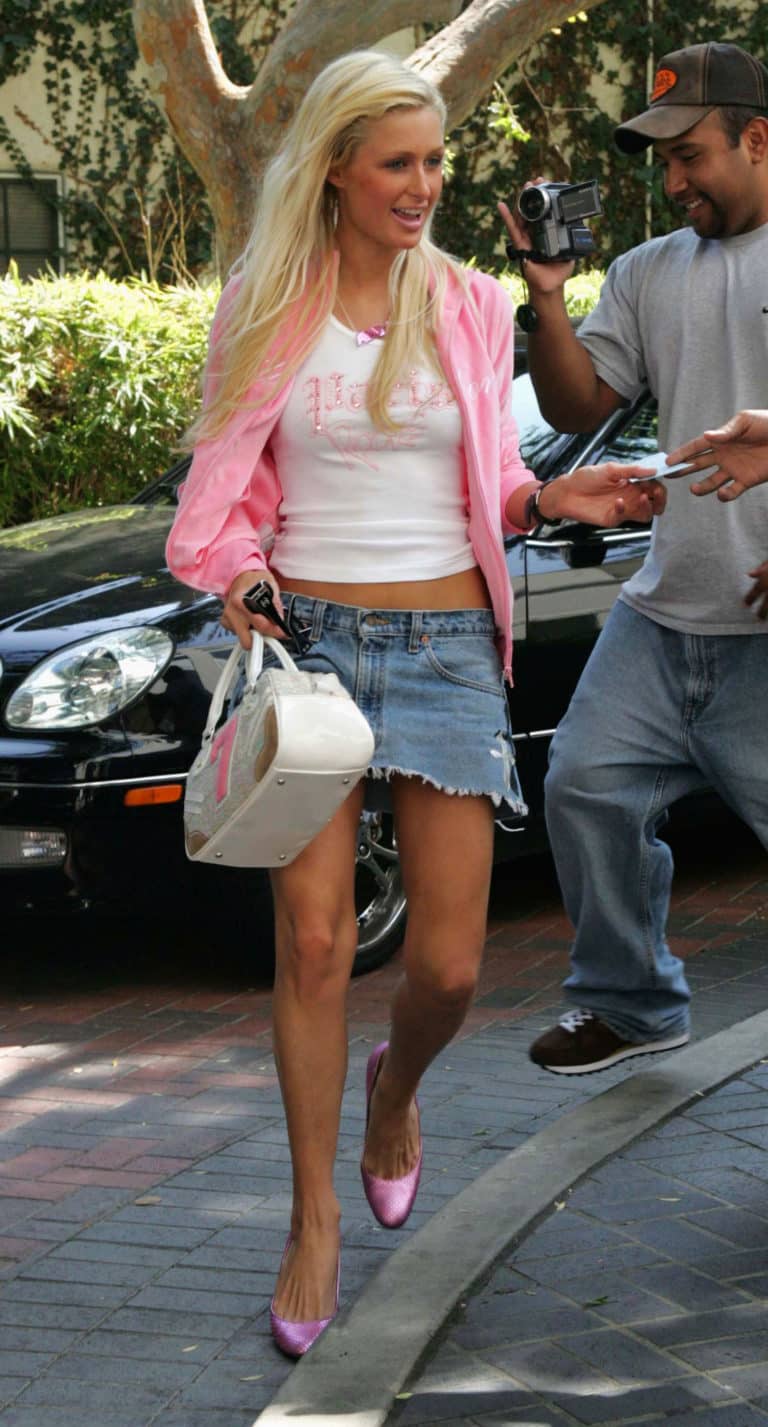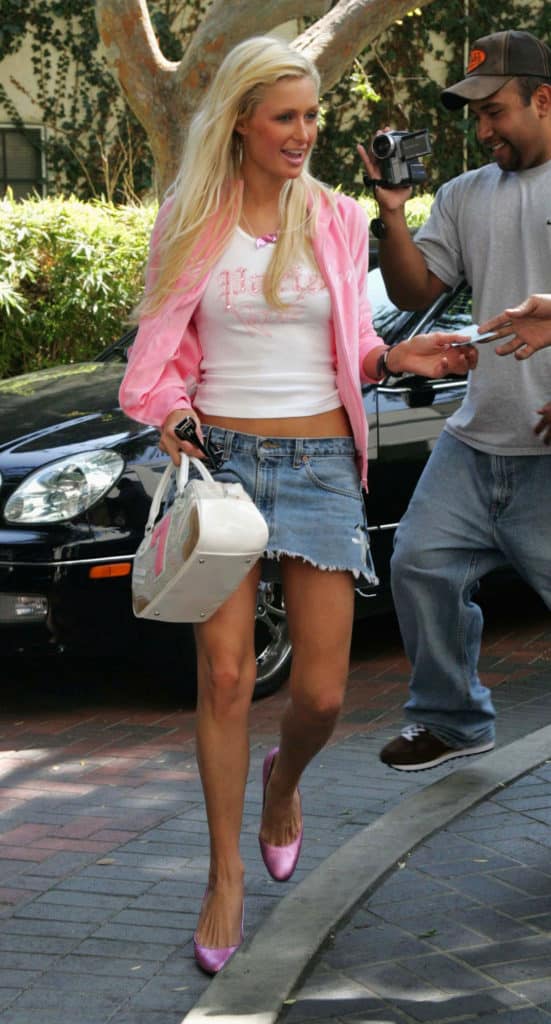 If you are just now tuning in to our 2000s fashion icon series, welcome! We've been breaking down and looking at the styles from some of the top fashion icons of the 2000s.
Last week we looked at Nicole Richie, a 2000s style mogul. We dove into her fashion tastes and eventual style overhaul, and explained how to get those 2000s-Nicole-inspired pieces and outfits for ourselves.
Now we're moving on to Nicole's infamous partner in crime: The one, the only, Paris Hilton.
Paris Hilton's style in the 2000s was iconic. She was sassy, girly, and delightfully over-the-top. She proudly sported anything that would make her say, "That's Hot!"
Let's look at Paris' history and — most importantly — Paris Hilton's 2000s style and how we can get it for ourselves.
Paris Hilton Biography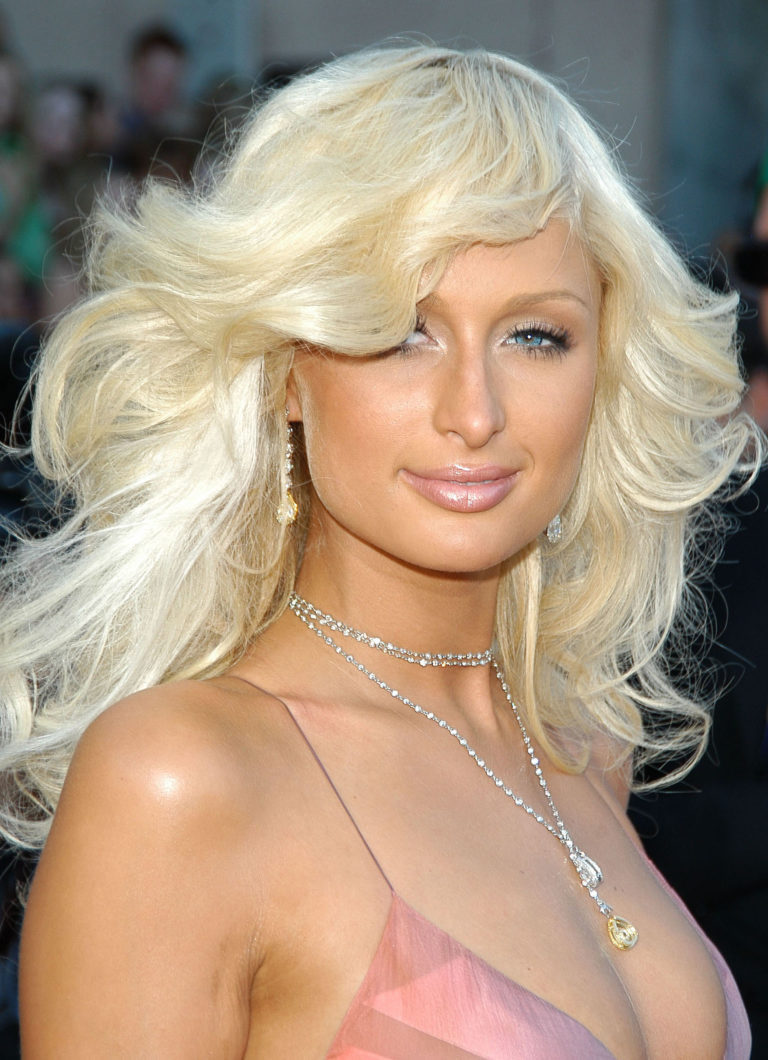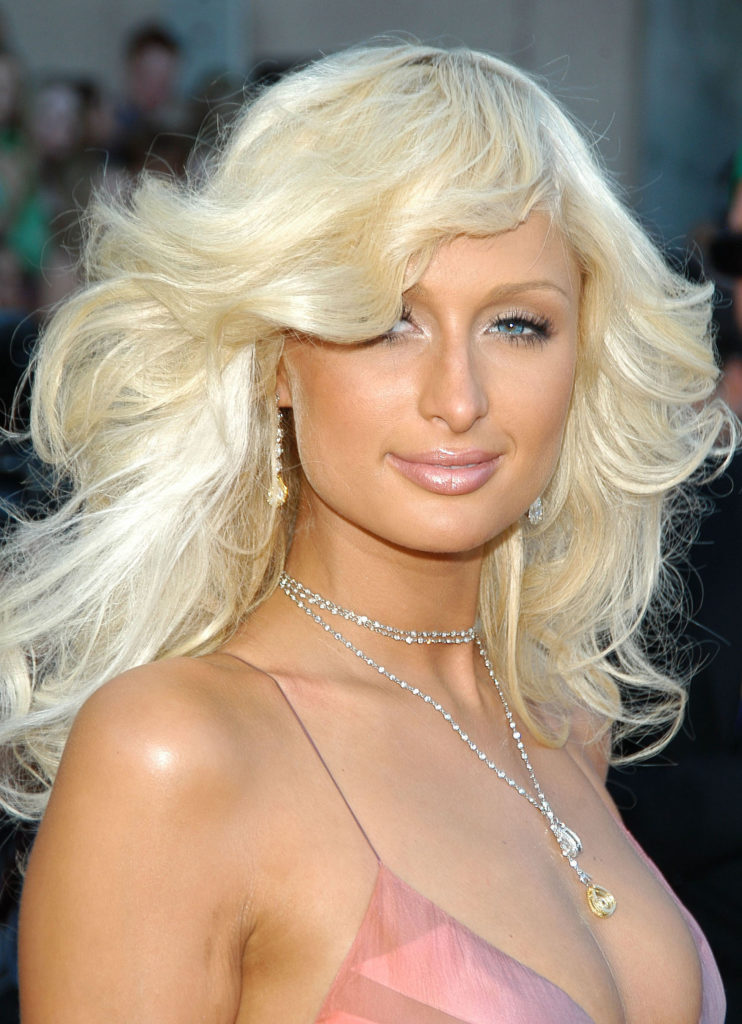 Paris Hilton was born February 17, 1981 in New York City. She was raised in various locations including a suite in the Warldorf-Astoria in Manhatten, Beverly Hills, and the Hamptons. She attended the Dwight school in Manhattan until she dropped out and obtained her GED certification instead.
Paris modeled as a child and signed to Donald Trump's modeling agency, T Management, when she was 19 years old. From there she graced the covers of many magazines and made cameos and guest appearances on movies, tv shows, music videos, and at nightclubs.
In 2003, her infamous celeb-reality show, The Simple Life, aired on Fox. As we discussed in our article on Nicole Richie, the show was very successful. It also set in stone the "dumb blonde" persona that Paris Hilton had intentionally created for herself — one that is still associated with her to this day.
Paris then branched out into books. She co-wrote Confessions of an Heiress: A Tongue-in-Chic Peek Behind the Pose in 2004, which became a New York Times bestseller. She also co-wrote Your Heiress Diary: Confess It All to Me in 2005.
Although The Simple Life came to an end in 2007, Paris still had many business deals going for her, such as selling multiple fragrance lines, Dream Catcher hair extensions, a signature footwear line with Antebi, a canine apparel line Little Lily, and an apparel line with Kitson Boutique. She also continued to model and act.
By the 2010s, Paris had released over 10 fragrances for women, even winning a Fifi Award. Her modeling landed her on the catwalk at Brazil's Fashion Week in 2010 and 2011.
She also continued to open various apparel and footwear lines and hosted new TV shows: Paris Hilton's My New BFF, Paris Hilton's British Best Friend, and Paris Hilton's Dubai BFF.
Paris continued to run her various businesses and in 2013, she became a self-promoting DJ. Her first DJ roles were at Ibiza's weekly "Foam and Diamonds" parties. That November, Paris won the Best Breakthrough DJ award at the NRJ DJ Awards. She continues to DJ and create music.
Today, Paris still does it all: She's a major businesswoman in the apparel and footwear spaces (she even did a collaboration with popular retailer Boohoo in 2018), has tons of successful fragrance lines, is a DJ and music producer, and does video cameos and modeling. In 2018, she famously appeared at Fashion Week and modeled for Kanye West's Yeezy Season 6 collection.
Paris Hilton's 2000s Style:
For many of us, Paris was like a real-life Barbie doll. Back in the 2000s, young girls all over were enamored with her beauty and many of her fashion-forward and daring looks.
One of Paris' many 2000s fashion talents was to make even a tracksuit look stylish. She was photographed in many tracksuits in the 2000s, most notably Juicy Couture tracksuits. They were always soft and matching in color – usually with a bit of tummy skin showing. She was able to make comfort look high-end.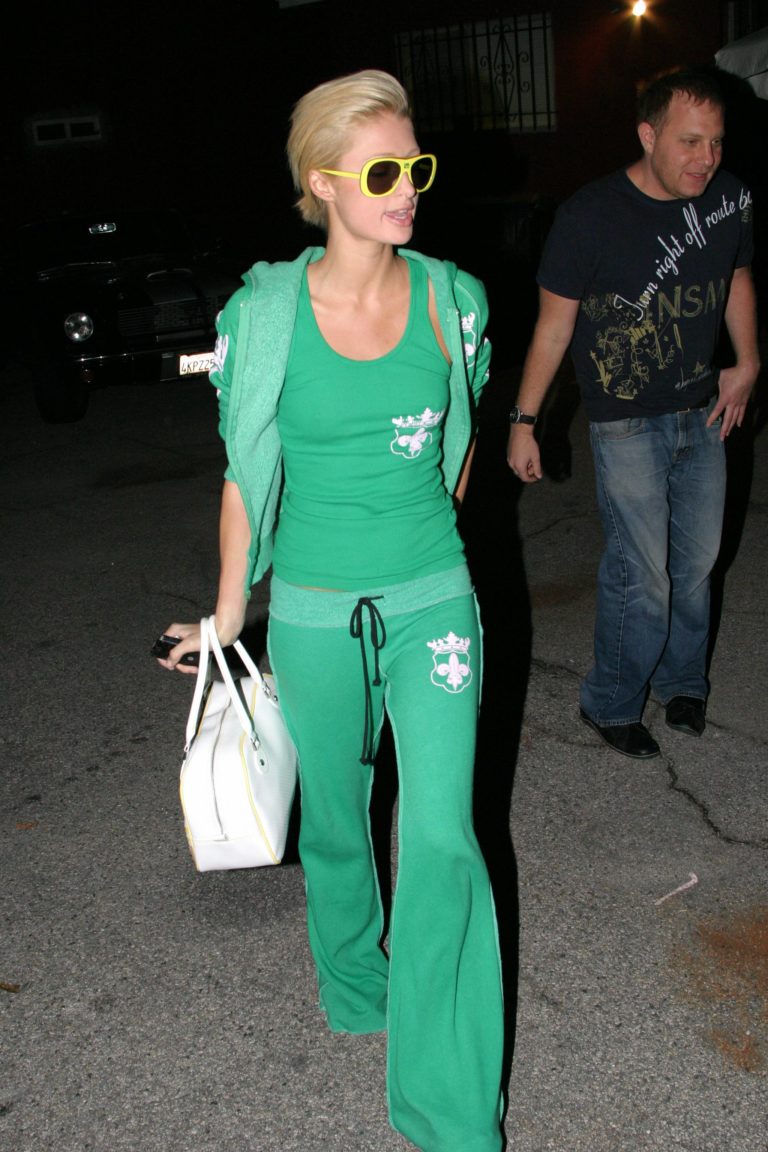 Paris also loved her matching two-piece ensembles, usually consisting of cropped tanks and very low cut asymmetrical skirts, topped off with a shoulder bag.
Also Read: Olsen Twins 2000s Style: Mary-Kate & Ashley Outfits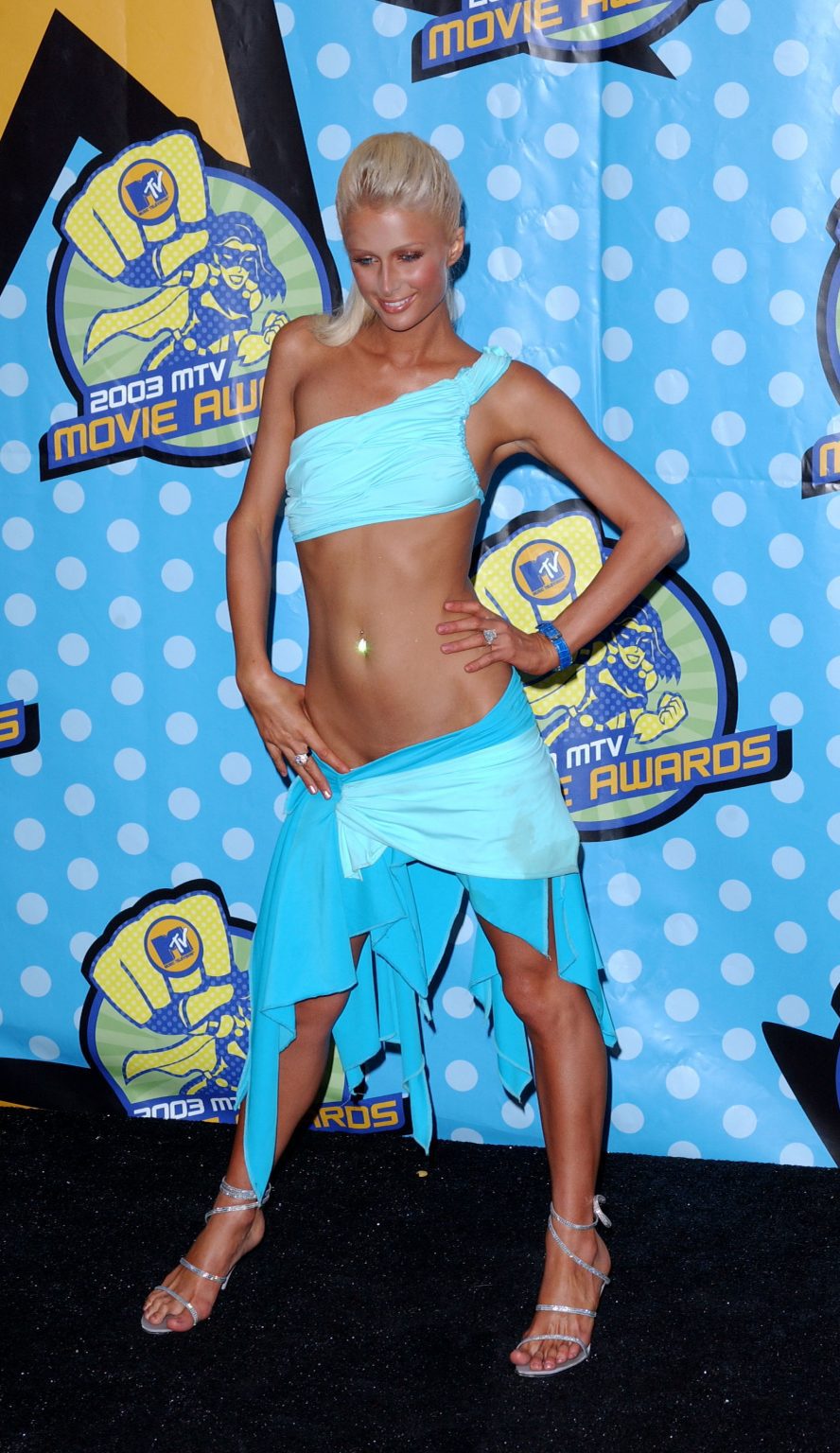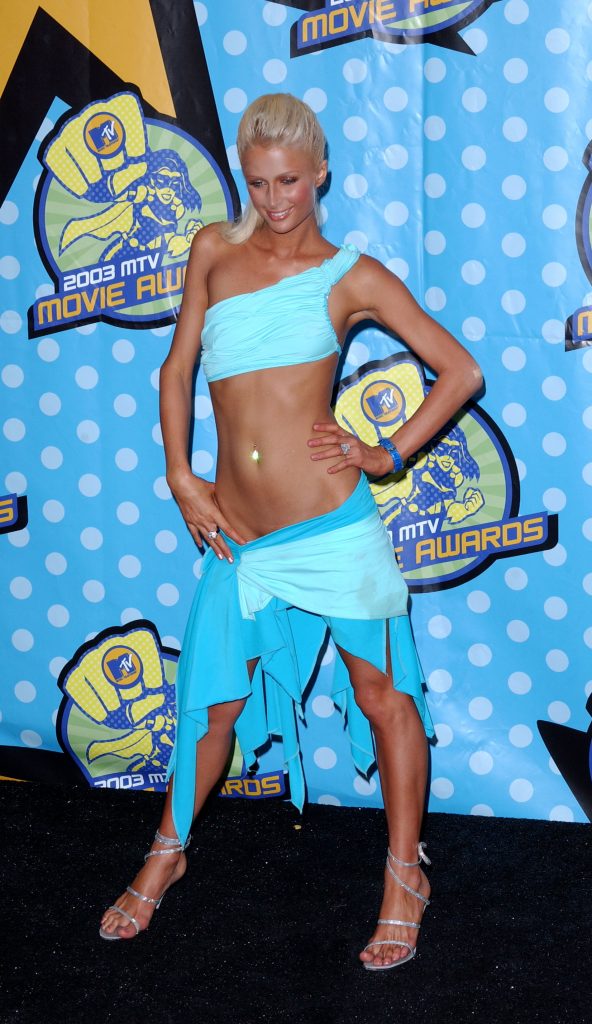 Although Paris had her own signature style, she was also known to coordinate with her sister, Nicky Hilton, periodically. Take a look at just a few of their coordinated looks from the 2000s: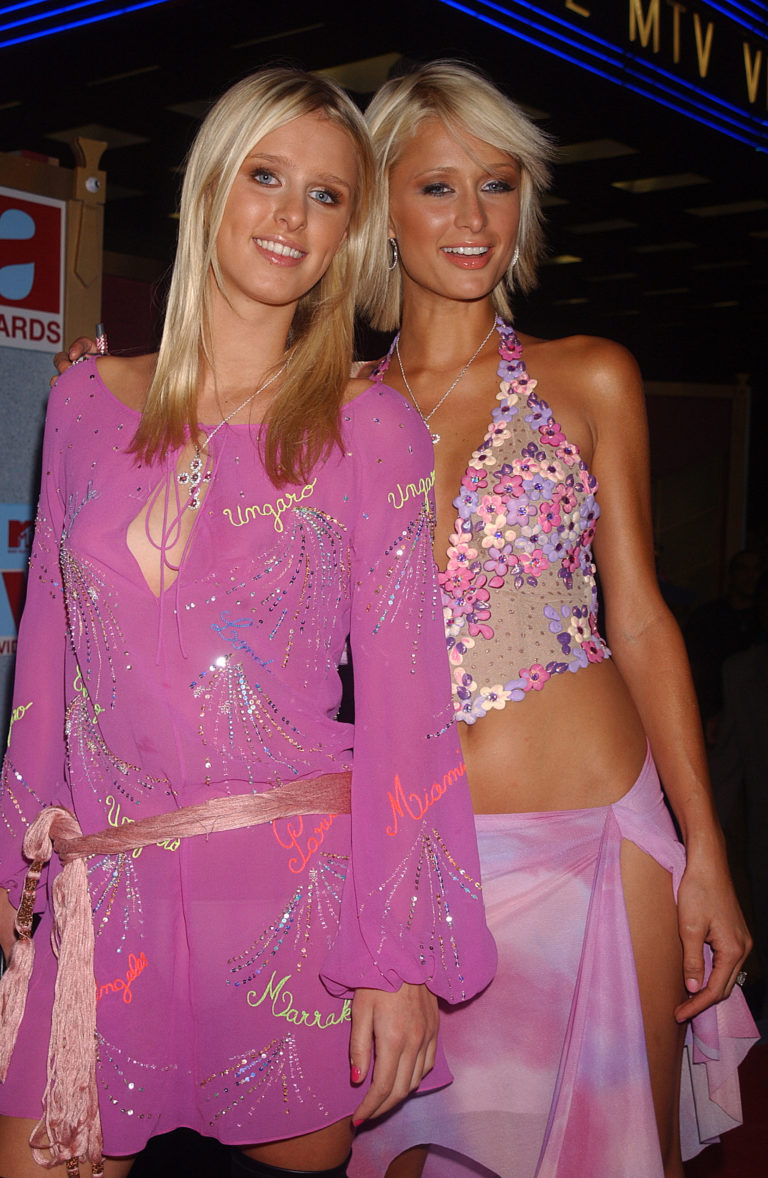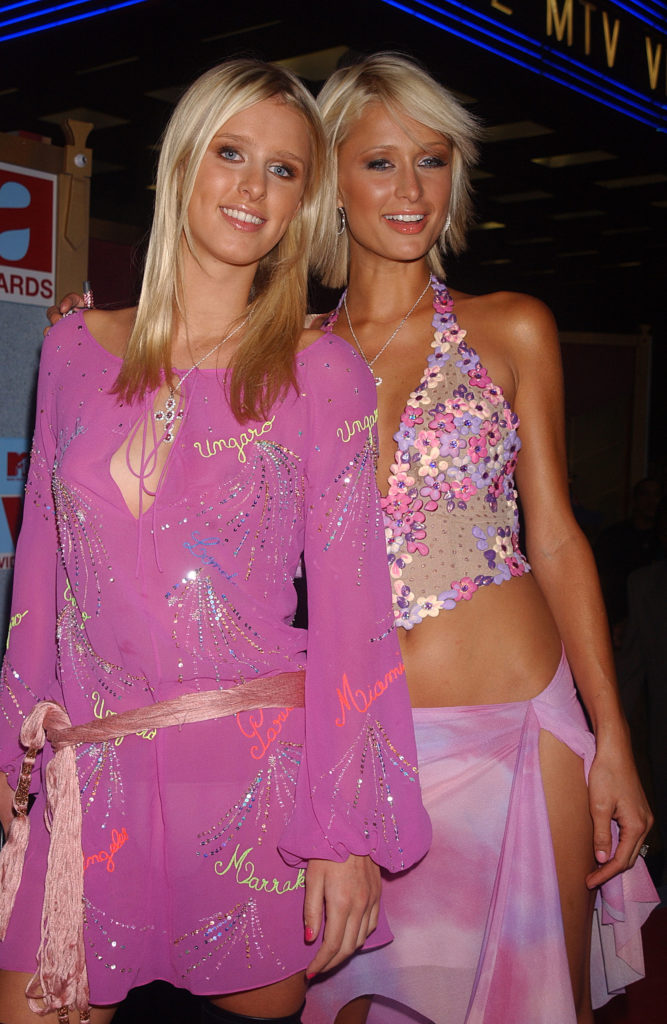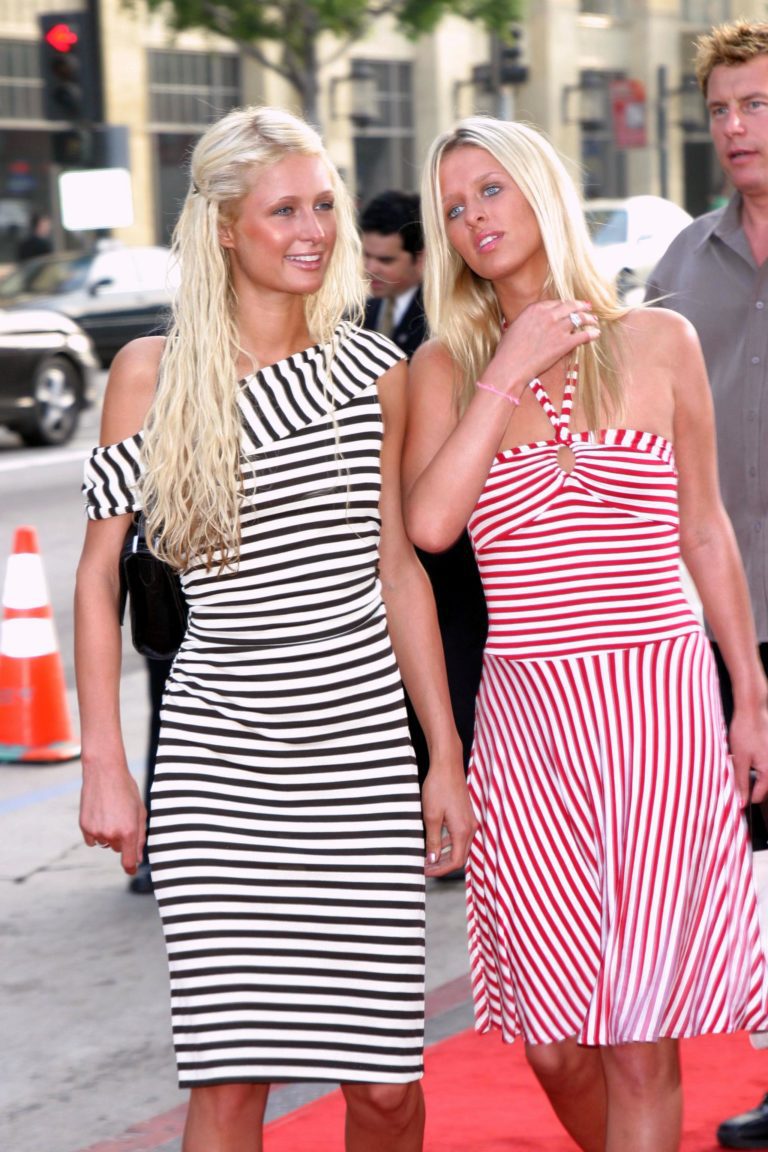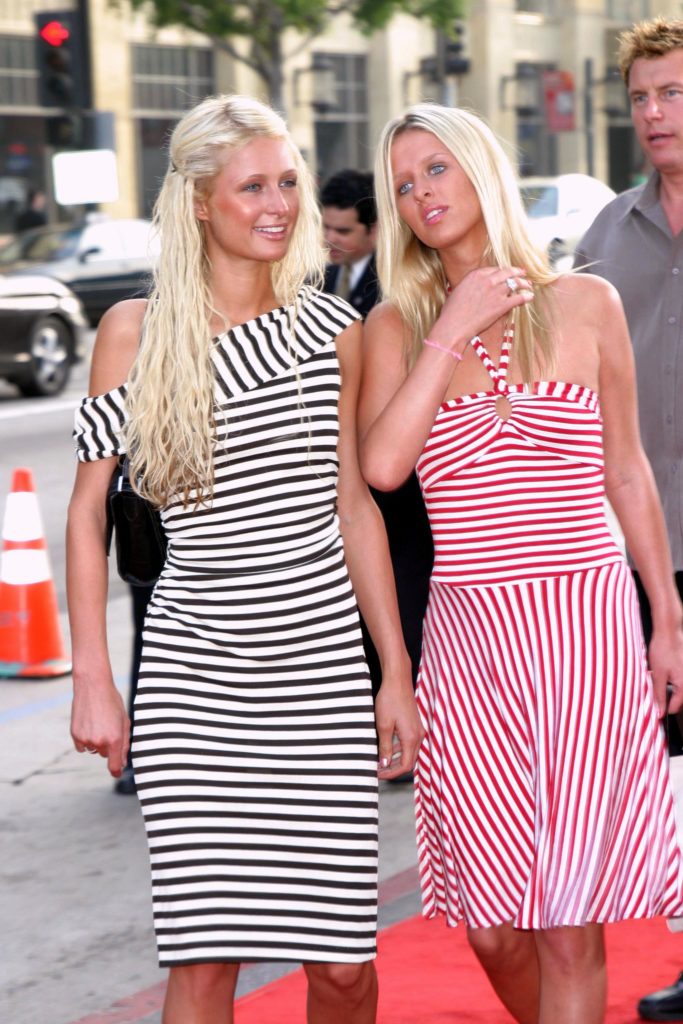 Paris Hilton's 2000s-Inspired Looks:
Outfit 1: Tracksuit – Paris Hilton 2000s Style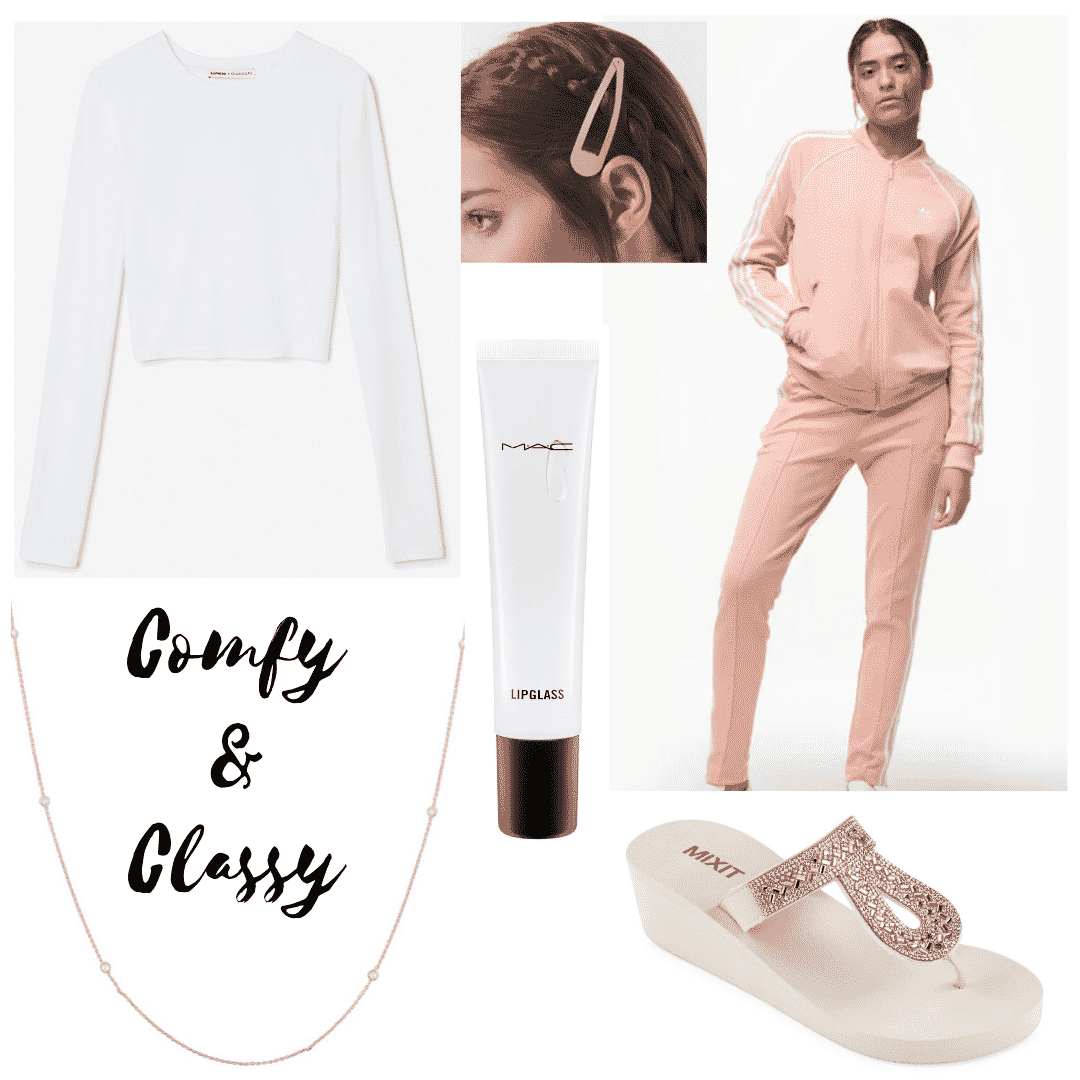 Products:
This outfit inspired by Paris Hilton's 2000s style is a modern take on her Juicy tracksuits.
Here, I've combined a cropped long sleeve top and an Adidas sporty tracksuit to get Paris' look. The sandals are a nod to the past with the wedge heel and bedazzled accents.
Add a hair clip, simple strand necklace, and lipgloss to polish off the Paris Hilton look.
Paris Hilton 2000s Style – Outfit 2: Two-Piece Set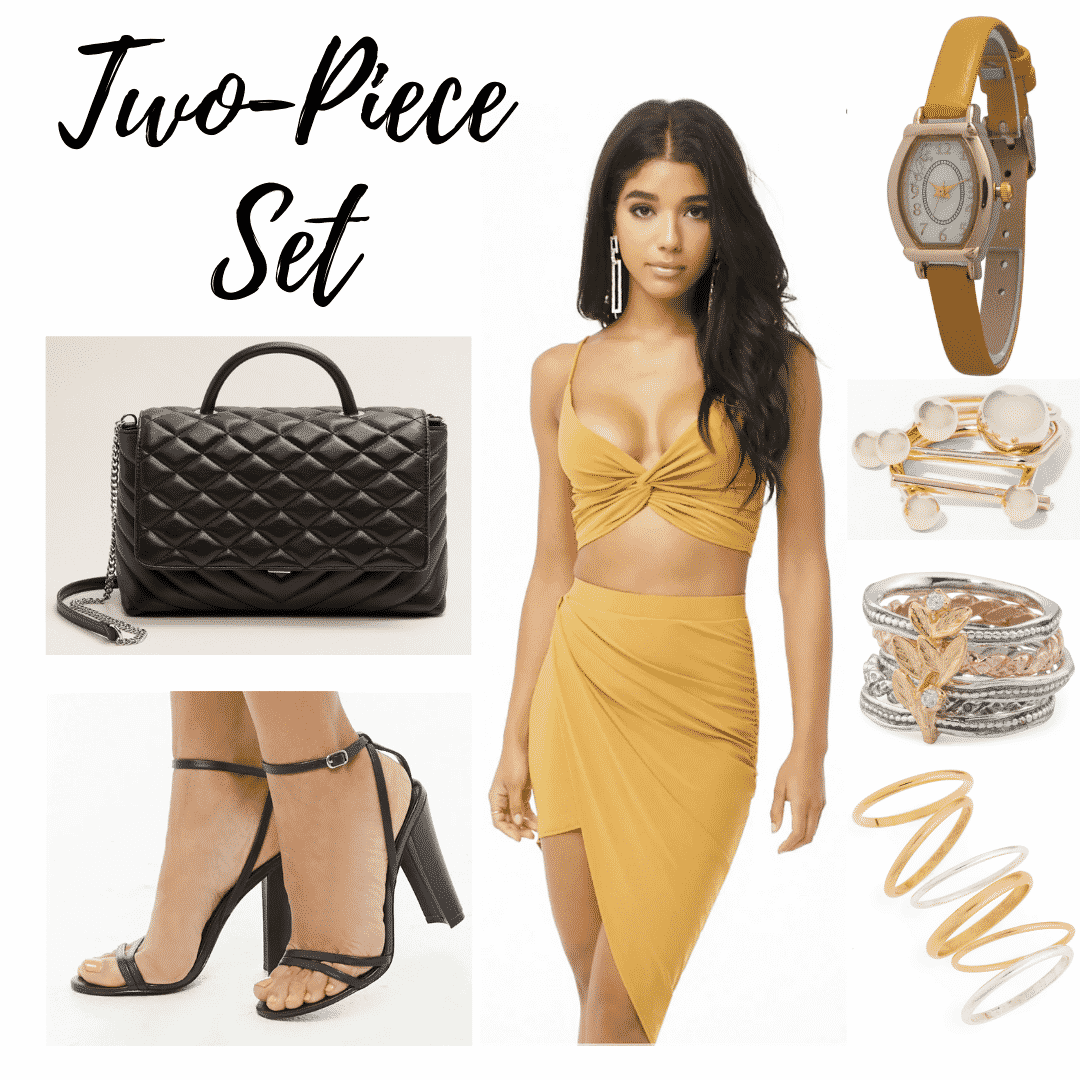 Products:
Two-piece sets are definitely in again, this time around with a higher waist – thank God. This matching set is great for a night out or a day out during spring break.
Pair the set with yellow gold accessories – stacked rings will give you the Paris Hilton look. This black shoulder bag and strappy heels are also a nod to Paris Hilton's 2000s style.
Paris Hilton 2000s Style – Outfit 3: Chainmail Dress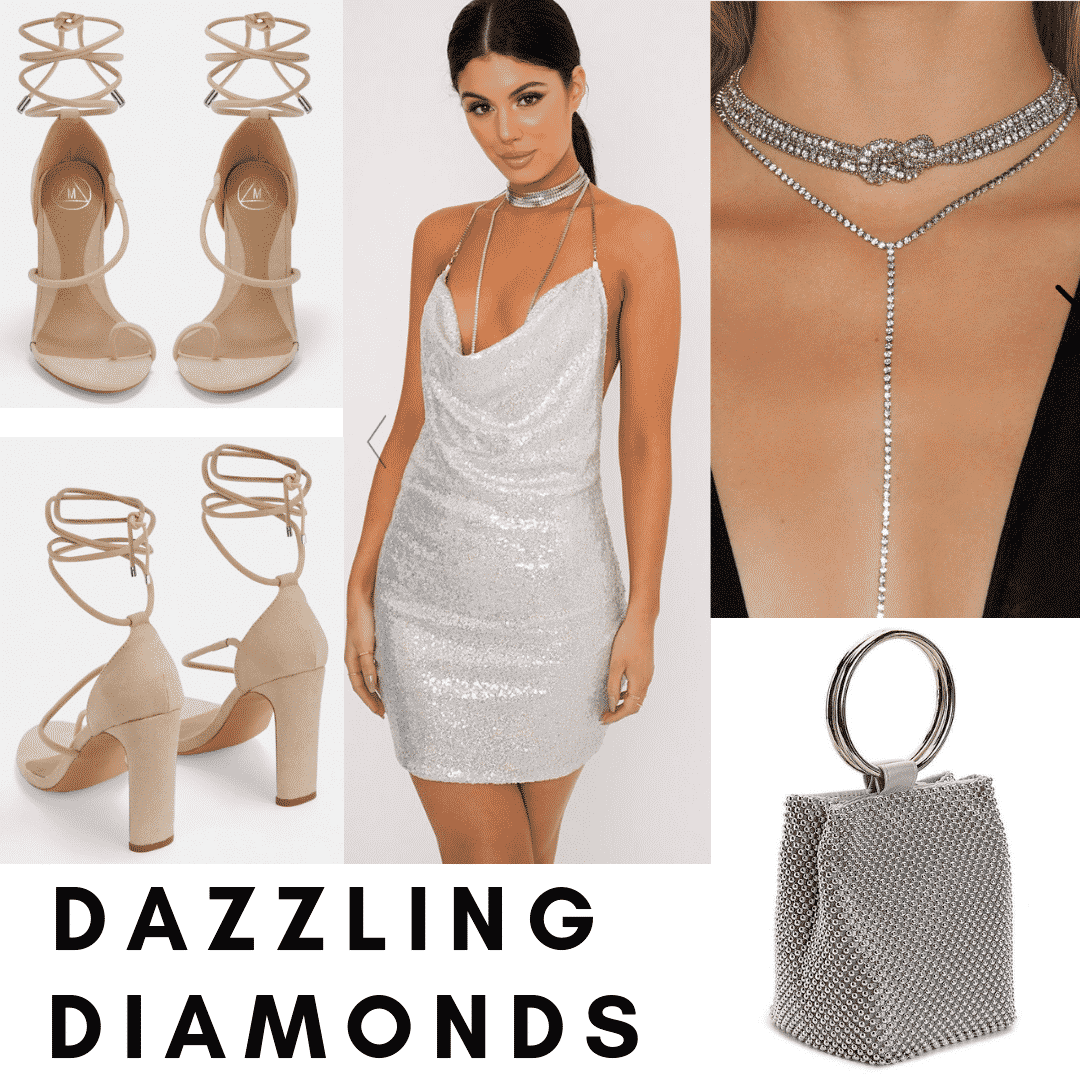 Products:
We may not be able to get Paris Hilton's infamous chainmail dress from her 21st birthday for ourselves, but we can get pretty close! This dress comes with the choker detailing, but you can always add more with the layered choker necklace from Nasty Gal.
A pair of beige strappy heels and a top-handle metal box bag seals the deal.
What's Your Favorite Paris Hilton 2000s Style Moment?
Do you love Paris' style from the 2000s? Let us know in the comments!
If you liked this article about Paris Hilton 2000s, consider checking out these other articles below —