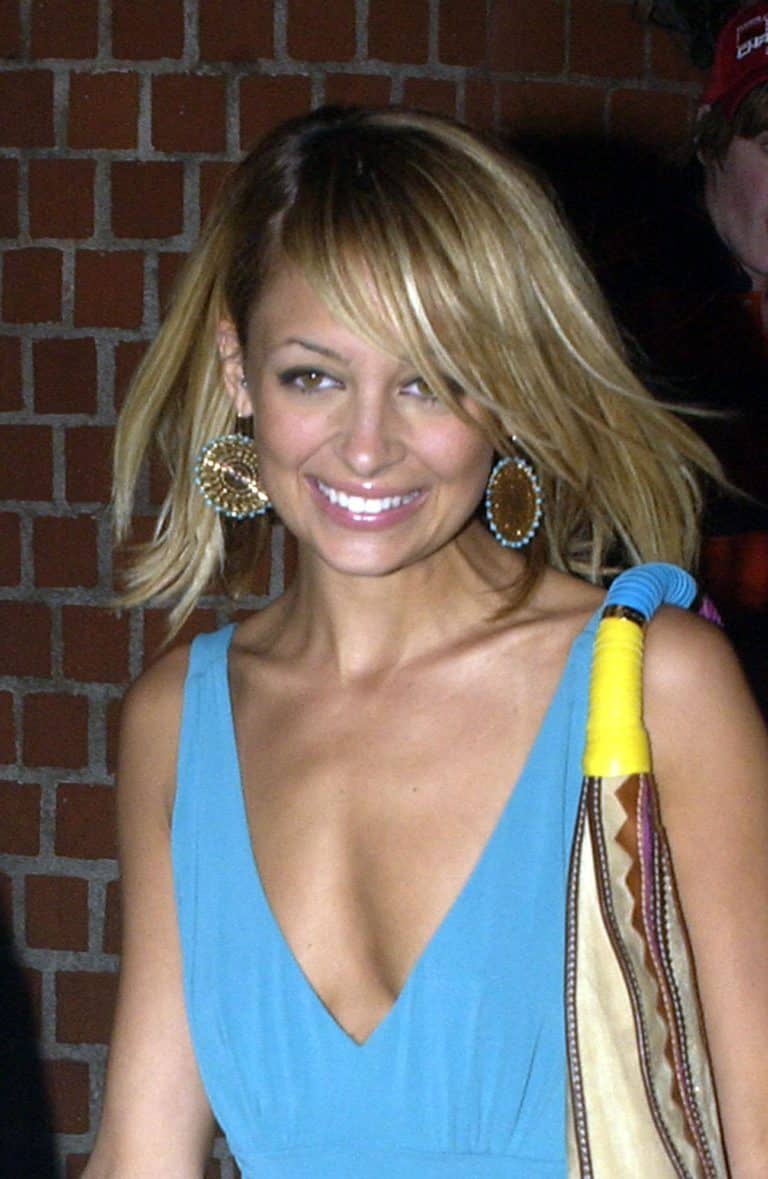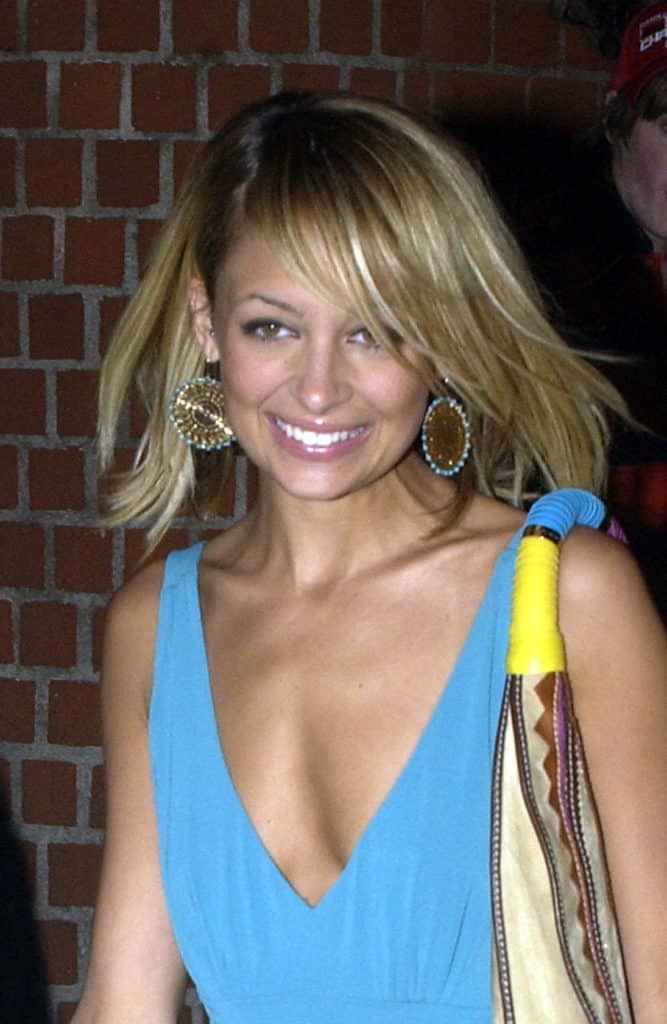 We've been breaking down the styles of the 2000s fashion icons you need to know. Last time, we reviewed Sarah Jessica Parker's impact on 2000s fashion and looked at some of her iconic outfits.
This week we are continuing our 2000s fashion series with TV star-turned fashionista Nicole Richie.
It may seem like The Simple Life was airing yesterday, but it's actually been almost 16 years since the show premiered on December 2, 2003.
Ms. Richie may not be as well-known has as her former BFF Paris Hilton, but she's definitely famous in the fashion world. This is thanks in part to Nicole Richie's 2000s style. Today we are going to break it down a bit and reflect on her history and see what she's up to today!
Nicole Richie Biography
Nicole Richie was born in Berkeley, California on September 21, 1981. She was taken in by Lionel Richie when she was three years old after her biological parents, Karen Moss and Peter Michael Escovedo, realized they could not properly provide for their daughter. Her parents were good friends of Lionel Richie and he and his wife at the time, Brenda Harvey, adopted Nicole when she was nine years old.
Nicole graduated from Montclair College Prep School, and attended Arizona State University where she studied Arts and Media, though she did not graduate. She returned home to California two years into her college career when she could not choose a definitive path.
In 2003, Nicole signed on for the reality show The Simple Life alongside BFF Paris Hilton. The show, one of the first celebrity reality series, would become emblematic of the early 2000s. The show came to a close after an unsuccessful fifth season. Nicole has had many appearances on television since then, including her own series Candidly Nicole which aired on VH1 for two seasons circa 2015.
In 2005, Nicole wrote a novel, The Truth About Diamonds, that peaked at Number 32 in Hardcover Fiction for The New York Times Best Seller List. She wrote a second novel in 2010 called Priceless.
Nicole's name in fashion extends past her personal style. She was, for a time, the face of brands like Bongo and Jimmy Choo. She joined brands to create lines like her line Nicole at A Pea In The Pod and later created her own brand, House of Harlow 1960.
Today, House of Harlow 1960 is a successful fashion brand that carries jewelry, accessories, shoes, and apparel.
Today Nicole is married to rock-star Joel Madden and has two children with him, ages nine and ten.
Nicole Richie 2000s Style:
Nicole's style in the early 2000s has been called many things but none so spot-on as "2000s glam-tack." She nailed this bittersweet look through a style that included heavy eye makeup and bold accessories mixed with girly, but revealing, apparel.
Later on in the decade, Nicole overhauled her look, claimed the bohemian chic style for her own, and branched out as a bona-fide fashion icon in her own right.
This trip down memory lane shows Nicole wearing a very low-cut halter dress with pink and yellow print. She pairs it with layered necklaces, and of course, the 2000s hair poof hairstyle.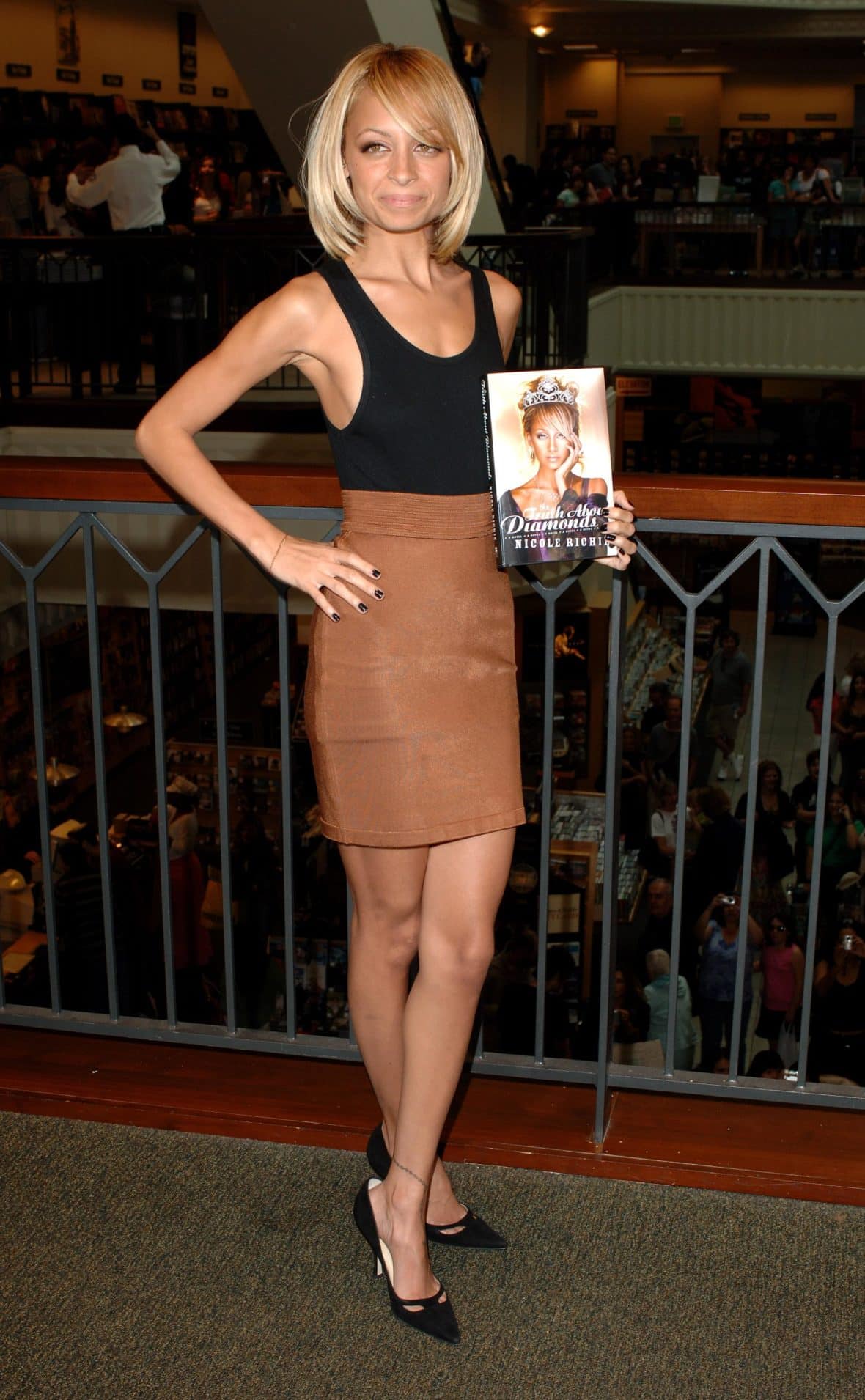 Back in 2005, Nicole matched a sleek camel pencil skirt with a simple black tank top and black pumps while signing copies of her new book "The Truth About Diamonds." In this look, Nicole's accessories are minimal and her sharp bob nails the sleek look, a far cry from her earlier looks of the decade.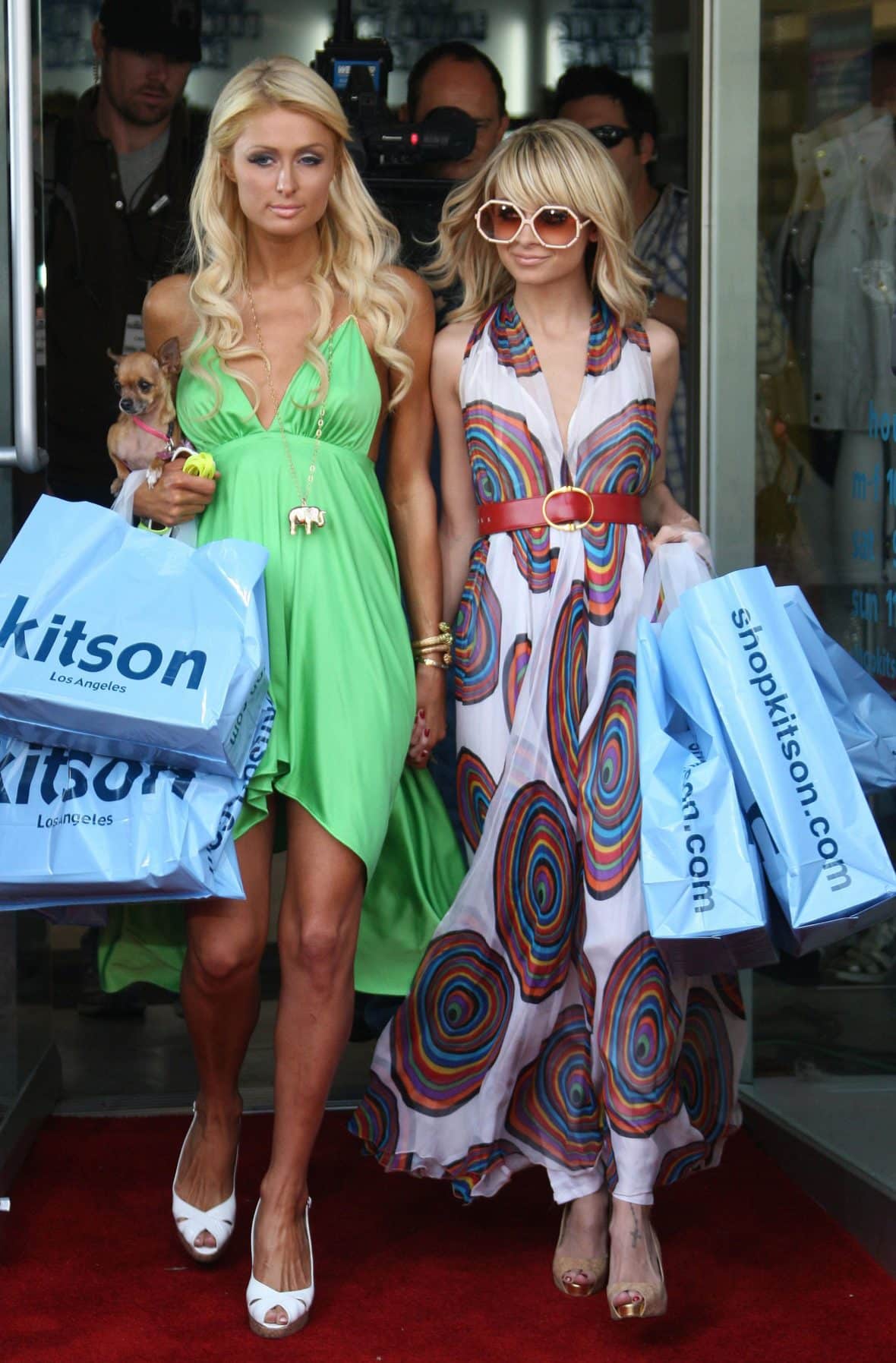 This snap is from 2007, when Nicole and BFF Paris Hilton shopped at iconic 2000s fashion store Kitson. In this photo, Nicole wears a patterned, halter-style maxi dress with a leather belt at the waist, beige peep-toe pumps, and hexagon sunglasses.
Also Read: Paris Hilton 2000s Style: Ultimate Guide to Her 2000s Fashion Moments
Nicole Richie 2000s-Inspired Looks: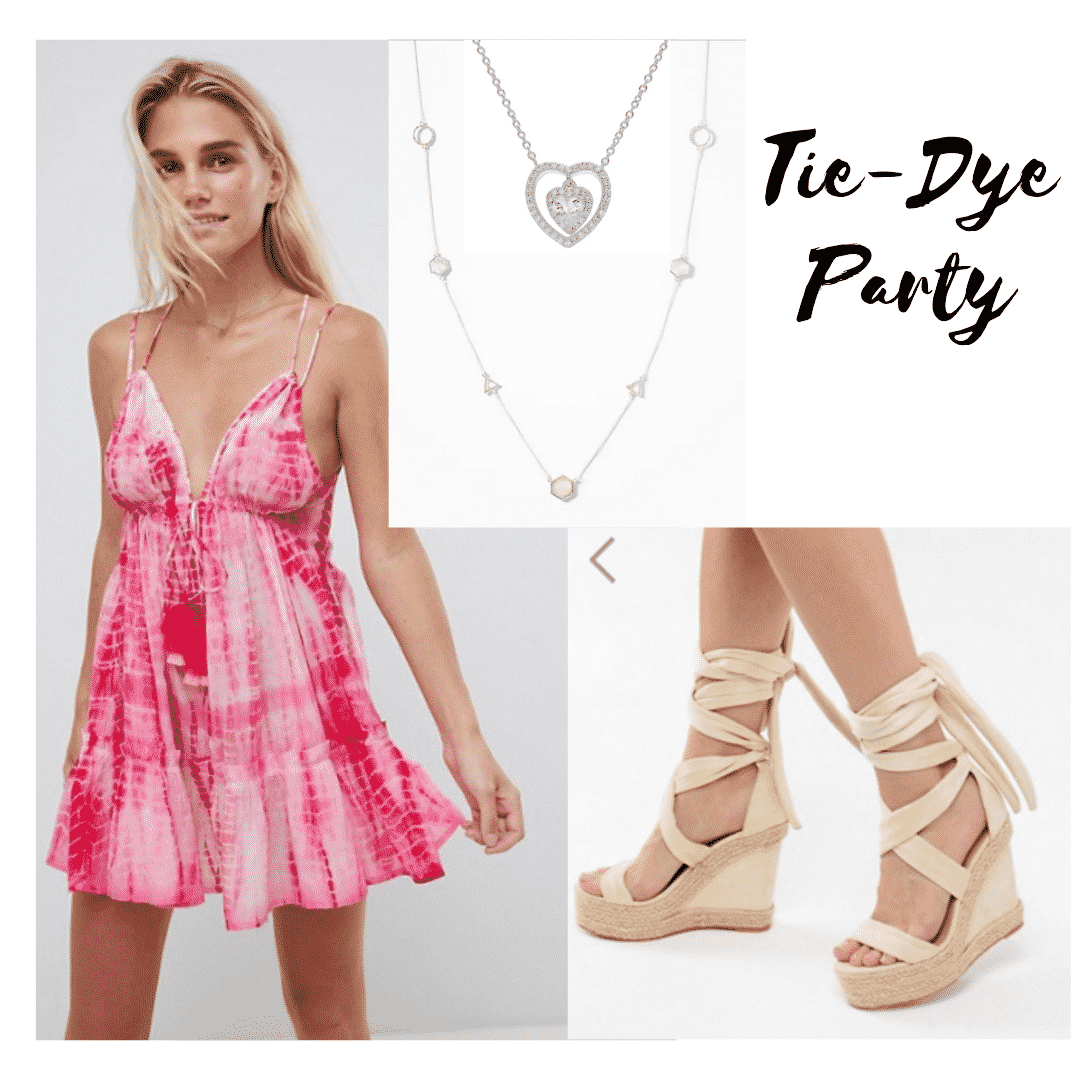 Products: Dress – ASOS, Shoes – ASOS, Long Chain Necklace – Old Navy, Heart Necklace – Kohl's
With this outfit, we take Nicole's tie dye dress and make it modern with a more subtle color palette of pink and white. This dress has tassels and a strappy back, as well, though it has a mini cut that's perfect for spring break.
Pair the dress with a pair of neutral espadrille wedges — another throwback! Finish with a couple of cute layered necklaces.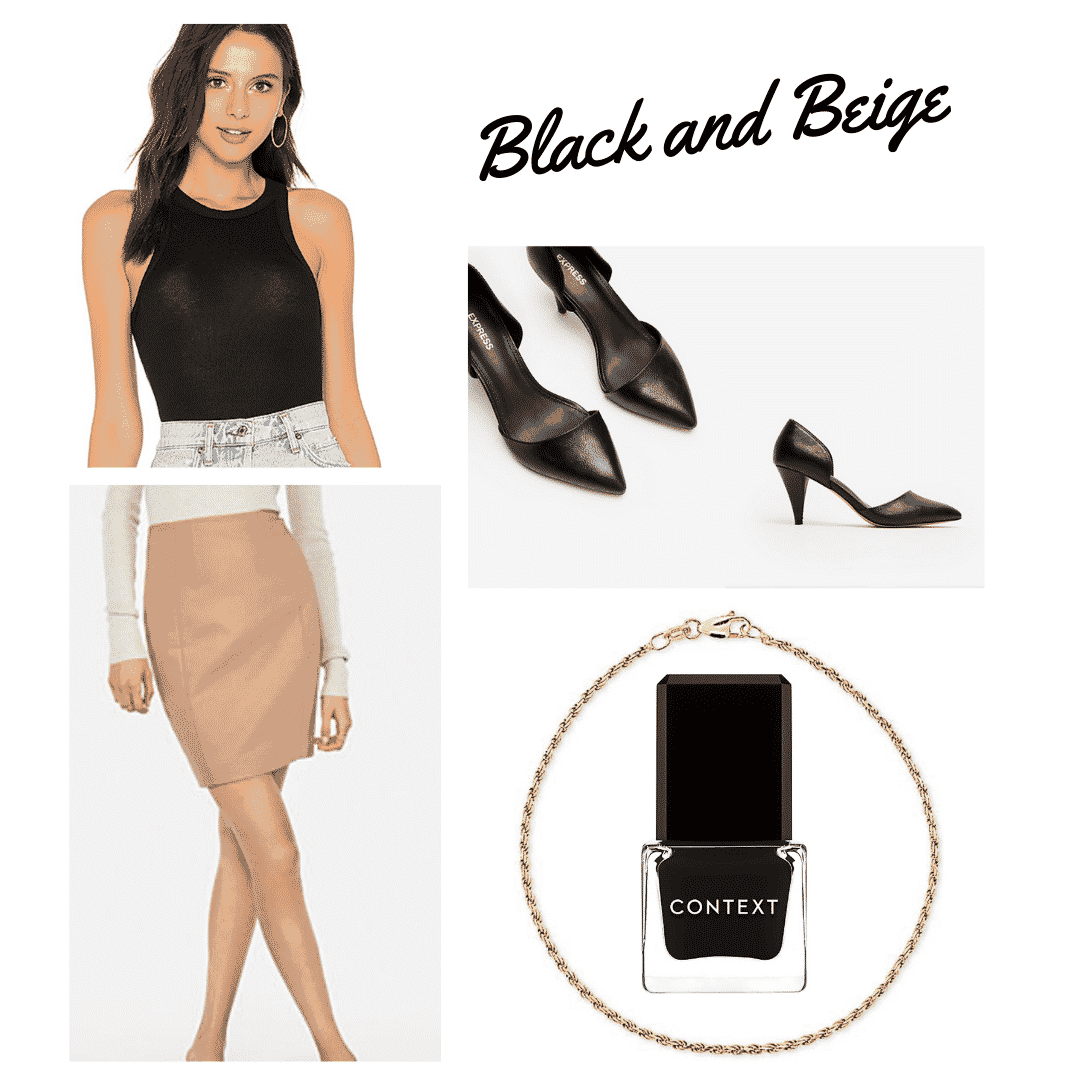 Products: Tank Top – Free People, Skirt – Express, Heels – Express, Nail Polish – Revolve, Bracelet – Macy's
I absolutely love this simple but impactful look. It's a super clean outfit with neutral tones and minimal styling. But, it just works!
A great thing about the pieces above is that they are super versatile and work easily with other outfits.
You can pair the tank top with virtually anything — a maxi skirt, a midi skirt, high waisted flare jeans, cropped jeans, a boyfriend jean … the list goes on and on. Pair the skirt with other neutral tops or even a bold hue like cerulean or magenta.
Of course, these black pumps are just as versatile as the rest, with their medium-height heel and pointed toe.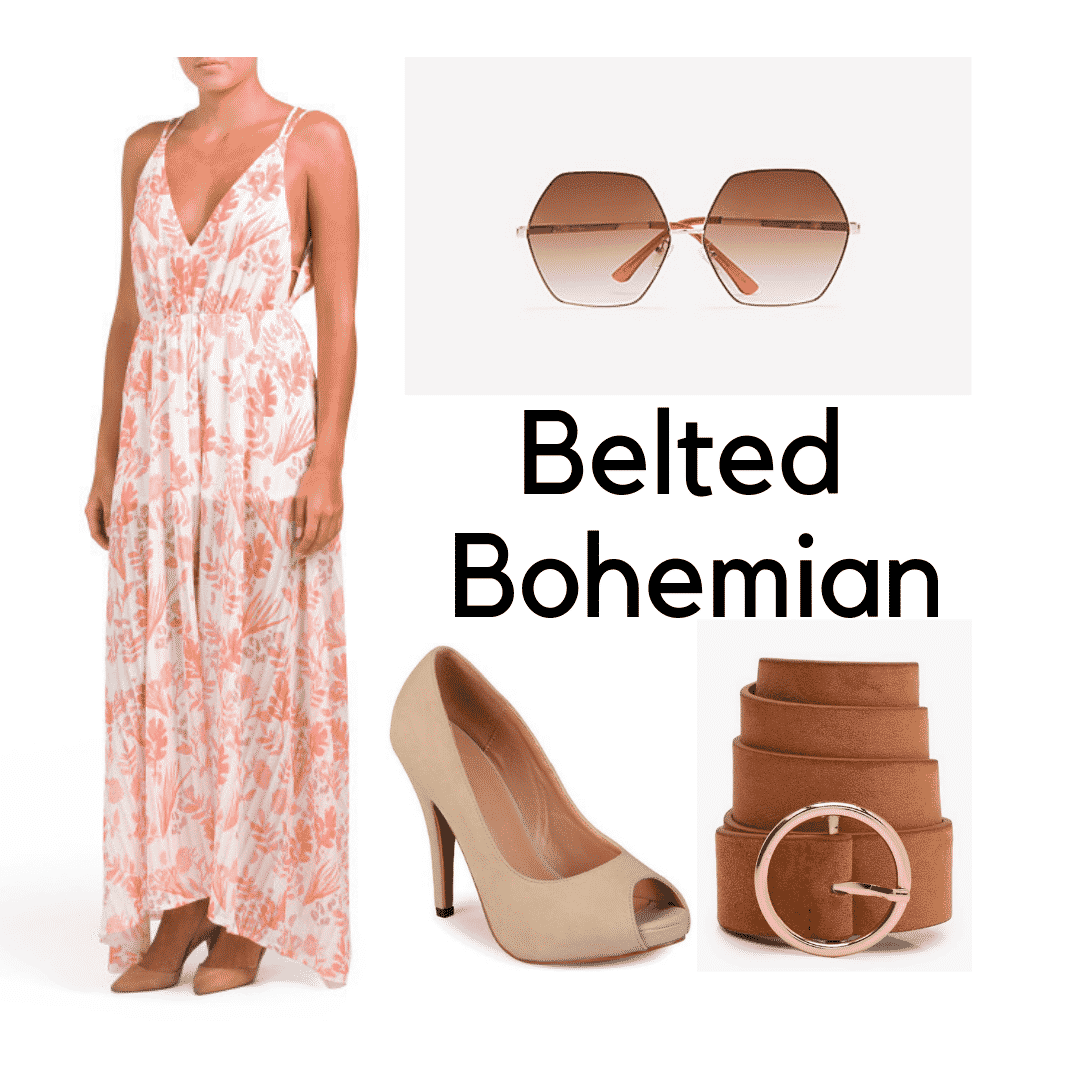 Products: Dress – TJ Maxx, Pumps – Wal Mart, Belt – Boohoo, Sunglasses – Express
This look is super fun and I love the bohemian vibes it gives off.
These hexagon sunglasses are great all year round and you can wear the belt at the waist with dresses or at the hips with a dark wash jean.
A beige peep-toe heel dresses up any look, so it's a staple for every woman's closet. You can rock this type of heel with almost any outfit. In the summer time, I think these shoes would look great with a sailor-style high-waisted short and tucked in blouse.
What's Your Favorite Nicole Richie 2000s Style Moment?
For more on this subject, be sure to check out Refinery29's interview with Nicole where she looks through photos of her own 2000s outfits.
Are you haunted or inspired by Nicole's style from the 2000s? Let us know in the comments!