This post may contain affiliate links, which means we may receive a commission if you purchase through our links. Please
read our full disclosure here
.
Hi, guys! Today, we are continuing on with our 2000s Fashion Icon Series! Last week, we went over the 2000s style of Christina Aguilera and how to use her style as inspiration today.
This week we are looking at the Olsen Twins, their 2000s style, and how to get the style ourselves.
Let's not pretend we didn't all want to be an Olsen sister growing up watching their awesome films …It Takes Two, Passport to Paris, Our Lips are Sealed, Winning London, and New York Minute. And we can't forget how they got their start as Michelle Tanner on Full House.
Let's take a journey through their careers first and then read on for the full Mary-Kate and Ashley 2000s style rundown.
The Olsen Twins Biography:
Mary-Kate and Ashley Olsen were born in Sherman Oaks, California on June 13, 1986 and were cast in Full House at only 6 months old. Due to child labor laws, the twins could take turns working on the set to get the most work done for the show.
In the early 1990s, they started acting in a series of films together, as separate characters, starting with To Grandmother's House We Go. They starred in 14 films until their last film together in 2004, New York Minute. During this time, they also had multiple cameos on various tv shows and even had their own show So Little Time in 2001.
The twins were smart business women from the get-go, using their fame for a line of products distributed to "Mary Kate & Ashley's Fun Club." Products with their likeness included: videos and movies, apparel and accessories, books, makeup and perfumes, magazines, games, home decorations, and toys. They also sold a fashion collection in Wal-Mart called, "Mary-Kate and Ashley: Real fashion for real girls."
In 2007, Forbes ranked the pair number eleven on their list of the "richest women in entertainment" with a net worth of $100 million.
The Olsen Twins & the Fashion Industry:
The twins have always been interested in fashion, which showed in their personal style. Mary Kate and Ashley are both well-known fashion designers today, through their high-end label, The Row, which they founded in 2006.
In 2007, fresh off the success of The Row, they launched Elizabeth & James, a modern, more affordable collection inspired by vintage pieces and personal closet items. They have also worked on affordable clothing lines like Olsenboye for J.C. Penney and StyleMint, a t-shirt collection. In 2013, the Olsen twins started a fashion line in Oslo, Norway, as well.
The sisters wrote and published a fashion book, Influence, in 2008, a compilation of their correspondence with some of the top names in fashion.
In 2012, they won the Womenswear Designer of the Year award by the Council of Fashion Designers of America (CFDA) for The Row; an award that they won again in 2015. They also won the Accessories Designer of the Year award in 2014.
The Olsen Twins 2000s Style:
Early 2000s:
The Olsen Twins grew up right before America's eyes. In 2000, we see the girls, 14 years old at the time, start to develop a sassy, youthful style.
They deviate a bit from the complete matching they did as kids. Ashley's hair is more flared, and she sports a pair of red pants while Mary-Kate opts for a sassy leopard skirt and choker. And truthfully, these sunglasses are everything.
In 2001, we already see another shift to an older, more teenage look with peek-a-boo midriff tops, low rise jeans, and accessories. The twins' hair even deviates more from one another, with Ashley sporting a beach wave style. They polish their looks off with flip flops — oh, the 2000s.
In 2004, the twins, pictured, are recent high school grads receiving their Hollywood Star. Here, they have an even more "adult" look. Their hair is sleek and subtly highlighted, they are adorned in grown-up jewelry, and they wear gorgeous dresses paired with high heels.
This look marks their transition to adulthood.
MK sports a slightly more bohemian look – a style she has since become known for. Her hair is tossed and she wears stacked bracelets along with her high-neck and high-waist tied dress. She pairs it with navy velvet peep toe heels.
Ashley looks feminine and chic with her hair gently pulled back, accessories barely there, a low-cut gown with bell sleeves, and her shiny, pointed heels.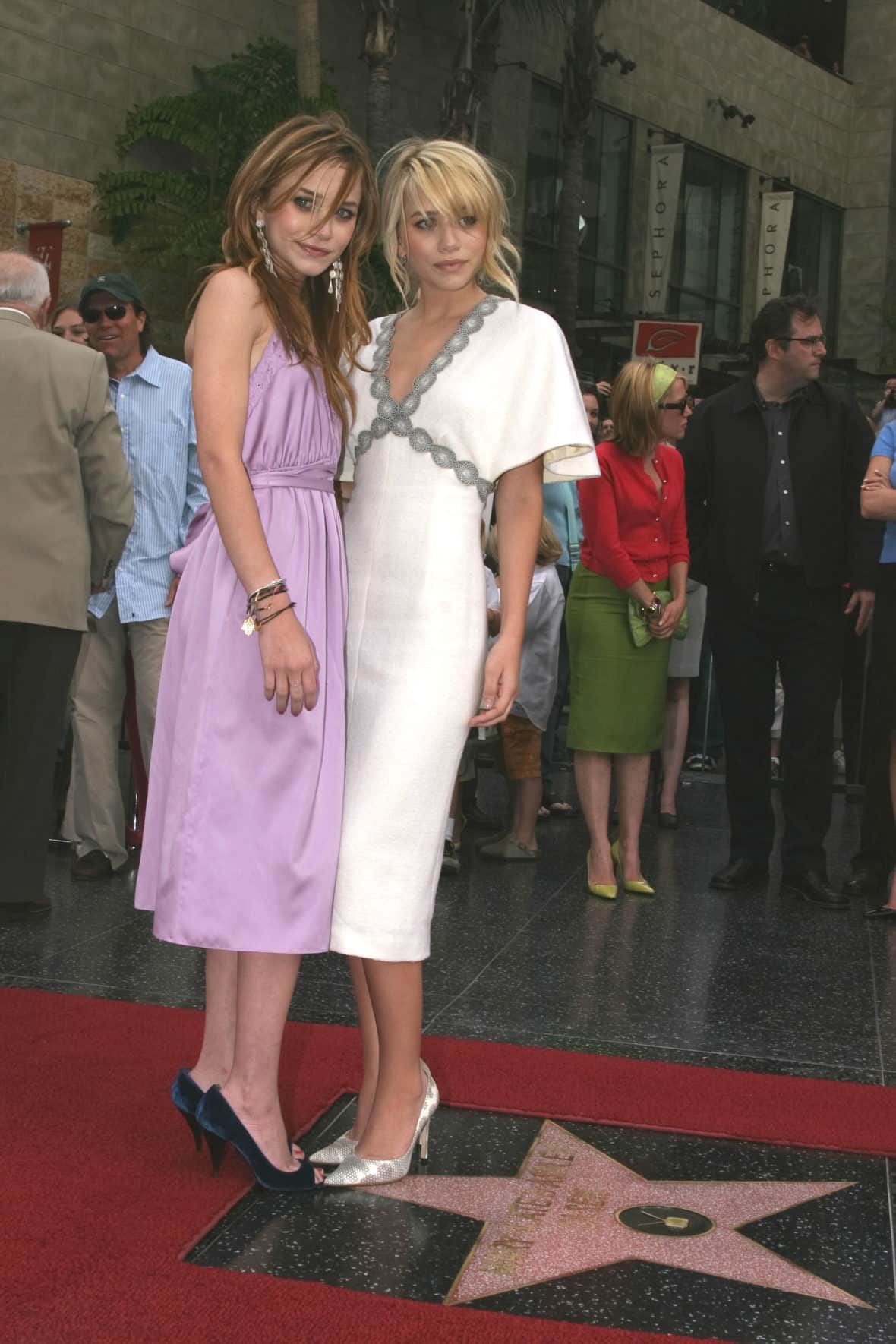 The next year, the twins are seen arriving at the Met Gala looking polished. Once again, Mary-Kate opts for a bohemian style, layered with accessories, a sheer, flowy vintage dress, and black strappy heels. Ashley looks like a doll in her gold strapless asymmetrical dress with gold heeled sandals.
Late 2000s:
In this photo from the late 2000s, we can see the Twins become more confident in their womanhood. Their styles are officially split into different vibes, yet they're still rocking similar color palettes.
Mary-Kate hits her bohemian stride with grungy accents, accessories, and beach waves; and Ashley settles into her polished, girly-chic look.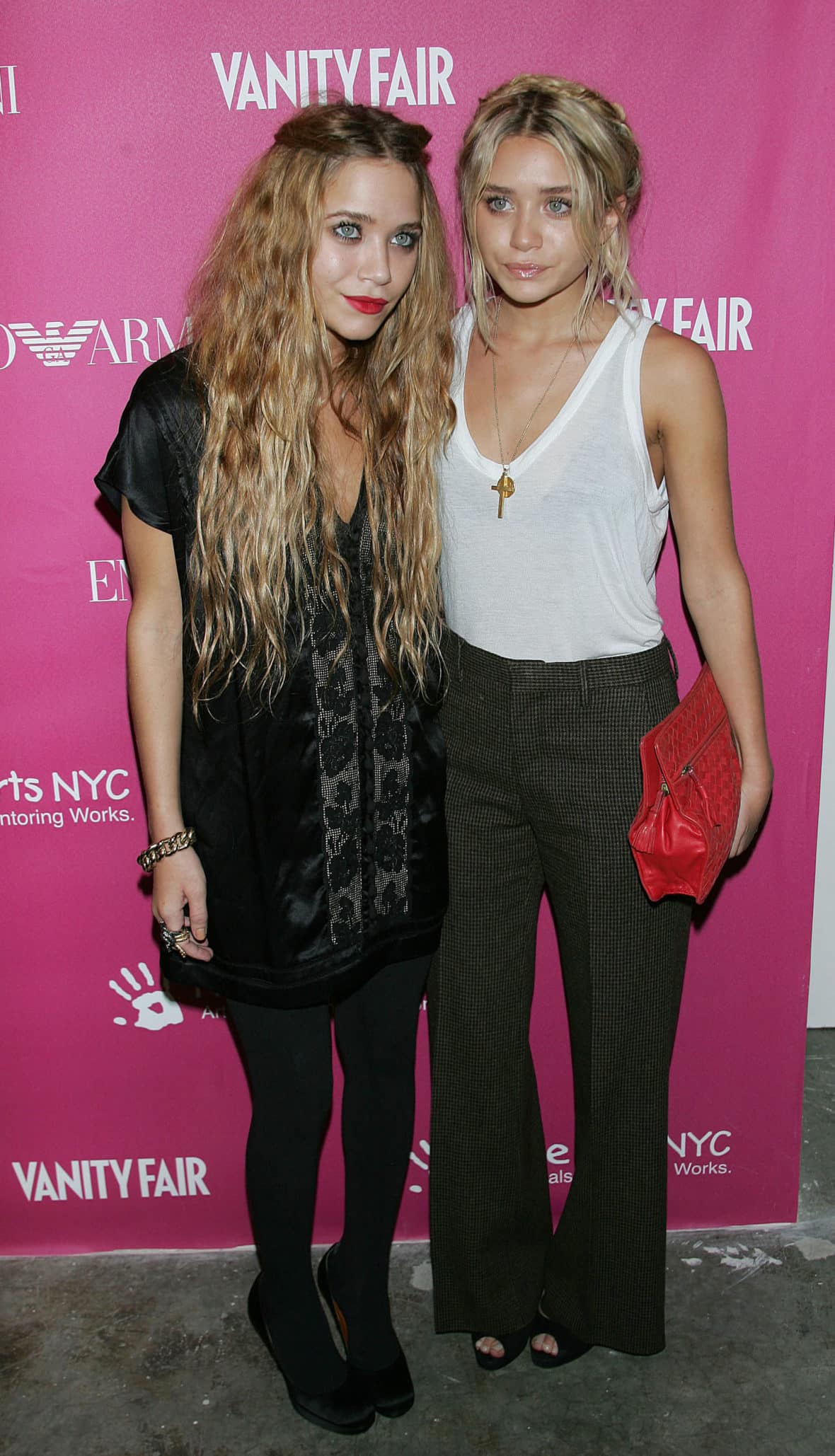 Even when the pair did rock similar looks, there was a distinct difference. Here, Mary-Kate is bold with her vintage headband and bold red lipstick, and Ashley is classic with a sleek up-do and more effortless make-up.
Here, Ashley keeps it simple with layered tops over black skinnies and flat shoes while MK takes a bolder look with her fur jacket, leopard handbag, and leopard heeled booties.
The Olsen Twins 2000s-Inspired Looks:
The Olsen Twins 2000s Style – Outfit 1: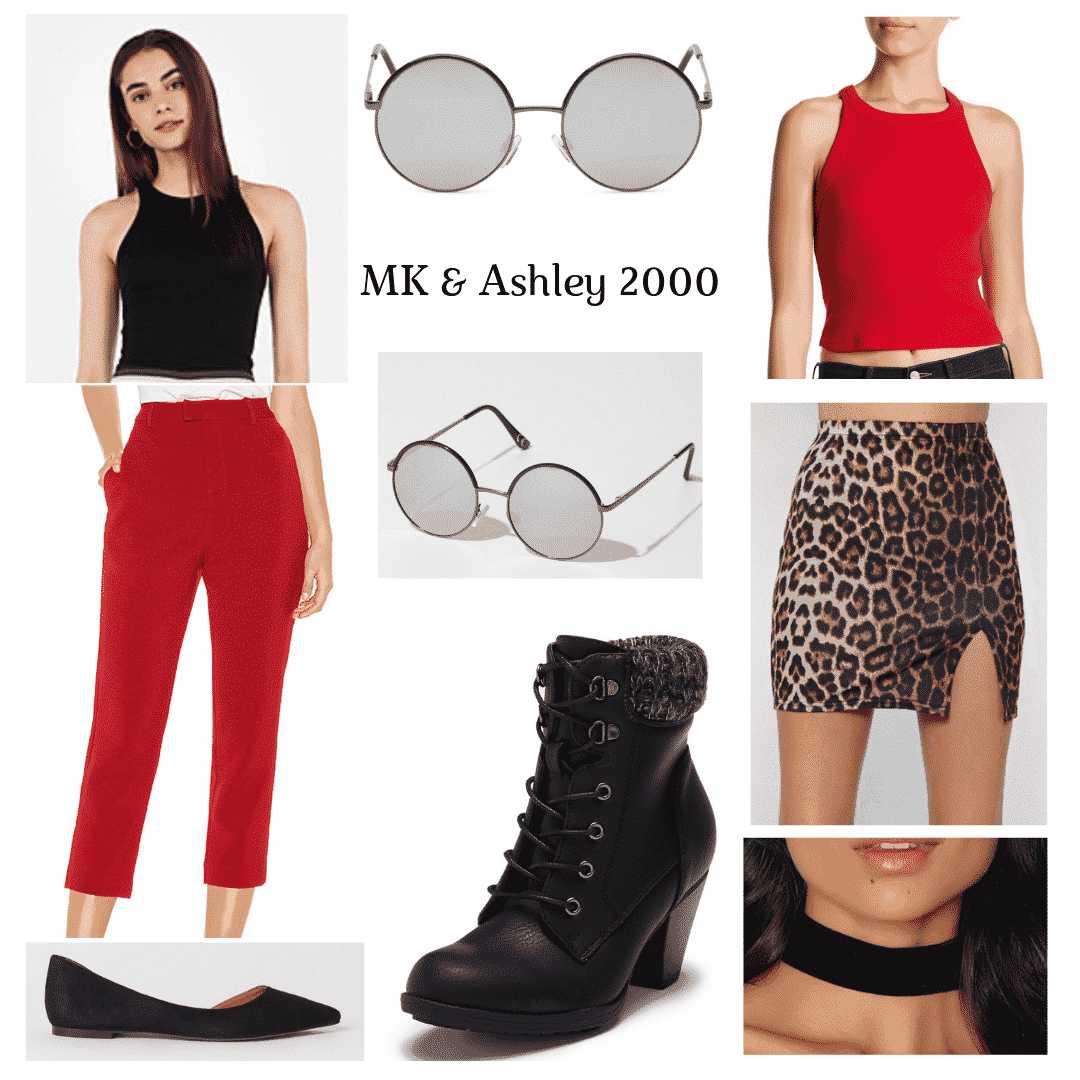 Products: Sunglasses – Vans, Blank Tank Top – Express, Red Tank Top – Nordstrom Rack, Red Pants – Revolve, Leopard Skirt – Nasty Gal, Velvet Choker – NA-KD, Pointed Flats – H&M, and Black Boots – Nordstrom Rack
As you can see, the Olsen's early 2000s essentials are back in style today: You can find circle sunglasses, high neck tank tops, chokers, and leopard print in stores everywhere.
Mix and match these pieces to make various outfits, or you can easily fit each of these pieces into your wardrobe independently. The tank tops are a staple that makes layering easy. And leopard and red will always fit into any girl's closet.
The Olsen Twins 2000s Style – Outfit 2: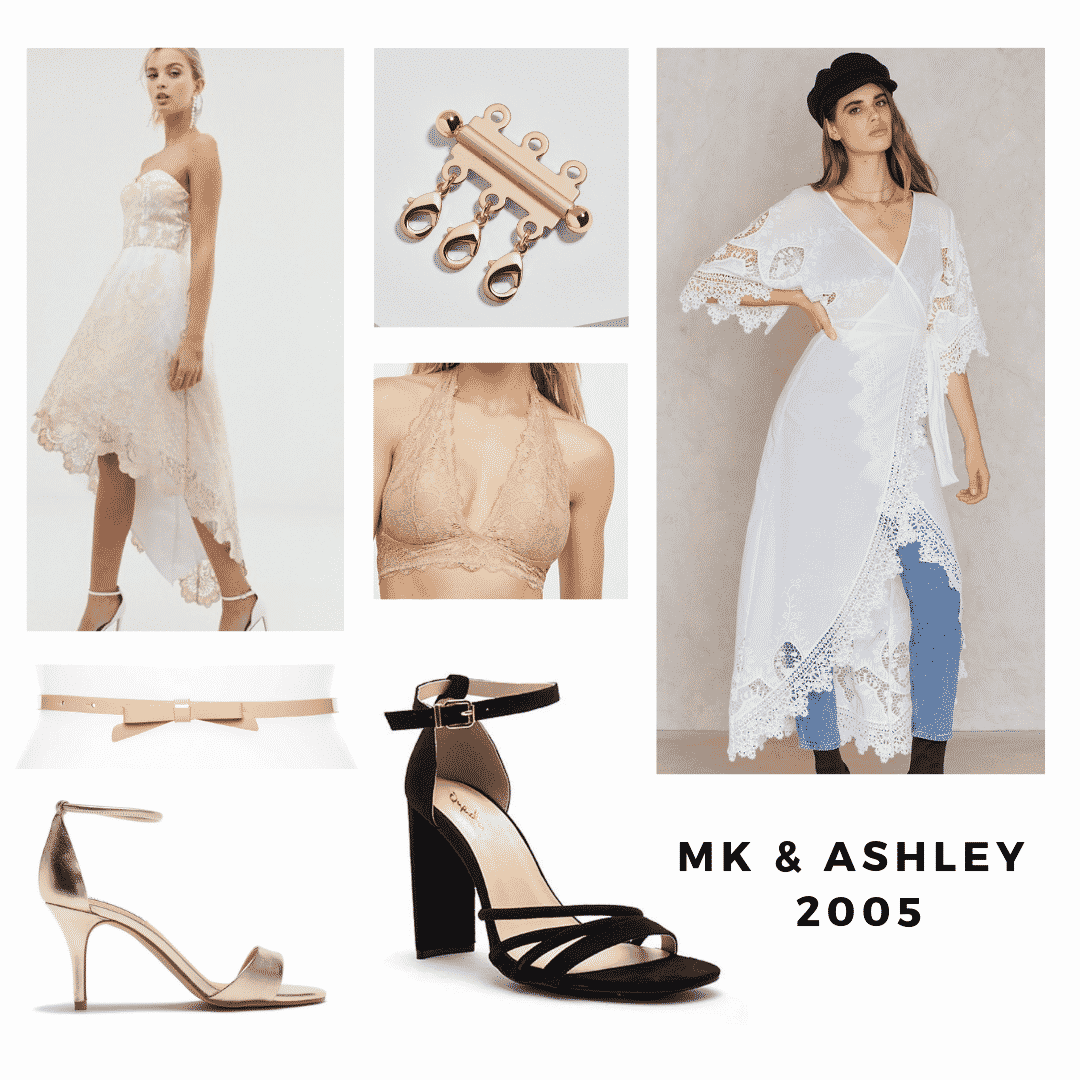 Products: Lace Hi-Lo Dress – ASOS, White Maxi – NA-KD, Pink Belt – Nordstrom, Nude Bralette – Free People, Black Heels – J.C. Penney, Gold Heels – Nordstrom Rack, Layered Necklace Clasp – Baublebar
I put together the femininity of Ashley's look from the Met Gala in 2005 with this lacy high-low dress paired with a pale pink skinny belt. The gold strappy shoe pulls the look together.
For Mary-Kate's look, we have a sheer white maxi dress with bohemian details. Layer over a nude bralette and jeggings, slip skirt, or biker shorts. The strappy black heel makes it a light and flowy look.
For both looks, I've added a layered necklace clasp so that you can layer necklaces in an organized and interchangeable way.
The Olsen Twins 2000s Style – Outfit 3: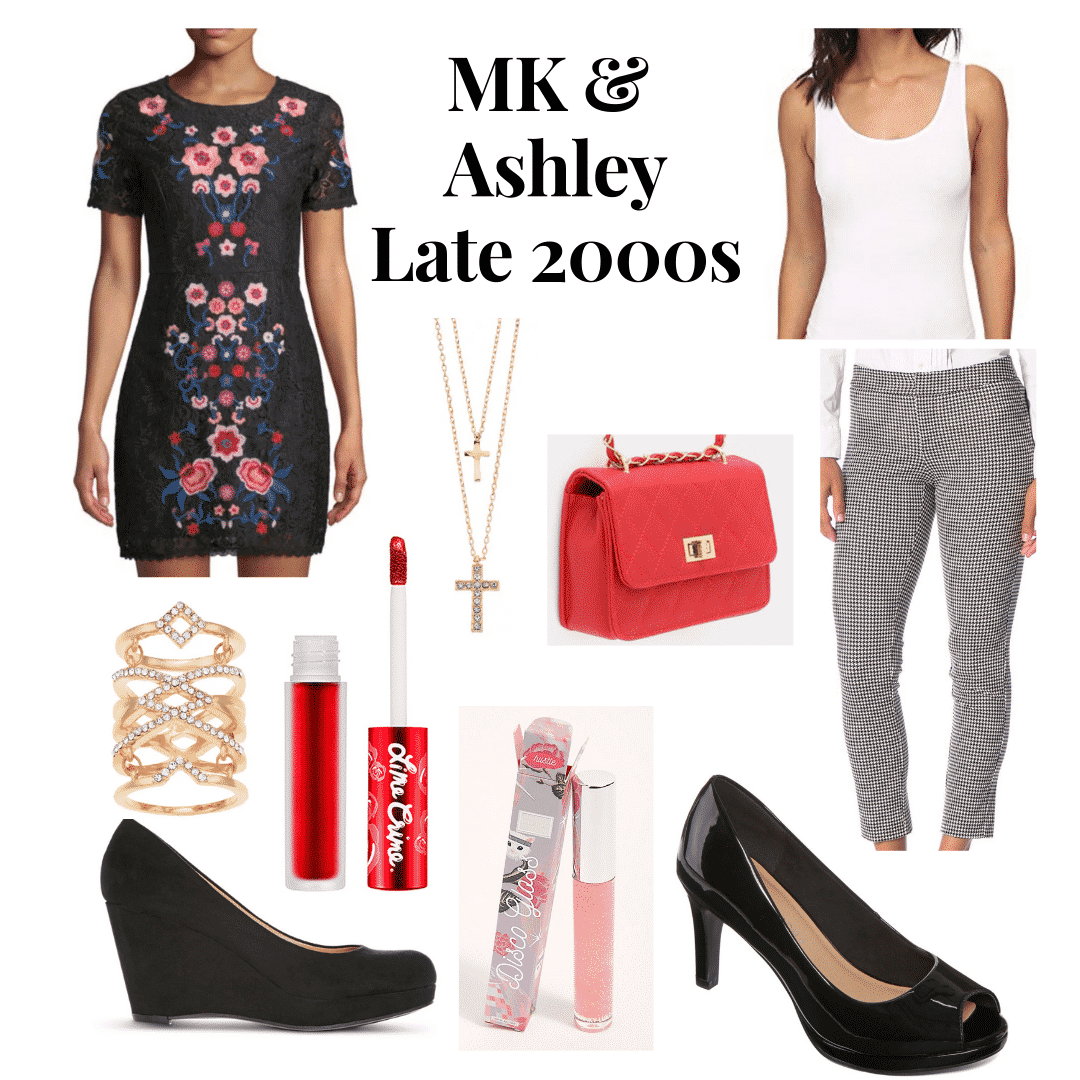 Products: Dress – Neiman Marcus Last Call, White Bodysuit – Zappos, Houndstooth Cropped Pants – Nordstrom Rack, Red Clutch – Ardene, Black Wedges – J.C. Penney, Black Peep Toe Pumps – J.C. Penney, Gold Stack Rings – Kohl's, Gold Cross Necklaces – Kohl's, Red Lip Gloss – Revolve, Pink Lip Gloss – Free People
For Mary-Kate's late 2000s look, we have a black and embroidered sheath dress, gold stack rings, red lip gloss, and black wedge heels. Layer with your black tights for chilly weather like MK did.
Ashley's late 2000s look is chic with a tank top bodysuit tucked into houndstooth cropped pants. Add a bold quilted red clutch, layered cross chains, pink lipgloss, and a peep-toe heel for the completed look.
What's Your Favorite Mary Kate and Ashley 2000s Style Moment?
Do you love the Olsen Twins' style from the 2000s? Let us know in the comments!