This post may contain affiliate links, which means we may receive a commission if you purchase through our links. Please
read our full disclosure here
.
A couple weeks ago, CF reader Fai asked for help with her what-to-wear conundrum:
"Colleen, I have so many weddings that I've gone to this year and still some coming up. I'm running out of ideas and don't want all the wedding photos from the different weddings to capture me in the same outfit! I need some more ideas appropriate for the occasion. Please help."
Weddings are definitely tough events to dress for, as your outfit typically depends on your role in the wedding, your relationship with the couple, and just generally how fancy the event is going to be. Because of that reason—and since I know you guys are from all over and experience totally different weather—I have tried to simply make some base outfits that you can use for inspiration to help you find your perfect wedding outfit.
Generally, tights, cardigans, and coats can be added to these as needed, and shoes can be switched out for a similar style/color that may be more appropriate for the situation. Hopefully these sample outfits will help get you out of your wedding rut!
Wedding Guest Outfit #1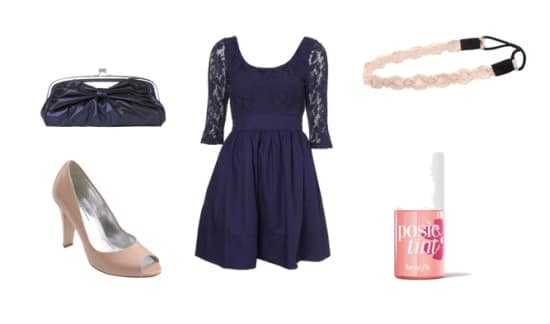 Product Information: Dress: TopShop, Bow Clutch: Newlook.co.uk, 'Giana' Pump: Nordstrom, Headband: Modcloth.com, Cheek and Lip Tint: Benefitcosmetics.com
There's that old wedding adage that every bride needs "Something old, something new, something borrowed, something blue." Therefore, you know that a blue dress will fit in at any wedding!
I love this dress for a slightly more conservative look, and the lace top and sleeves give it a really interesting vintage feel. To keep the focus on the dress' great shape and detail, I chose simple, girly accessories like pale, blush-pink pumps and a deep blue clutch with a great bow design.
To complete the look, go for a sweeping, loose up-do held with a similarly blush-colored headband. Add a swipe of pink tint across your cheeks and lips, and you'll definitely have the "new" look everyone's talking about!
Wedding Guest Outfit #2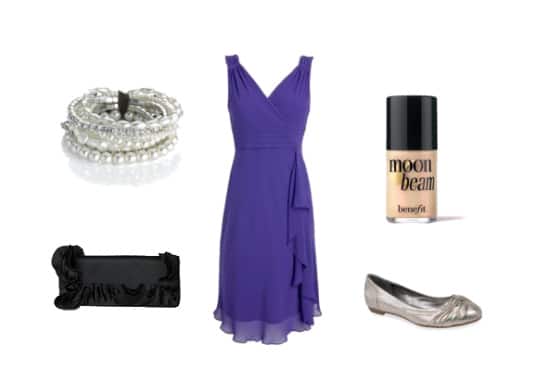 Product Information: Dress: Debenhams, Pearl & Crystal Bracelet Set: Monsoon.co.uk, Moon Beam Complexion Highlighter: Benefitcosmetics.com, Silver Flats: Wantedshoes.com
This look is a bit bolder since the purple is so rich, but the cut and draping are definitely flattering and fun for a wedding atmosphere. The similarly draped black clutch and silver flats continue the flowing style of the dress, while the pearls add a classic touch.
Since the outfit is a statement in itself, try to go natural with your hair and makeup. Drop the eyeliner and lipstick in favor of faking your own in-love-newlywed glow (you know the look I'm talking about!) by blending a shimmery highlighter onto your cheekbones and brow bones.
Wedding Guest Outfit #3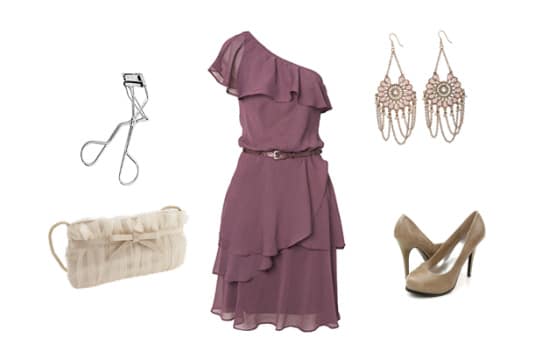 Product Information: Dress: Fashionunion.co.uk, Shu Uemura Eyelash Curler: Sephora, Jessica McClintock Satin Clutch: Nordstrom, Flower Earrings: Miss Selfridge, Nude Pumps: Cutseygirl
Typically, I would not suggest going for trendier pieces in a traditional setting like a wedding. However, I think this gorgeous one-shoulder dress is a perfect example of a "modern romantic" look that's just as sophisticated as the tried-and-true classic dress shapes out there. The satin clutch and nude pumps (which Liza wrote a great post about last week!) keep the look fresh and new, while the flowery earrings are both adorable and elegant.
When it comes to hair, I once again suggest going as natural as possible with an easy up-do or some soft waves. For makeup, focus in on your eyelashes by using a lengthening mascara and eyelash curler (like the iconic Shu Uemura one above) to get a wide-eyed, Audrey Hepburn-type look.
What Do You Think?
Do you have any other advice for Fai on cute wedding outfits? Do you have any go-to wedding outfits for when you attend someone's big day? Share in the comments!
And if you have any more "what do I wear there" questions, let me know! I may feature yours in next week's article.