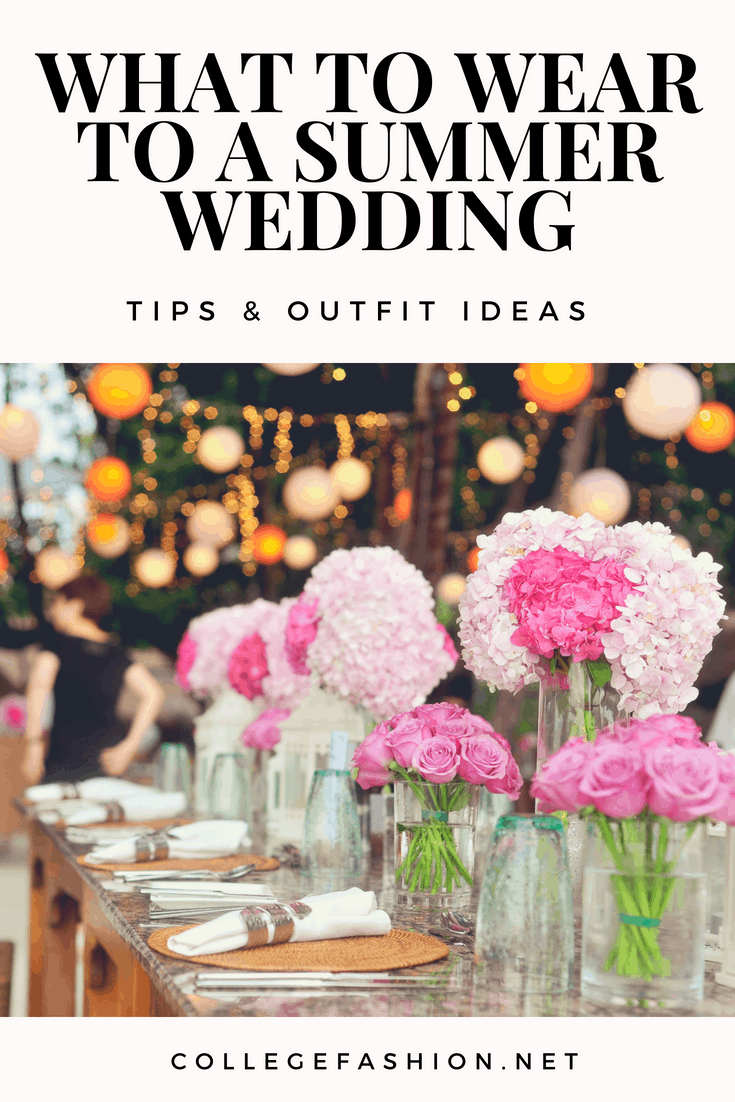 Summertime is upon us, and that means the start of wedding season! Whether you're a hopeless romantic who cried watching 27 Dresses, a distant relative of the bride, the maid of honor, or are just there for the food, it's always fun to be a wedding guest.
After you've sent in your RSVP though, it can be difficult to find the perfect summer wedding outfit! Appropriate wedding attire can differ vastly depending on the venue and time of day.
Today we've put together outfits suitable for some of the most common dress codes found at summer weddings as well as suggestions about where to purchase that perfect wedding guest outfit. (For more tips on being the perfect wedding guest, see our guide here!)
It's the bride's day, of course, but it sure doesn't hurt to be the second best-dressed gal at the reception!
Before we get to the outfits though, read on for a few basic guidelines to follow when choosing wedding attire:
The Rules of Engagement
The Woman in White: It's okay if your wedding guest dress has a pattern with a white background, but it shouldn't "read" as white from a distance. It's still best to avoid ivory, cream, and even very pale peach or pink shades.
Skip the Clubwear: What works for Saturday night doesn't necessarily work for a wedding. Keep in mind that the bride and groom's grandparents and other older relatives will likely be in attendance, so skip the skin-tight, low-cut dresses and micro-mini skirts. The same goes for daring cut-outs or ultra-low backs. A good rule of thumb: your hemline shouldn't be above your fingertips when your arms are at your sides.
Cold Shoulder: Many houses of worship require shoulders to be covered, so make sure to bring along some sort of outerwear if you're planning on wearing a sleeveless dress.
The Attire
Church Wedding Outfit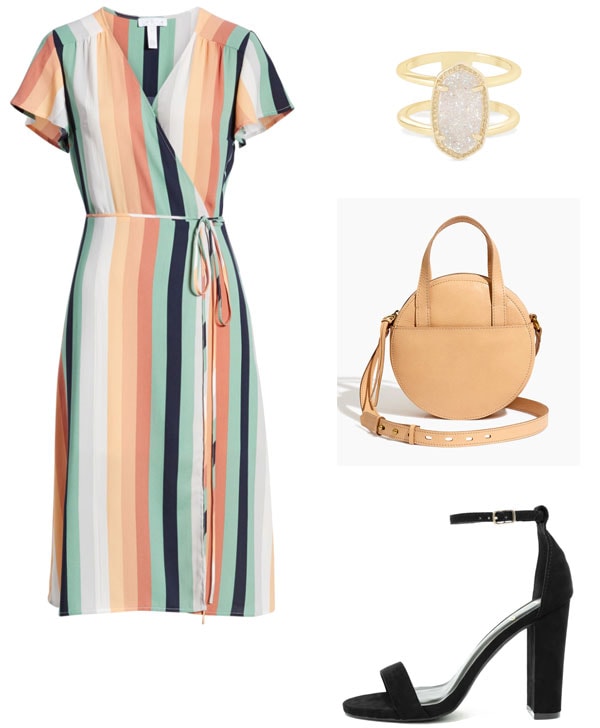 Products: Dress – Nordstrom, Shoes – Lulu's, Purse – Madewell, Ring – Kendra Scott
This summer wedding outfit, though trendy, could definitely be worn for a church wedding. Your shoulders are covered (important for church weddings!) and the hem of the dress is most definitely not too short.
The reception for this wedding might be held in a fancy hotel's ballroom, so you don't want to be too buttoned-up, but you still want to look chic and sophisticated. This pretty midi dress is perfect.
These black block heels are comfortable and classic — you can't go wrong. However, let's be real: By the end of the night, they'll probably be forgotten under the overly long tablecloth because you're too busy dancing.
Best Places to Shop for Church Wedding Attire: Nordstrom, J.Crew, Madewell, Macy's
Garden Party Wedding Outfit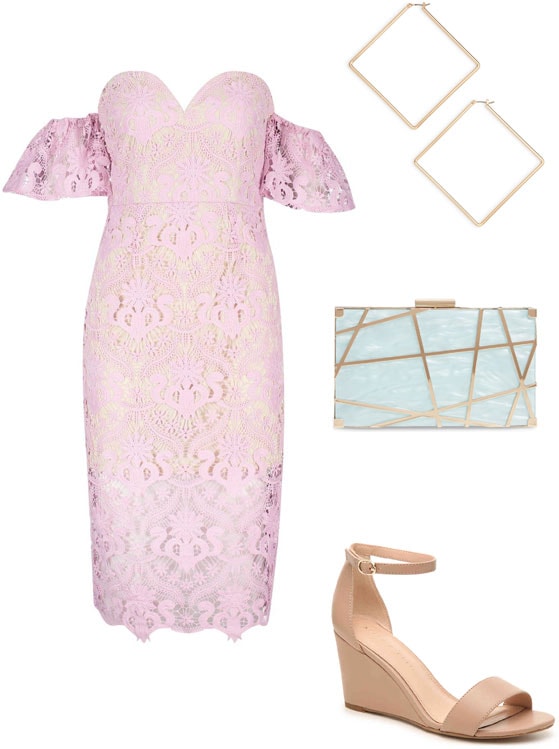 Products: *paid content* Dress – Boohoo, Shoes – DSW, Purse – Nordstrom, Earrings – Nordstrom
If you're attending a daytime and/or outdoor wedding, chances are the dress code won't be super formal, but that doesn't mean you shouldn't bring your fashion A-game! Whether you try out a lemon-hued shift dress or a floral fit-and-flare frock, you can't go wrong with bright colors or pastels in a ladylike cut.
Since you'll probably be walking on a lawn, skip the heels and go for comfy wedges or platforms that won't sink into soft dirt. I love these simple wedges in beige — so classic that you'll definitely wear them again. A statement box clutch and killer earrings complete the look. By the way, you also have to drink Prosecco in this look because it just matches really well.
Best Places to Shop for Garden Party Wedding Attire: ModCloth, Boohoo, Nordstrom, Lulu's, Forever 21
Beach/Destination Wedding Outfit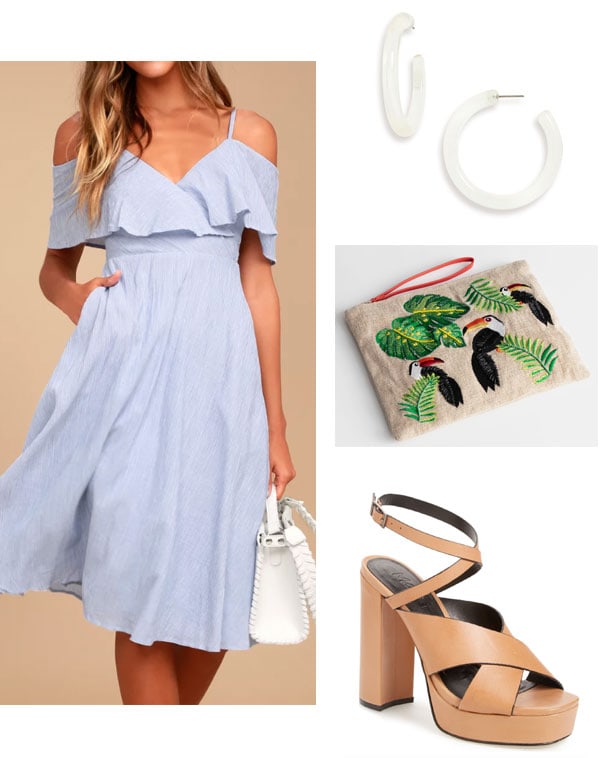 Products: Dress – Lulu's, Shoes – Nordstrom, Purse – & Other Stories, Earrings – Nordstrom
Beach/destination weddings are typically on the casual side: For this summer wedding outfit, I was envisioning somewhere like Greece or a tropical island where the guest list is at max 85 people. Nothing too dramatic, it'll all be very low key and no fuss. So you should dress accordingly.
A pretty, feminine, ruffle dress is a great choice for this sunny soiree. Keep the look polished with a pair of chunky-heel sandals (that you can easily slip off if you need to walk on sand) and a tropical clutch. With a destination wedding, there is always a slim chance that there will be a few a-listers there (or, in my mind there is), so you'd better bring your fashion A-game.
Best Places to Shop for Beach/Destination Wedding Attire: Revolve, Free People, & Other Stories, Forever 21, J. Crew, Zara
Cool/Relaxed Cocktail Hour Wedding Outfit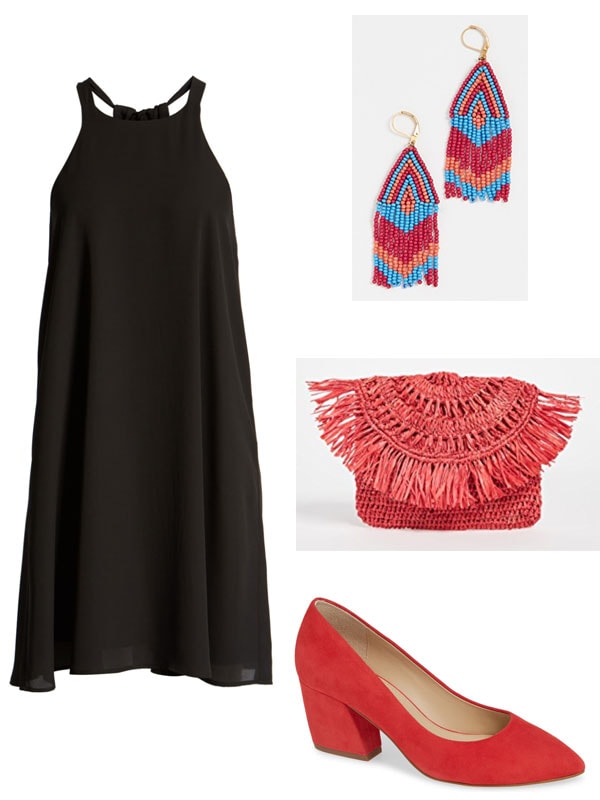 Products: Dress – Nordstrom, Shoes – Nordstrom, Earrings – Shopbop, Purse – Shopbop
First off, I'd like to say that I don't believe you can't wear black to a wedding. I've worn black to weddings before, and in my opinion you really can't go wrong since black is classic.
The perfect type of wedding to wear a little black dress to is a cool, relaxed yet fancy wedding where there's a cocktail hour. Maybe this wedding is outside, somewhere like the Brooklyn Promenade and then the reception is just a bunch of hightop tables set up around the area. There's probably going to be fairy lights and then everyone watches the sunset together. (Sigh!)
For a perfect summer wedding outfit for this type of event, keep it simple with a pretty LBD that you can wear a million more times throughout the year. (Bring a cardigan or blazer if you think it might be chilly out.) Add bright accessories like a fringe clutch and cool girl earrings, and you have the perfect cool-but-polished ensemble.
Best Places to Shop for Cool/Relaxed Cocktail Wedding Attire: Zara, ASOS, Boohoo, Reformation
Posh, Trendy Wedding Outfit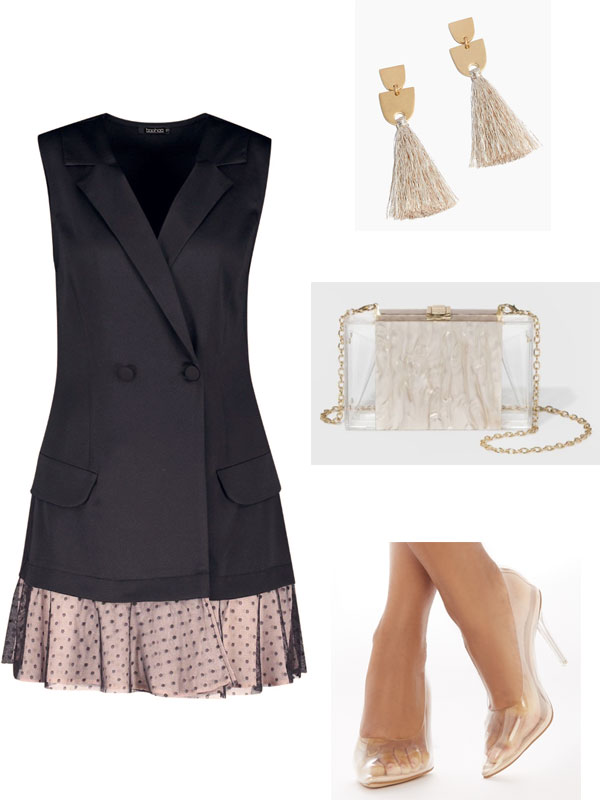 Products: *paid content* Dress – Boohoo, Shoes – Public Desire, Purse – Target, Earrings – Madewell
This wedding is definitely on the posh side. Not too posh like Posh Spice, just posh enough. For imagination's sake we'll say this wedding is in London, but it could be any metropolitan area. A totally indoor wedding, but the reception venue will have some sort of balcony with an outdoor bar.
Not all weddings are traditional when it comes to dress code, and this type of wedding is an example. Weddings aren't always the best time to try out trends, but if the bride is cool with it, why not have some fun with your outfit?
A pretty blazer-style dress with a bold petticoat is polished yet on-trend for the season. Other less-conventional options include beaded tassel earrings and bold perspex pumps (so trendy right now). You're ready to dance the night away in style.
Best Places to Shop for Posh/Trendy Wedding Attire: Zara, Topshop, Boohoo, H&M, Revolve
What did you think?
Would you wear these outfits? Are you attending any weddings this summer? What are you planning to wear? Tell us in the comments!
Editor's note: This post was originally published in 2014; it was completely updated and revamped in 2019 with new photos, outfit sets, and information.