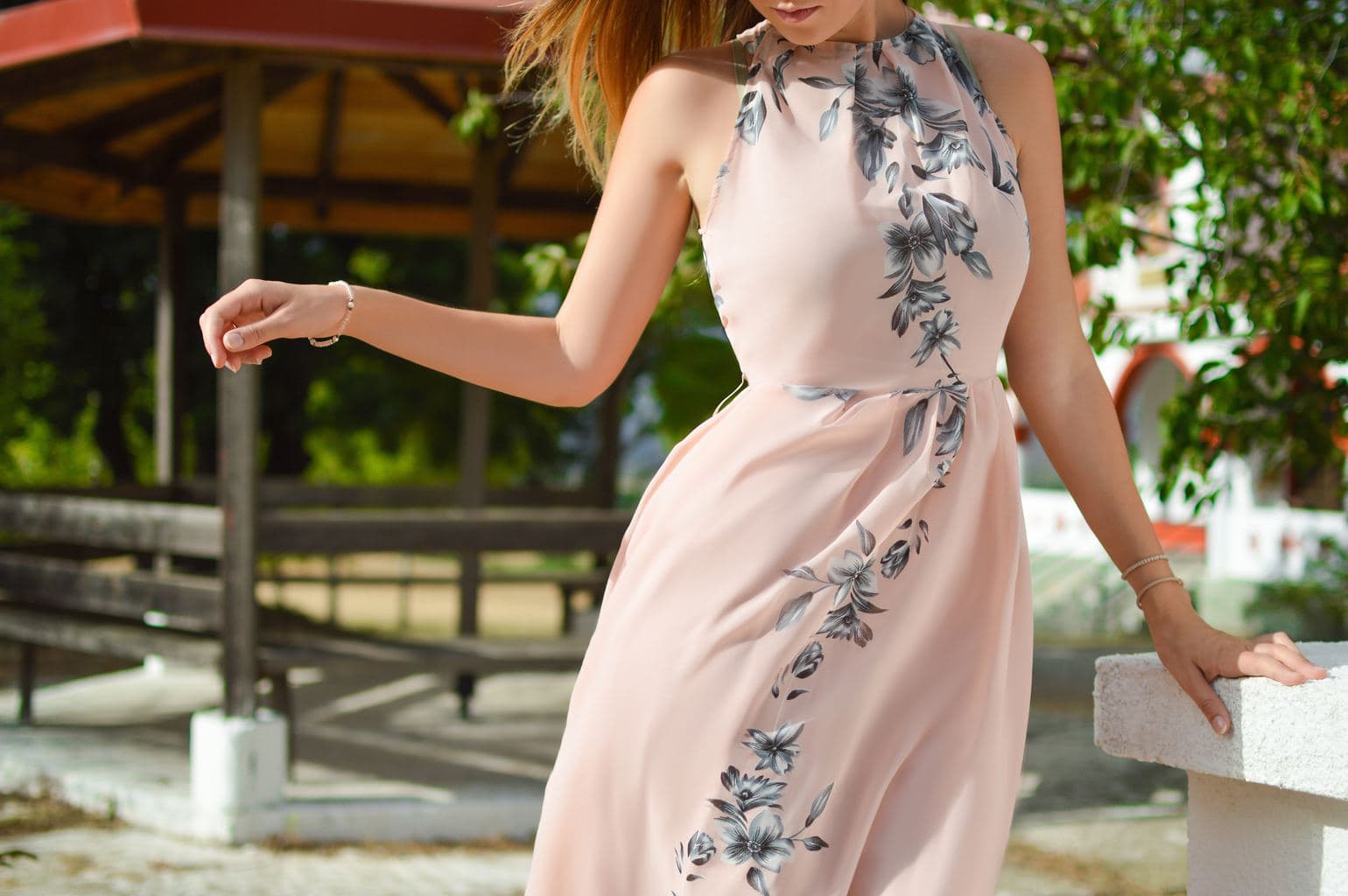 Welcome to the latest edition of Ask CF! Every two weeks, we select a reader fashion question and answer it here on the site. Do you have a specific fashion question for us? Scroll to the bottom of this post to learn how to send it our way!
Ask CF Question
I'm invited to my cousin's wedding in Arizona in April. The problem is, I'll have to pack the dress with me in a carry on bag. The invite said that it is a casual wedding and I'm overwhelmed with all of the options.
Please help!
Overwhelmed wedding guest
Our Response
Dear Overwhelmed Wedding Guest,
Wedding dress codes (and every other type of dress code, for that matter!) can be really confusing and overwhelming, particularly when they are very open-ended.
However, open-ended-ness can also be a blessing, as you are free to choose an outfit that matches your style sensibilities, and aren't tied down to someone else's expectations of what you should look like.
Before we get to that, though, I'd like to share some advice to ensure that you look as put-together as possible for your cousin's wedding, since traveling with just a carry-on when you have a special event to go to can be tricky:
Some of the wedding guest dresses shown here might crease in transit, so, if possible, it's a good idea to carry them separately in a garment bag, rather than fold them in your carry-on bag, so as to prevent creasing.
However, in the event that the dress that you bring with you does get creased (and you don't have access to an iron, or the dress can't be ironed at all due to the nature of the fabric that it's made out of), simply put it on a hanger, hang it in the bathroom on the shower rod, turn on the hot water, and shut the door to let your dress "steam" for a while.  The creases will be gone in no time!  Plus, if the dress isn't too badly creased, and you don't have to turn the water up to the highest possible heat, you can even do this as you shower, so as to conserve water.
Now that that's out of the way, keep scrolling to see my suggested casual wedding guest looks  that are not only chic, but also effortless and easy to put together.
Outfit #1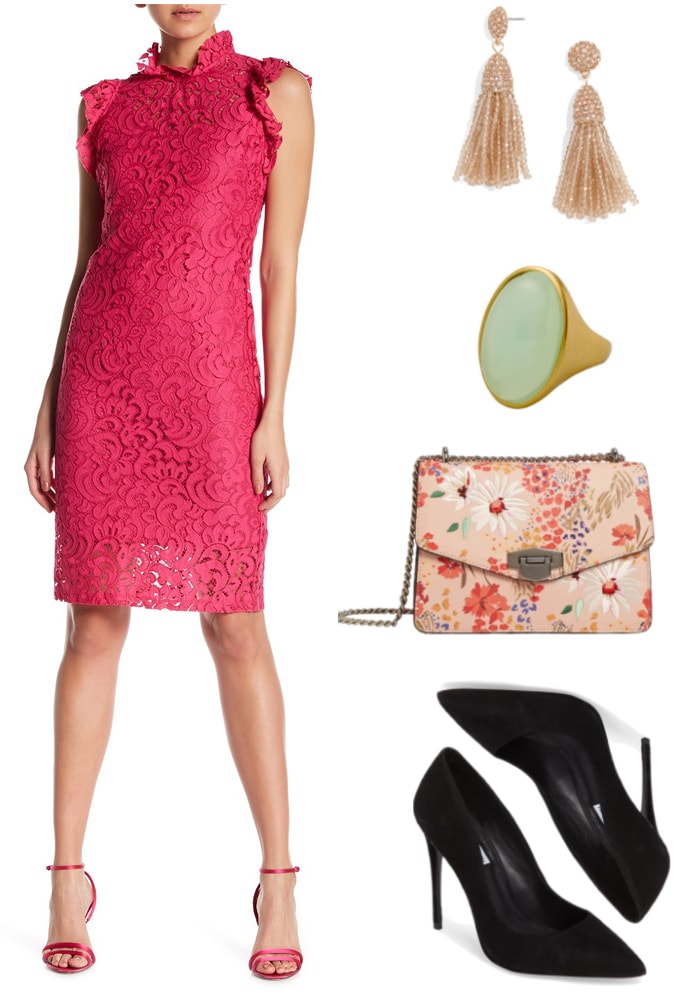 Products: Dress – Nordstrom Rack, Earrings – BaubleBar, Ring – Lord & Taylor, Bag – Mango, Heels – Nordstrom
This look packs a big punch, but can be put together in no time!
To start, slip on a bright pink lace sheath dress. Next, put on a pair of sleek black stiletto pumps.
Sparkly drop earrings and a sophisticated cocktail ring complement the dress' classy style quite nicely.
A floral-print bag adds an extra dose of femininity, and is also versatile enough for you to wear on the other days of your trip, so you don't have to worry about packing an extra bag or clutch just to wear to the wedding.
Outfit #2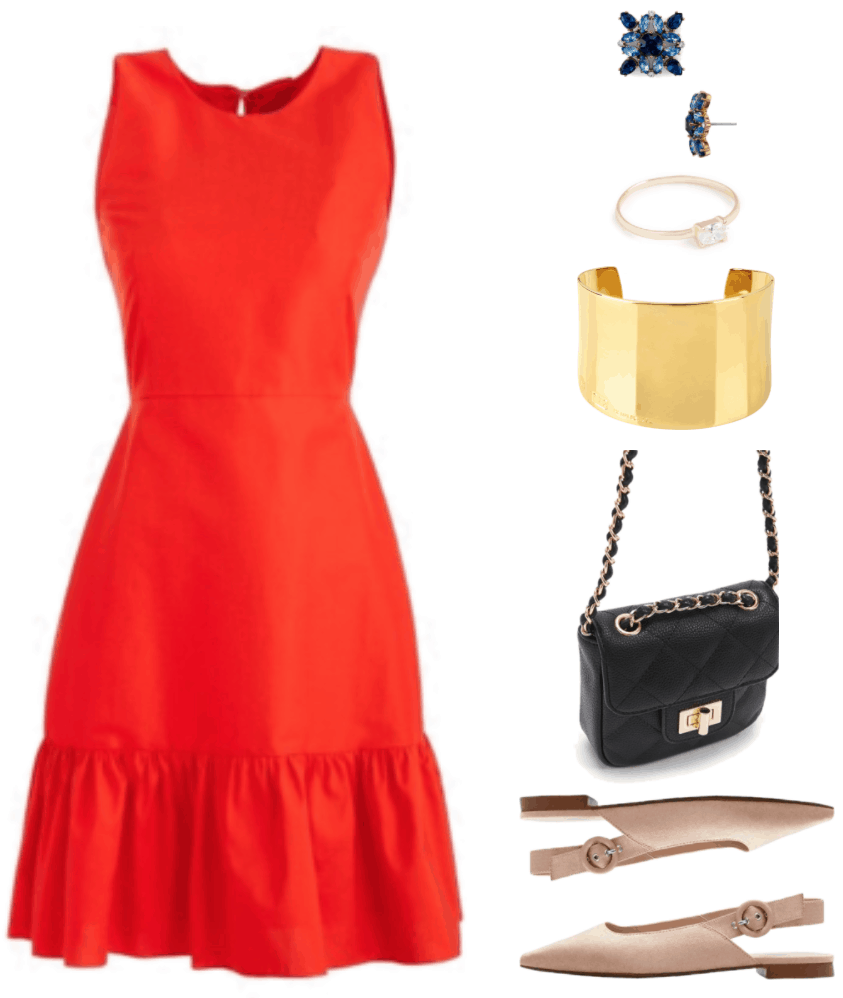 Products: Dress – J.Crew, Earrings – Bloomingdale's, Ring – Shopbop, Bracelet – Henri Bendel, Bag – Forever 21, Flats – Mango
This classic and preppy look is a little fancier than the first, although its jewelry and accessories ensure that it stays grounded.
To get it, put on a vibrant red dress with a modern drop-waist silhouette.  Then, add some trendy sling-back flats that are dressy enough to wear to the wedding, but also casual enough that you can wear them again in more laid-back settings.
You can never go wrong with a timeless quilted chain-strap bag, so grab a cute mini cross-body version that is in keeping with the outfit's laid-back-yet-elegant aesthetic.
Finish off the look by adding a bold gold cuff bracelet, a dainty ring, and a pair of kaleidoscopic stud earrings for a little pop of contrasting color.
Outfit #3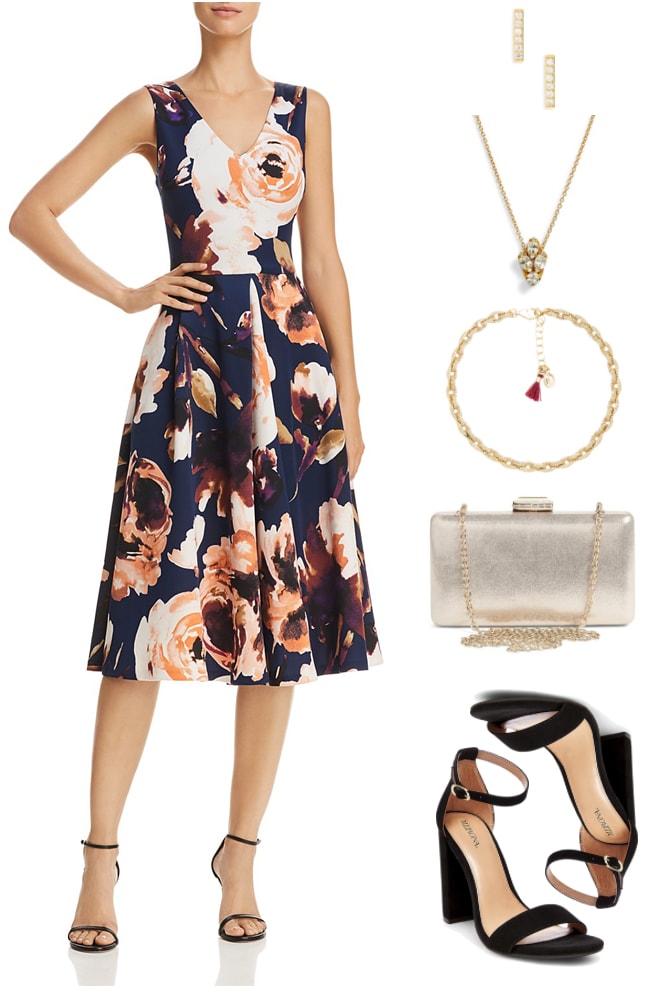 Products: Dress – Bloomingdale's, Earrings – Nordstrom, Necklace – Nordstrom, Bracelet – Revolve, Clutch – Nordstrom, Sandals – Target
This look is perfect for you if your style is more feminine and subdued.  
First, put on this lovely floral-print midi dress. Next, add a pale gold box clutch with fun (but not too showy) jewel accents on the clasp.
Some block-heel sandals add a slightly more casual vibe, while subtle jewelry — such as pavé bar stud earrings, a chain-link bracelet, and a gorgeous jeweled pendant necklace — complete the look by adding an extra dash of sparkle.
I hope that these looks have helped you to narrow down your options.  Have a great time at the wedding, and thanks for your question!
Do you have a fashion question? Send it to us!
Is there something in your closet that you want to wear but have no idea how to style? Do you need advice on what to wear to an upcoming event? Do you have a specific fashion conundrum?
If you have a fashion-related question that you would like to see answered in this column, simply email it to askcf @ collegefashion.net, and one day you might see your question answered right here on the site!
What do you think?
What would you wear to a casual wedding?  How do you narrow down the options when you can't decide what to wear?  Which of these outfits is your favorite?
Let me know in the comments!