It's officially wedding season, and those invitations can come in hot, leaving you with too many attend and stuck wondering what you'll wear to each.
From time to time, there can be certain dress codes guests are expected to follow, but for the most part, when choosing a wedding guest outfit, women usually resort to subtle dresses — either fancy or ones that can be dressed up.
The key to hunting for a wedding outfit is, as always, is to find something that will not take away from the bride. This means no white/ivory, nothing over-the-top revealing, and always following the dress code (if there is one).
It's important that your outfit holds sophistication and respects the wedding party's wishes, and for me personally, I keep in mind "proud, not loud" when hunting for the perfect outfit.
Below I've put together a list of five wedding guest outfits perfect for all the spring and summer weddings you'll be attending.
1. Floral Midi Dress
Products: Dress – Lulu's, Clutch Purse – ASOS, Heels – H&M, Earrings – Forever 21, Bracelet – Target
This blush floral print midi dress from Lulu's is the perfect summer/beginning of fall wedding guest dress. It's so pretty and romantic!
To play into the light pink tones on the dress, I opted for light pink stilettos and a light pink clutch. I then added the silver bracelet as a subtle touch, and the studded geo rhinestone ear jackets (earrings) to give a simple yet fun piece above the neck.
2. Printed Wrap Dress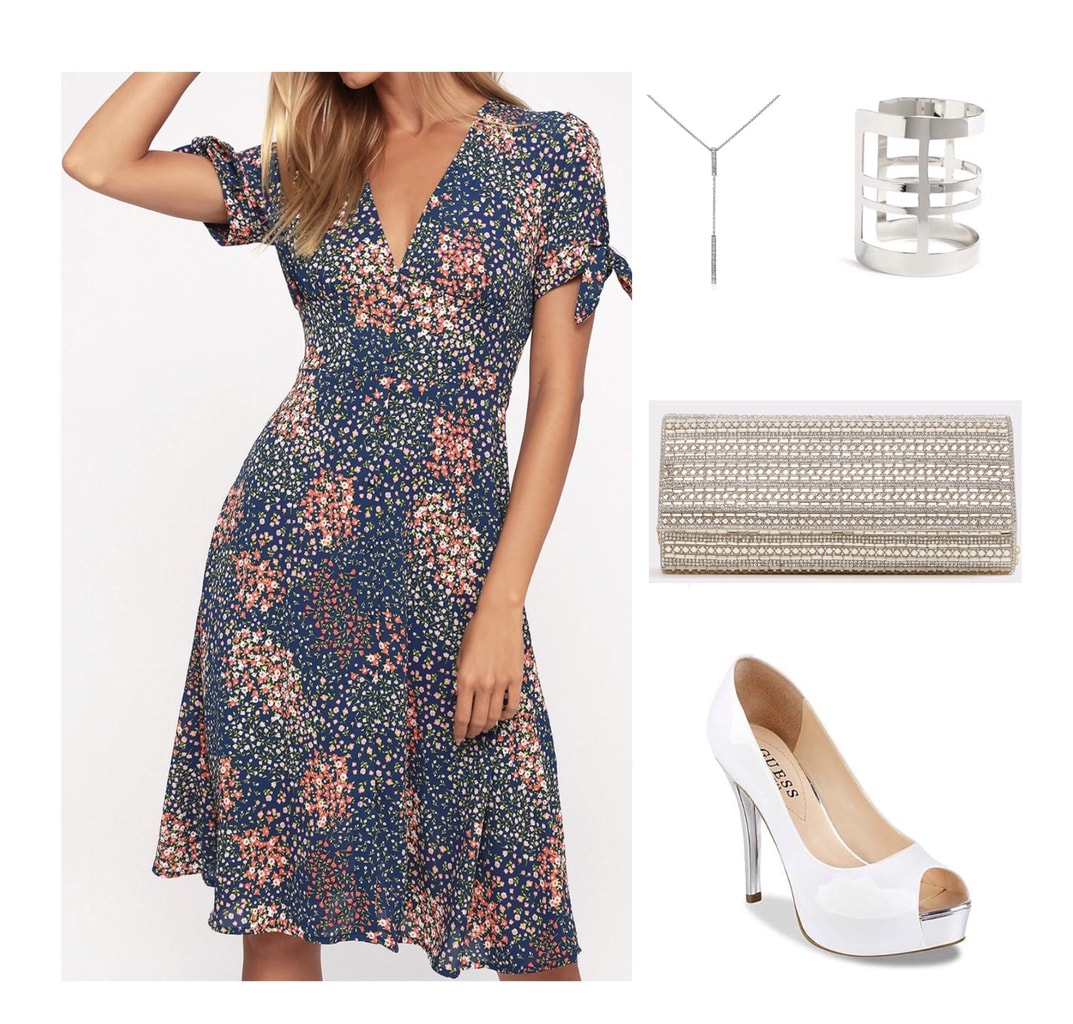 Products: Dress – Lulu's, Heels – DSW, Clutch Purse – Aldo Shoes, Necklace – Blue Nile, Bracelet – Forever 21
There was just something about this floral print Lulu's dress that I loved so much, I had to include it in one of the outfit sets. The dress is simple in form, yet holds such intricate detail in the pattern.
Instead of going with a simple silver chain bracelet, this chunky cut-out cuff bracelet adds some drama to the entire ensemble, balancing out the look.
I wanted to add more silver accents, so I chose the clutch purse and necklace to give the look a touch of delicacy. To finish the look, add white peep-toe stilettos. You could also do a nude shoe here.
3. Girly Lace Dress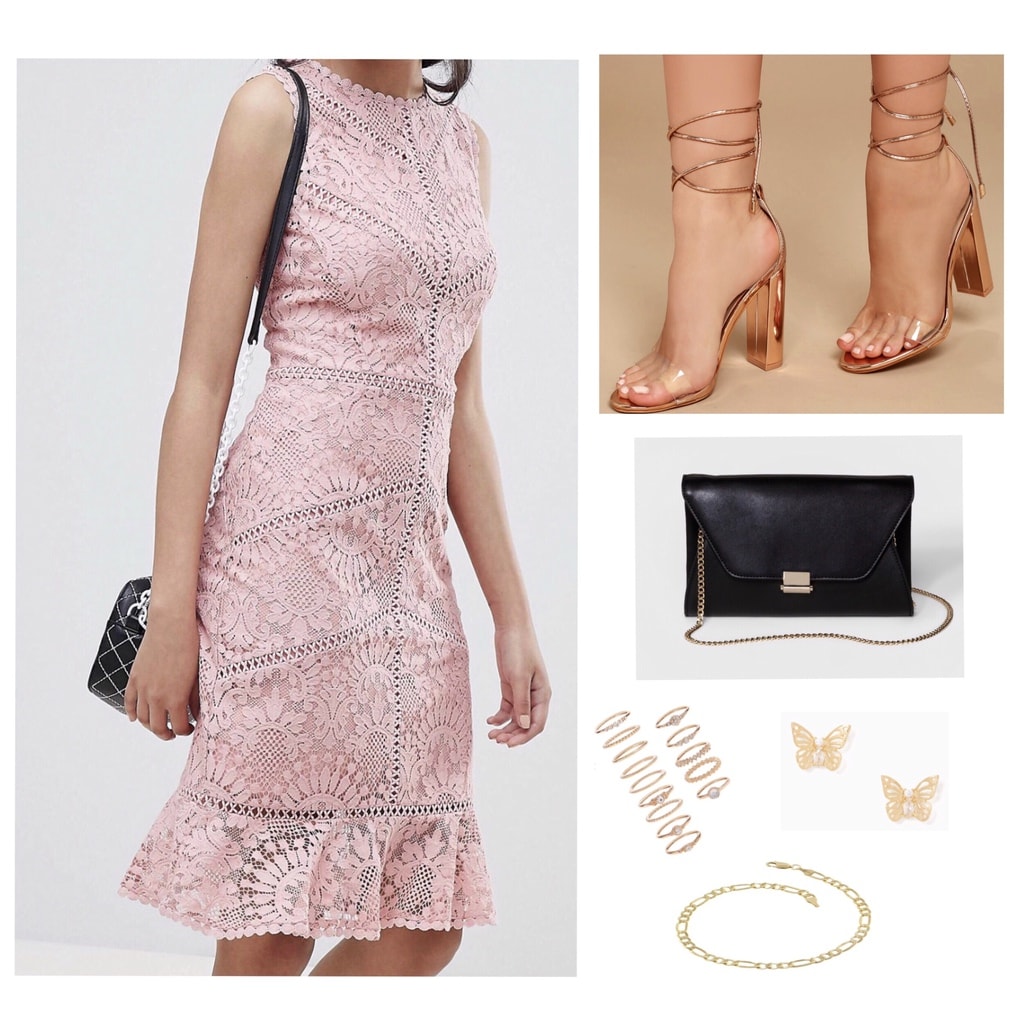 Products: Dress – ASOS, Heels – Lulu's, Clutch Purse – Target, Ring Set – Forever 21, Bracelet – Overstock, Earrings – Kate Spade
Colored lace has been a popular trend I've noticed when it comes to guest attire for weddings, and I thought this pink lace dress from ASOS captured the role of a wedding guest perfectly.
I opted for gold jewelry over silver because I wanted to maintain a light appearance.
Finally, I added the black clutch purse to offset the lightness just a touch. I love that this purse can be worn as a crosssbody or used as a standard clutch.
4. Simple A-Line Dress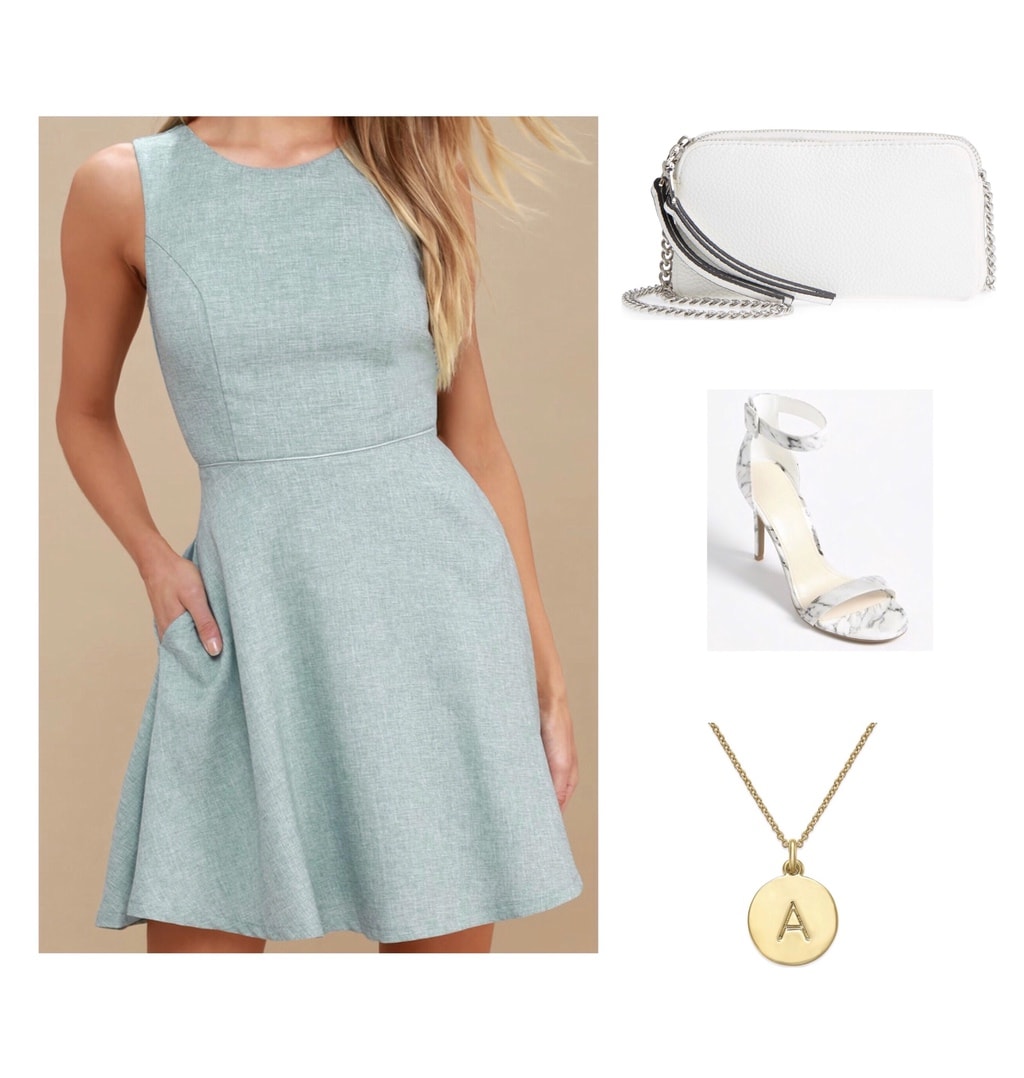 Products: Dress – Lulu's, Heels – Forever 21, Clutch Purse – Nordstrom, Necklace – Kate Spade
This simple and elegant sea blue dress from Lulu's is the perfect spring/summer wedding guest dress.
To complement the simplicity of the dress, I added a gold pendant necklace that can be customized with any letter or select phrases. I love these white marble-look stilettos and thought pairing them with the solid colored dress would add a playful element to the entire look.
To polish the outfit off, I added a small white clutch purse, matching the white of the shoe and gold of the necklace.
5. Tie Shoulders & Statement Clutch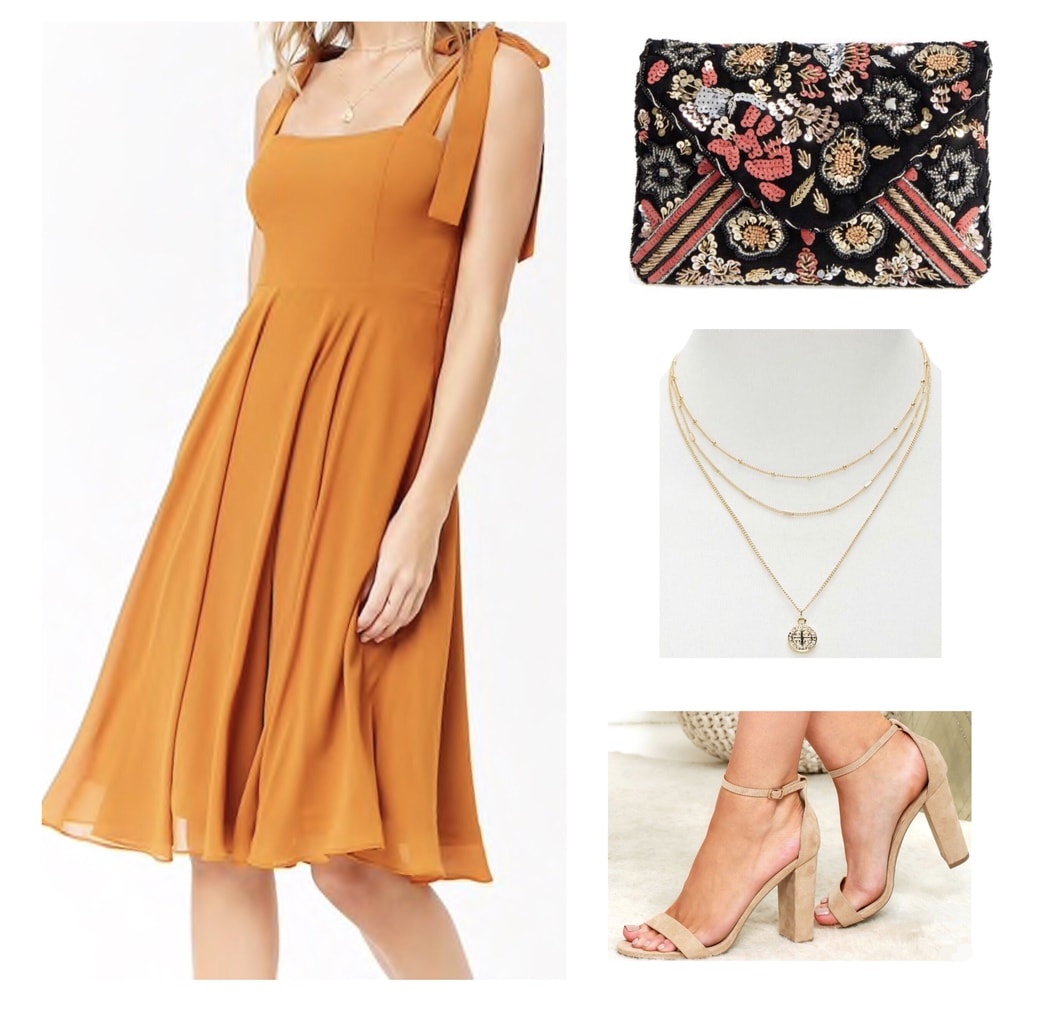 Products: Dress – Forever 21, Heels – Lulu's, Clutch Purse – Nordstrom, Necklace – Forever 21
This amber self-tie woven dress from Forever 21 is another dress that's ideal for those end of summer/beginning of fall weddings. It incorporates a fall color with a breezy summer silhouette.
Because the dress is so simple, I continued that throughout the entire look with the nude heels and gold stacked pendant necklace.
To keep the look from being too bland, I added this fun floral print sequin clutch from Aldo. It's just enough to add a fun element to the outfit, but doesn't overpower it.
Thoughts?
What are your favorite styles of dresses to wear to weddings? Did you find these outfit sets helpful? Leave a comment below!