Welcome back, internet friends, to my review of the super popular TONYMOLY I'm Real sheet masks. (In case you missed it, part 1 of my review is here.)
Not only these masks one of the most popular products to come out of the Korean beauty craze, but they are fairly cheap (especially if you buy them in bulk on Amazon – you're welcome) and readily available, and the packaging is super cute. The only issue – there are 18 mask types available and most of the text on the packaging is in Korean, which can make figuring out which one to try a crapshoot at best, which is why I'm reviewing them for you!
For this post, I'll be reviewing the Rice, Seaweed, Pomegranate, Red Wine, and Tomato masks.
(For reviews of the other masks, see my posts on Makgeoli, Broccoli, Lemon, Avocado, and Aloe; Green Tea, Cactus, Rose, and Tea Tree; and Pumpkin, Orange, Pearl, and Lotus.)
Rice
I'm a bit ambivalent when it comes to the Clear Skin Rice mask. The packaging promises to "make dull skin look radiant and glowing," which doesn't seem to relate to "clear skin" to me.
Effectiveness-wise, I don't find that it delivers on the glow part, but it does a nice job of reducing the size of acne and reducing redness slightly. I'm not sure what you're trying to achieve, rice mask.
The rice mask is a regular part of my sheet mask rotation because it's nice for controlling breakouts. The smell and serum are very similar to the makgeoli mask without being as medicine-y – I think all the thick, opaque serums have a similar, accidentally medicinal smell. This mask works well for controlling acne and redness, but it's not my favorite of the bunch.
Seaweed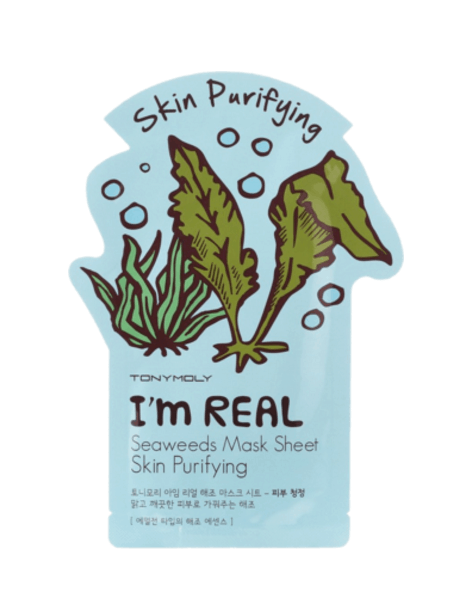 The Skin Purifying Seaweed mask, though! This mask is one of my favorites of the bunch, one that I look forward to using. It's amazing for controlling and preventing breakouts and for fading acne scars.
It has one of the most poetic descriptions, which always makes me lol a little – "makes skin look bright and radiant with the freshness of the sea." Move over, mermaid makeup – this mask promises you mermaid skin.
When I tried this mask this week, I had a couple of small hormonal pimples brewing on my chin, but immediately after I noticed they were not as noticeable, and by the end of the day they had all but dried out. I also notice that when I use this mask I break out less afterwards than usual. It delivers nicely on the brightening promise — I feel like my acne scars are less prominent, though not as much as when I use the lemon mask.
The serum itself doesn't smell seawater-y or vegetal – out of all the serums, this one has the least noticeable scent. The serum is runny and the mask feels cooling when worn, a bit like the aloe mask. I would recommend this mask for anyone with acne-prone skin in a heartbeat.
Pomegranate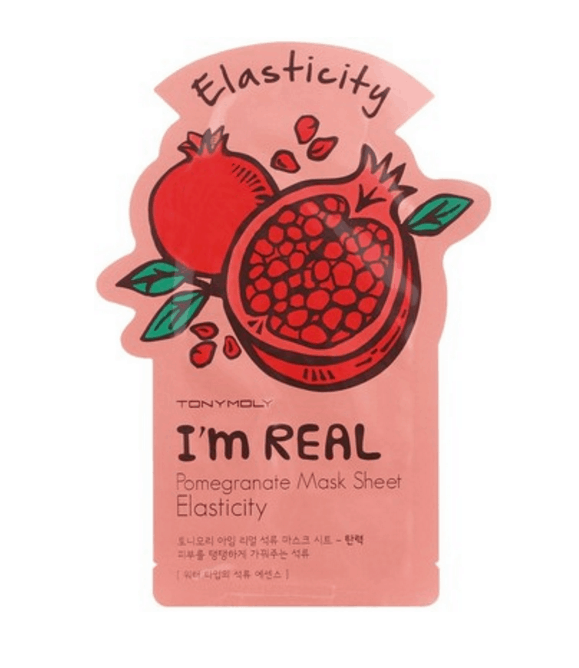 So, I don't know if it's because I'm using these sheet masks more frequently or if the weather is finally getting warmer, but my skin is looking kinda fly – at least flyer than it normally does. I've noticed less redness, fewer breakouts, and a more even skin tone.
Since normally my sheet mask adventures revolve around me taming acne, I decided to go for the Elasticity Pomegranate mask.
This is another one of the masks that I never use or end up giving away to friends. The pomegranate mask promises to "firm up skin," which I associated with aging skin rather than acne-prone skin, but for the sake of science, I'm here to give it a go.
First off – this mask smells uhh-mazing, it's my favorite scent so far. Best of all, it's not too crazy fruity or sweet, like many pomegranate scents can be. There's a bit of that here, but it's not overpowering. Get me a candle of this mask, STAT!
The serum is watery and clear, and the mask is pleasant to wear – I didn't notice any tingling or cooling. Afterwards, I noticed my skin was brighter, and continued to look so throughout the day. My acne scars were even a bit less noticeable – I was impressed! I think this mask would work well for anyone with dull skin, hungover skin, or after something moisture-draining, like a flight.
Red Wine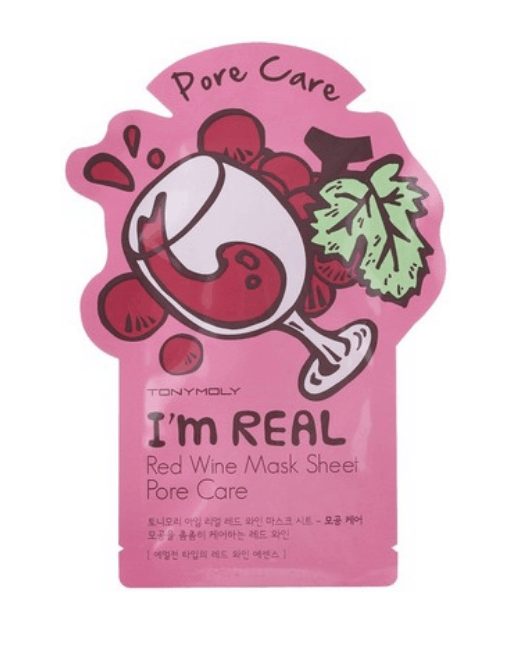 The Pore Care Red Wine was the first TONYMOLY sheet mask I ever tried, and I totally plucked it off the shelves of an UO because I wanted to wear it while drinking red wine like the fabulous lady adult that I am.
This mask is still one of my favorites, up there with the lemon and seaweed masks. Its English description promises quite a bit – "tightens uneven skin texture with enlarged pores" – but it's one of my favorites for a reason; it delivers on a lot of its promises. After using this mask, I notice decreased redness and a bit of a glow – I even feel like my pimples are smaller the next morning. And, even though decreasing pore size is not a thing, I feel like my blackheads are less noticeable, too.
All in all, this mask is great for acne-prone skin.
I'm not going to lie, it does smell a bit like cheap wine, but like most of the masks the smell is not overpowering and you stop noticing it as you wear it. The serum is watery, with a little bit of tackiness to it, like the lemon mask, so it leaves a bit of a film after you use it – just rinse your hands and face with a bit of cool water afterwards.
Tomato
I'm never really certain what to make of the Radiance Tomato mask – it promises to "make rough skin look smooth and radiant" but I don't really have an issue with skin texture. I exfoliate regularly and my skin generally feels pretty smooth despite my breakouts.
I'm honestly not really sure if this mask is supposed to exfoliate or not. It definitely doesn't feel like I've exfoliated after I use it. So…
That being said, this mask is like the rice or makgeoli mask for me – it's good for those days when my skin is not terrible, but it's not great either. The tomato mask does a nice job of reducing the size of pimples if I have them, but I don't notice a major reduction in redness or more brightness, even though the mask promises radiance.
It does smell vaguely tomato-y – not like tomato sauce-y, but like you've cut ripe summer tomatoes for a salad, which I find pleasant but may be off-putting to some. The serum is watery and runny, and there's a lot of it, sort of like the broccoli serum – I rubbed it all over my shoulders and neck afterwards, and there was still some left over.
What do you think?
What are your favorite sheet masks? Have you ever tried any TONYMOLY masks other than the I'm Real sheet masks? Let me know in the comments below!