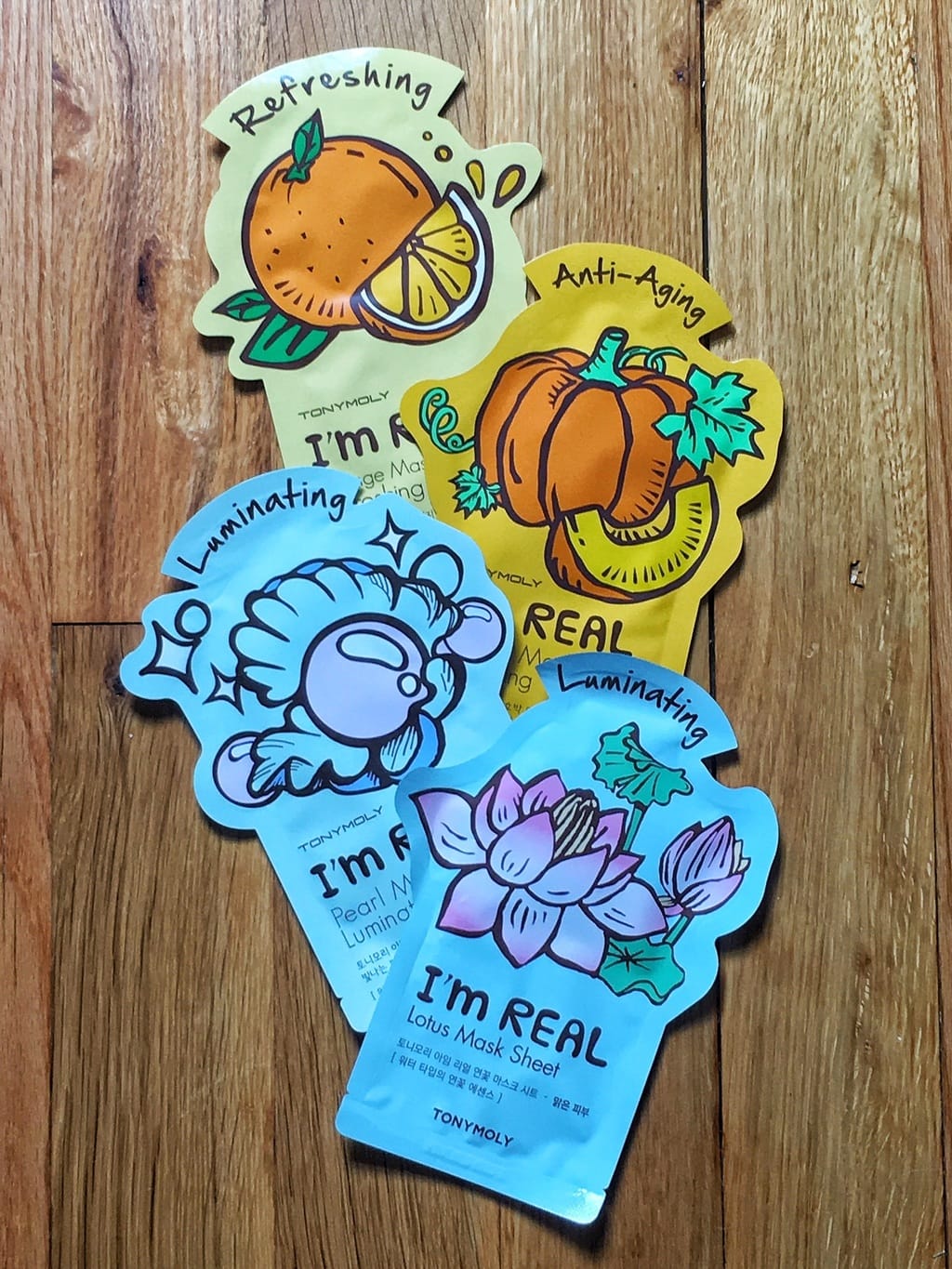 Hi internet friends! Here's the FINAL part of my review of TONYMOLY's 18 I'm Real Sheet masks. If you missed them, be sure to check out parts 1, 2, and 3.
These masks are among the most popular products to come out of the Korean beauty craze, and they are also fairly cheap (especially if you buy them in bulk on Amazon – you're welcome) and readily available. Plus, the packaging is super cute.
The only issue – there are 18 mask types available and most of the text on the packaging is in Korean, which can make figuring out which one to try a crapshoot at best. That's why I'm reviewing them for you!
The last four we have for today are the Pumpkin, Orange, Pearl, and Lotus sheet masks. Read on for more!
(For reviews of the other masks, see my posts on Makgeoli, Broccoli, Lemon, Avocado, and Aloe; Rice, Seaweed, Pomegranate, Red Wine, and Tomato; and Green Tea, Cactus, Rose, and Tea Tree.)
Orange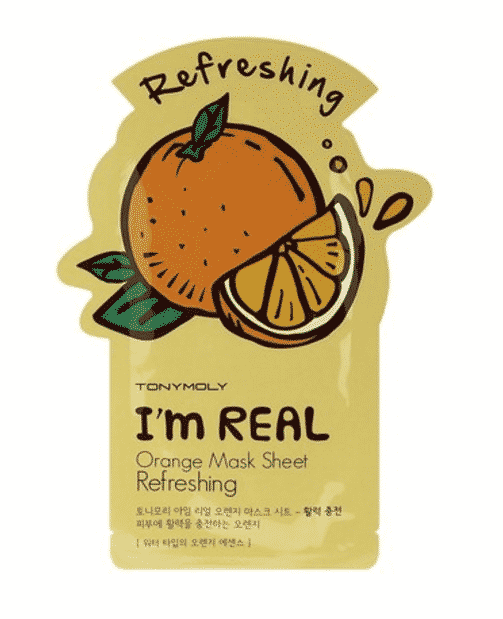 Ok, so normally when I review each mask, I take pretty specific notes, like my first impressions of the product, the texture of the serum, etc. My notes for this mask, however, are basically just: OMG, THE SMEEELLLLLL!!! This is by far my favorite scent of all the masks. BY FAR. 
I was lukewarm about trying this mask despite it being the MOST DIFFICULT to track down (the only place I found it was ULTA – even though it's offered at the TONYMOLY site, it's been sold out for basically 8 weeks.) It's labeled Refreshing Orange and promises to make "dull and rough skin look energetic," which, tbh, didn't sound like it would do much for my acne-prone skin.
And I was right – it didn't seem to do a much for my skin (which was very, very broken out when I tried this mask – thanks, hormones!) aside from a touch of plumpness and hydration, but it's worth it for the smell alone.
This mask smells like fresh squeezed oranges, and it left me feeling completely blissed out. I'd had a stressful day of party planning, cleaning, and adulting, so I was feeling anxious when I tried this mask, but that all completely melted away. Even after I got used to the smell, I felt extra relaxed and happy.
I'm not sure I would recommend it for skincare purposes (unless you have normalish skin that could sometimes use a pick-me-up) but I would 100% recommend this mask to anyone who is stressed, sad, or anxious and is looking to add some MAJOR firepower to their self-care routine.
Pumpkin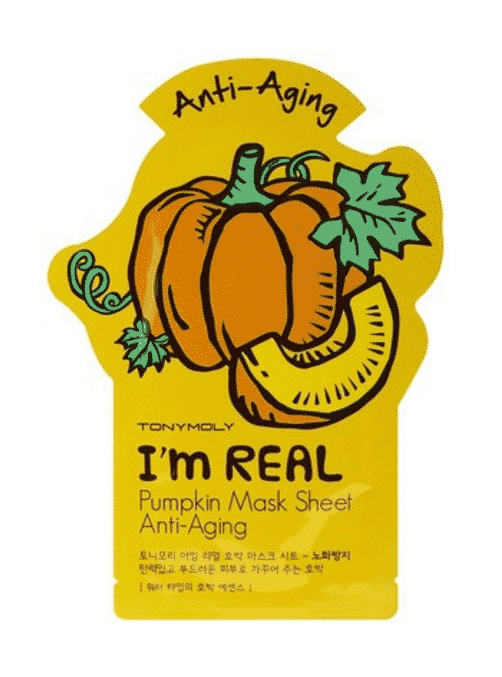 Like the Orange mask, I wasn't super pumped to try the Anti-Aging Pumpkin sheet mask. I mean, I'm definitely not old enough to be the target audience for anti-aging products. But, the packaging says the mask "makes skin feel elastic and soft," so I was hoping it would deliver a bit of glow-y, moisturizing action.
I was also hoping for a sweet, comforting pumpkin smell from this mask, but it actually didn't smell like much of anything. There is a slight, almost vegetal smell, sort of like the Broccoli mask, but overall, I was a little disappointed in the smell department.
The serum is runny and watery, but unlike the rose and cactus serums, there wasn't an excess of the serum. I got a little bit of cooling when I put the mask on, but it wasn't quite as noticeable as, say, the aloe mask.
The next morning, I did notice a bit of glow and bounce (even a little bit of redness control action), but again, I recognize that I'm probably not the best judge of this mask, since it's not targeting my skin type. This mask would probably be great for dry or dull skin that needs extra TLC.
Pearl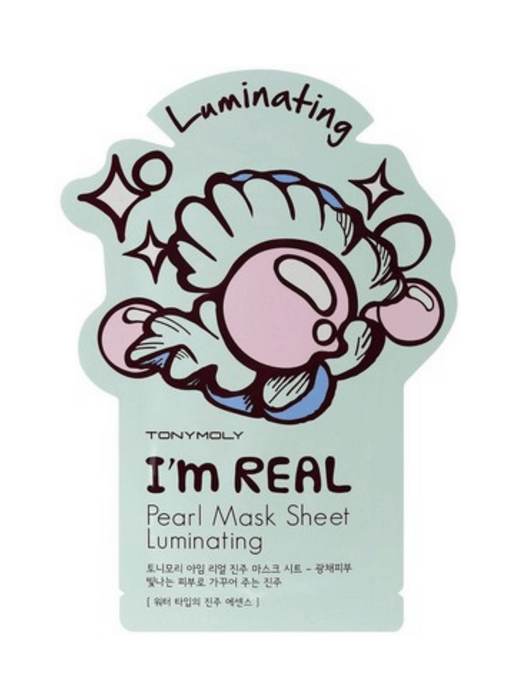 TONYMOLY Luminating Pearl Sheet Mask
When I was researching TONYMOLY's masks, I was super curious to try the Luminating Pearl mask. I don't often think of skin as being pearly, or want pearls with my skincare, but I loved the idea of using "pearl extract" for a glowy complexion. I had really high hopes for this mask.
The mask promised to make "skin look clear and glowing," so I was hoping it would deliver a bit of acne control with a bit boost of glow. My skin was pretty broken out when I tried this mask (again, thanks hormones!) so I was really looking for this to deliver on its claim.
The serum was runny and clear, and there wasn't an excess of it. I wasn't sure what to expect from the smell – something clean, or no scent at all – but again I got the overwhelming peanut smell I got from the Rose mask – I ended up tearing the part of the mask under my nose like I do with the Tea Tree mask because the smell wasn't my favorite.
This mask disappointed me. I can't say it I noticed a major reduction to any acne or redness from this mask, and I didn't feel like I got any major glow benefits from it either. I think this mask would be all right for someone with normalish skin looking for a glow and a bit of light acne control, but I won't use this one again.
Lotus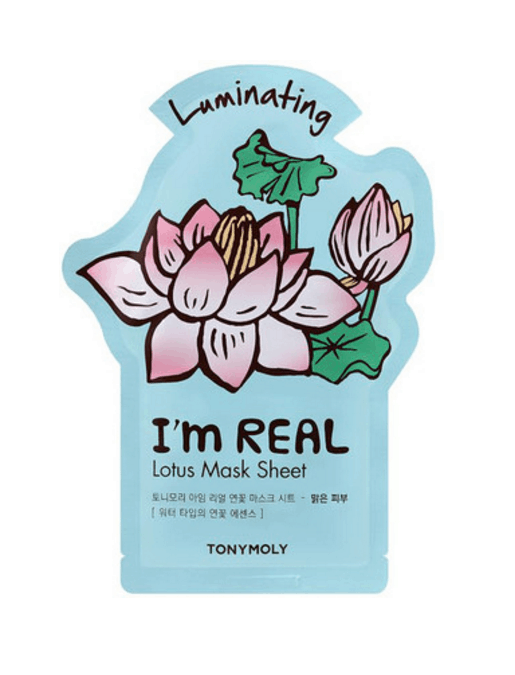 I feel like I've been super negative in this post, but I'm not a huge fan of the Lotus mask either.
This is one of the newer masks, released with the Green Tea mask that I reviewed last post. I got it through TONYMOLY's website, and I haven't yet found it elsewhere. And, like the Pearl mask, it's billed as a Luminating Lotus mask, so off the bat I'm not expecting it to do much for my skin.
Like the Green Tea mask, the serum is almost jelly-like and thick – I actually brushed a bunch of it off the mask and rubbed the excess serum into my skin before I put the mask on.
I was hoping for a floral smell – again, I'm not 100% sure I know what a lotus is supposed to smell like – and this mask does have veryyyy faint floral smell. It's like the jasmine scent in the Green Tea mask.
There was, again, no noticeable tingling or cooling, but the serum felt thick on my skin. After I took the mask off, there was a noticeable residue, as there was with the Red Wine, Lemon, and Rose masks, that I rinsed off with some water.
Again, I want to give this mask the benefit of the doubt because my hormonal, broken-out skin is not the best canvas for it's glow-enducing properties. However, I still felt disappointed that this didn't do much for my skin. Just like the Pearl mask, this would probably be great for normalish or dry skin, but it just wasn't doing it for me.
Final Thoughts
All in all, I really love these products (even if some of them don't work for my skin), and they run the gamut for skin types, so you can certainly find one to address a specific skincare issue if you only use sheet masks once in a while.
But, if you're like me and use sheet masks two or three times a week (or twice a day, if you're following a hardcore Korean skincare routine) I recommend getting a variety that will help address your specific and varying skincare needs through the seasons (or your cycle).
TONYMOLY and Amazon both offer variety sets of masks, and Amazon also offers bulk sets of one type if just one fits your fancy (like, lowkey, I may get just the red wine one for summer because I know my skin — blackheads and greasiness will be a thing).
Even if you're just getting a sheet mask once in a while, they can be a fun, luxurious, and super effective addition to your skincare routine.
Also, PS – TONYMOLY just released 3 more sheet masks – Lavender, Calendula, and Cherry Blossom. And they didn't consult me – rude!
What do you think?
Have you tried any of the TONYMOLY I'm Real Masks? What dis you think of them? Which ones would you think would be best for your skin? Should I review the three new ones, too? Let me know in the comments below!