This post will show you what to wear to college orientation, with 6 cute college orientation outfits.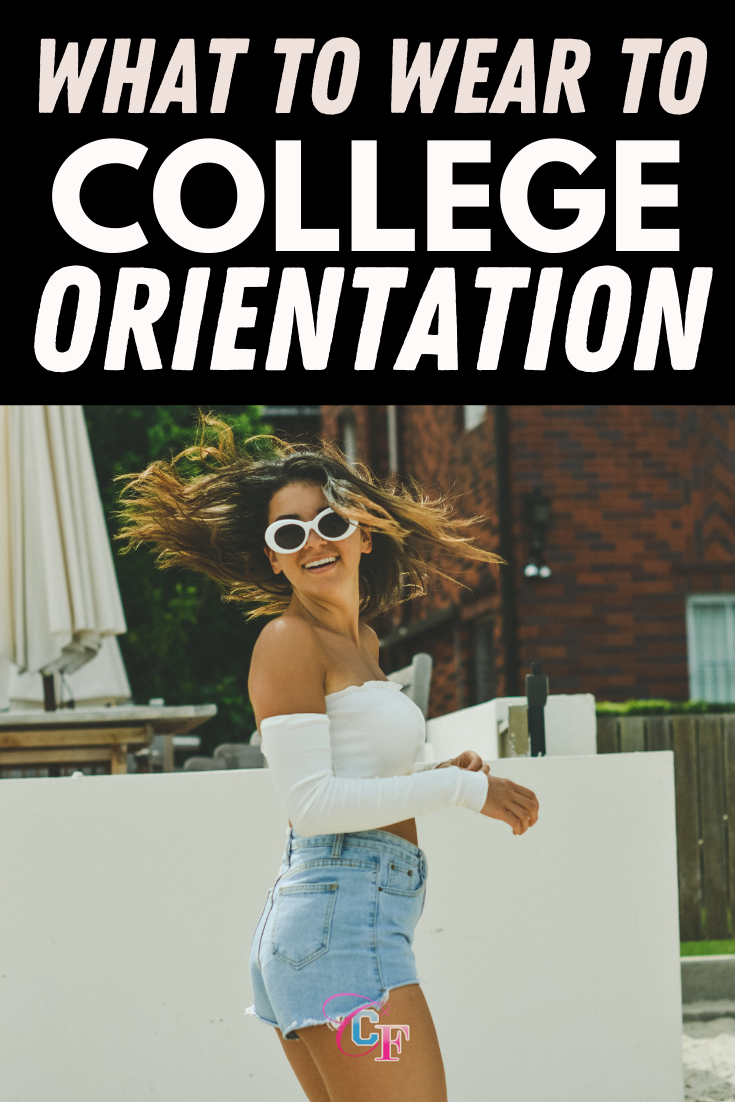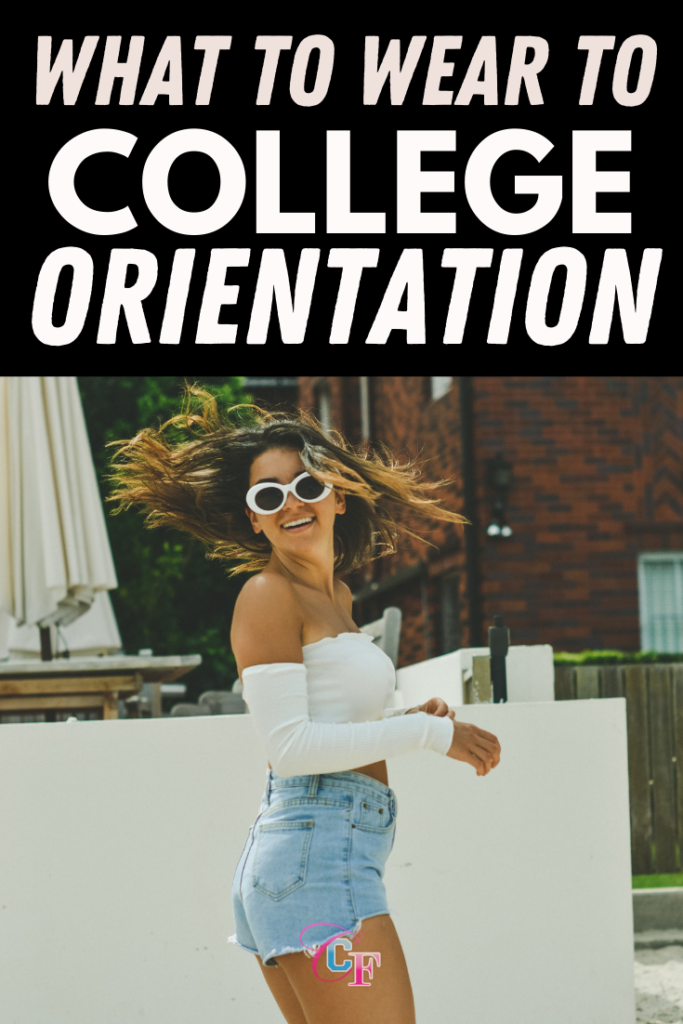 If you are starting college soon, there are so many different events to plan for — and so many outfits you'll need to plan out.
This is especially true for your freshman year because you will want to make a great first impression. This means you will want to have a ton of cute outfits already prepared that you can throw on.
The first event that you will likely have during your college experience is college orientation.
It is so important that you feel confident during orientation weekend, so you will want to make sure you love your outfits and that you feel comfortable in them. You will also want to take note of the weather at your college because this could drastically affect your outfits.
If you are wondering what to wear to college orientation, check out these six outfits that are perfect for college orientation, whether it's one day or a four-day weekend!
Related reading: First Week of College Outfits: What to Wear Your First Week Back to School
First, Tips on What to Wear for Orientation: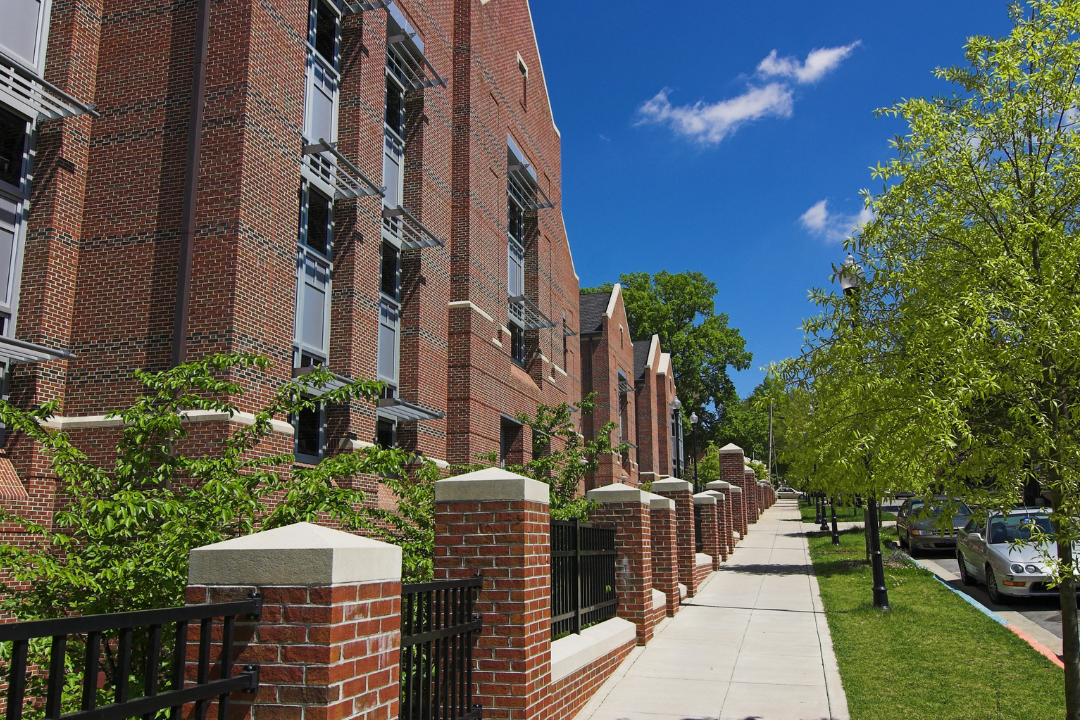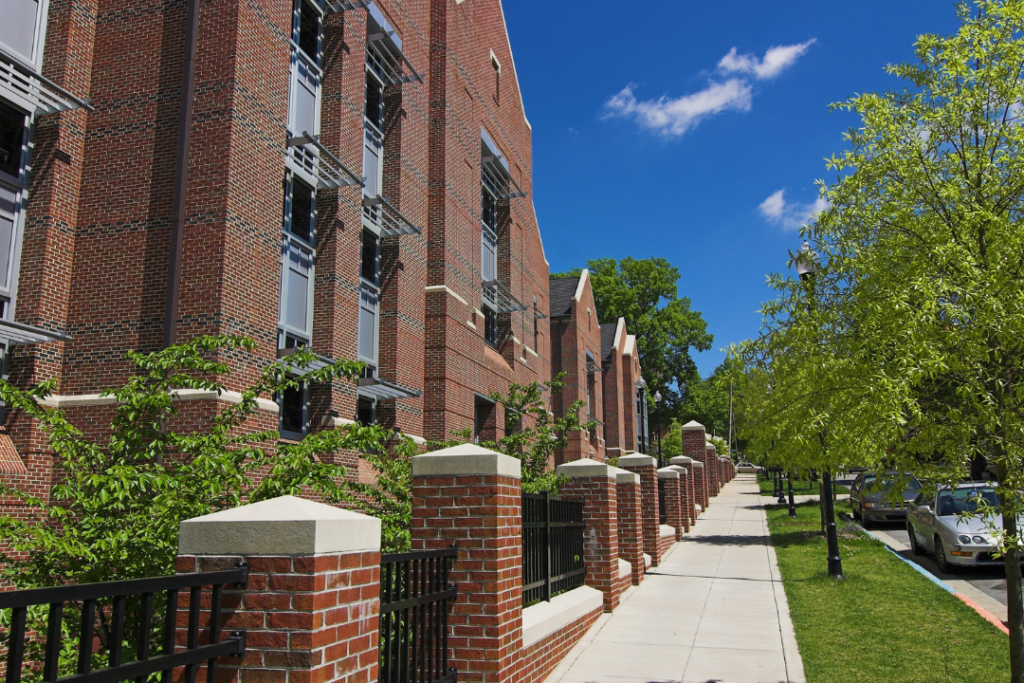 Dress comfortably and appropriately! More than likely you will be outside in the heat, walking a lot around campus, sitting on the ground and partaking in physical activities (I once witnessed forced line dancing at a college orientation — shudder!), so consider these things when choosing your outfits. A tight, short skirt might look cute, but it'll probably be more pain than it's worth.
Consider leaving the collegiate clothes at home. Everyone attending orientation with you will obviously be going to your school, so there's no need to advertise your admission. Instead, show off your personality and unique style in your outfits.
On a similar note, forget your high school t-shirts, too — leave high school in the past!
Your college might give you a t-shirt to wear for orientation — in this case, accessories become really important! Show your style with unique jewelry and cool shoes.
If you'll be meeting with an adviser or faculty member, change into something more professional. This doesn't mean you have to dress business casual, but perhaps you could swap your crop top for a cardi, for instance.
If you're staying overnight in a dorm, pack flip-flops for the shower, a robe for the trek from the bathroom to your room, and cute pajamas (see the last outfit below) — you never know who you might bump into!
Stumped? You can't go wrong with basic shorts, sandals and a cute top! As easy as 1-2-3.
Your most important accessory at orientation? A smile! Grin, be friendly, and meet people!
College Orientation Outfit #1
If you are going somewhere that is extremely warm (like Florida, for instance), you will want to dress in very light clothing.
One of the best ways to do this is to wear shorts and a tank top! However, for your college orientation, you will still want to dress somewhat fashionable so you can spice up this outfit with a dressier tank top like this flowy blue tank top that features a bow in the back.
Also, you will want to make sure that your shorts are appropriate length, so you should go for these acid wash vintage shorts that are a little bit longer than your typical cutoffs.
In warm weather, you will most likely want to wear sandals, so I would pair the outfit with these cute white sandals.
You can also do your hair in an updo with this brown bear claw hair clip to keep you even more cool if it is extremely hot outside.
If you need a purse to carry some of your belongings in, I recommend this adorable brown bag to complete the look!
2. College Orientation Outfit #2
For those of us who are going to college where the weather is a bit chillier, you will definitely want to prepare an outfit that will keep you warm while at college orientation.
Even though you will have to dress warmer that doesn't mean you still can't look cute in your outfit for orientation.
I would suggest wearing this outfit that features some trendy '90s jeans with a cute oversized sweater like this that comes in taupe. Just in case you get too warm in this outfit, you can also throw on a white tank top underneath it, so you have the option to take off the sweater later.
You can pair the outfit with some white Converse to keep your feet comfortable, and if you want to have a cute hair look with this outfit you can wear this white headband to match!
3. College Orientation Outfit #3
You may want to also dress a bit girlier for one of the days of your college orientation — if that's you, this outfit will do the trick!
This look features a flowy maroon dress with a floral design. You can totally wear a dress to college orientation as long as you are comfortable in it and it isn't too over the top or crazy short. This dress is the perfect mix of orientation-appropriate and totally on-trend.
If you are worried about getting cold while inside or if the weather gets colder, you can throw on this cute cropped cardigan on to go with the dress.
Then, you can pair the outfit with some sneakers like these trendy Nike Air Force 1s to make sure your feet don't get worn out from all the walking. (You will walk a lot!)
If you want to also add some cute accessories, you can wear this adorable gold heart choker necklace and bring this trendy white purse to carry around with you.
4. College Orientation Outfit #4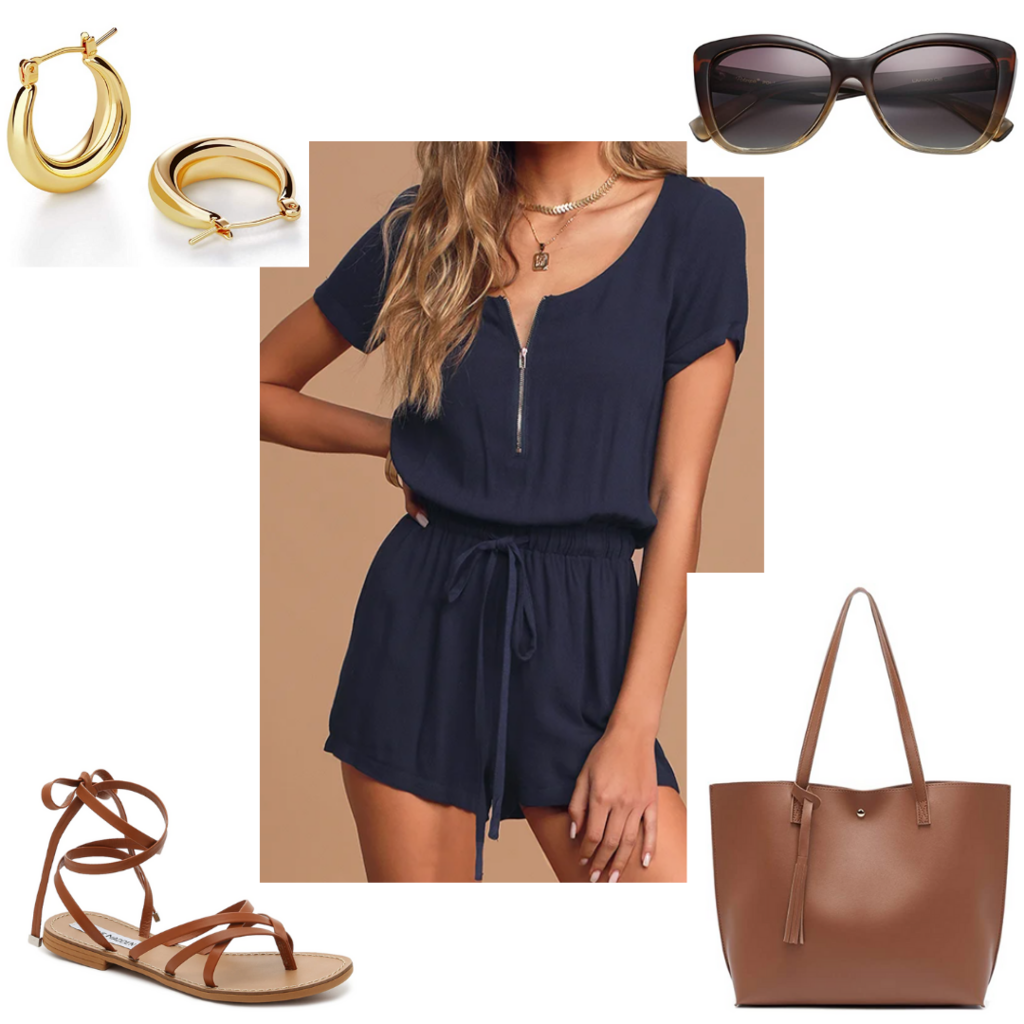 Products: Romper, Sandals, Bag, Earrings, Sunglasses
Another great outfit idea for college orientation is one that includes a romper like this outfit! Rompers are great if you are looking for an outfit that is girlier but you would rather not wear a dress to orientation.
If you are looking for a cute romper, this one will definitely be perfect! It comes in a pretty navy color with a trendy zipper design in the front for the top.
To complete this look, you should pair the romper with some cute sandals like these brown strappy ones.
You can also add accessories to this look to spice it up — try these cute chunky gold hoop earrings and large brown sunglasses. (Large sunglasses are in style again!)
To make sure you can carry all your belongings with you, I recommend buying this brown tote bag to go with the outfit.
5. College Orientation Outfit #5
You may be going somewhere where the weather is on the chillier side, even in summer, so you will definitely want to have an outfit prepared for the colder weather.
Don't worry though because this is actually very easy! All you will need is some black leggings and an oversized sweatshirt to go with them like this sweatshirt that comes in cream.
For shoes, you can wear some boots like these black boots to go with the outfit and to keep your feet warm. Also, you can carry your belongings in this cute black mini backpack to go with the outfit.
If you want to add some accessories to make this outfit more fun, you should go for these chunky gold rings and earrings; they're super on-trend right now.
6. College Orientation Outfit #6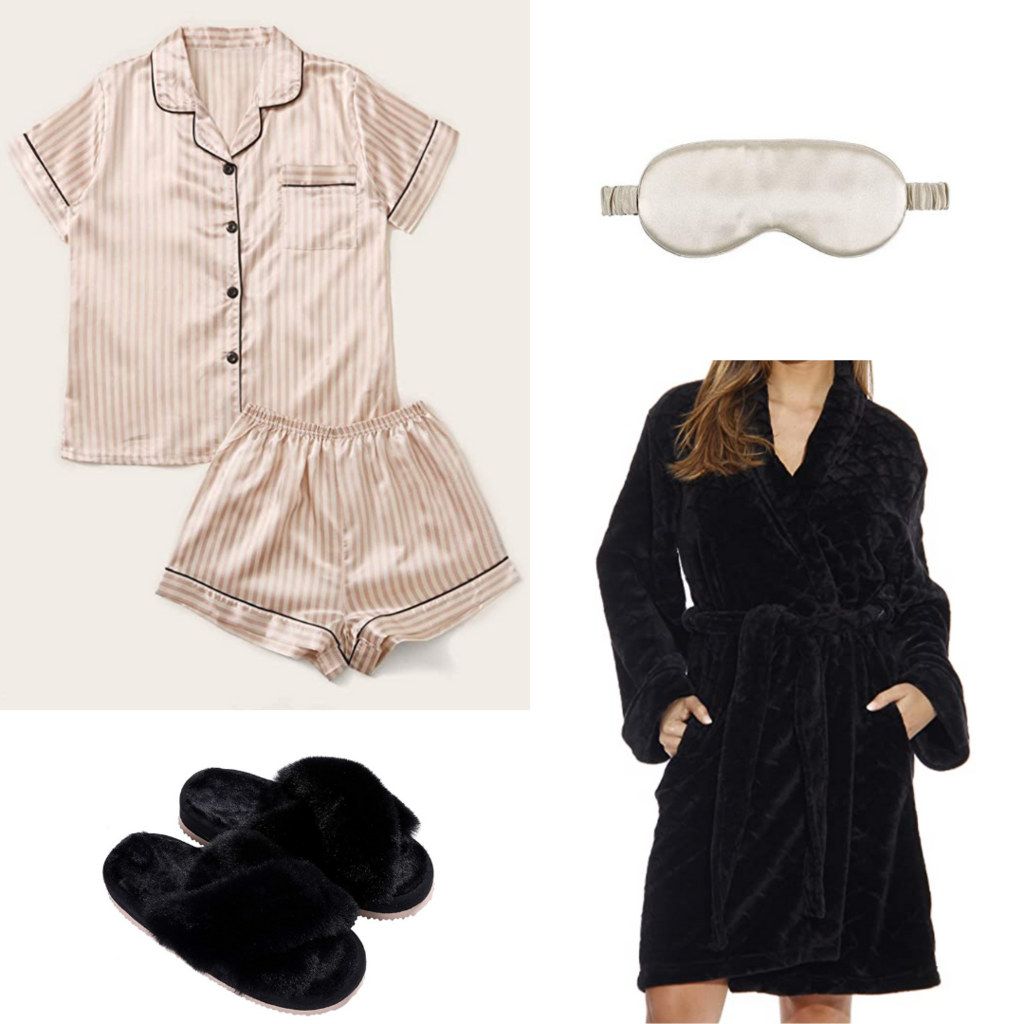 Products: Pajama Set, Robe, Slippers, Sleep Mask
Your orientation may also last a few days, so you will want to consider what you are going to wear for your nighttime outfit.
This is super easy! I 100% recommend a cute pajama set like this striped pajama set that comes in champagne. Then, you can pair the set with some fluffy slippers like these black slippers. (These slippers are very popular and you can check them off your college packing list if you buy them for orientation!)
If you need to cover up more, you can also bring along a robe to throw on like this comfy black robe to go with your bedtime outfit.
If you also need a sleep mask to help you sleep, I would recommend getting this champagne mask that will also match your pajama set (another item you can check off your packing list).
What do you think of our guide to what to wear to college orientation?
Although I know every school's get-to-know-you is a little different, I hope my outfits for orientation will help college-bound ladies decide what to wear.
A little reminder, though: No matter what you wear, just be yourself, and you'll be fine! College is about discovering yourself, so just stay true to who you are through these tumultuous first days. You'll be great, I promise!
Seasoned college students, what did you wear to orientation? What outfits worked, and what didn't? Comment down below!