This post will show you 20 outfit ideas perfect for back-to-school, plus must-have school accessories.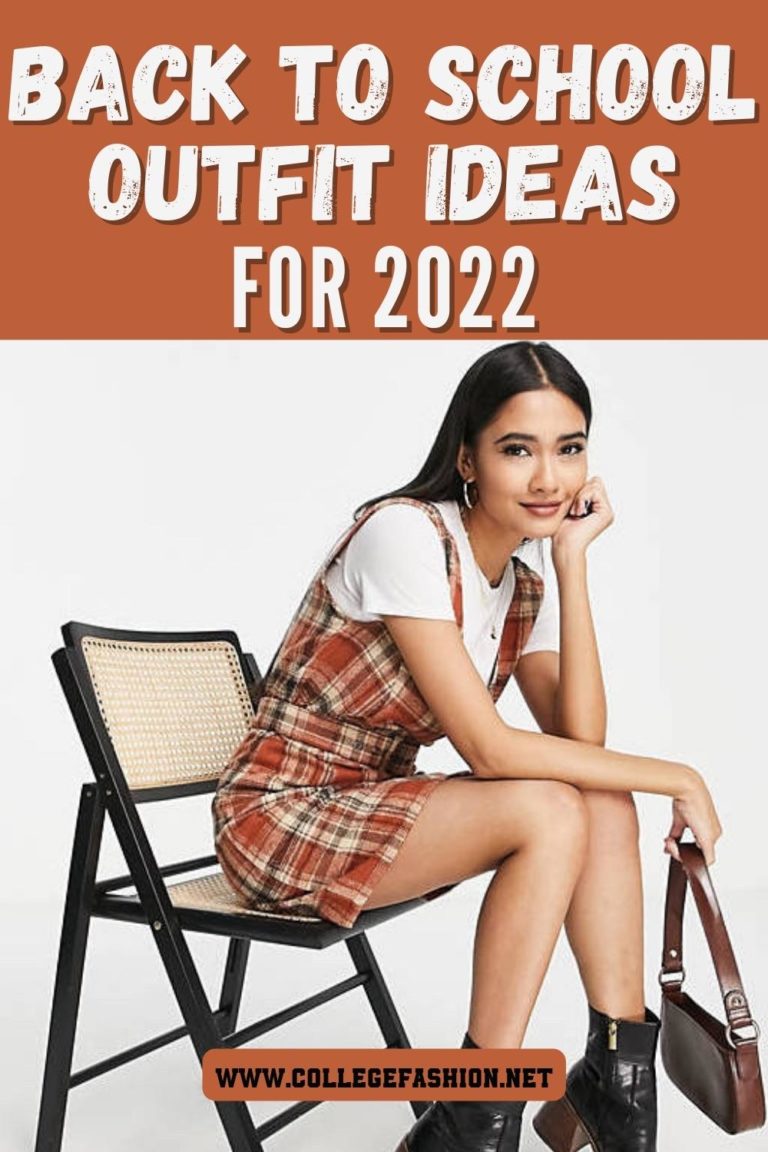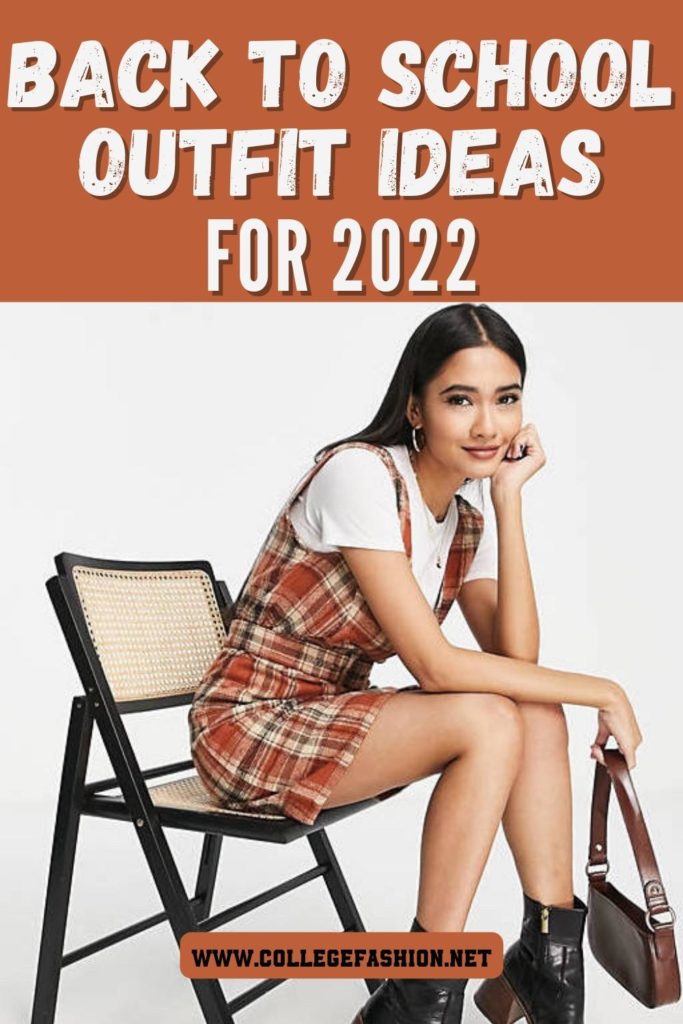 There's plenty that's hard about school, from tests to group projects to getting dressed in the morning. Yes, getting dressed (nearly) every day for classes can become as much of a task as homework, even for fashion lovers!
With all of the stresses you have to deal with, finding a cute outfit for class shouldn't be one of them. That's why I've compiled 20 outfit ideas that are perfect for school, so you'll have plenty of outfit inspo to go off of when you're getting ready for your school day.
Whether you're looking for stylish outfits, basic outfits, cute outfits, classic outfits, or aesthetic outfits, I've got you covered with back-to-school outfit ideas for every style.
Read on for 20 back-to-school outfits, plus must-have accessories for the school year ahead!
Stylish Back-to-School Outfits
Want to make a style statement when you head to class? Try these stylish outfit ideas that are on-trend for 2022.
1. Mini Skirt, Sweater Vest, & Loafers Outfit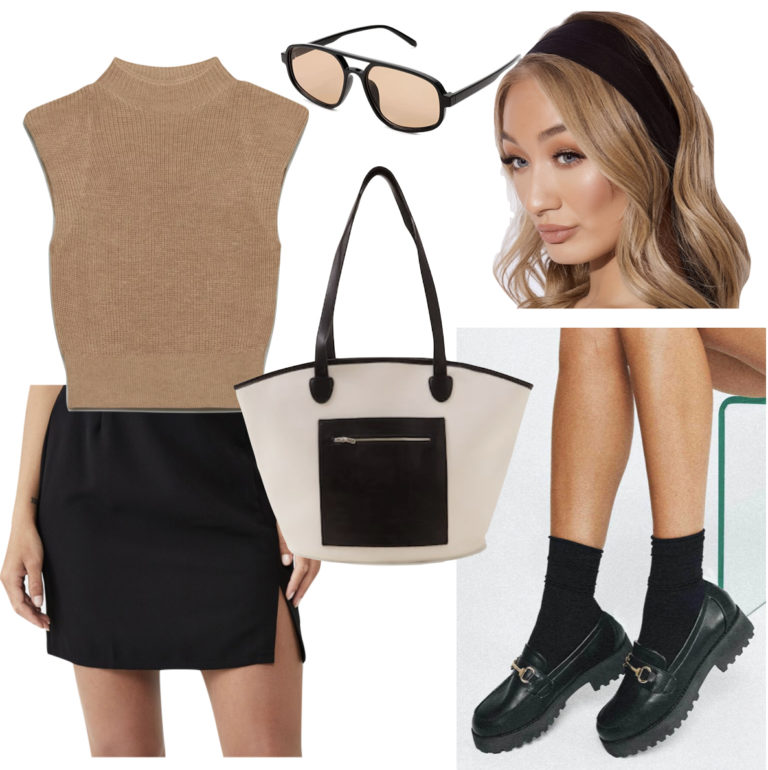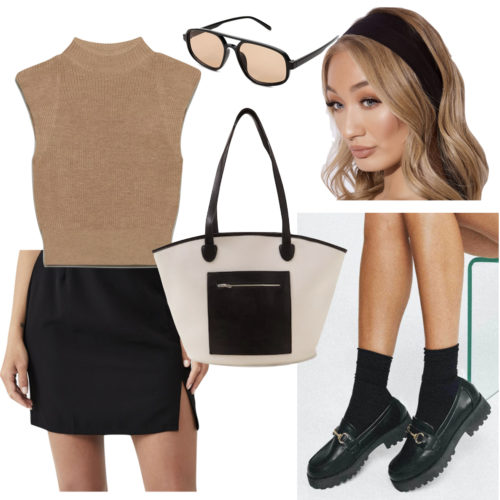 Products: Sweater Vest, Skirt, Headband, Sunglasses, Bag, Loafers
Good news for the Gossip Girl-loving girlies: prep school fashion is in, big time. There's no better time than this back-to-school season to embrace your inner Blair Waldorf, Audrey Hope, or Monet de Haan with a polished, academia-inspired ensemble.
This trend goes hand-in-hand with the fall's loafer shoe trend, as well, so you'll want to invest in some chunky black loafers with treaded soles. Style them with a basic black mini skirt and a chic sweater vest; this camel-colored knit features a mock neck and defined shoulders.
Accessories are crucial in tying this outfit together: a canvas tote bag with black faux leather trim looks sleek but is practical for carrying your books to class, while a black stretch headband adds to the preppy vibe of the outfit. For a sunny day on campus, throw on some cool, retro-inspired aviator sunglasses in a coordinating color scheme.
2. Cardigan, Cargo Pants, & Clogs
You can still look stylish in a more laid-back outfit for school that balances comfort with trend appeal.
This fall, cargo pants are a significant fashion trend, as are Birkenstock's Boston clogs, and these items happen to look amazing when worn together. Plus, roomy cargo pants (these have a high waist and straight-leg fit) are a comfortable pants option when sitting for hours in class, while Birkenstocks are ideal for walking around campus. It's a win-win!
Wear them with a cute cardigan sweater on its own or over a tank top, and add layered necklaces for a fashionable touch. This neutral-colored backpack matches the outfit perfectly and features a detachable crossbody strap, so you can wear it two ways.
3. Sweatshirt, Tennis Skirt, & Sneakers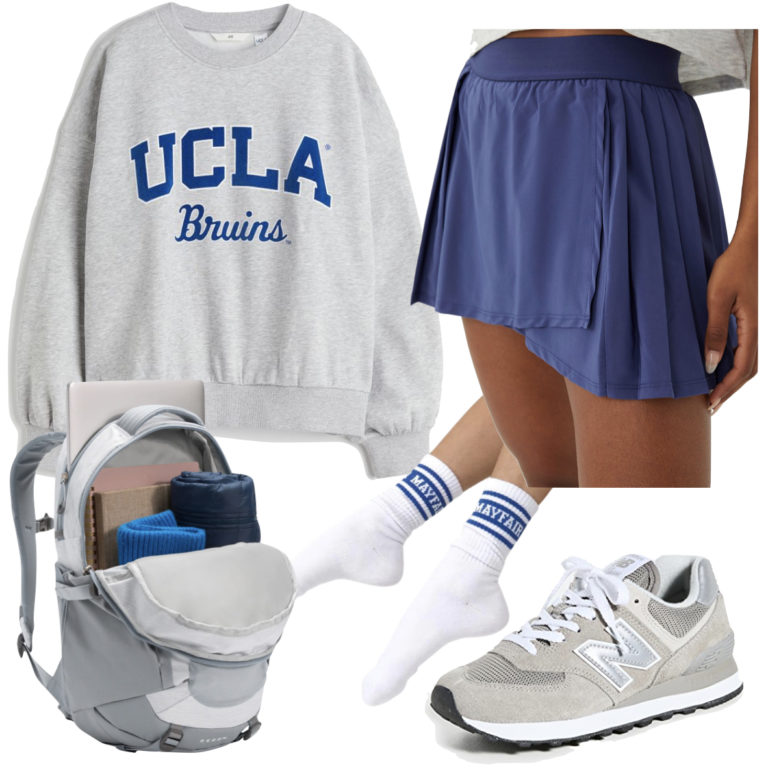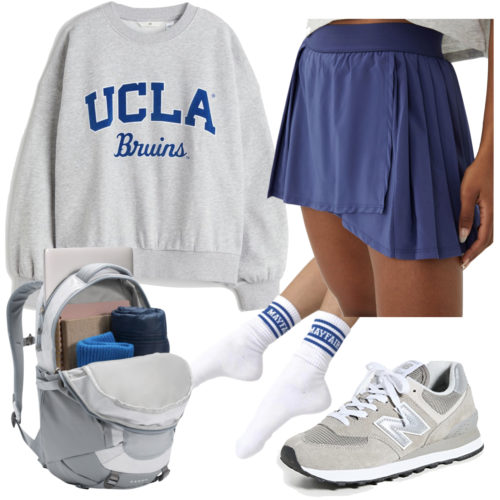 Products: Sweatshirt, Skirt, Backpack, Socks, Sneakers
You don't have to "dress up" for class to look stylish. Athleisure outfits can look just as stylish if you opt for pieces that match or look intentionally coordinated (as opposed to mismatched sweats, which can sometimes look sloppy).
Since it's probably still a bit too hot to wear leggings, try bike shorts or a cute tennis skirt with built-in shorts. I loved the pleated detail on this navy blue tennis skirt, which also has a comfy elasticized waistband and pockets hidden underneath on the shorts!
Wear it with a graphic printed crewneck sweatshirt, which can be an opportunity for you to show school pride or rep your sorority letters.
4. Denim on Denim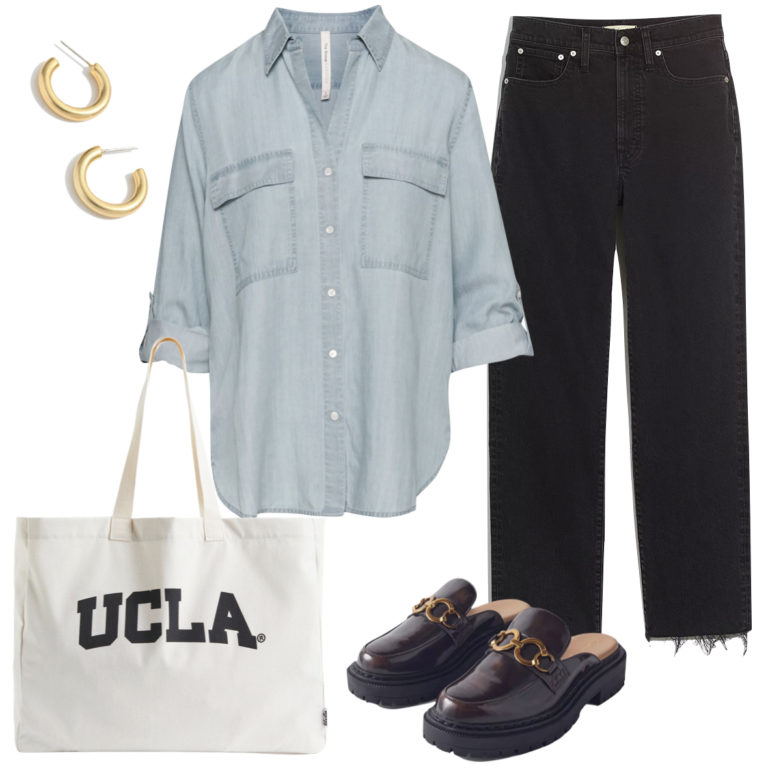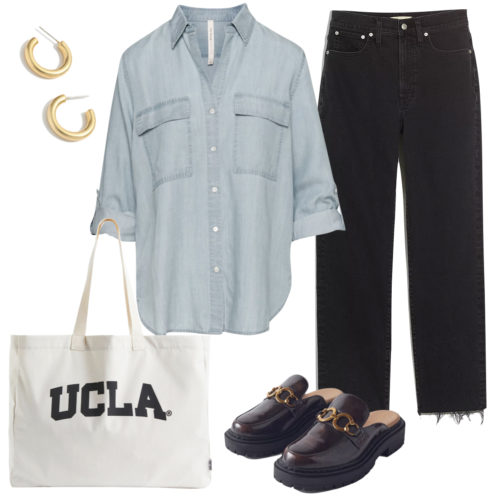 Products: Shirt, Jeans, Earrings, Bag, Loafer Mules
Use wardrobe staples to create a stylish outfit for school that is easy to put together but looks elevated.
Whether you're working with a capsule wardrobe or a wardrobe full of trendy items, I always recommend owning a good pair of black straight-leg jeans and a chambray shirt, which looks polished yet casual. These two items can be styled in many different ways but are perfect when paired together for achieving the denim on denim look since they feature differing denim washes.
For a stylish touch, wear the outfit with some trendy loafers like these lugged mules with gold chain detailing and a chunky sole. These are a great shoe to quickly slip on as you're hurrying to class that will make you look instantly fashion-forward. Add some gold jewelry like small hoop earrings and a backpack or tote bag to carry your books in.
Basic Back-to-School Outfits
You can't go wrong with a basic outfit when you're getting dressed for class. But basic doesn't have to equal boring! These basic outfits are simple but will still make you look fashionable and put together.
5. A Cardigan, Jeans, & Sneakers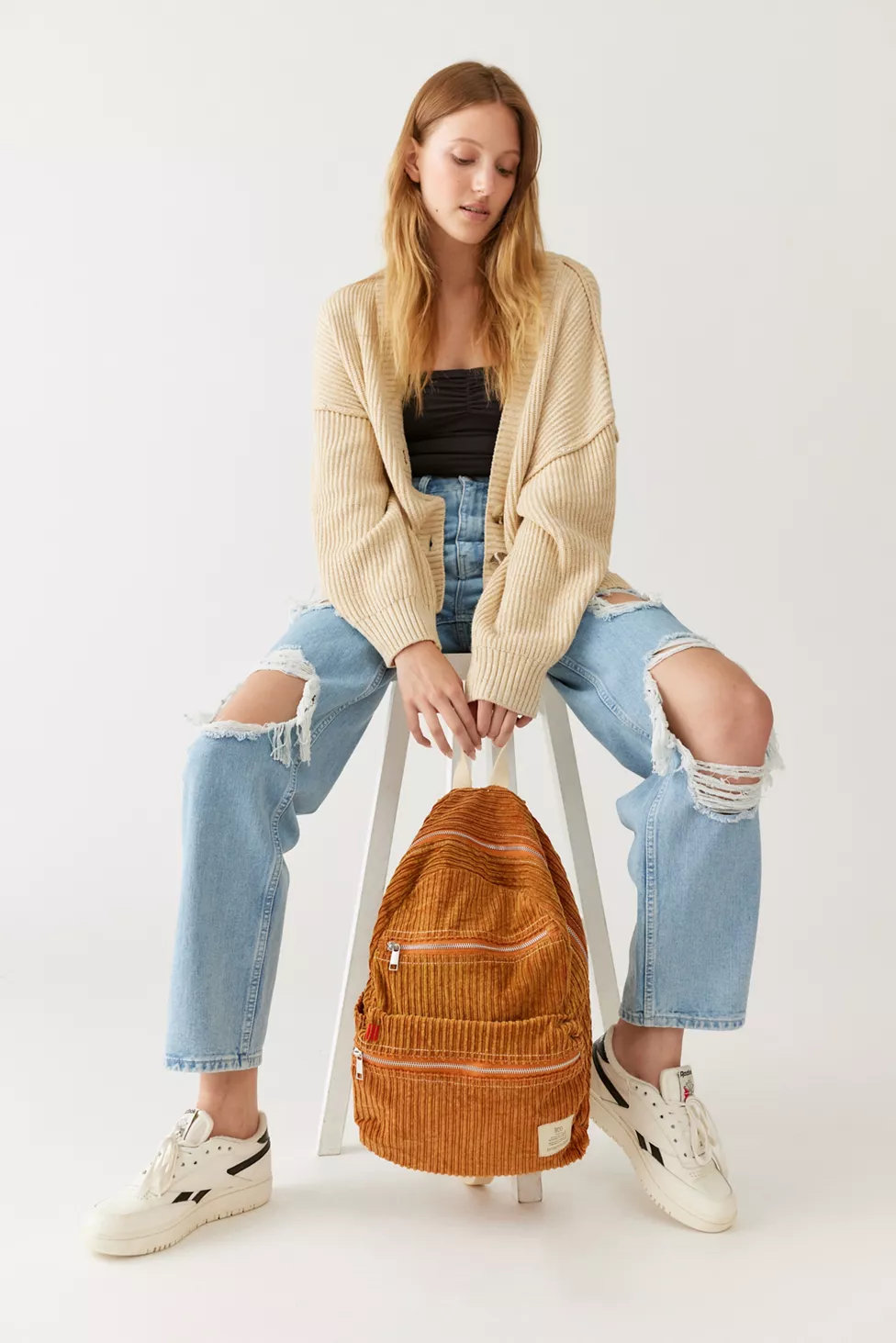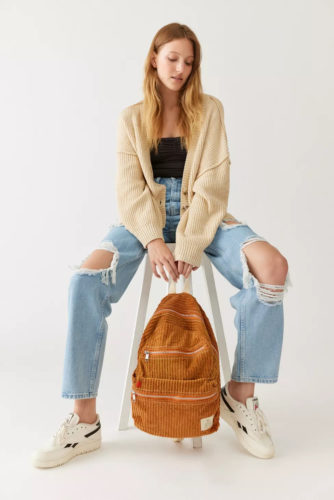 Is there a more classic or school-appropriate combo than a cardigan, jeans, and sneakers? I don't think so! This outfit combination is timeless and is the ultimate go-to look when you're in a hurry to get to school.
Keep your denim casual by wearing your jeans (I'd suggest jeans with smaller rips or no rips to be on the safe side) with some comfy sneakers and either a t-shirt or tank top. Wear a cozy cardigan over top, and you're all set.
6. Joggers, Sneakers, & A Tank Top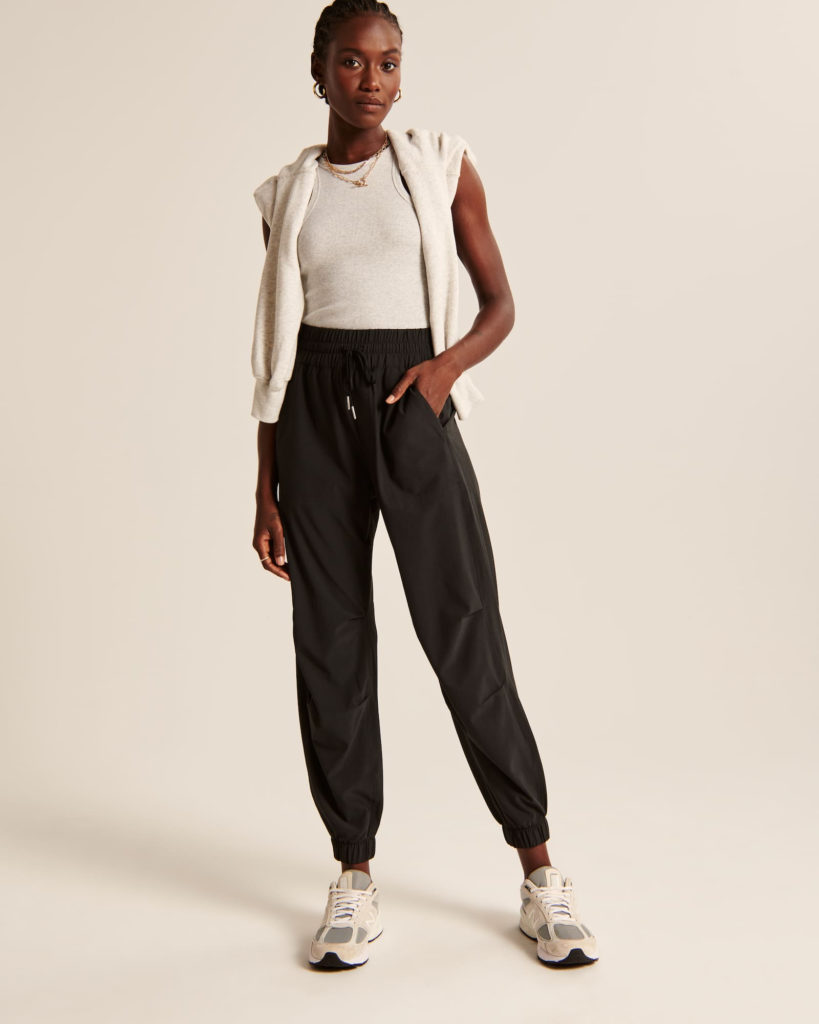 A simple tank top and athletic joggers are easy to throw together (not to mention super comfortable). Still, you can elevate this basic look by adding some gold jewelry. Small hoop earrings and layered necklaces add a stylish touch to this comfy athleisure outfit, which also includes sneakers and a sweatshirt (that looks especially chic when worn over your shoulders).
7. Shacket, Jeans, & Lace-Up Boots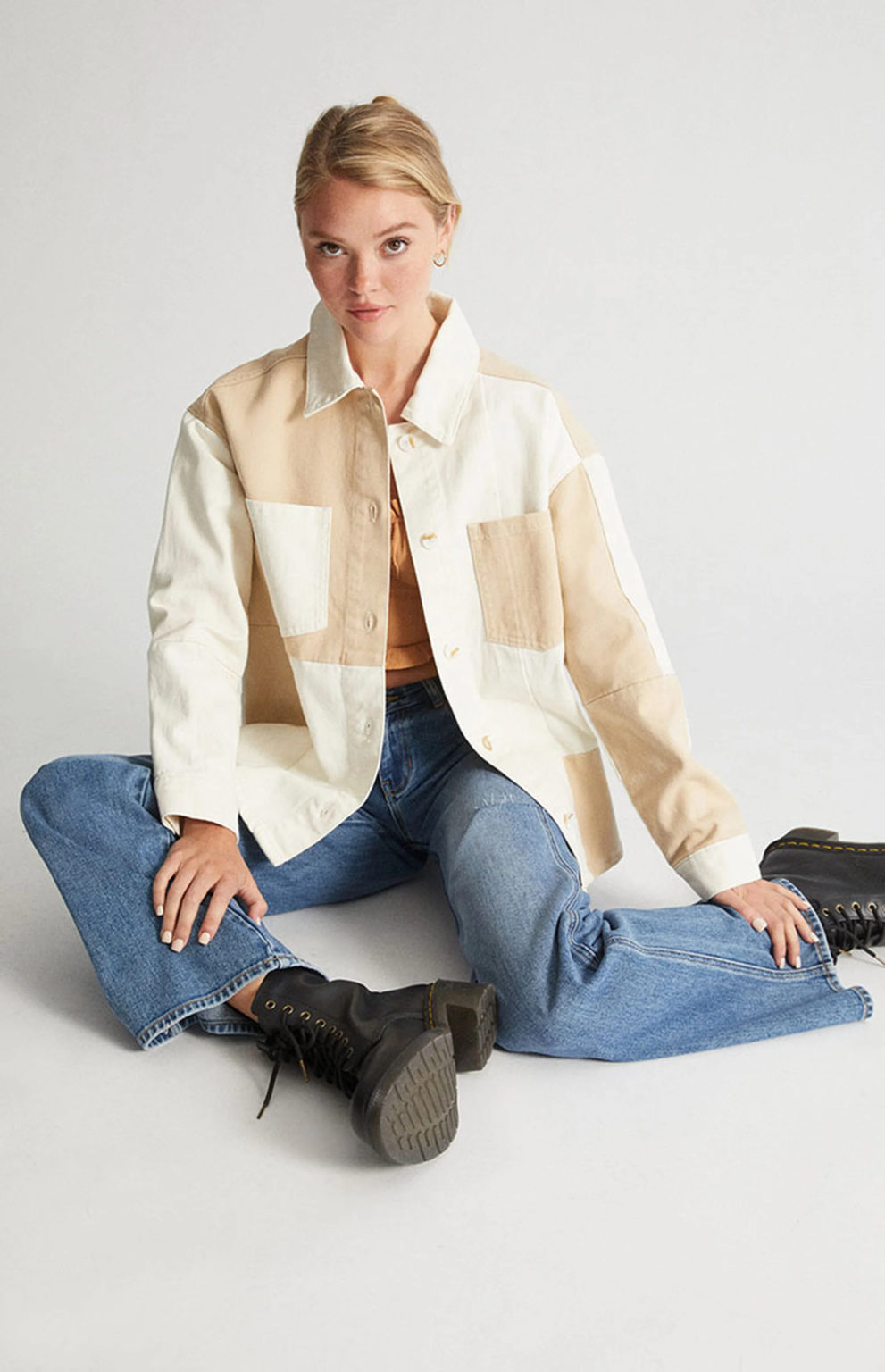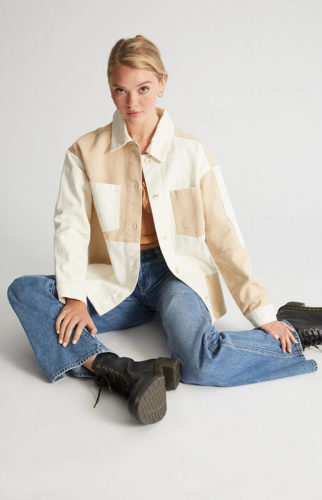 Keep it casual with jeans and a shacket. Shackets, or shirt jackets, are the perfect lightweight layer to wear to school during the back-to-school season and well into the fall.
Style your shacket with denim and some lace-up boots like combat boots or casual sneakers.
8. Plaid Shirt & Jeans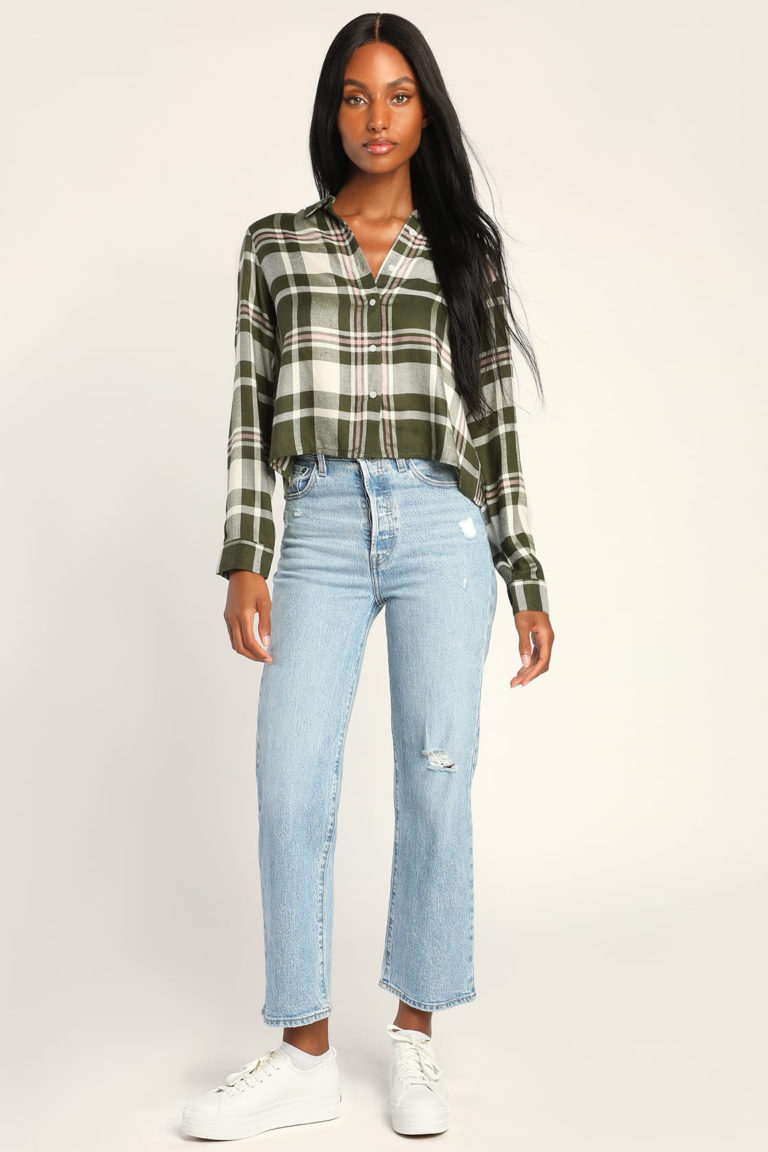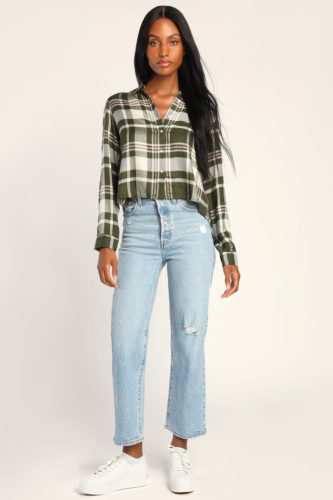 Nothing says fall like plaid and flannel shirts! These easy-going staples are perfect for the back-to-school season and can be worn alone or layered over t-shirts and tank tops.
Wear a plaid shirt with some ankle-length jeans and white low-top sneakers for an easy, basic look. This casual outfit combination works for class, a study sesh at the library, or just about anything a day on campus throws at you.
Cute Back-to-School Outfits
Want to show up to class looking extra cute? These school outfits will prove that you have style and aren't afraid to show it.
9. Mini Skirt, T-Shirt, & Denim Jacket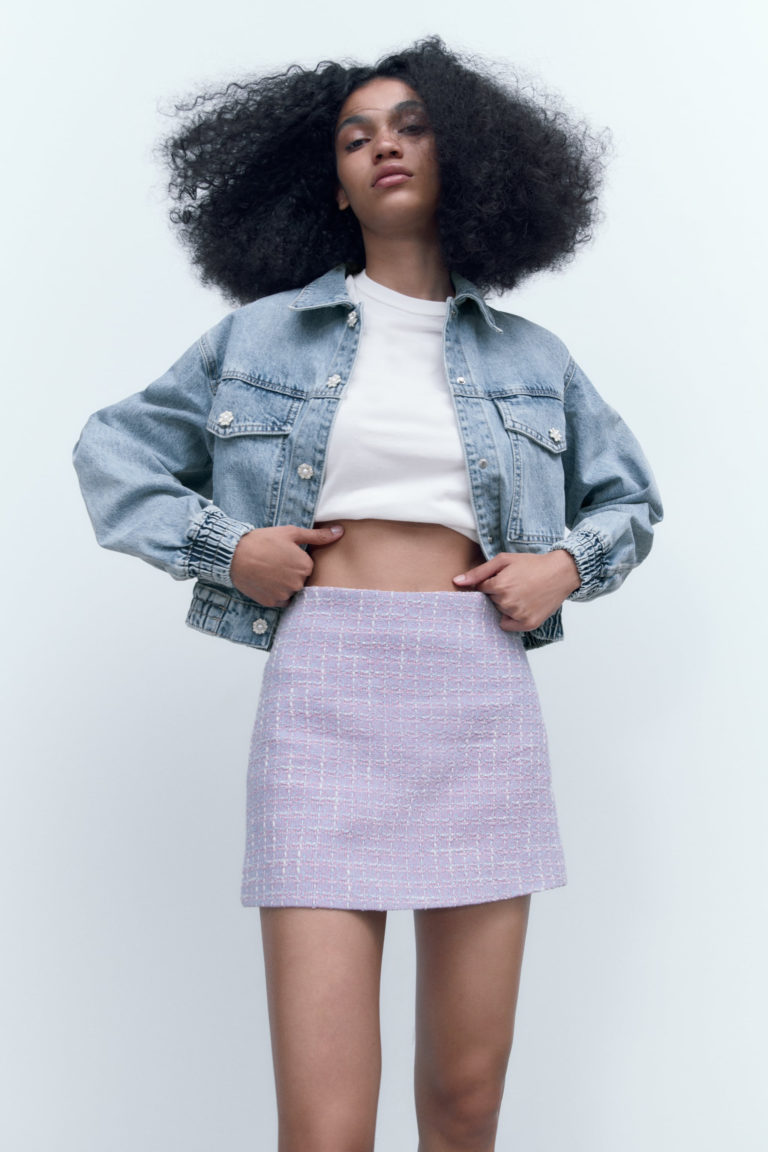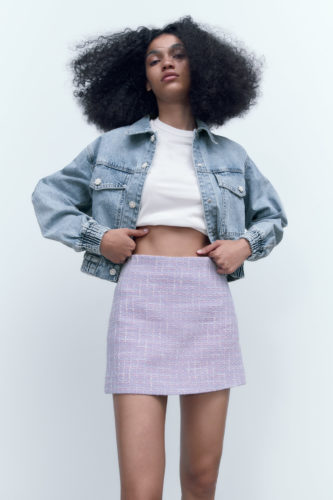 It doesn't get cuter than a tweed mini skirt, especially in this sweet lilac hue. While it may seem a bit dressy for school, you can dress it down with a simple white t-shirt and cropped denim jacket for the perfect balance of casual cute.
Also read: Closet VIP: How I Wear My Cargo Jacket
10. Maxi Dress, Sneakers, & A Flannel Shirt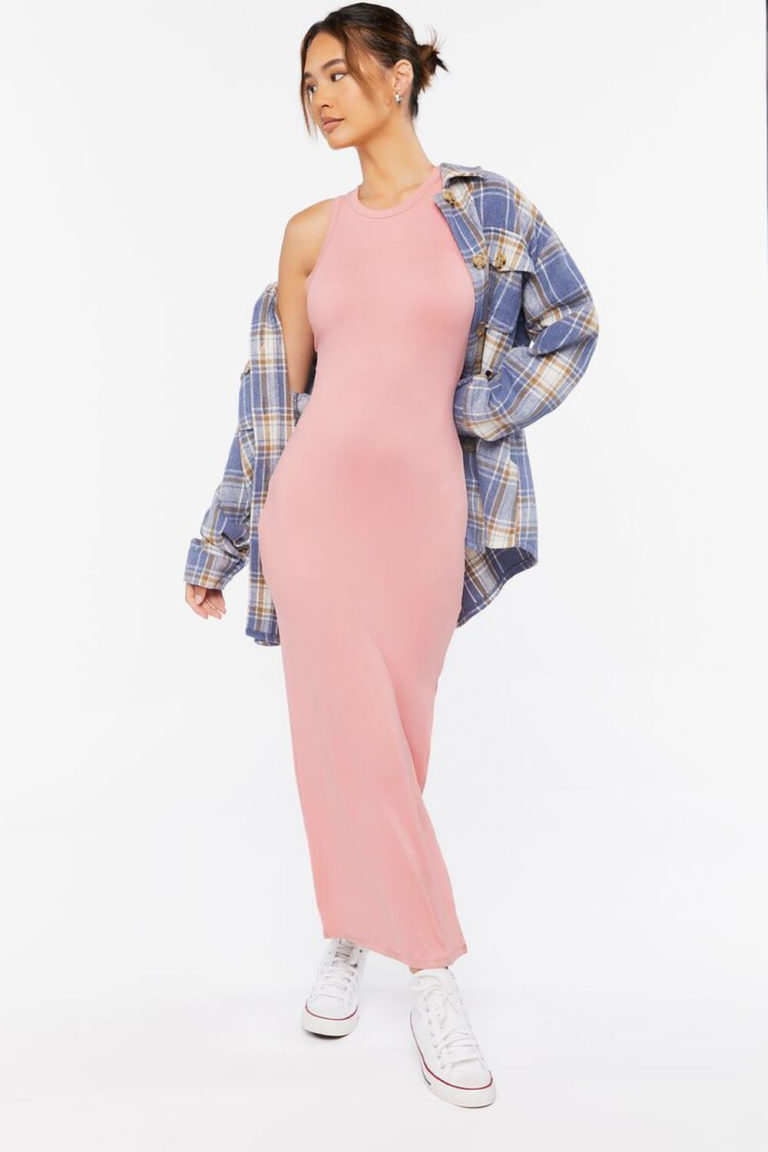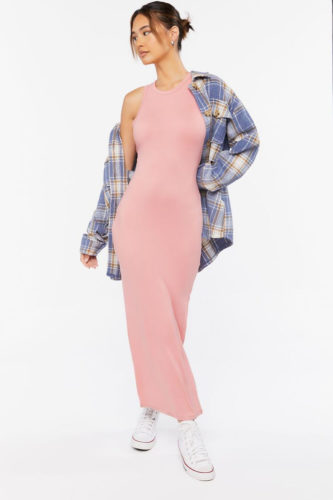 A dress to class? Absolutely! And while you could wear this adorable pink maxi dress on its own, you can also give it a laid-back vibe by styling it with an oversized flannel shirt and some casual sneakers like Converse.
11. Mini Dress & A T-Shirt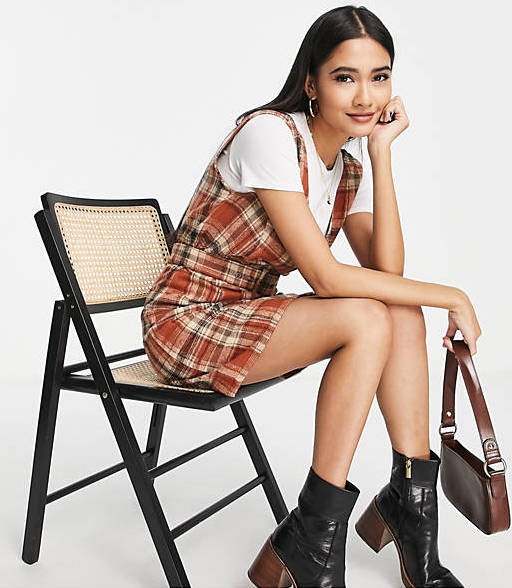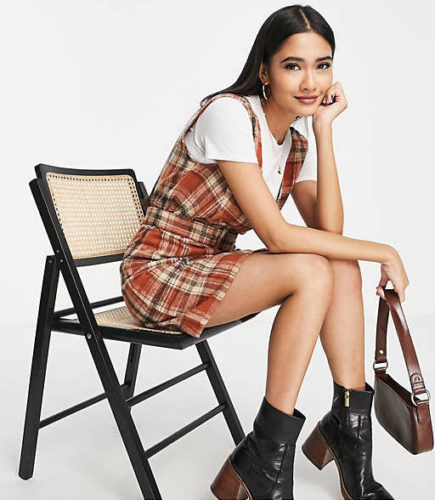 There's no doubt that mini dresses are cute, but they're not always the easiest clothing item to wear to school. Make your mini dress more "classroom appropriate" by layering it over a simple t-shirt. Not only is this layered look stylish, but it helps make your outfit a bit more casual –– this outfit combination works especially well with dresses featuring plaid and floral prints.
Bring the look together with either ankle booties or white low-top sneakers.
12. Shacket & Denim Mini Skirt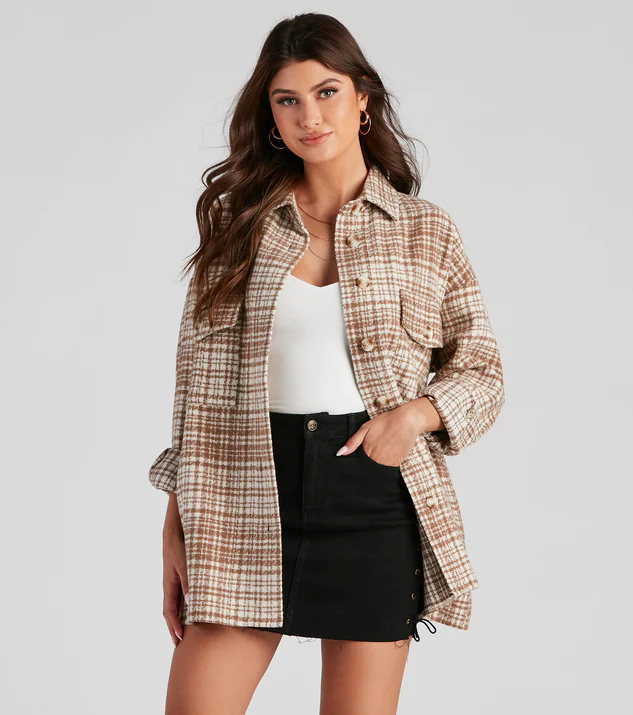 Shackets have become a total must-have, in my opinion, especially ones that feature a plaid or checked print. You can wear them with jeans for a super casual look, or with a mini skirt for a cute, feminine vibe instead. A denim mini skirt is a good option for school, which you can easily style with t-shirts, sweaters, and cardigans (in addition to shackets, of course).
Classy Back-to-School Outfits
Is your vibe more classy? Good news — classy, chic pieces are especially "in" this season. Opt for pieces that are timeless, like blazers, collared tops, and loafers, to nail this look.
13. Pleated Mini Skirt & Blazer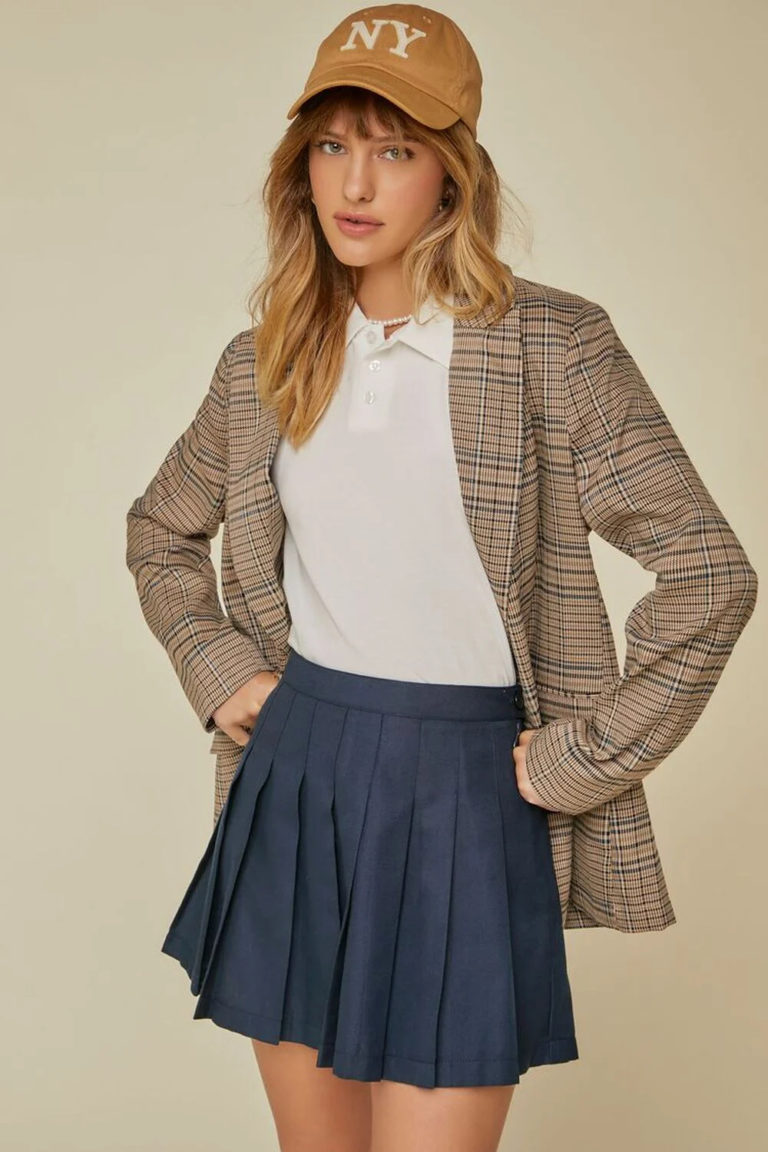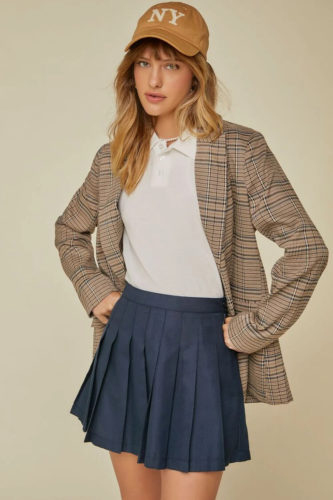 This season, classic, preppy, school uniform-inspired looks are a major fashion trend, which couldn't be more perfect for back-to-school!
Channel your inner Gossip Girl character with a classy plaid blazer, pleated mini skirt, and polo top. You can make the outfit look more casual by pairing it with a baseball hat and sneakers or try some loafers, which are another big trend this season.
This outfit is timeless and has an academia aesthetic that fits right in on campus.
14. Plaid Trousers & A Crewneck Top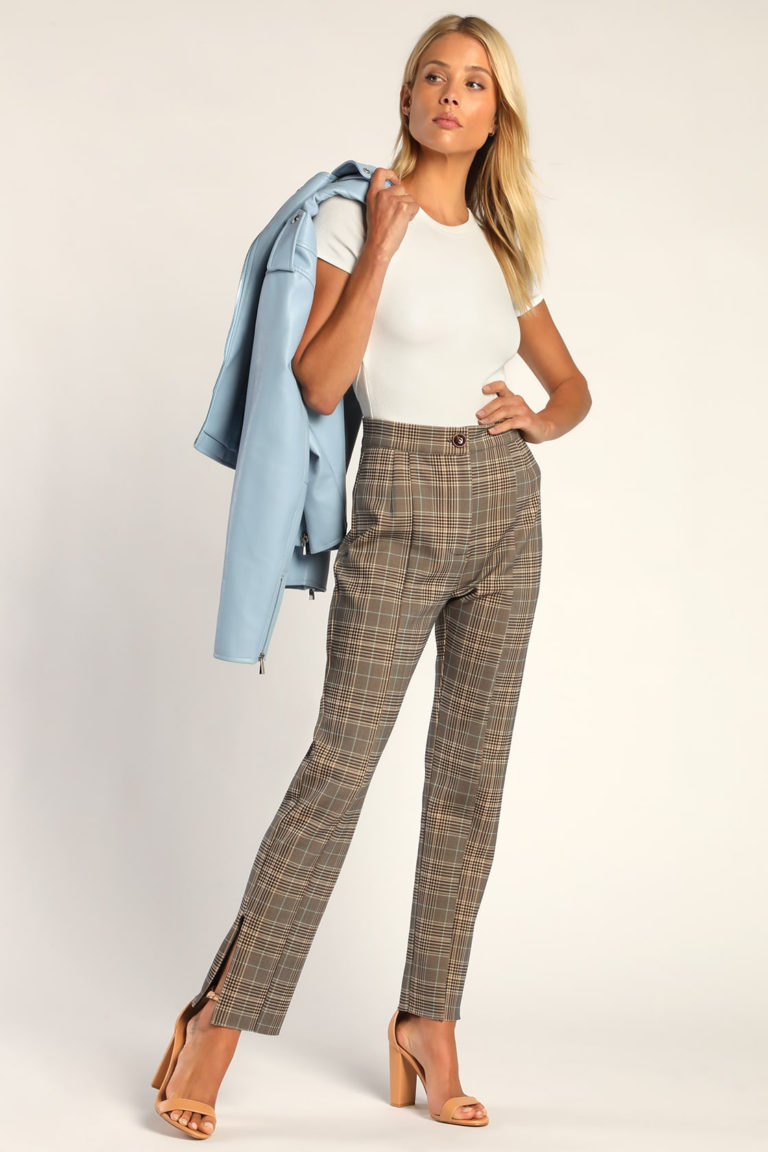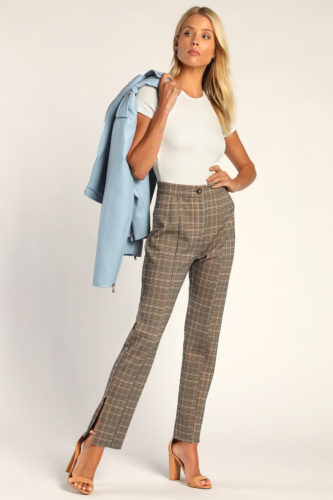 Plaid trouser pants are ultra-classy and can be dressed up or down to your liking. For a polished look, wear them with a simple crewneck top tucked in or a button-down shirt.
Since heels aren't practical for a long day of classes, swap them out for loafers or ballet flats, which are set to be a big trend this fall.
15. Cable Knit Sweater & Mini Skirt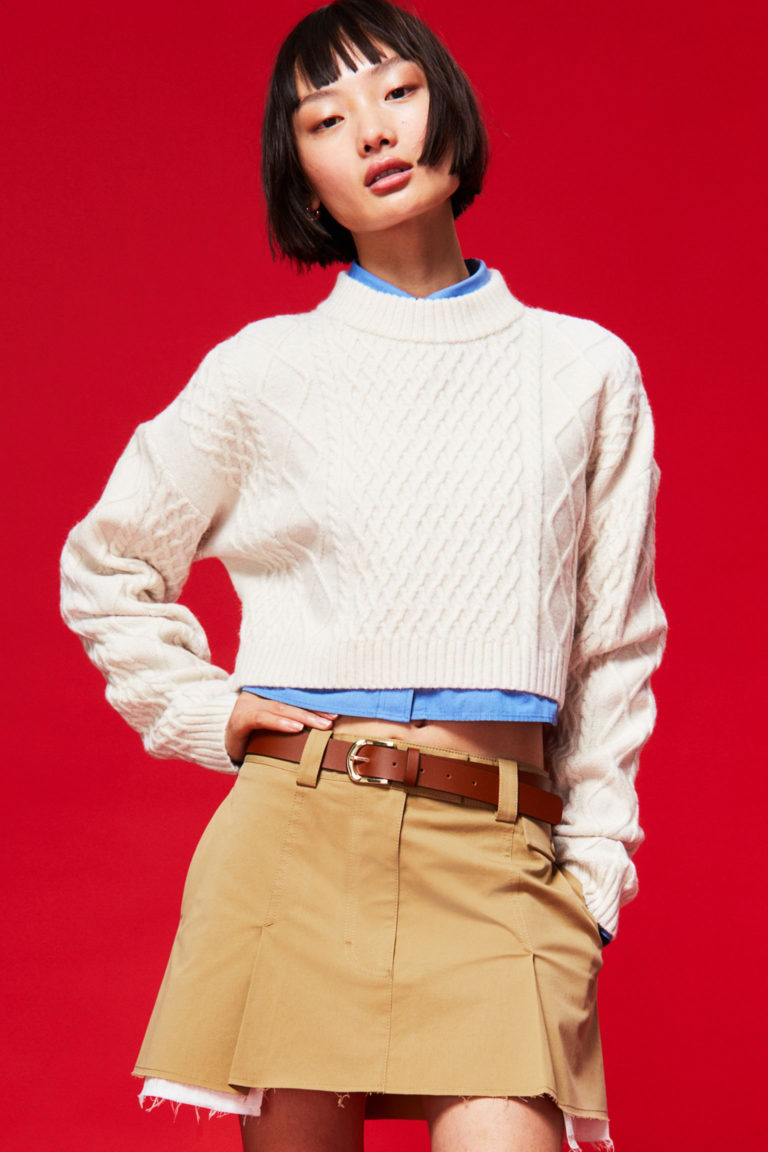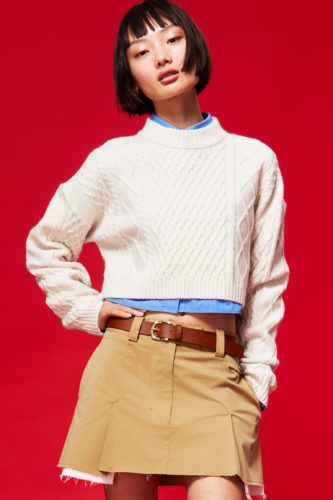 This look takes inspiration from Miu Miu's iconic Spring/Summer 2022 collection, which featured pleated micro-mini skirts, cropped cable knit sweaters, and classic belts with an East Coast prep school vibe.
And while the Miu Miu micro-minis may not pass your school's dress code, you can still achieve a similar look with a beige pleated mini skirt and a cable knit crewneck sweater, which you can layer over a button-down shirt. Wear this outfit with loafers, and don't forget a belt.
16. Oversized Blazer, Button-Down Shirt, & Loafers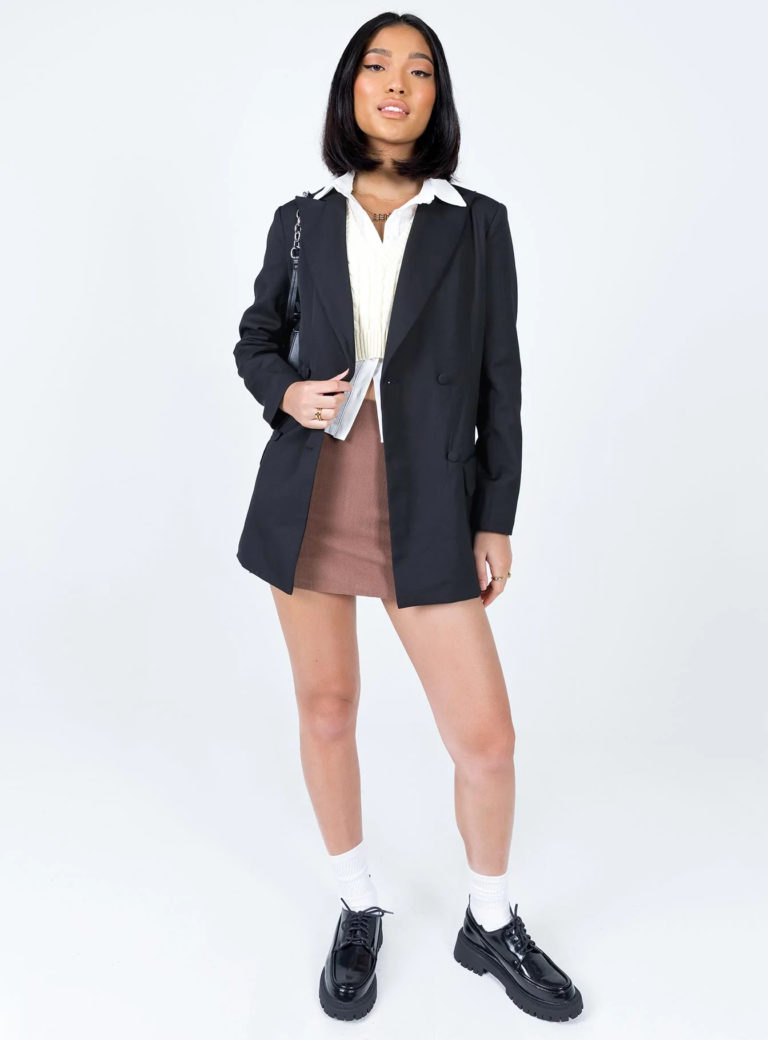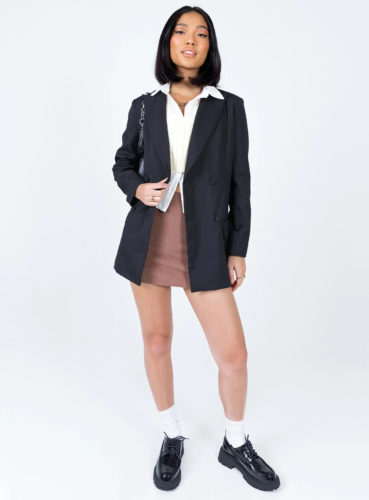 Blazers are a classy clothing item, especially when they're slightly oversized. Plus, with an oversized blazer, you can layer items underneath for a stylish look, like a button-down shirt and sweater vest. This layered look is also perfect for days that start chilly in the morning and get progressively hotter since you can remove layers as the day goes on.
These pieces look fabulous with a tailored mini skirt, trousers, or jeans. Complete the ensemble with classic loafers and high socks.
Aesthetic Back-to-School Outfits
Want a more ~*aesthetic*~ look? Try these outfits that are cool, on-trend, and have a unique vibe to show off your style.
17. Coated Jeans, A Vest, & Vans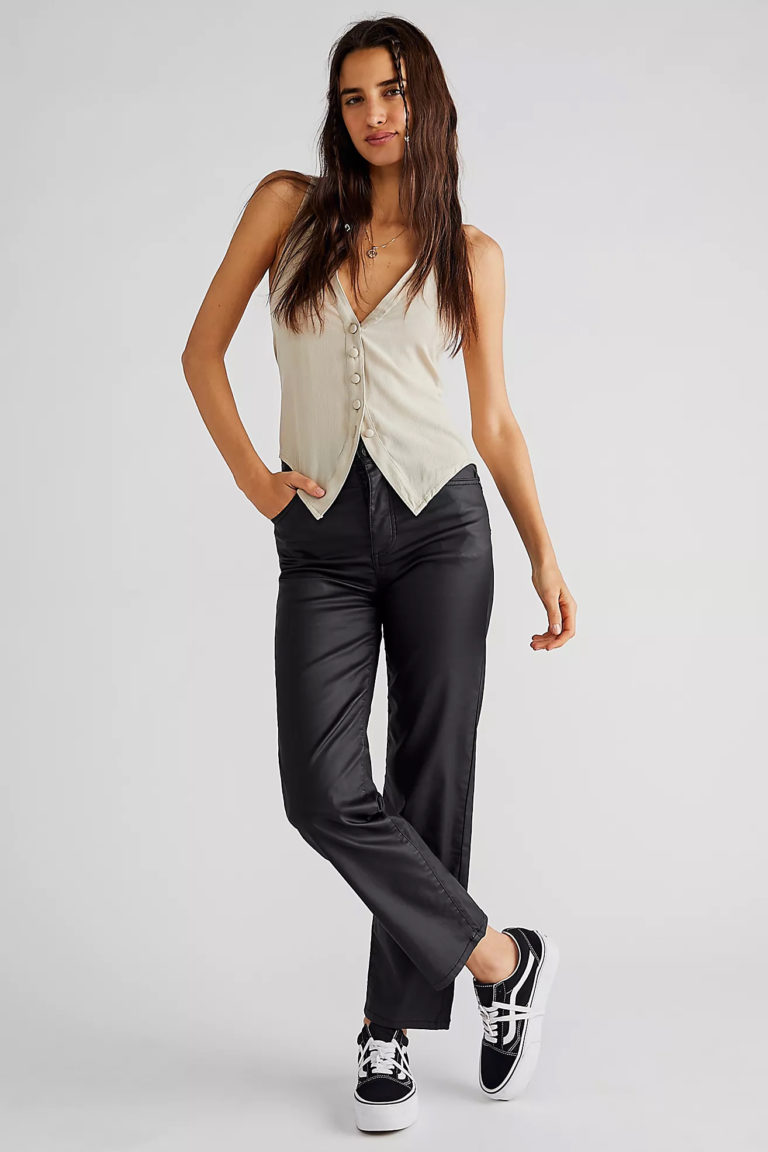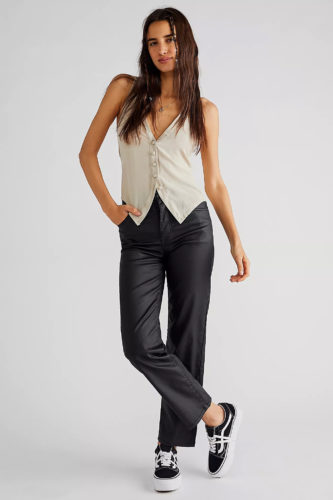 I love faux leather pants, but they aren't exactly classroom attire. Enter: coated jeans. These jeans have a similar look to faux leather but are way more laid-back thanks to their coated fabrication and relaxed, straight-leg fit.
Keep them casual for daytime by wearing them with some Vans and a vest, which is a fashion trend you'll be seeing everywhere this fall.
18. Plaid Pants, Faux Leather Jacket, & Combat Boots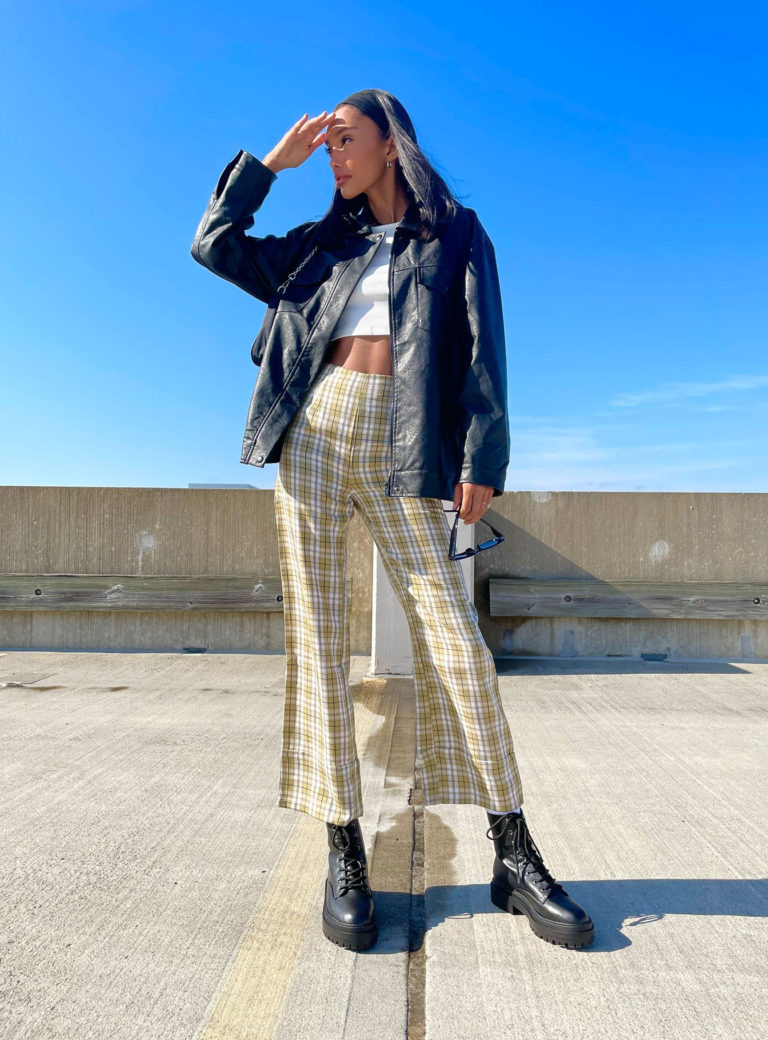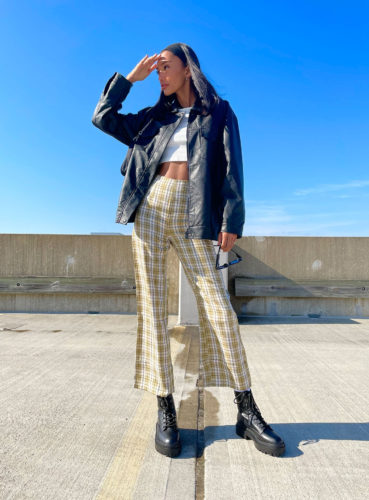 Academia meets edgy vibes. I'm a big fan of plaid pants, which you can style in many ways. Give them an edgy spin by wearing them with an oversized faux leather jacket and some black lace-up combat boots.
While a crop top looks super cute with this outfit, keep your school's dress code in mind and opt for a full-length t-shirt instead. A graphic print t-shirt would also look cool with this combo.
19. Graphic-Print Top, Midi Skirt, & Converse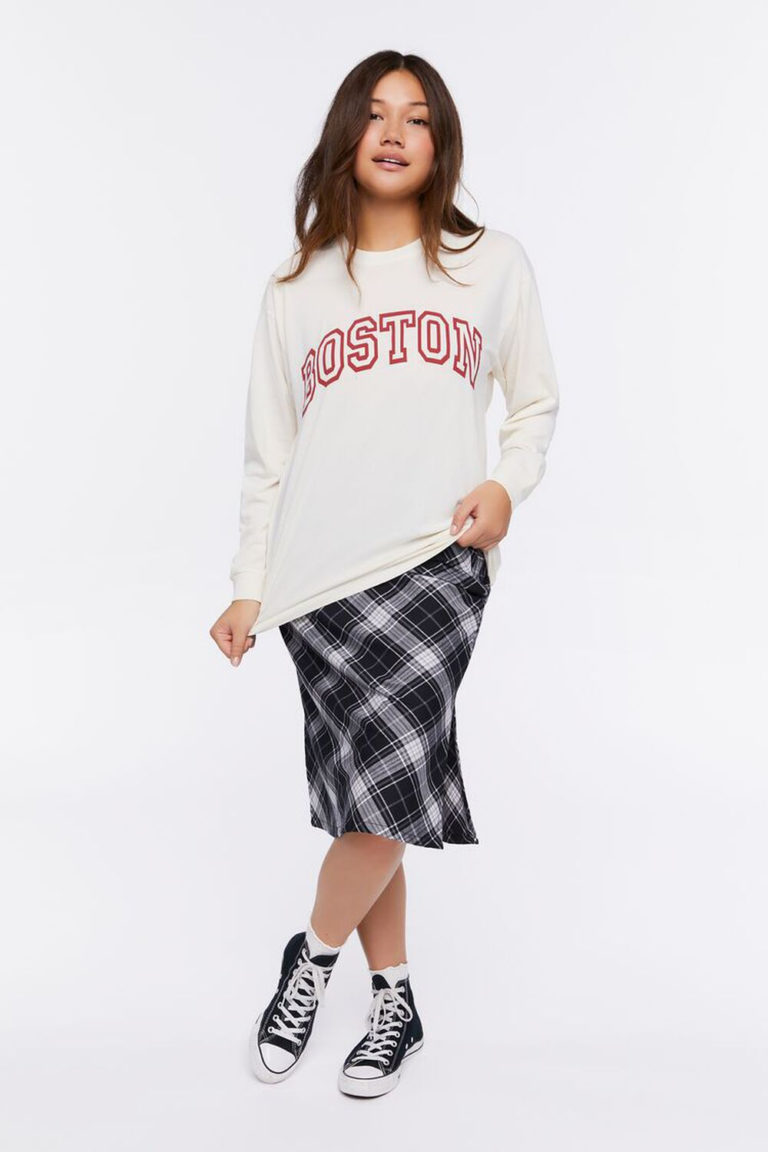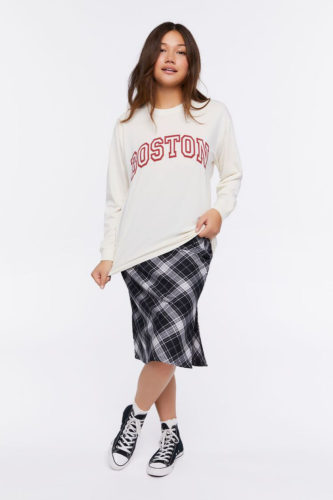 If you want to rock college apparel without looking cliché, try this styling idea: wear an oversized shirt featuring your university's logo with a printed midi skirt and sneakers.
This plaid midi skirt is classroom-appropriate, and some classic black Converse Chuck Taylor All-Star high-top sneakers give it an aesthetic look that is #ootd-worthy.
20. Cargo Pants, A Sweater & Sneakers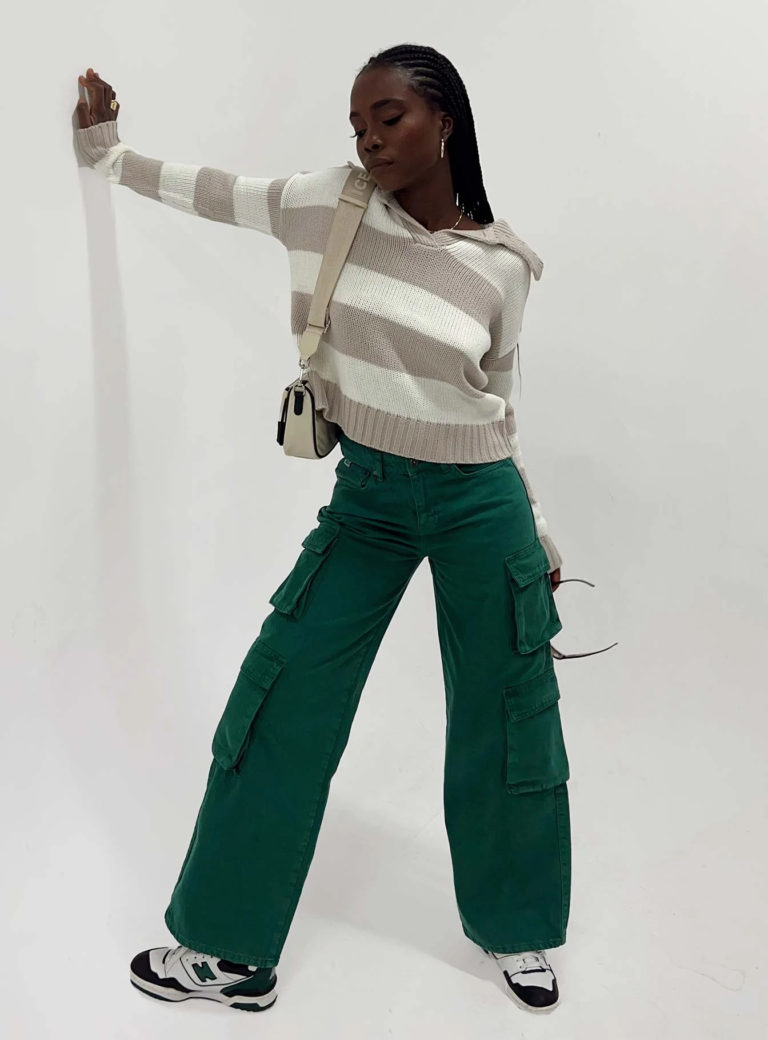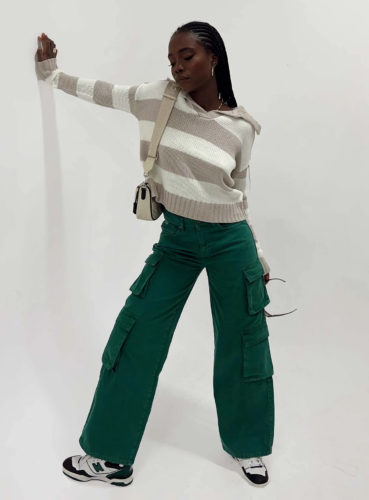 Who needs a backpack when you've got cargo pants? Just kidding, but the deep pockets on these cargo pants could come in handy at school –– you could conveniently stash your cell phone, hair ties, keys, and other small must-haves in them! Beyond their convenience, they are trending this fall and are sure to give you a cool look.
Style them with a graphic print t-shirt or a sweater, along with eye-catching sneakers for a casual vibe.
Back-to-School Accessories
Your outfit isn't complete without the right accessories, and these accessories under $100 are perfect for campus.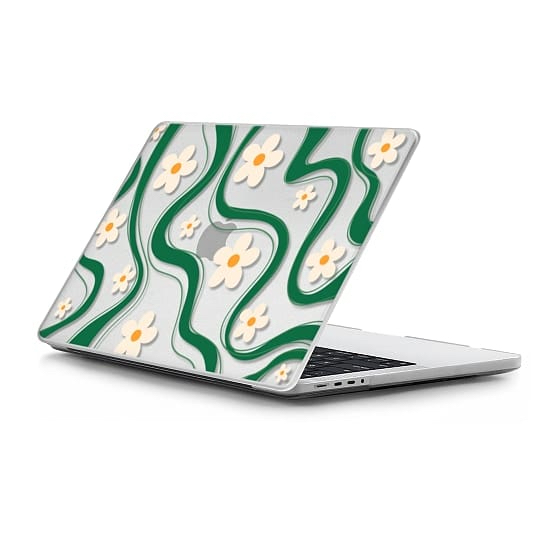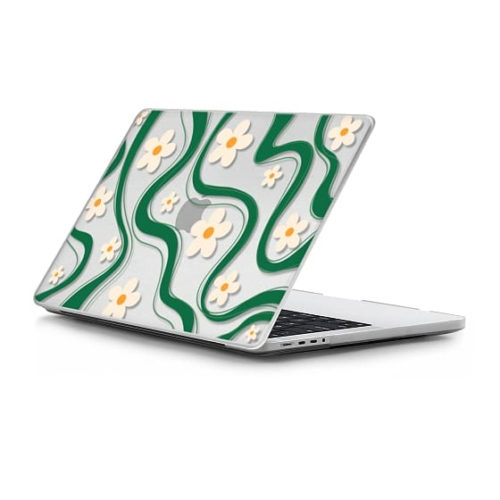 Help protect your laptop while showing off your style by investing in a cute printed laptop case. This slim hardshell case is scratch-resistant, fully vented, and features anti-slip grips to prevent accidental slips. Best of all, it comes in so many eye-catching prints, including this fun retro floral print.
"Back to Campus" Kit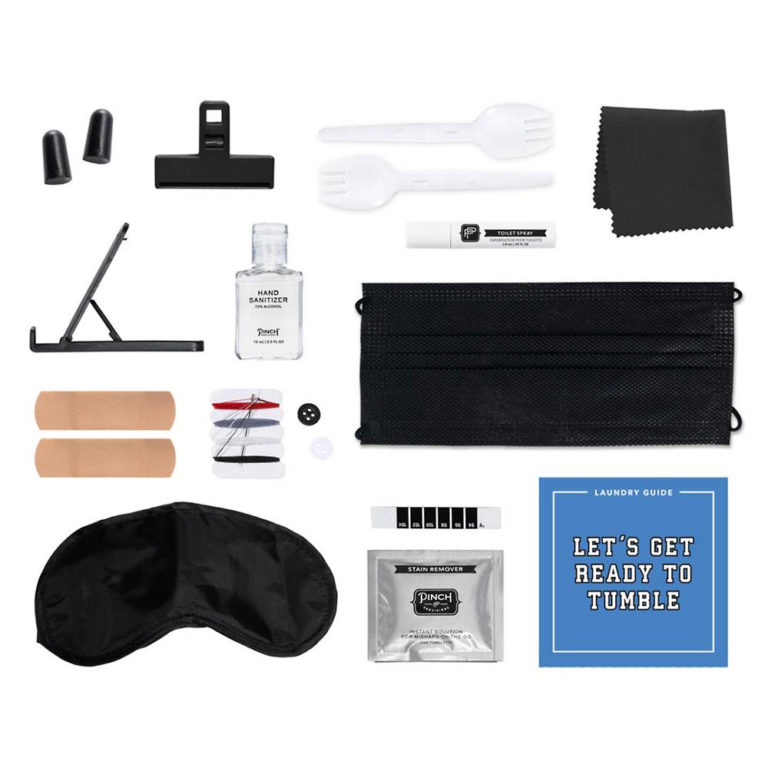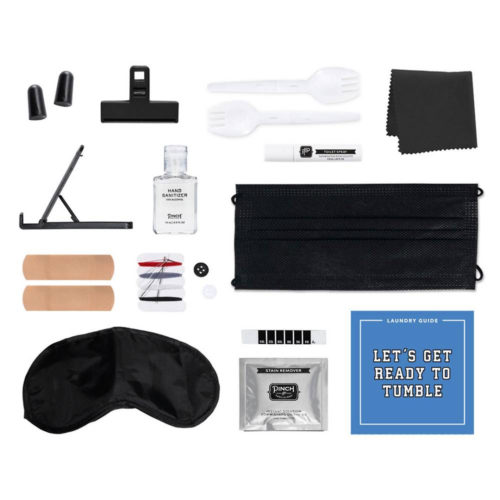 This "Back to Campus" kit comes with small necessities that will come in handy on campus. In addition to hand sanitizer and a face mask, this kit includes a phone/tablet stand, ear plugs, a forehead thermometer, and more.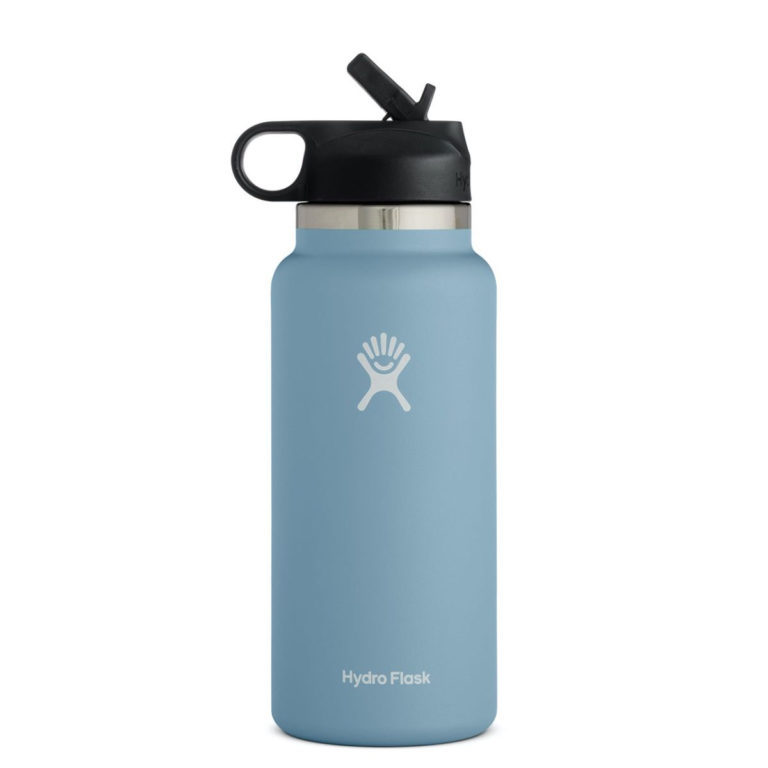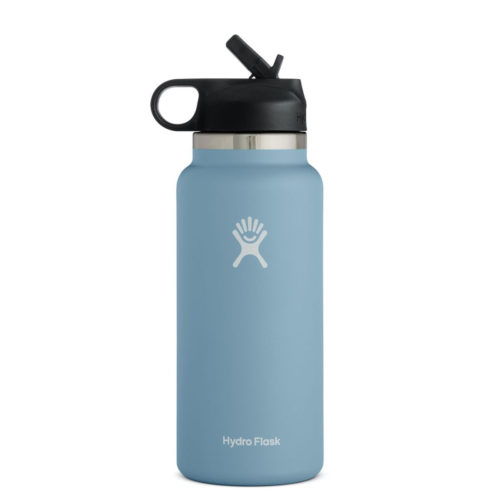 It's important to always stay hydrated, especially during long days on campus when your water intake may not be top-of-mind. That's why carrying an insulated water bottle around is a smart move so that you always have water with you and will be motivated to hydrate throughout your busy day.
A Hydro Flask water bottle is a fan favorite that will keep cold drinks cold and hot drinks hot for hours, plus they come in many different styles and colors to choose from. You can also give your water bottle personality by adding stickers all over it (in true VSCO girl fashion).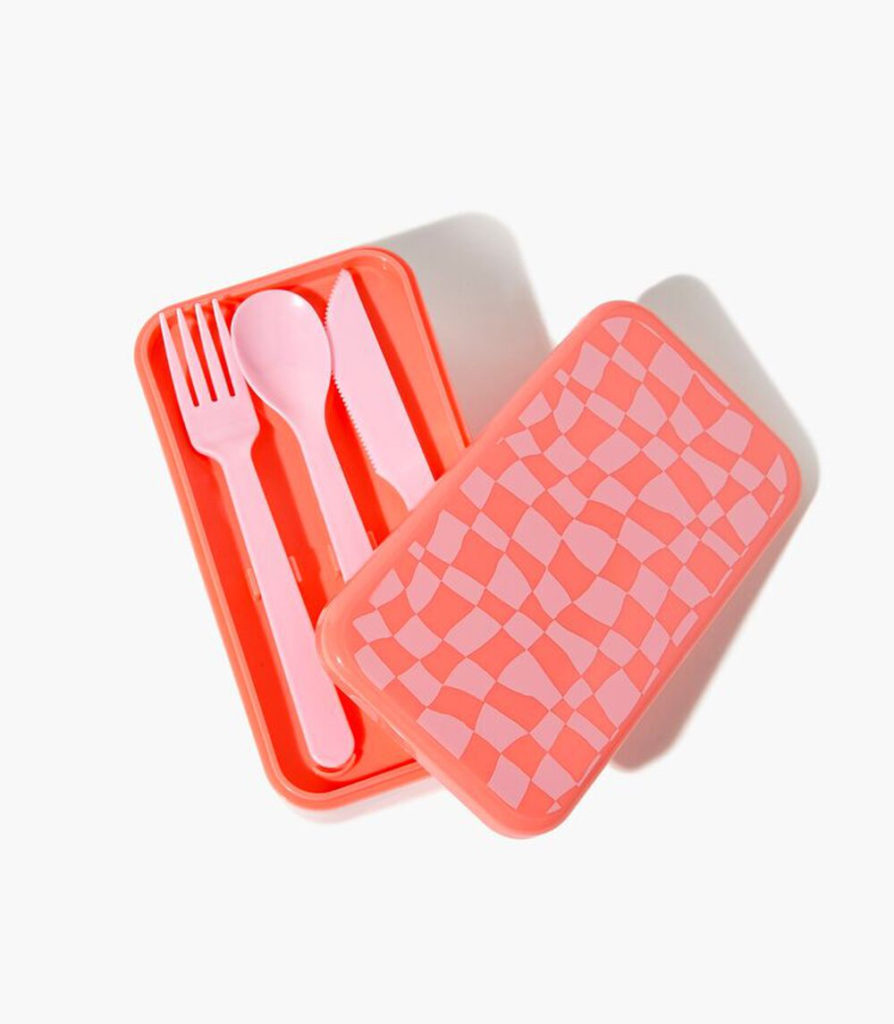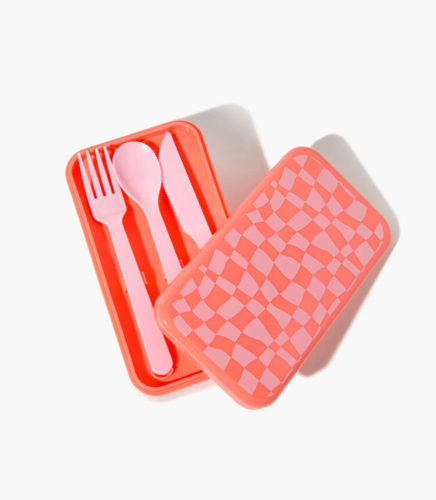 If you're bringing your lunch, why not pack it in a cute bento box like this one? Its stacked design makes it compact and easy to pack in your bag, and it even comes with a set of utensils that match.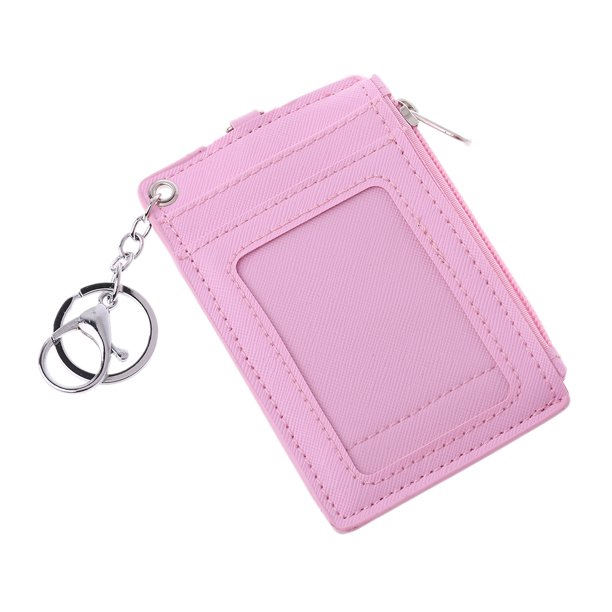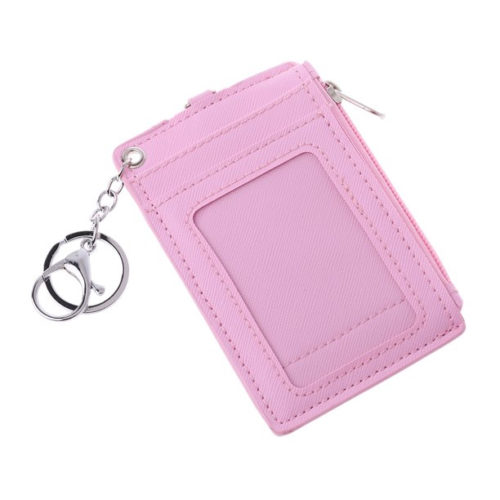 A keychain with an attached wallet/ID case is a must-have accessory for college. It's the perfect way to keep your student ID handy at all times, in addition to securing your keys and other small items.
Slide your student ID into the transparent front compartment so that you can quickly flash it when needed and use the other compartments for money, credit cards, etc. (Pro tip: I always keep a hair tie and a couple of bandaids in mine, too!).
What do you think of our back-to-school outfits guide?
Would you wear these outfits? Which outfit is your favorite? Leave a comment and let us know!