This post may contain affiliate links, which means we may receive a commission if you purchase through our links. Please
read our full disclosure here
.
Close your eyes and remember a time before Twitter, when The O.C. was on the air, and when you thought all college dorms resembled Elle Woods' sorority house. You might have had a Xanga blog or a Myspace page, and you definitely had an AIM screen name.
Let's go back to the 2000s, and those nostalgic years of middle school and high school.
Like everyone else's teenage years, my sweet triumphs were peppered with plenty of awkward and silly moments. There was the time that my date asked me to homecoming by having the waiter slip a message in a fortune cookie. I was stoked for two weeks, until that same date dumped me the day before the dance. Senior year, my English teacher was less than enthused about a school-wide book project my entire class was required to participate in. I forgot about it until the day it was due, so I spent my lunch hour quickly writing a poem to turn in – and later won $1,500 in that very contest. And I never scored or placed in any of my cross country races – but dang, the initiation sleepover was always a freakin' blast.
However, one of my favorite things about taking this trip down memory lane is, of course, the '90s and '2000s fashion.
Whether you just finished high school or you graduated several years ago, we can all relate to cringe-worthy wardrobe moments of our past. Below, I've listed ten items you were sure to have in your closet, and a few reasons why I loved them.
After you finish reading, be sure to leave us a comment and tell us what closet staples you miss from your high school years as well.
1. Distressed Flared Jeans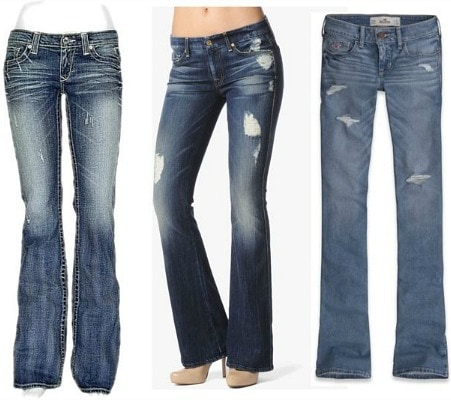 Before there were skinny jeans, before it was socially acceptable (and chic) to rock baggy, cuffed boyfriend jeans with a sassy pair of heels, man made flared jeans, and the world was happy. Plus, Kristin and LC on Laguna Beach wore them, which pretty much made them the coolest things ever.
Not just any old pair of flared jeans made the cut, though. The perfect pair of high school jeans included strategic fading, manufactured (therefore, uniform and regulated) scuffs and distressed patches, and – of course – the signature back pocket embroidery, boldly announcing to the world exactly which brand your snazzy pants originated from. Back then, I personally had a penchant for American Eagle jeans, and, well, I still sort of do.
Of course, these bad boys came with a price. The number of detentions I was assigned as a result of wearing "holey" denim is completely astounding and borderline comical. Ladies, let's have an honest chat: growing up, my curfew was 11:45 sharp and my favorite extra curricular activity was show choir. I drank half of a beer freshman year of high school, and felt so guilty about it that I tattled on myself the very next day.
Yes, being a badass wasn't my forte, so instead of doing anything actually crazy (like skipping school or sneaking out), I rebelled in much more subtle ways – you know, like wearing ripped jeans to school, playing the snake game on my Nokia during class, and being tardy for an average of one class per day. You know you're doing something awesomely wrong (or terribly right!) when you set the school's record number of misdemeanor detentions accumulated within one semester.
2. Birkenstock Boston Slip-ons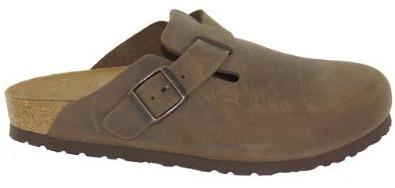 About the same time that the first Now! CD was released, there was one other thing I was in hot pursuit of – a soft suede pair of slip-on Birkenstocks. They peeked out perfectly from under a (#1) pair of distressed flared jeans, and all of the coolest girls in middle school wore them with bright, patterned toe socks.
Of course, my parents weren't exactly on board with getting me a pair of name-brand shoes which were sure to be ruined the first time I wore them on a rainy day or across a muddy patch of grass. Instead, I got the off-brand version, which my dad deemed "the Fakenstocks."
Nowadays, I think I'd rather go barefoot than be seen in a pair of flat slip-on clogs whose body design was surely the inspiration for Crocs. But still, for a glimmering two years in middle school, my Fakenstocks traveled with me to eighth grade football games, All American Rejects concerts, laser tag games, and countless group hangouts at the local movie theater. Rest in peace, my dearly beloved mud-colored and clunky old friends.
3. North Face Fanny Packs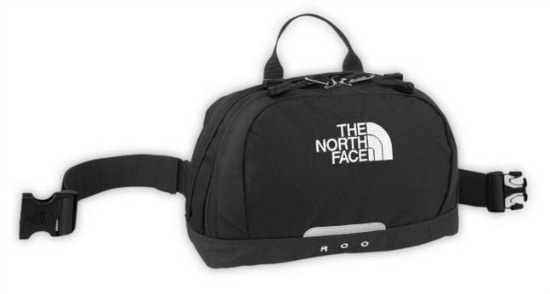 This happened well into the '00s, not in '93. Every single outdoor specialty shop in 2004 was suddenly inundated with young teen girls clamoring for a North Face…wait for it…fanny pack!
Of course, these fanny packs were not your mother's fanny packs. Rather than being worn around the waist tourist-style, these puppies were made to be worn across your shoulders (like a bow and arrow quill) and made to function like a purse.
The anthropological side of your brain might find itself wondering, "What did a 15-year old in the mid 'aughts' carry in her purse?" Well, I'll tell you – mine contained a tube of roll-on glitter (perfect for one's eyelids), that fancy mascara that came with white primer on one end, bronzer, and an extra bra strap choker, just in case the one I was wearing mysteriously snapped. Sometimes, I'd throw in a Dr Pepper-flavored Lip Smacker for good measure.
I blame my current obsession with cross-body bags on my North Face fanny pack. Whether you're at a punk rock concert or doing the cha-cha slide on the dance floor, there's still something so freeing about having full range use of both of your arms.
4. Graphic Tees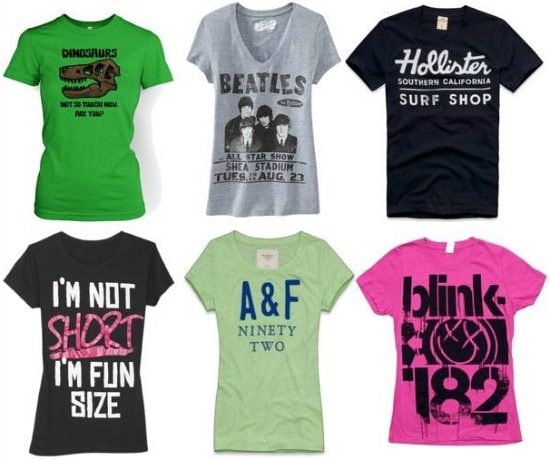 Clockwise from the top left: 1, 2, 3, 4, 5, 6
If someone were to study my closet circa 2006, they would probably assume that I went to a lot of classic rock concerts and worked at a surf shop in Marina del Rey. As we all know, I actually just spent a lot – and I mean a lot – of my allowance money in the t-shirt sections at Urban Outfitters, Delia's, Paul Frank, and good ol' mall staples like Hollister, Fossil, Hot Topic, and Abercrombie and Fitch.
I remember being about fourteen and getting into embarrassing, public pout-fests with my mom at Abercrombie because she never let me buy any of their tees emblazoned with (not-so) subtle sexual innuendos. Gee thanks, mom! How else was I supposed to let the eighth grade quarterback know that I wanted to him to ask me to the Snow Ball? Obviously, stopping by his locker after lunch to talk about The Fast and the Furiouswhile wearing an extra small t-shirt advertising the fictional "Pucker Up's Lemonade Stand" was my plan A. It seemed like such an efficient method – I mean, if CosmoGIRL! magazine suggested it, it had to have some merit. If that failed, I'd try leaving a cryptic subtext on my AIM away message. One complete with Ashanti lyrics and a few oF ~*thEsE*~ tHinGieS would certainly win him over.
Fool-proof plan, you guys. This is why I had so many boyfriends in middle school.
These days, I still love t-shirts, but now instead of the super tight and wordy variety, I now prefer my tees loose cut and plain. Seriously. My American Apparel white v-neck collection is so vast, even Simon Cowell would be jealous. However, I'm not ashamed to admit that I sometimes whip out my lucky Good Charlotte t-shirt to sleep in. After all, it was the shirt I was wearing when the eighth grade quarterback told me my checkered Vans were "dope." He SO had a secret crush on me.
5. Hoop Earrings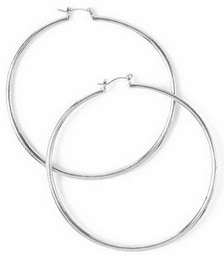 Before I had my pearl studs, Michael Kors watch, or lucky Eye of Providence ring, I had my trusty pair of silver hoop earrings, and they're present in approximately 85% of all portraits of me taken between 2002 and 2007.
Sure, I had a healthy assortment of flashy chandelier earrings from Charlotte Russe, but those always seemed to tangle in my hair or irritate my delicate ear lobes. I owned both shark tooth and puka shell necklaces, but those seemed to only work with pastel-colored Bermuda shorts. And yes, I was not a stranger to rubber bracelets or studded leather cuffs procured from Hot Topic, but there's only so many days in a row that a girl can wear thick black eyeliner before it starts to take a physical toll.
But, my friends, the hoops were the perfect combination of sexy and cute. They worked with everything, from Roxy sundresses to (#1) distressed flared jeans and a (#4) graphic tee.
Remember the John Mayer song "83" when he wonders what happened to his lunchbox and why no one consulted him before throwing it in the trash? That kind of perfectly describes how I feel about hoop earrings. Suddenly and overnight, these things just fell off a sartorial cliff. CF girls, we're the taste-makers of our respective campuses. Any way I can talk you guys into bringing these back?
6. Pullover Hoodies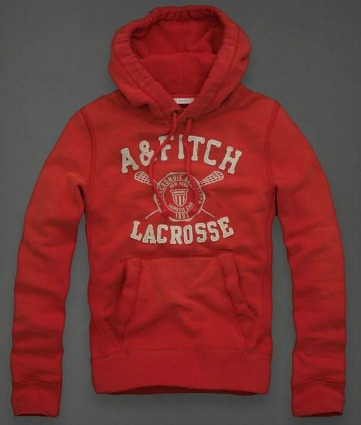 My pullover hoodies pretty much vanished into oblivion the day I started college, along with Total Request Live, my youthful metabolism, and the fortitude required to wear two polos at the same time. But for a hot minute (or okay, the first eighteen years of my life), I rocked one of these at least once a week.
In college, I turned to yoga pants, North Face pullovers, and Nike Dunks for my lazy days. Before that, though, nothing said "I'm not trying too hard today" like a pullover hoodie, (#1) distressed flared jeans, and a full face of iridescent make-up. Up your cool points by scoring one from your brother or boyfriend – it was very Serena van der Woodsen-chic, but the book version of Serena, not Blake Lively.
Although zip-up hoodies survived the test of time, I haven't seen much of anyone wear a pullover hoodie recently, unless you count Rob Pattinson in the most recent Twilight. (In his defense, sparkly vampires can pretty much pull off anything). The rest of us have cast our cozy, bulky friends aside in favor of fleece jackets and hipster-esque American Apparel zip-ups.
Don't be too hasty throwing these babies away, though – just as denim vests and leggings have both made comebacks, I have a feeling that pullover hoodies and windbreakers are bound to make a mainstream appearance any season now.
7. Ugg Boots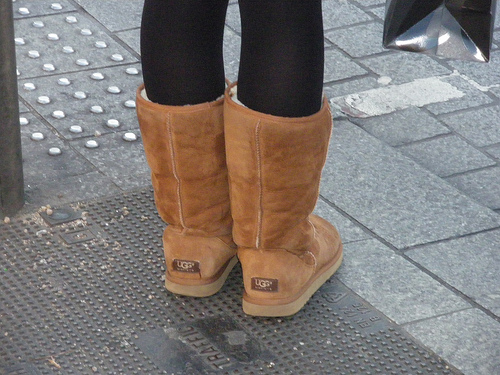 Out of all of my high school staples, Ugg boots seem to be the only item on this list that made frequent cameos on my college campus. Actually, "cameo" isn't a strong enough word. If my college life was a movie, Uggs would win a Razzie for Worst Supporting Role. But, I digress. This is a list about high school, and when it came to that period of my life, a standard issue pair of Uggs was better than Christmas, Homecoming, Valentine's Day, and the last day of school combined!
In high school, I was the proud owner of three pairs of Uggs. I wore them both over and under my (#1) distressed flared jeans. I wore these from September to April. I even bought special spray from Saks that made them somewhat water-resistant. I had knee-length ones and a calf-length pair. I even had a hard leather pair, which proved to be extremely useful in the ice and snow.
Now, I'm definitely not a bonafide Ugg hater or anything. There are definitely worse footwear choices, like platform flip flops. There are a few occasions when Uggs are perfect, like a late-night study session in a creaky old library or if you happen to be surfing on a cold beach (you know, what Uggs were originally intended for).
The only time I'm against the Ugg movement is when they're worn at a ridiculously inappropriate time. For instance, with a dress. Or with Nike shorts. Or in temperatures above 45 degrees. Worst of all, when they're worn with the next thing on the list…
8. Denim Skirts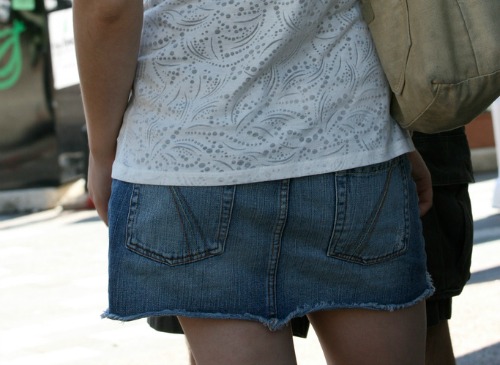 Senior year of high school, I begged my mom for months to buy me a Rock and Republic denim mini skirt. I told her that I would wear it for years, that it was an investment piece. Finally, as a graduation present, my mom bought me the most perfect dark-washed mini, complete with the signature "R" back pocket design and the perfect amount of fraying at the hem. Did I ever wear it again past that summer? Of course not. But in high school, it was at the top of my wish list.
I was a sophomore when my crush Seth, who was a really popular senior and a teacher's aid in my drama class, told me that he thought it was adorable when girls wore denim skirts with (#7) Ugg boots. From that point on, it was over. I might not have had a designer denim skirt yet, but I rocked my Aeropostale one with Uggs to every single football game, pep rally, or even if I just happened to be within a 3-miles radius of his house. Sure, my feet felt like stuffy and clunky hot messes, but how could I risk bumping into him when I wasn't dressed my best?
A few months later, he kissed me in the costume closet during after-school rehearsals for the school play, Shakespeare's As You Like It. Later, I wrote on my Xanga page that it was the best day of my life.
Yeah, I guess I wasn't one for subtlety back then.
9. Goody Cloth Headbands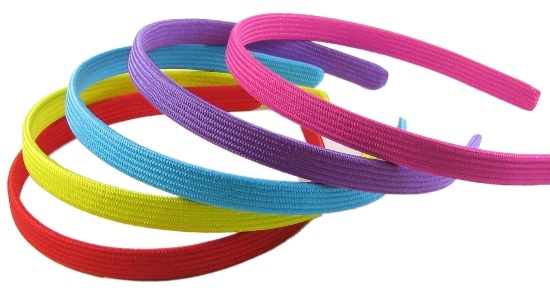 Maybe I liked the pretty color assortment. Perhaps it was because you could pick up a 5-pack for $3 at any Walmart or CVS. Probably it was because I ran cross country, and my oh-so-chic (yet oh-so annoying) cheekbone-length bangs were constantly slipping out of my ponytail and onto my face. Whatever the reason, I rarely left home without one of these suckers affixed to the crown of my head.
Nowadays, I've graduated to fancier hair accessories, like hippie hairbands, turbands, sock buns, and even the occasional tape-in hair extension. However, I'd be lying if I didn't admit to missing the good ol' days of butterfly clips, teethed headbands, and 'do rags. There's just nothing in the world that feels quite like being immaculately accessorized, you know?
10. Velour Sweatsuits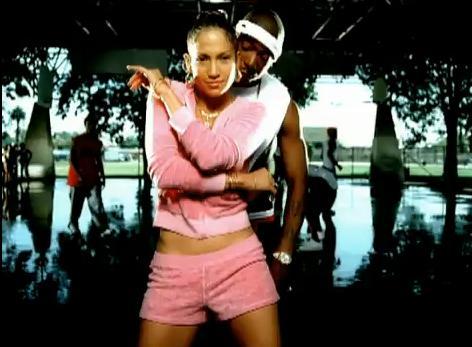 Screen Capture | Sony BMG Music Entertainment 2001
You know you secretly sang Avril Lavigne's "Things I'll Never Say" at the top of your lungs in your bedroom into a hairbrush microphone. You know you teared up when you heard Bennifer broke up. And you know you rocked a velour sweatsuit with (#5) hoop earrings and (#7) Ugg boots on more than one occasion.
This particular trend took my little suburb by storm. Everyone from soccer moms to teeny boppers had a set! These sweatsuits, however, were not made for exercise. Trip to the mall? Yes. A study date? Sure. To meet grandma for brunch? No, my dad made me change into something less skin-tight. With a pair of (#5) hoop earrings? 100% absolutely. But for anything that required physical exertion? No sir, that's what Soffe "CHEER" shorts and (#4) graphic tees were for.
Much like what happened with my designer (#8) denim skirt, by the time my mom caved and bought me a Juicy Couture tracksuit, I went off to college and this baby, along with my StuCo t-shirts and track spikes, vanished into the oblivion of my high school closet. Still, you can't help but appreciate the novelty of this item. My Juicy suit is practically in mint condition – I know it's going to come in handy one day for a "Jenny From The Block" Halloween costume, or even several years down the road as an authentic vintage ensemble!
Did you own these pieces? Or did we leave off one of your faves? Tell us about it!
I just shared my high school and middle school closet staples, but now I want to hear all about yours! What was your favorite outfit in HS? What was the most cringeworthy thing you loved as a teen? If you're currently in high school, what are the big trends you've noticed? Did you have a North Face fanny pack, or a Juicy sweatsuit? What about a pair of Birkenstocks? Are you ready for flared and boot cut jeans to come back in style?
Leave us a comment and share some of your funny, awesome, or embarrassing fashion stories from your teenage years. We can't wait to hear you spill!