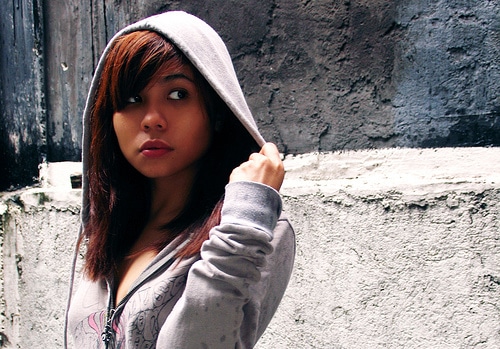 Hoodies and zip-ups are foolproof garments when it comes to warmth and comfort. However, sometimes it's all too easy to look like you're wearing sweats or gym clothes when you're rocking a hoodie. Fortunately, there are lots of stylish ways to make hoodies work as part of a fashionable wardrobe – you just have to get a little creative.
Option 1: Layer, Layer, Layer
Layering is an easy way to make your hoodie look less athletic and more chic. If your sweatshirt is thin enough, it's easy to layer it under a fabulous jacket to add just a hint of sporty chic to your ensemble.
Tips for layering with style:
Make sure your hoodie is not too thick. While warm, heavyweight hoodies are practical, they're difficult to layer because of the bulk factor. Thinner or worn-in hoodies are best for layering under your cute jackets.
Be creative! Try out lots of different combinations for maximum layering success. A hoodie under a jacket works well, but what about a pullover hoodie under a zip hoodie? Or a hoodie under a blazer? The options are endless – you just have to try things out to find out what looks best.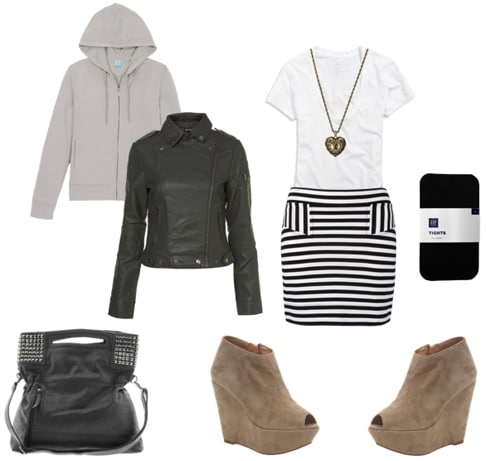 Product Information: Hoodie- Uniqlo, Faux Leather Jacket – TopShop, Tee- American Eagle, Skirt- French Connection, Necklace- Fossil, Tights- Gap, Purse- Piperlime, Wedges- TopShop
Option 2: Zip-Up/Dress Combination
I saw a girl on campus the other day wearing a zip-up hoodie with a super girly dress, and I thought it was really inspiring how she juxtaposed the athletic with the romantic. It's super easy to rock a similar look yourself.
Things to consider:
How does it look when its zipped? Does your dress look like an awkward skirt? Is it better to just leave it open? If so, do you need to add a scarf or something for added warmth?
How does the fabric of the zip-up compare with your dress? Be careful about mixing patterns. I think it can be done, but for me personally I go with either a patterned dress with a solid zip-up, or the reverse. If you are interested in mixing patterns, check out this CF article!
Here's an example outfit to get your creative juices flowing!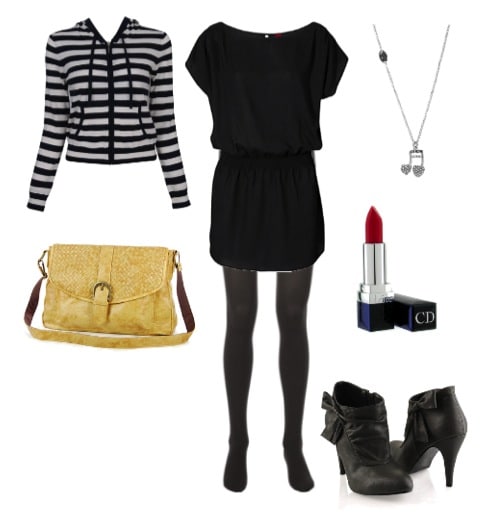 Product Information: Zip-Up- Forever 21, Dress- H&M, Tights- Net-a-Porter, Bag- Yes Style, Lipstick- Yes Style, Boots- Forever 21, Necklace- Zappos
Option 3: University Gear with Pizazz
We all have a special relationship with our university hoodies…nothing says "I'm a [insert your university's mascot here]" like sporting your school colors and logo. However, sometimes you can get easily lost in a sea of those same colors and logos, not to mention that university hoodies are not the most stylish articles of clothing around.
For those days when you're just trying to be casual when studying at the library and really want to rock a university hoodie, here are some tips on how to do it without sacrificing all of your style points.
Mix up your everyday university hoodie by…
Adding a funky scarf or other comparable accessory. You can even play with your school colors. I've seen a lot of plaid scarves that utilize my school colors (which are red, white, and blue).
Embracing a little D.I.Y. I once saw a girl who even added some paw print patches to her U of A hoodie. It was subtle and very cute. Here's an example of a customized sweater (although it's a zip-up, you could use the same method for a hoodie). Be creative and have fun.
Here is an example!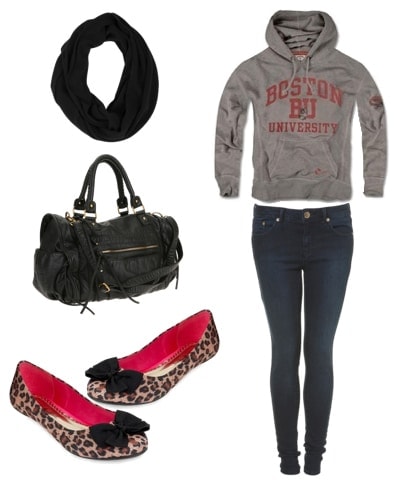 Product Information: Hoodie- Boston University, Jeans- Topshop, Circle Scarf- Net-a-porter, Purse- Urban Outfitters, Flats- Debenhnams
A Penny for Your Thoughts…
What do you think? How do you wear zip-ups and hoodies? Have you gained any new ideas from this post? Which look is your fave? Let us know with a comment!