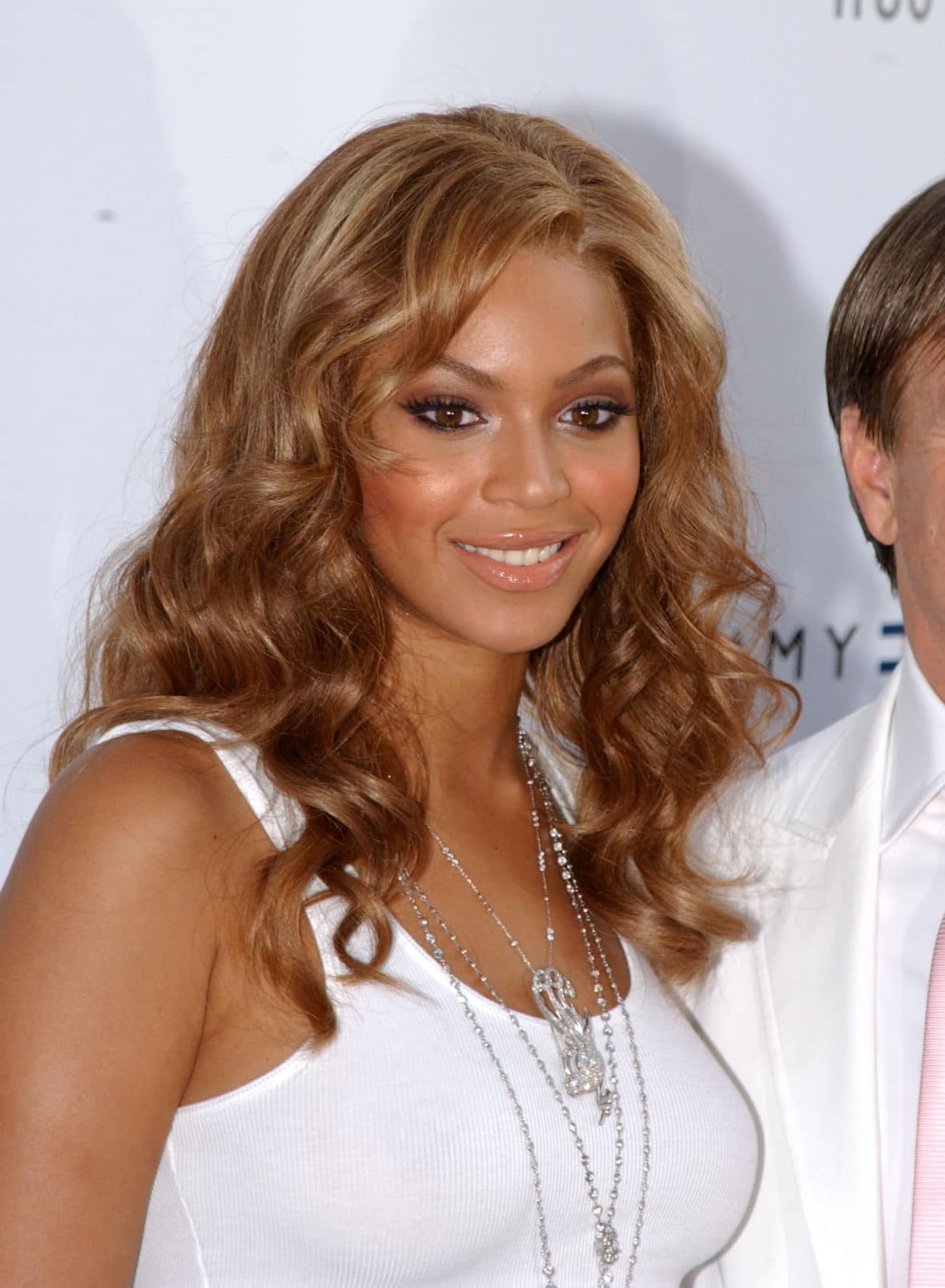 Over the past few weeks, we've been breaking down the top 10 2000s fashion icons you need to know about. Last time, we talked about pop icon Britney Spears. Today, we're talking about another household name who is even more famous than Britney these days: the one, the only Beyoncé.
These days, we don't call her Queen Bey for nothing. She is a multi-platinum artist with countless awards for her music, videos, and performances.
Now, she's also a wife and mother, and the public closely tracks the whole Knowles-Carter family. They are American music's royal family. But Beyoncé was not always the megastar she is today. Her star rose during the 2000s, and today we're looking at how it happened — and how Bey's style changed as a result.
Beyoncé Biography: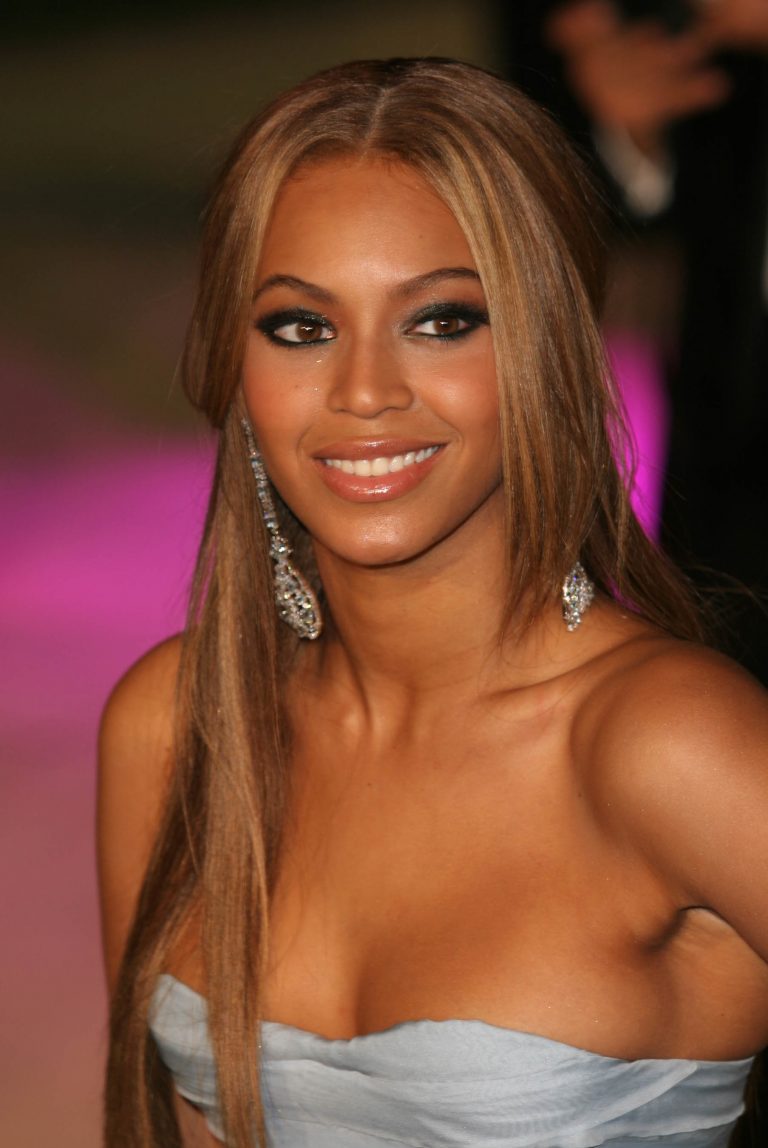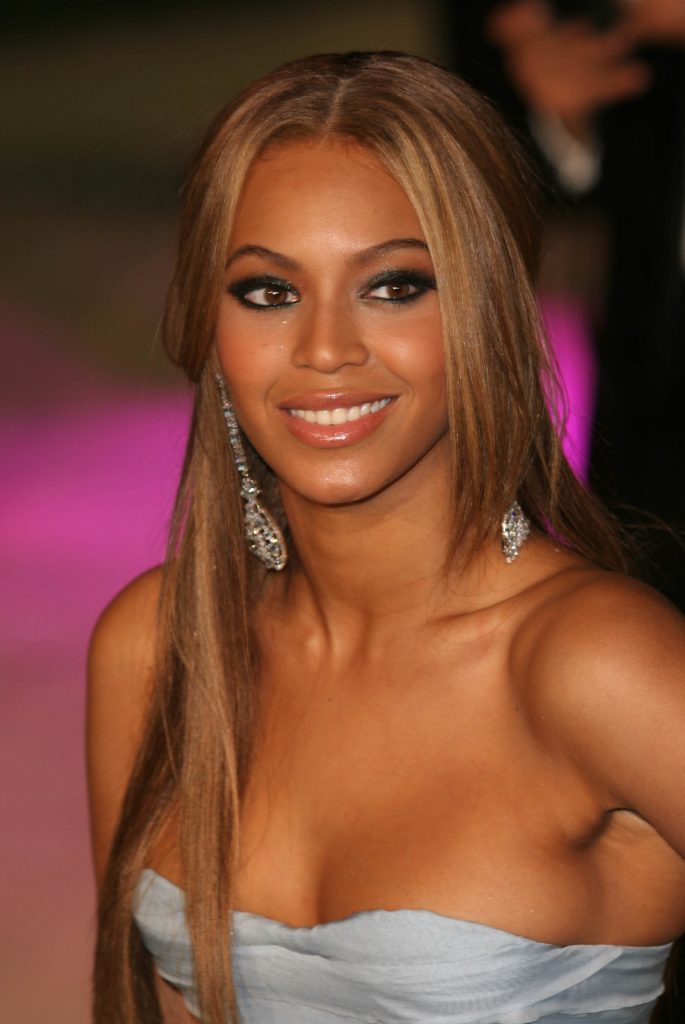 Beyoncé was blessed enough to have parents who supported her dream from the beginning. In 1995, her father, Mathew Knowles, left his job in order to manage Destiny's Child. Beyoncé's mother, Tina Knowles, designed and created the costumes that Destiny's Child wore in the beginning of their careers. 
Through the ups and downs of the music business, the Knowles' family had its strains. Beyoncé's parents even split up and got back together throughout the process. That is a true commitment to your daughter's talents!
In 2001, Destiny's Child announced that they would be pursuing solo careers and from there, Queen Bey ascended to her higher calling.
As we all know, Beyoncé's career has been more than successful, both in singing and acting. In 2008, she married Jay-Z and became one half of pop culture's biggest power couple. She continued to produce music and created I Am … Sasha Fierce from which came the iconic "Single Ladies" music video.
At the 52nd Annual Grammy Awards, Beyoncé received ten nominations altogether. She won six of those awards.
In 2010, Bey took a nine-month music hiatus where she traveled and saw Europe, the Great Wall of China, the Egyptian Pyramids, and Australia. She returned to the stage in 2011 and in 2012, birthed her first child, Blue Ivy Carter.
Beyoncé continued to produce music, act, and perform. She was nominated for six more awards at the 57th Annual Grammy awards. She won three.
To date, 2016's Lemonade is Bey's most critically acclaimed album. It became the third highest selling album of the year in the United States and number one worldwide. It won eight out of 11 nominations at the 2016 MTV Video Music Awards. It also won two of its nine nominations at the 59th Annual Grammy Awards.
In 2017, Beyoncé gave birth to her twins, Rumi and Sir Carter.
In 2018, Jay-Z and Beyoncé released a joint album, Everything is Love, under the name The Carters. The songstress also headlined Coachella to great success. One of the hardest working women in show business, Beyoncé is also voicing Nala in the live-action rendition of The Lion King, which will be released in June 2019.
Beyoncé's Style in the 2000s:
Beyoncé career and style came from humble beginnings, but she quickly elevated her look as her career took off. She always knew how to dress sexy and flaunt her curves, but never without taste.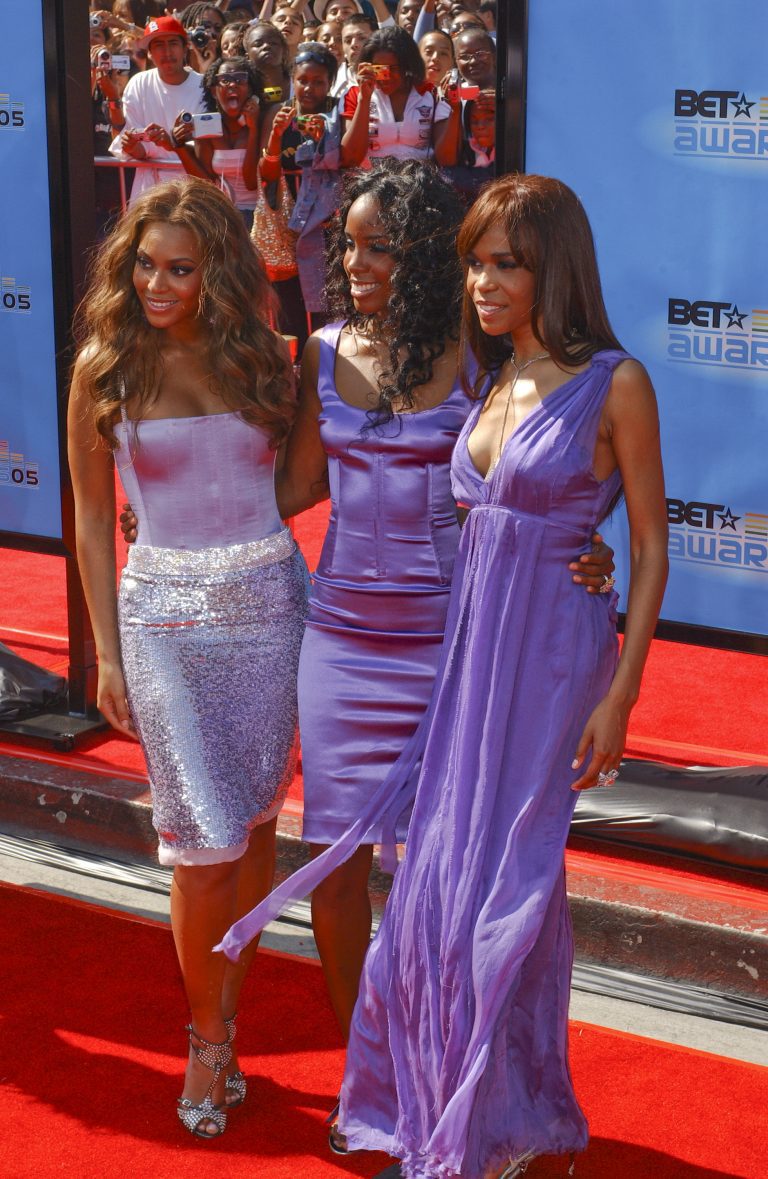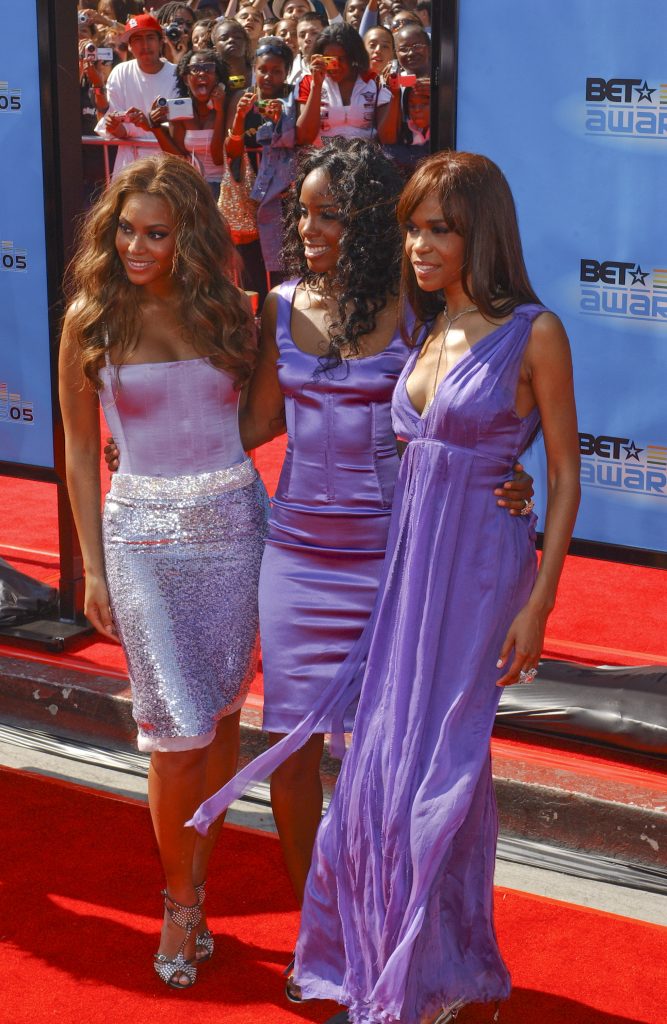 If nothing else, Beyoncé taught us all about coordinated looks with your besties. Destiny's Child was famous for their varying, yet coordinated, ensembles. What says "girl-group" more than thoughtful, matching outfits?

Bell bottom jeans and girly tops were the ultimate in style back in 2006. I love Beyoncé's mix of dark wash jeans and lacy, slightly reveal top here. (Soooo 2000s!) She pairs the combo with peep toe heels and accessories to keep the girly vibe strong.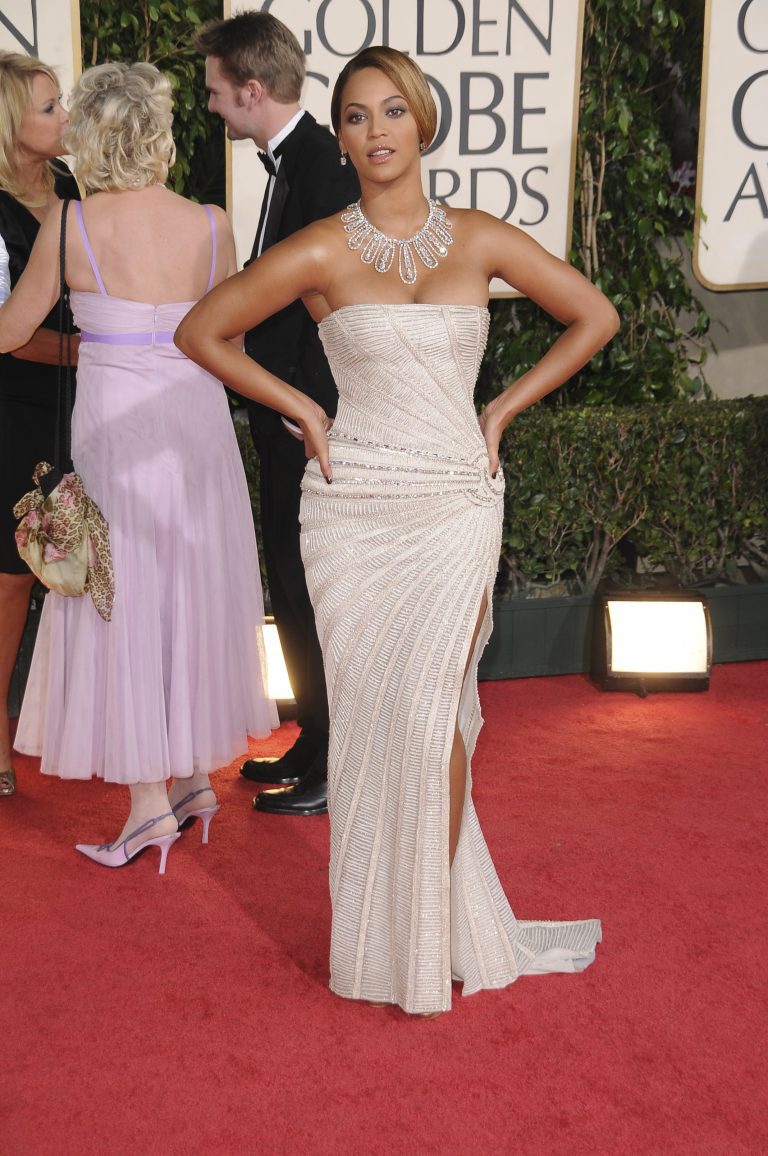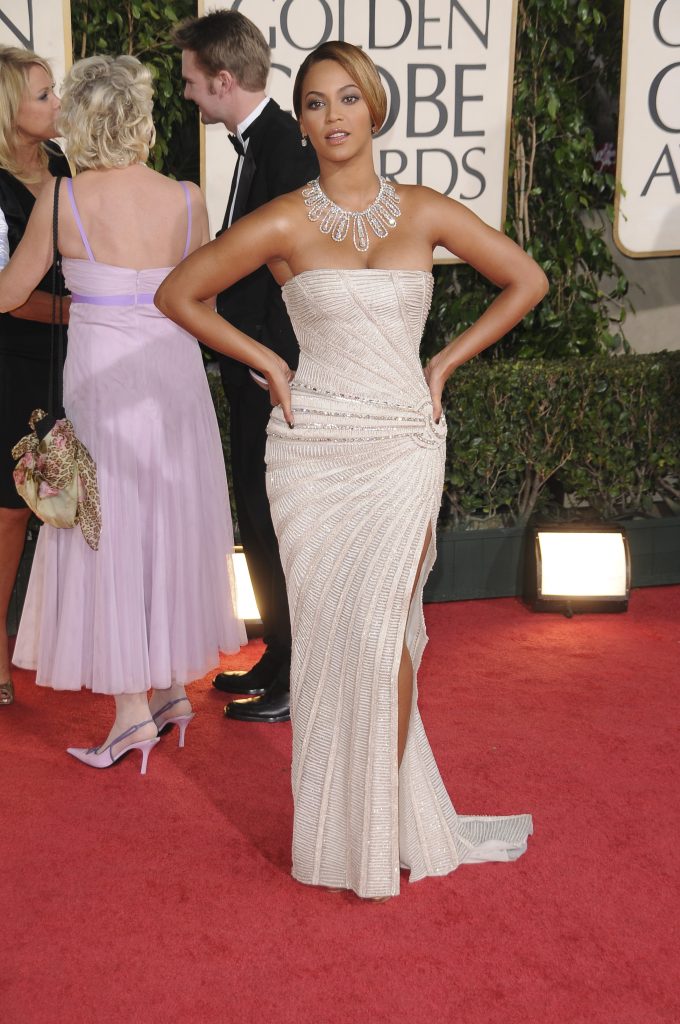 To this day, Beyoncé loves a shining outfit. She has rocked hardware dresses, glittery gowns, and sparking jumpsuits. I don't see this ever going out of style, anyway, so I say we embrace it!
Beyoncé Inspired Looks:
Here are some looks inspired by the things Beyonce used to wear in the 2000s: 
Tomboy Meets Girly-Girl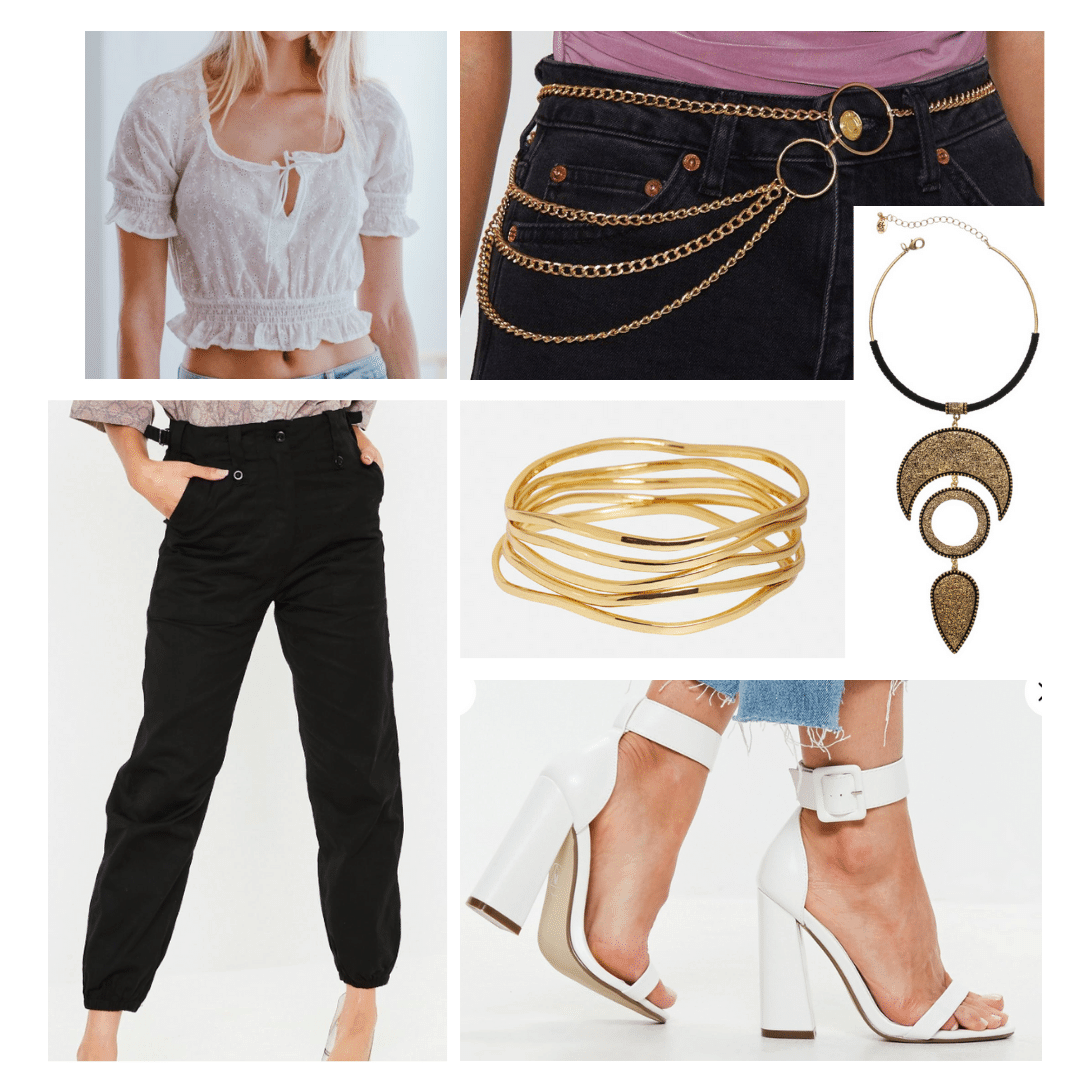 Products: Top – Goodnight Macaroon, Bottoms – Missguided, Chained Belt – Nasty Gal, Necklace – JC Penney, Bangles – Avenue, Heels – Missguided
Here I put together a girly, lightweight top and glitzy accessories to balance a pair of black cargo pants. (Beyonce wore this combo on TRL!) The tapered waist of the top, and slight skin reveal, is a great way to add a little sexiness to a utility-style pant. 
Gold and black look great together so I added gold bangles, a black and gold necklace, and a gold chain belt. Lastly, white strappy pumps pull the top and bottom halves of the look together.
Two Piece Ensemble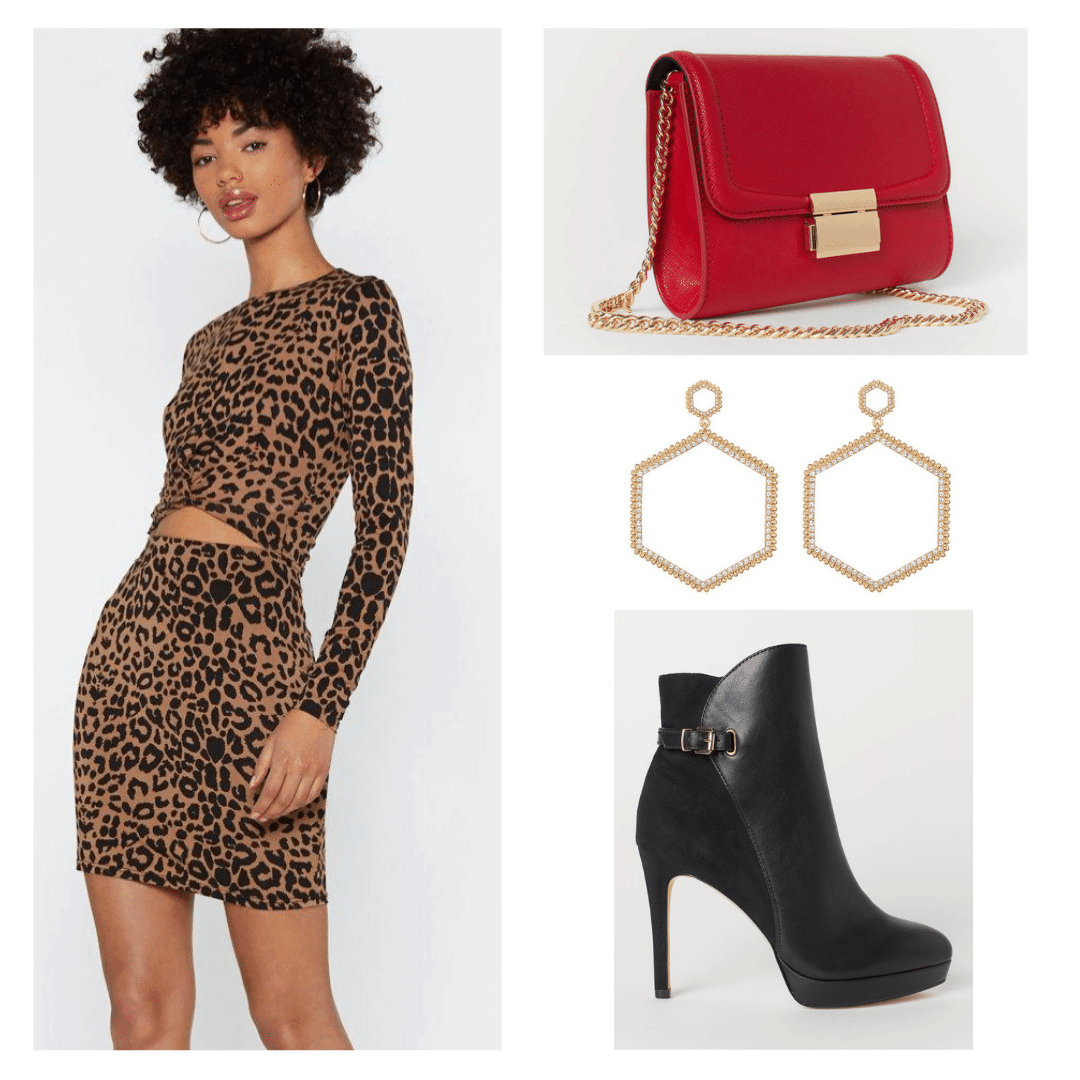 Products: Matching Top and Skirt Set – Nasty Gal, Chain Shoulder Bag – H&M, Earrings – Nordstrom Rack, Heels – H&M
A two-piece set is a girl's best friend. I can wear the two items together, or split them up completely. The top can be paired with high-waisted pants of almost any color, shorts, or another skirt. The skirt can be matched with a solid colored cropped sweater, a bodysuit, or a bralette under a cropped jacket.
Here, I paired the outfit as a set with a bold red crossbody bag with gold accents and a pair of gold hexagon hoops. Lastly, the shiny, heeled black boots pull this sexy look together.
Sparkling Dress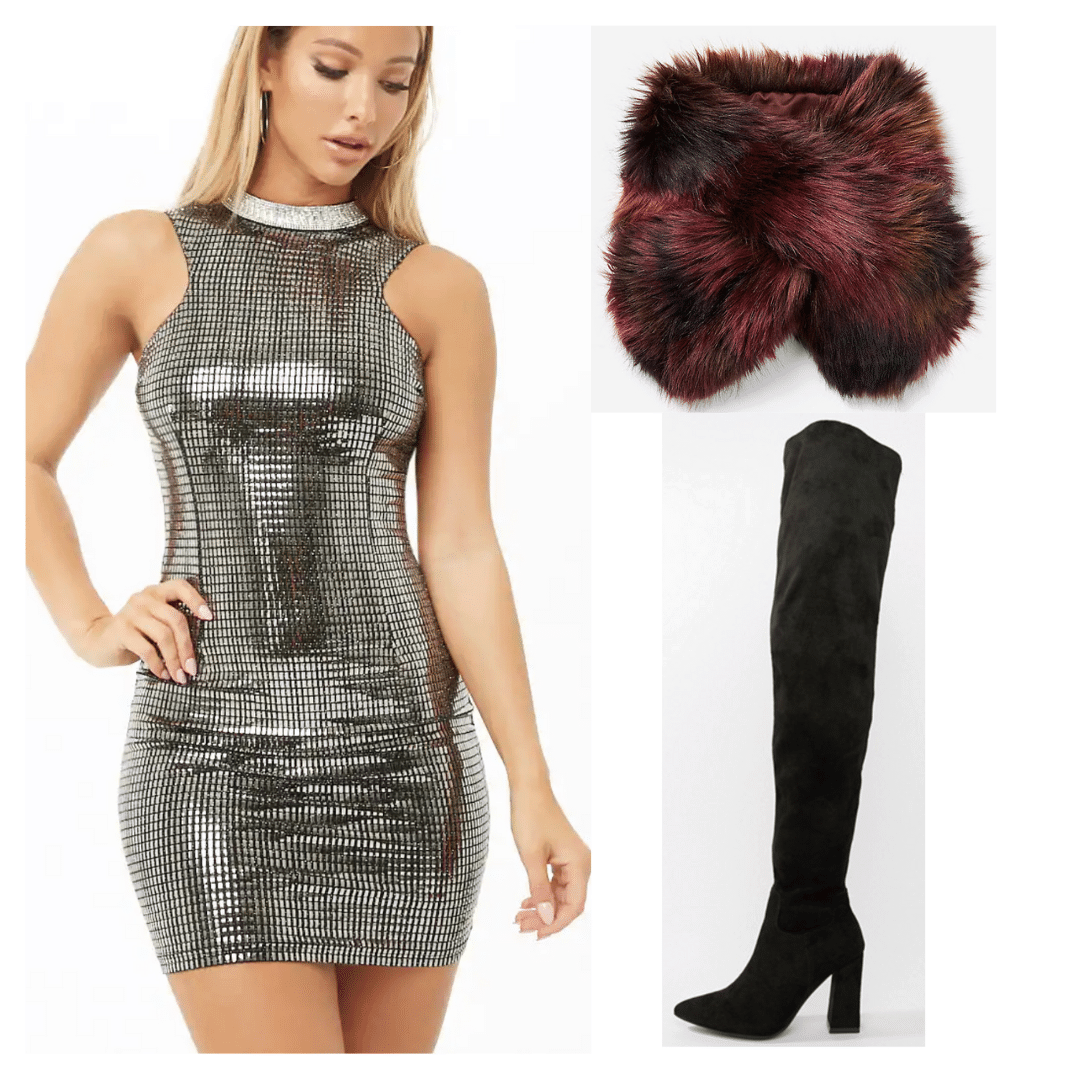 Products: Dress – Forever 21, Faux Fur Shawl – Express, Over-the-Knee Boots – ASOS
This metallic dress is a great budget friendly take on the hardware-effect look Beyonce rocked in this iconic photo shoot!
I matched this shiny dress with a deep burgundy faux fur shawl. The color is great for winter and it will keep your bare shoulders protected from the wind. Some black over-the-knee boots are perfect for this look and add some leg coverage, as well. Lastly, the texture of the faux fur and suede boots will counter-balance the hard texture of the metallic dress. 
What's Your Favorite Beyoncé Fashion Statement?
For more on Beyonce's style these days, see our guide to Beyonce's looks from Black is King.
Are you inspired by Queen Bey's style from the 2000s? Do you ever channel her power into your outfits? Let us know in the comments!