Beyoncé recently released her third visual album Black Is King. This 2020 musical film is a masterpiece curated to explore legacy, Black culture, and the Black diaspora.
The art direction and styling by African designers, and overall Afrocentric production will pull you in immediately.
The piece is inspired from the 2019 remake of The Lion King and walks viewers through the life of a young African King cast out into the world as a baby.
Queen B has served us an entire visual album filled with brilliantly curated music and jaw-dropping fashion displayed over various locations across the world.
This work of art is now streaming on Disney+ and if you haven't watched it already, know that you must. We are thankful for every single one of the collaborators, especially Beyoncé's stylist Zerina Akers.
Without further ado, here is a fashion guide for Black Is King, with outfit suggestions inspired by iconic parts of the album.
For more musically-influenced outfit inspiration, check out our guide to Taylor Swift's folklore.
BIGGER
This visual album begins with momentous shots of Beyoncé on a remote beach.
Seemingly singing to the baby boy she is holding in her arms, we are given beautiful scenes of her dress shining in the sand.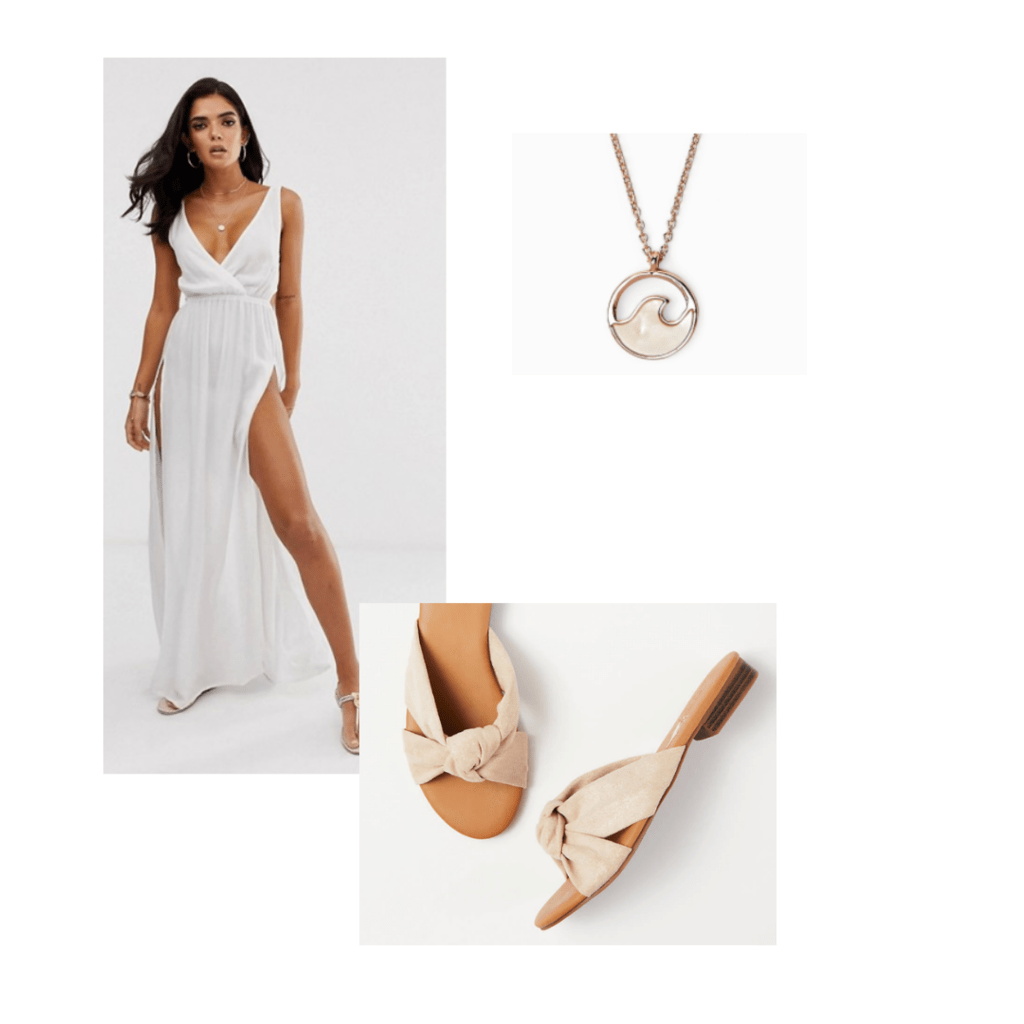 Products: Dress, Sandals, Pendant
The white maxi dress is the focus of this piece, and while I couldn't find something quite as couture as hers, this flowing dress is fit for a goddess.
I opted for a pair of simple, knotted slide sandals that and a pendant with subtle detail.
The key is to keep the look breezy and breath-taking.
MOOD 4 EVA
MOOD 4 EVA is quite possibly the fiercest track on the album, and the visual element does this powerful song justice.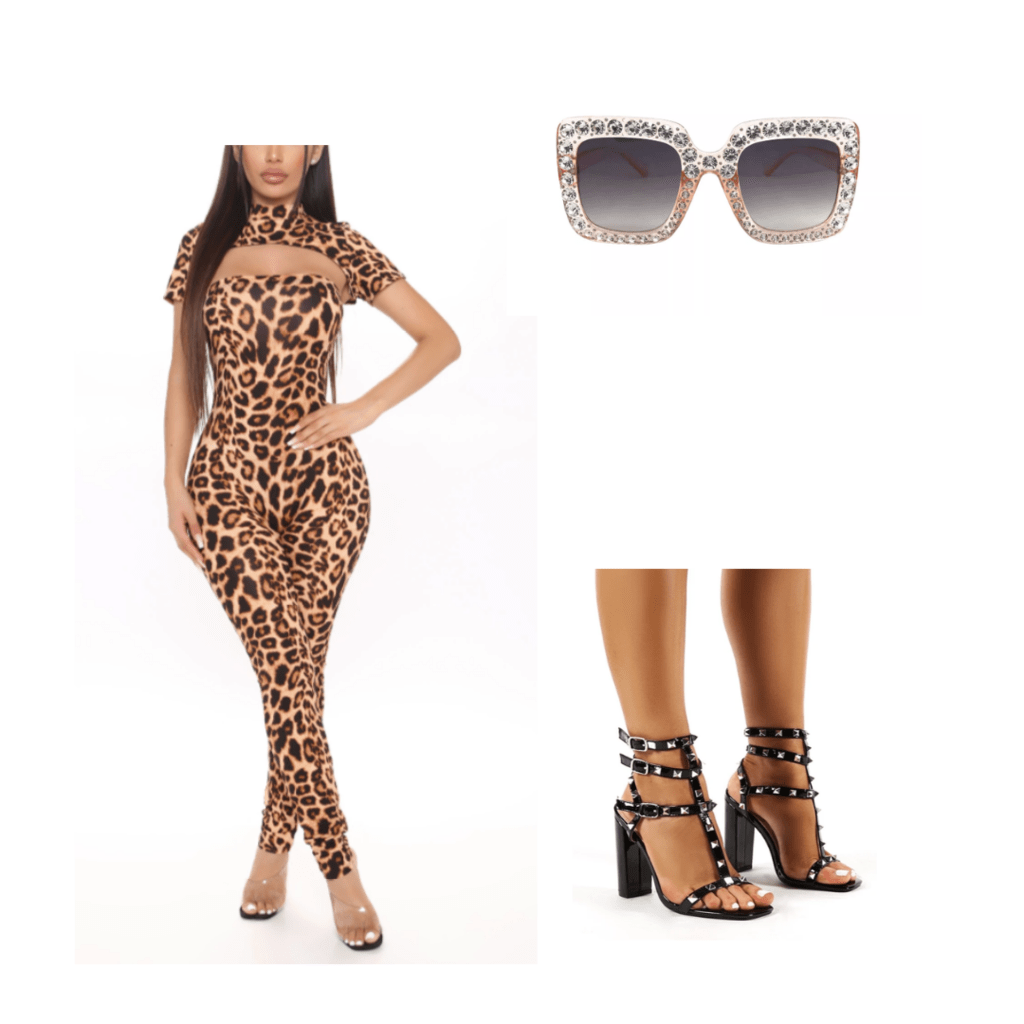 Products: Bodysuit, Sunglasses, Pumps
For this Black Is King inspired fashion set, I found a cheetah print bodysuit. With a dazzling pair of sunglasses similar to the ones Queen B is rocking, you will be all set.
Don't forget a pair of studded sandals for an additional edge and show-stopper vibes.
Extra brownie points for rocking this whole look on the hood of a car, of course!
ALREADY
Bey's fashion in ALREADY was the look that had me drooling for days after watching Black is King for the first time.
The black and white one piece was conceived in the mind of designer Loza Maléombho and it is drool-worthy. The stripes, the straps, the sleeves…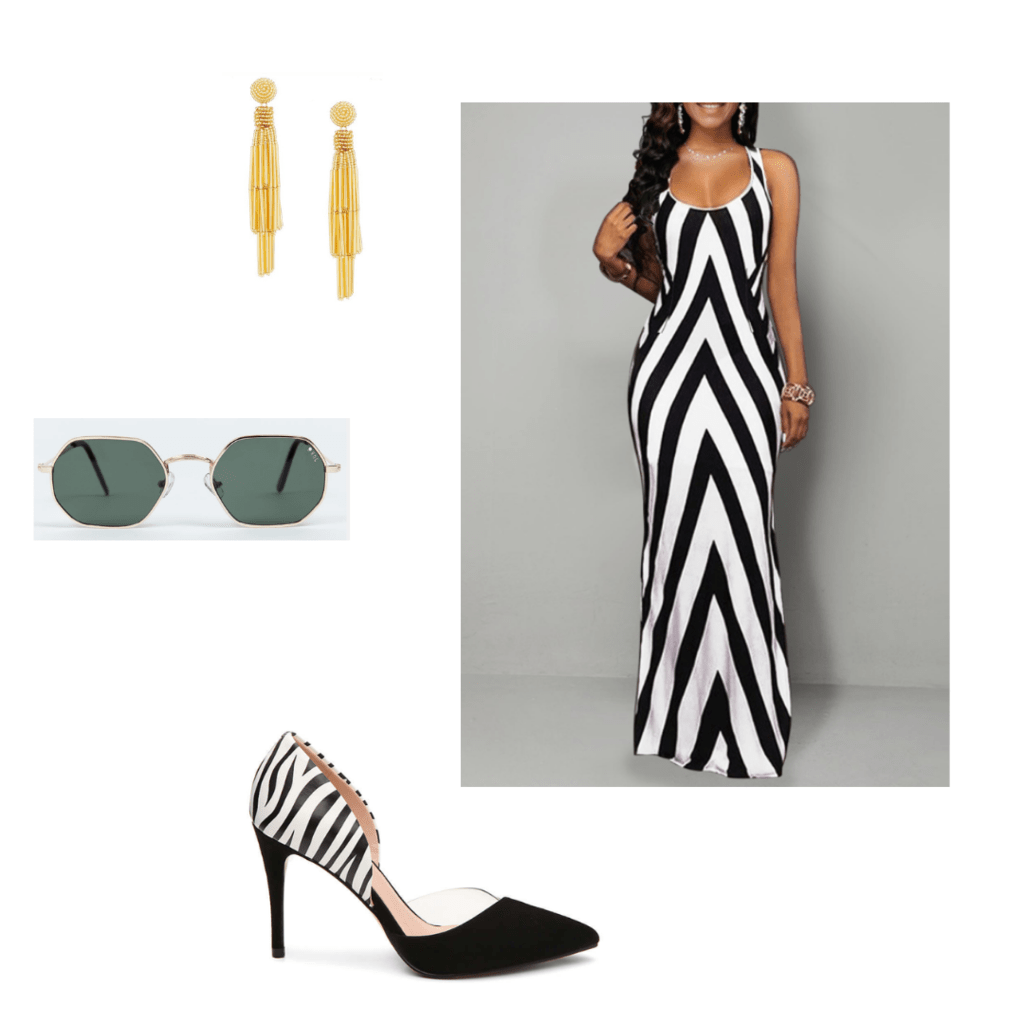 Products: Dress, Earrings, Sunglasses, Heels
I searched the highs and lows of the internet trying to find an everyday life version, and I stumbled upon this black-and-white chevron maxi dress.
With a pair of beaded tassel statement earrings, this outfit will have you on your A-game while walking across campus.
In the video, Beyoncé is seen wearing a pair of high strappy black heels. However, since you wouldn't be able to enjoy the full glory of a strappy set of stilettos while wearing a maxi dress, this pair of of zebra-printed heels screams Beyoncé.
The key for this Black Is King look is the fashion-forward pair of sunglasses.
MY POWER
Denim on denim is tricky to pull off, but when done properly, it can be so chic. Of course, Bey never disappoints!
I fell in love with the way she styled hers in this video, red gloves and all.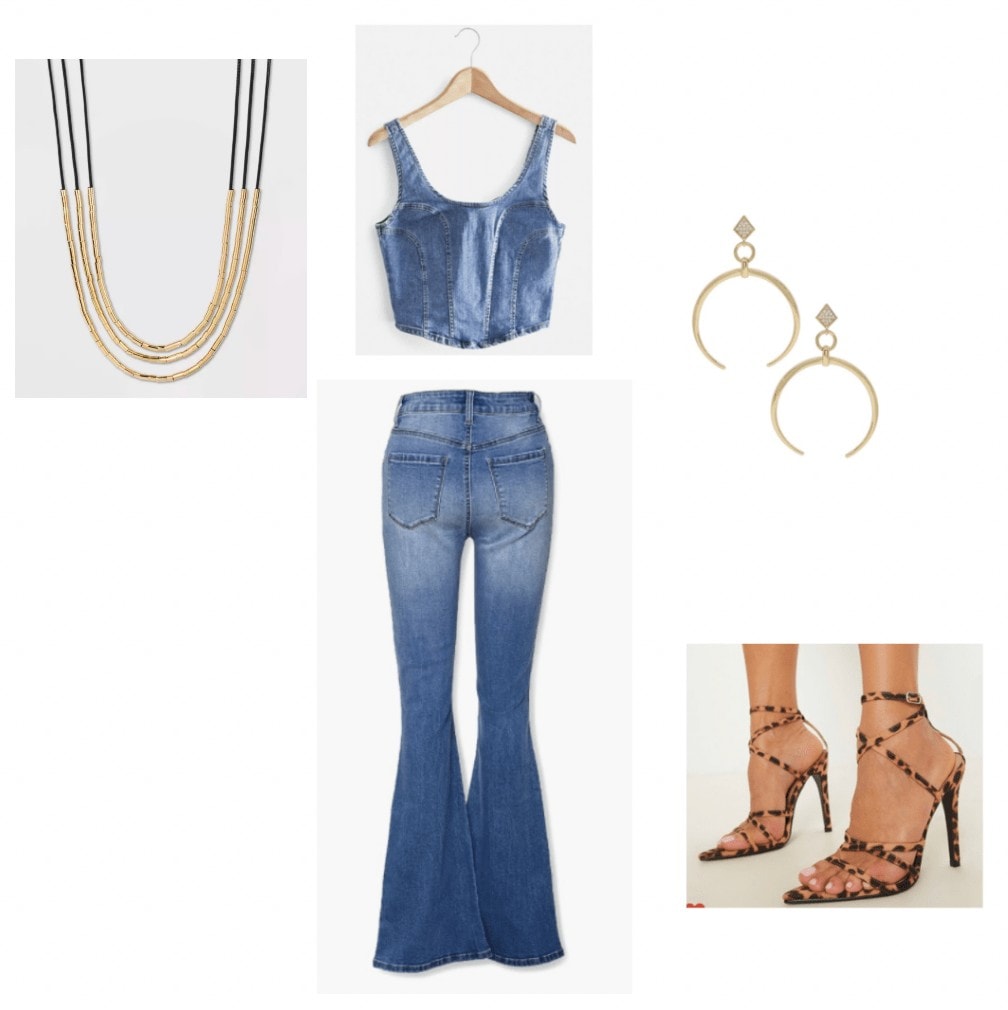 Product: Top, Pants, Necklace, Earrings, Heels
For this outfit, I paired a cropped denim top from Urban Outfitters with a beautiful pair of bell bottom jeans.
Strappy, animal print heels stand out amongst all the denim.
To accessorize, I grabbed a pair of gold statement earrings and a layered necklace.
FIND YOUR WAY BACK
Animal print is prevalent in much of the fashion in Black Is King.
The cow print mini dress in FIND YOUR WAY BACK stood out in such a fabulous way.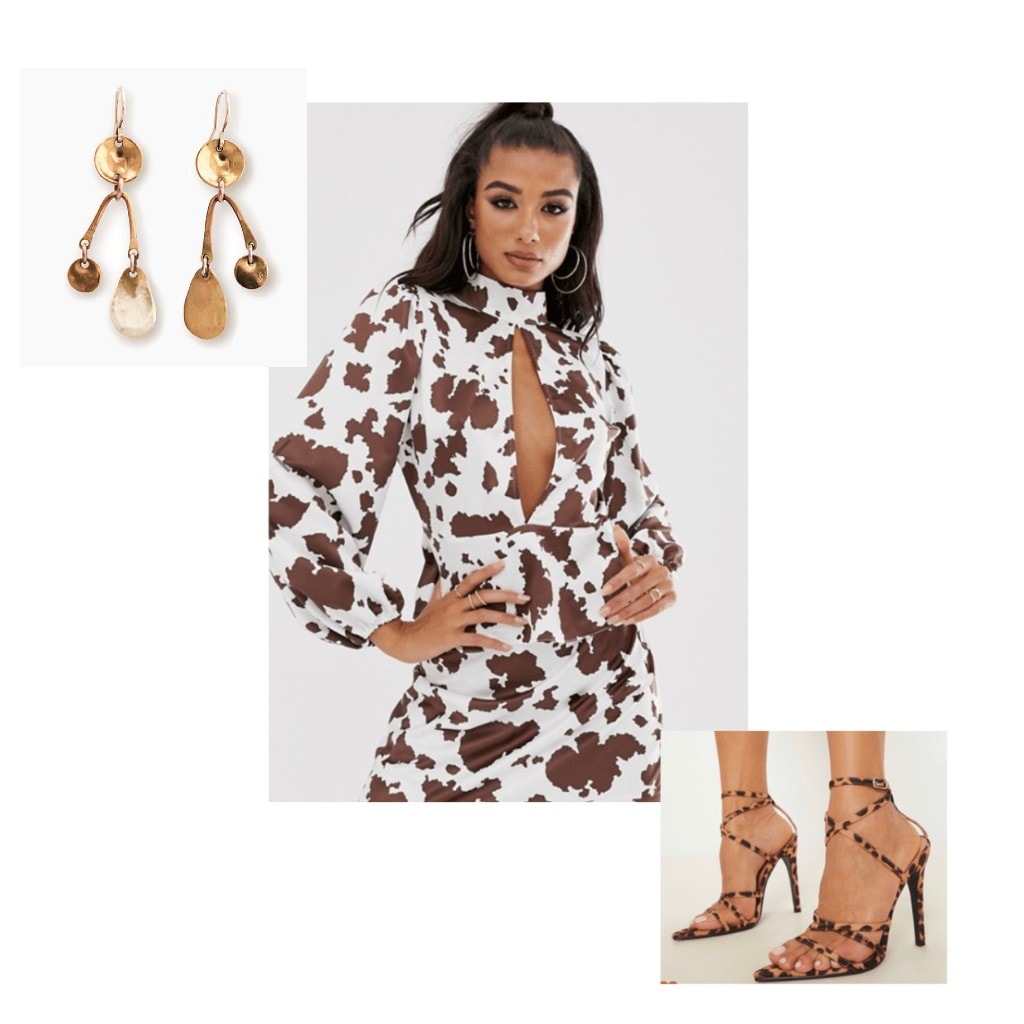 Products: Dress, Earrings, Heels
I found this spot-on (pun intended) dress which totally channels Queen B.
I chose to accessorize this statement dress with gold dangle earrings for that extra oomph and statement footwear.
What do you think of the fashion in Black Is King?
Have you gotten around to seeing Black Is King? What did you think about the inspired outfit sets from the film? Let me know in the comments below!