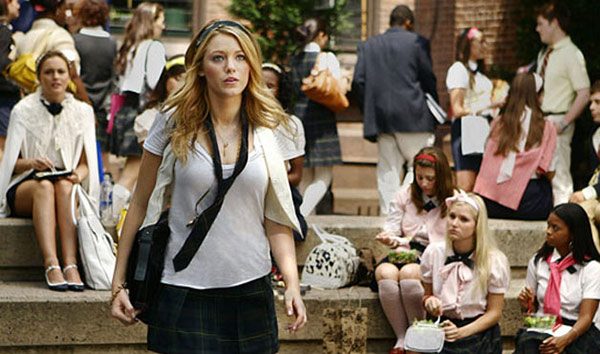 These are dark times, you guys. After six seasons, "Gossip Girl" is coming to an end. And, okay, maybe it is time to throw in the towel, because any sense of rational plot has been out the window since season three… but still. This is the end of an era.
Gossip Girl's fashion is as iconic as its beloved characters (and some Gossip Girl styles are still trending today!), so for the next four days, (leading up to the finale – sob!) I'll be showing you how to steal your favorite character's most memorable looks.
Starting us off is Serena van der Woodsen, the Upper East Side's resident bad-girl-gone-good. Played by the gorgeous Blake Lively, Serena is the master of mixing classic pieces with eclectic shapes and textures. Below, we'll show her evolution from reluctant prep school pariah to the confident, stylish young woman we know and love today. On to the outfits!
Where has she been?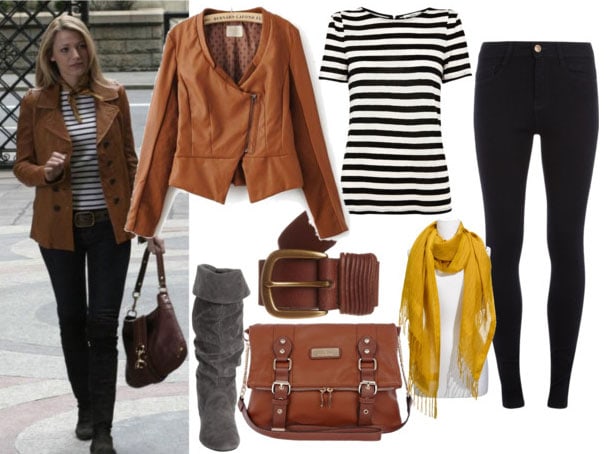 Jacket, Tee, Jeans, Scarf, Boots, Bag, Belt | Photo: The CW
It's odd to think that the endlessly mysterious Serena van der Woodsen would return to the city in a conservative leather jacket and classic skinny jeans, but who are we to complain? With all the drama surrounding her return, Serena's very first outfit gives us a hint that she might not be the crazy, boyfriend-snatching party girl GG makes her out to be. And that's kind of the moment we all fell in love with her. Girl sure knows how to travel in style.
Make Serena's premiere look your own by pairing a tan leather jacket with a conservative striped tee. Black skinny jeans and a yellow scarf update this classic look. Accessorize with the basics, like a deep chestnut satchel and a matching belt. Slouchy suede boots complete this polished and casual look.
Prep School Chic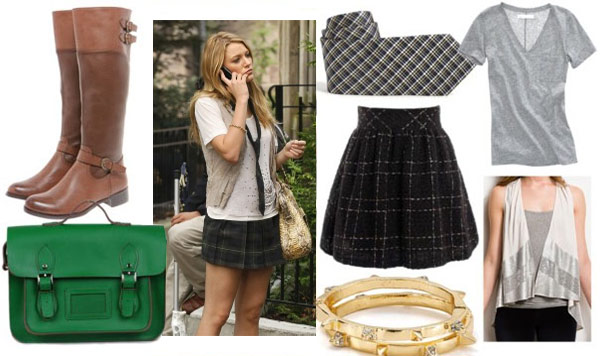 Tee, Skirt, Vest, Tie, Boots, Bag, Bangles | Photo: The CW
Ah, Constance. Did you even have a uniform policy? Though each character managed to add their own personal twist to the prep school dress code, Serena always took things to the next level. Sometimes it worked (I love every single one of her slouchy, sparkly cardigans), and sometimes she looked like she'd just walked out of a Britney Spears video. Either way, her effortless charm was kind of fabulous.
Steal Serena's blasé boarding school look by pairing a preppy plaid skirt with a slouchy gray v-neck, topping it off with a subtly sequined vest. Very bad-girl-gone-good. Accessorize with classic staples like a bright, structured bag and brown riding boots, adding a touch of sparkle with a pair of gold spiked bangles. Complete the look with a tie, of course. Go full-on Serena and wear it like a necklace, or wrap it around your hair like a headband. I bet even B would be jealous.
The White Party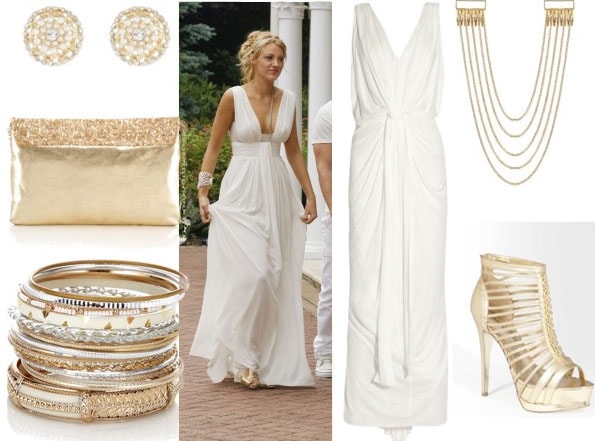 Dress, Hair Necklace, Sandals, Bag, Bangles, Earrings | Photo: The CW
It's common knowledge that Serena is 100 percent breathtaking 100 percent of the time, especially when she's all glammed up. But if I had to pick her most stunning formal moment? The white party. Definitely the white party. This outfit captures Serena's effortless, ethereal beauty perfectly. Honestly, she might as well be a living goddess.
Pretend you're a member of the Hamptons elite in a curve-hugging, Grecian-inspired maxi dress. Add gold gladiator sandals for an even more goddess-like look. Glam up your hair with gold hair necklace. (Remember when those were all the rage? Pretty sure that was Blake Lively's fault.) Finally, keep your accessories glittery but classic – a stack of sparkly bangles, a sequined clutch and pearly-gold earrings complete this jaw-dropping look.
Passport to Paris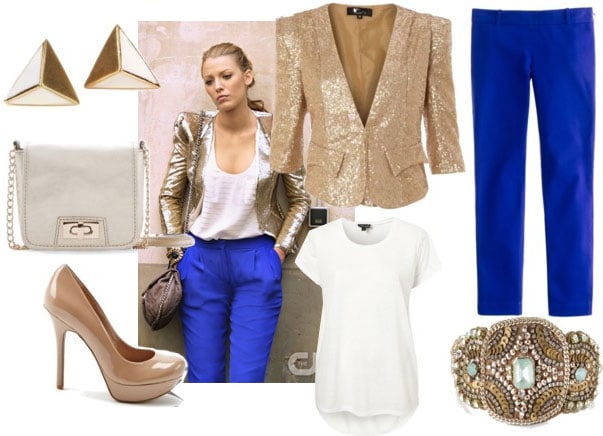 Blazer, Tee, Pants, Pumps, Bag, Cuff, Earrings | Photo: The CW
By season four, Serena abandoned her disheveled schoolgirl wardrobe in favor of a closet full of classic, bold statement pieces. And oh, how we loved every moment of it!
Yes, Serena's summer in Paris gave us some of her best outfits yet. (Except maybe for this. I can't get past those pants.) Fashion-wise, Serena had finally come into her own. These days, clean lines and dramatic silhouettes are no problem for her – the girl is a statuesque stunner and she owns every moment of it.
Snag Serena's bold, gold-embellished look by pairing a sequined blazer with dramatic cobalt pants. Since it's still Serena we're dealing with, sport a slouchy white tee under your blazer. Nude pumps and an ivory-tone cross-body bag add polish, while spike earrings and an embellished cuff add high fashion flair.
Your thoughts?
What's your favorite Serena look? Are you excited for the GG finale? Let's hear some predictions! Be sure to let me know what you think of the outfits in the comments, I'd love to hear your thoughts!