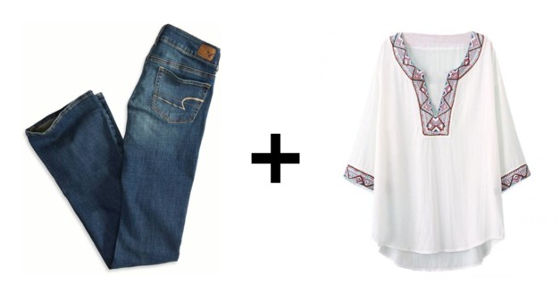 You know those days – the ones where you roll out of bed (after hitting the snooze button too many times), stumble into your closet, and have no idea what to wear? Our series Easy Outfit Formulas is here to help! Every other week, I'll feature two items (which you might own already) that can be paired into outfits for those days when you need some quick and easy inspiration.
Flared jeans are quickly coming back into style, and they're the perfect starting point for a boho, '70s-inspired outfit formula. Just add a breezy peasant blouse for a casual yet chic ensemble that can take you everywhere from class to an outdoor concert to date night.
Look #1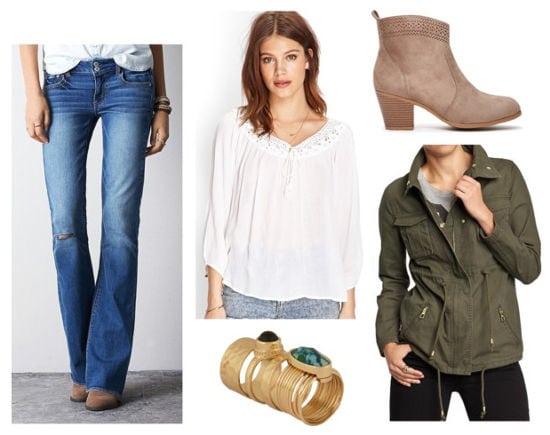 Products: Jeans, Blouse, Boots, Jacket, Rings
Create a timeless, casual look by pairing a white peasant blouse with distressed flare jeans. Layer on an olive utility jacket for unpredictable springtime weather, as well as a pair of rustic suede booties. For the final boho touch, add a stack of gold rings with stone details.
Look #2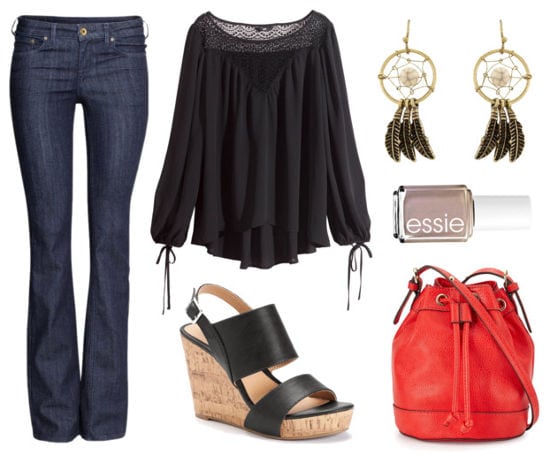 Products: Blouse, Jeans, Wedges, Earrings, Bag, Nail Polish
For a dressier night out look, wear dark wash flares with a feminine black peasant blouse. Add wedge sandals for height and a red bucket bag for a pop of color. Accessorize with a pair of boho statement earrings for sparkle, and lastly, try a matte, taupe-colored nail polish.
Look #3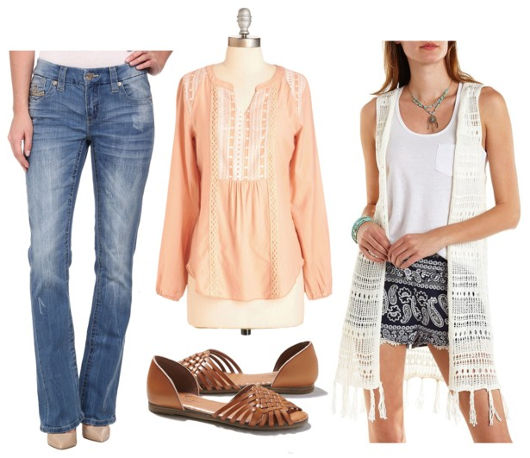 Products: Jeans, Blouse, Vest, Flats
For an all-out '70s-inspired ensemble that's perfect for a day of classes or errands, pair an embroidered peach blouse with distressed flare jeans. Layer a crochet vest over the top, then slip on a comfy pair of woven leather flats to round out the bohemian, flower-child feel.
Thoughts?
Are you embracing the '70s revival this spring? Would you wear this combo? Which look is your favorite? Let us know in the comments!