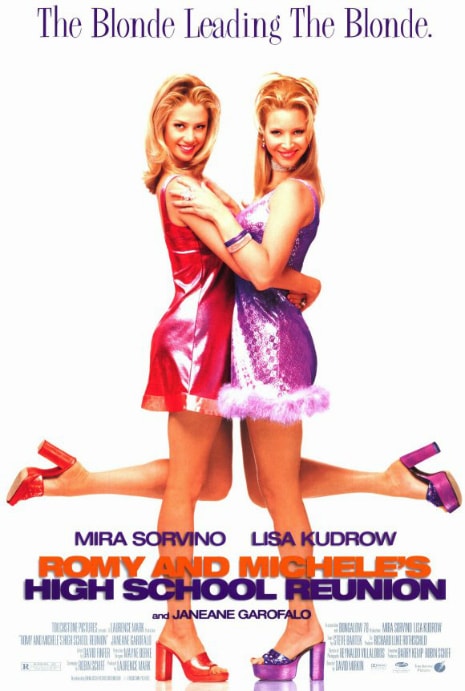 If you haven't seen Romy and Michele's High School Reunion, you need to track down a copy ASAP. It's ridiculously quotable (and gif-able), laugh-out-loud funny, and the '90s fashion is to. die. for.
The film follows two longtime BFFs who want to attend their 10-year high school reunion. However, once they realize their post-HS lives aren't too impressive, Romy and Michele decide to feign success by telling their former classmates they invented Post-Its.
Yes, it's a silly movie, but it's also an awesome flick about friendship and, as corny as it sounds, staying true to yourself. (Plus, it has Heather Mooney, who is undoubtedly my cynical spirit animal.)
Watch out Tucson, here we come! Scroll down to see three outfits inspired by the fashion in Romy and Michele's High School Reunion.
Look #1: Totally Cutting Edge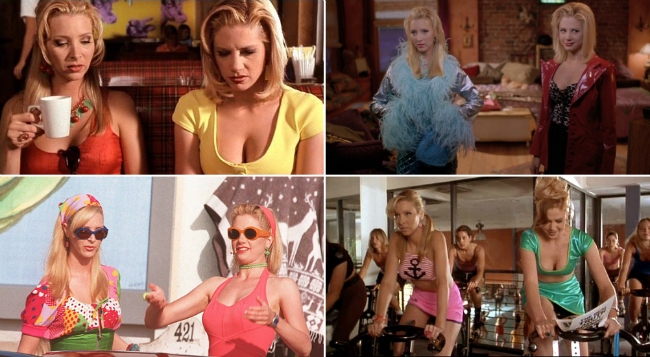 Whether they're rocking pleather and feathers on a night out or crop tops and minis at spin class, one thing's for sure: Romy and Michele are the ultimate '90s trendsetters.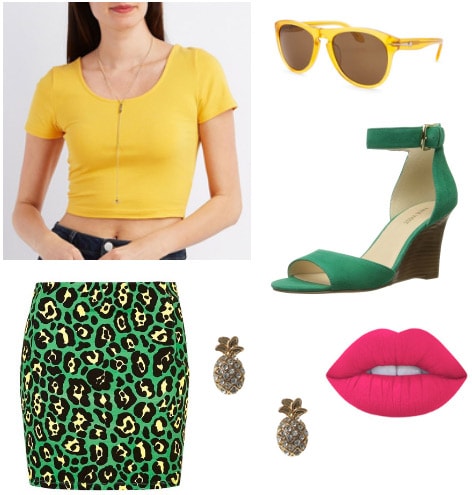 Product Info: Top- Charlotte Russe, Skirt- Topshop, Shoes- Nine West, Sunglasses- Calvin Klein, Earrings- Claire's, Lip Color- Lime Crime "Pink Velvet"
Show off your "fun, frisky use of color" by pairing a yellow scoop neck tee with a green mini-skirt. Pineapple earrings are a fun little nod to Michele's fruit-shaped jewelry, while yellow sunnies add to the color-coordinated look.
For a fresh update on their frosted lips, try a trendy matte fuchsia instead. These gals wear heels everywhere (even to the gym!), so be sure to top off your outfit with ankle-strap wedges.
Look #2: Business Woman's Special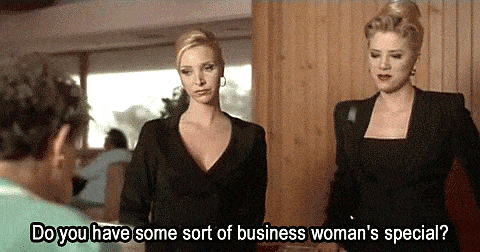 Romy and Michele decide to play the part of sophisticated, educated, successful career women by donning all-black ensembles and perfectly coiffed updos. They slayed fashion-wise, but their little white lie about inventing Post-Its? Not so much.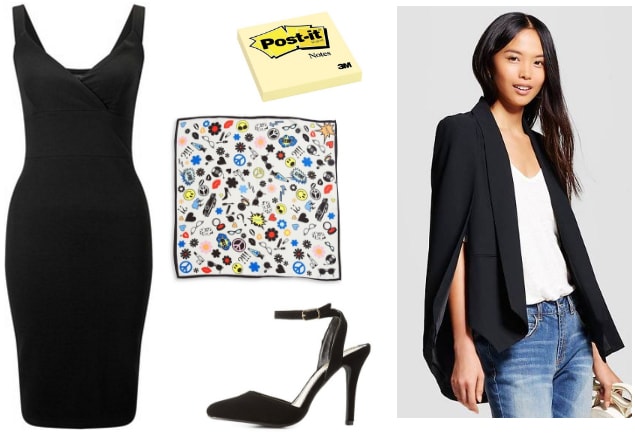 Product Info: Dress- Miss Selfridge, Blazer- Target, Scarf- Lord & Taylor, Shoes- Charlotte Russe
Mimic that businesswoman vibe in the killer combo of a fitted LBD and matching pumps. Rather than your typical blazer, opt for an on-trend caped version that Romy and Michele would surely approve of.
If you're also road tripping to Tucson in a convertible (or, you know, just want to incorporate a pop of print), use a silk scarf to protect your tresses.
Look #3: Time After Time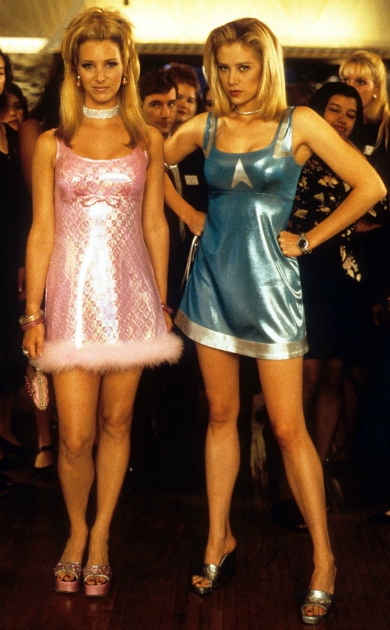 Oh, man. These dresses. I love them almost as much as I love Romy and Michele's impromptu dance with Sandy Frink.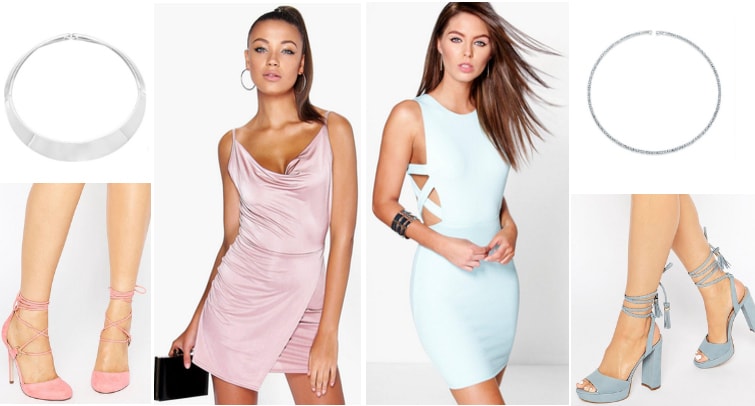 Product Info: (L) Dress- Boohoo, Shoes- ASOS, Necklace- Alexa Starr | (R) Dress- Boohoo, Shoes- ALDO, Necklace- Bling Jewelry
Your high school reunion may still be years away, but you can definitely rock these ensembles on your next girls' night out.
Grab your bestie and channel your inner Romy and Michele in the chic, modern dresses above. Just slip on ultra-stylish matching shoes, accessorize with sleek silver chokers, and you'll be all set.
Your turn!
Have you seen Romy and Michele's High School Reunion? What do you think of the fashion? Would you wear any of these outfits? Which one is your favorite? Leave a comment below and tell us your thoughts.