These polo shirt outfit ideas for females can help you maintain both your sense of style and comfort in your day-to-day wardrobe.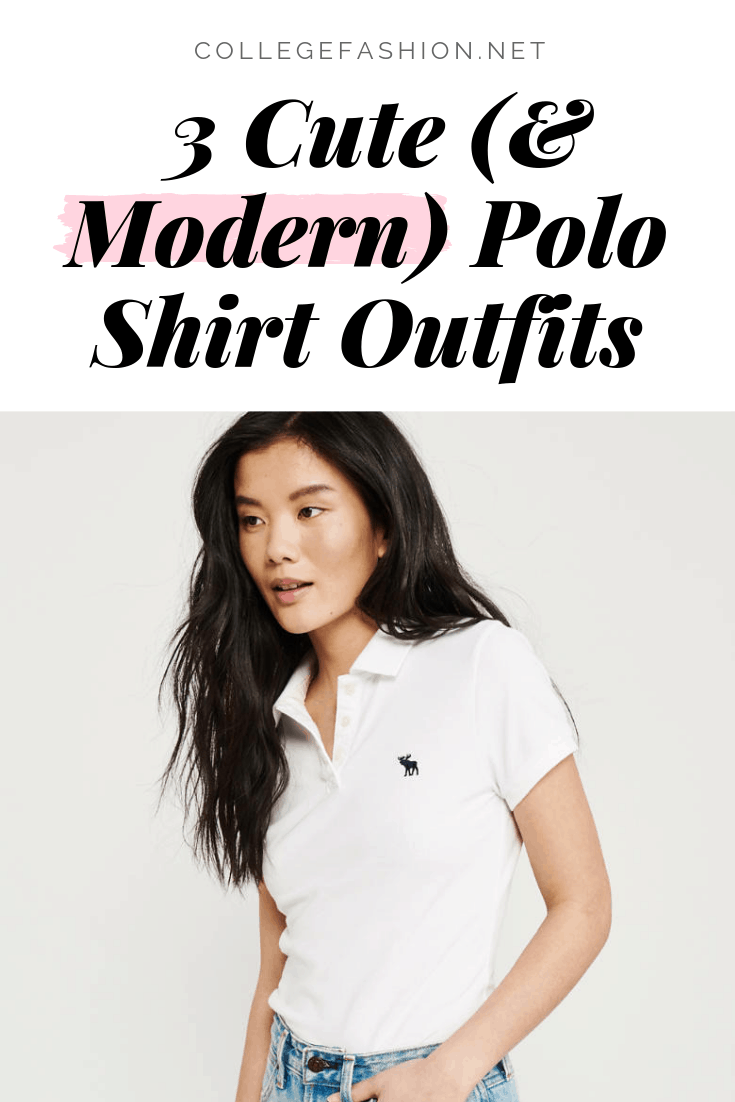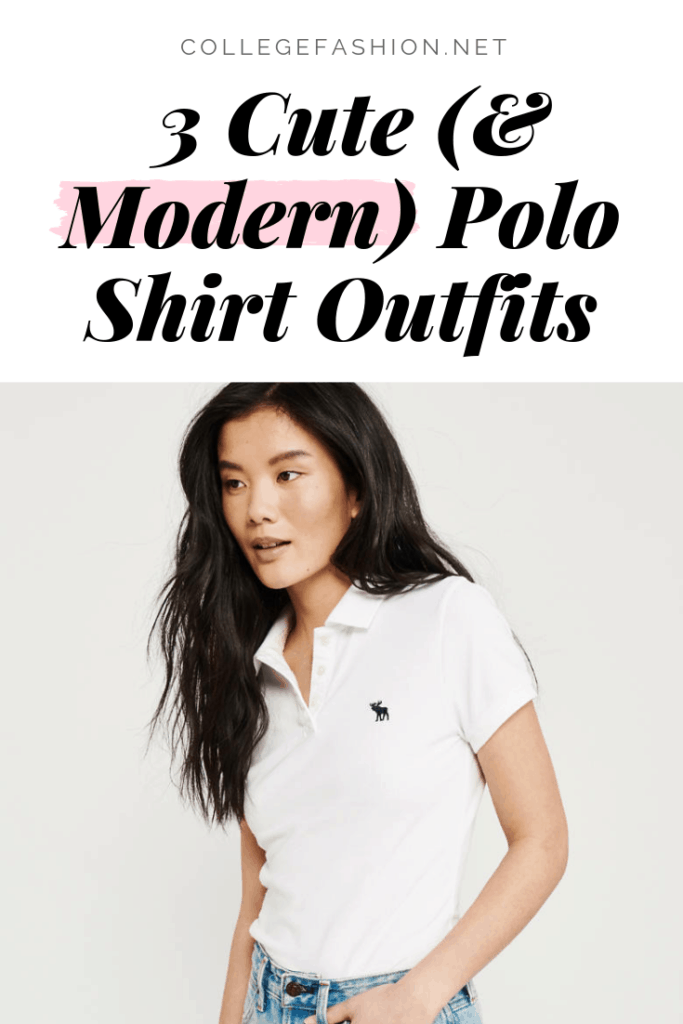 One of the most familiar logos burned into my mind is the little A&F moose stitched brightly into the t-shirts and polo shirts of every girl at the mall in middle school. Having that moose on your shirt was classy, a status symbol among suburban teenagers.
Now, you almost never (for good reason) see these lime green or bubblegum pink polos brought sported around town. However, with the button-up dad shirts coming back into style this summer, I thought I'd take another look at its collared cousin, the polo shirt.
Functional and preppy, these shirts are easy to style because they can be worn and layered in a number of ways. Take a look for some cute and refreshing polo shirt outfits to bring this throwback wardrobe staple back to life.
1. Breezy & Beautiful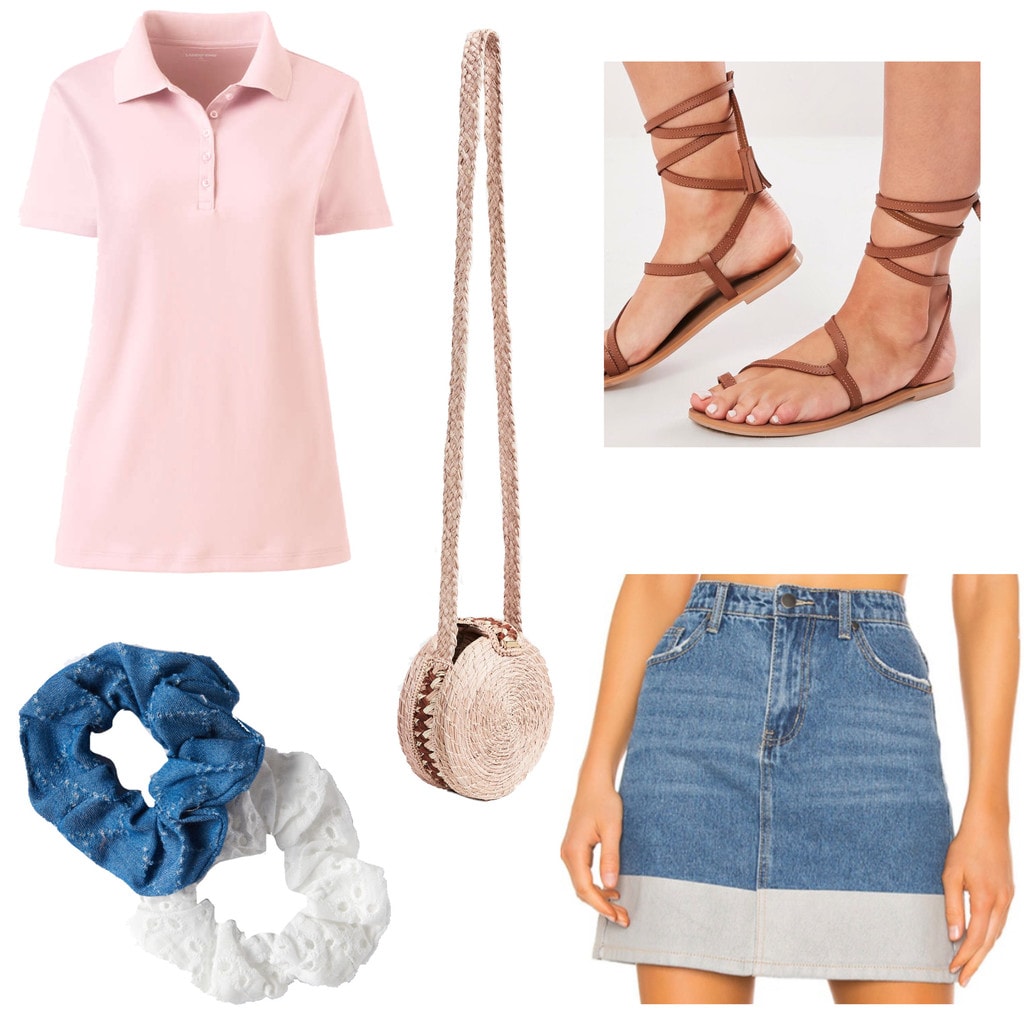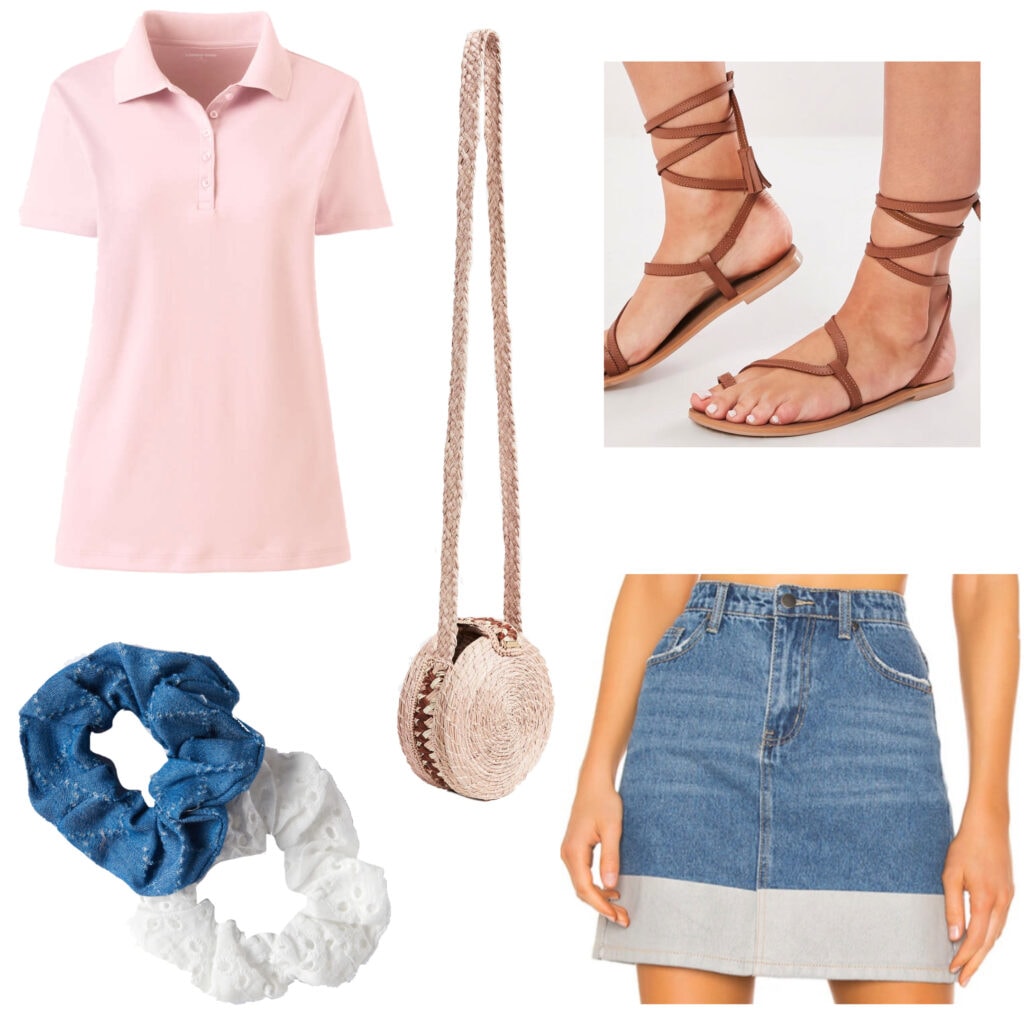 Products:
In this outfit, the polo shirt adds a pop of color to a neutral, breezy look. Tucked into a color-block blue denim skirt, this shirt gives major casual Friday made-cute vibes!
To add a touch of boho flair, a cute woven cross-body works nicely as a neutral detail while stowing all your summer accessories for when you're on the move. Matching brown lace-up sandals are functional and draw the eye down the leg for an interesting detail to this outfit.
Finally, this awesome two-pack scrunchie set from Aeropostale is perfect for this look! Depending on the day, either the white or the denim scrunchie matches this ensemble – good thing this set comes with both! These scrunchies are the best way to take your outfit from casual to coordinated.
2. '70s Casual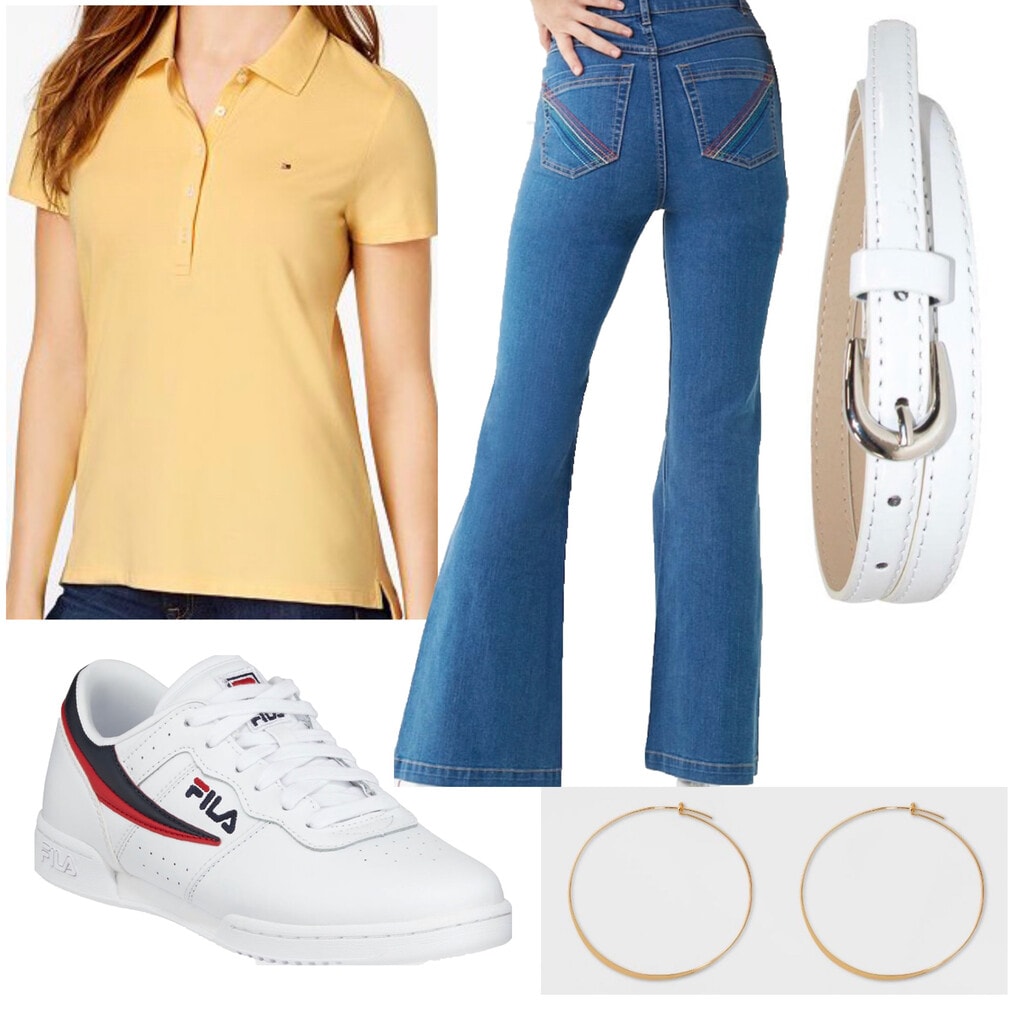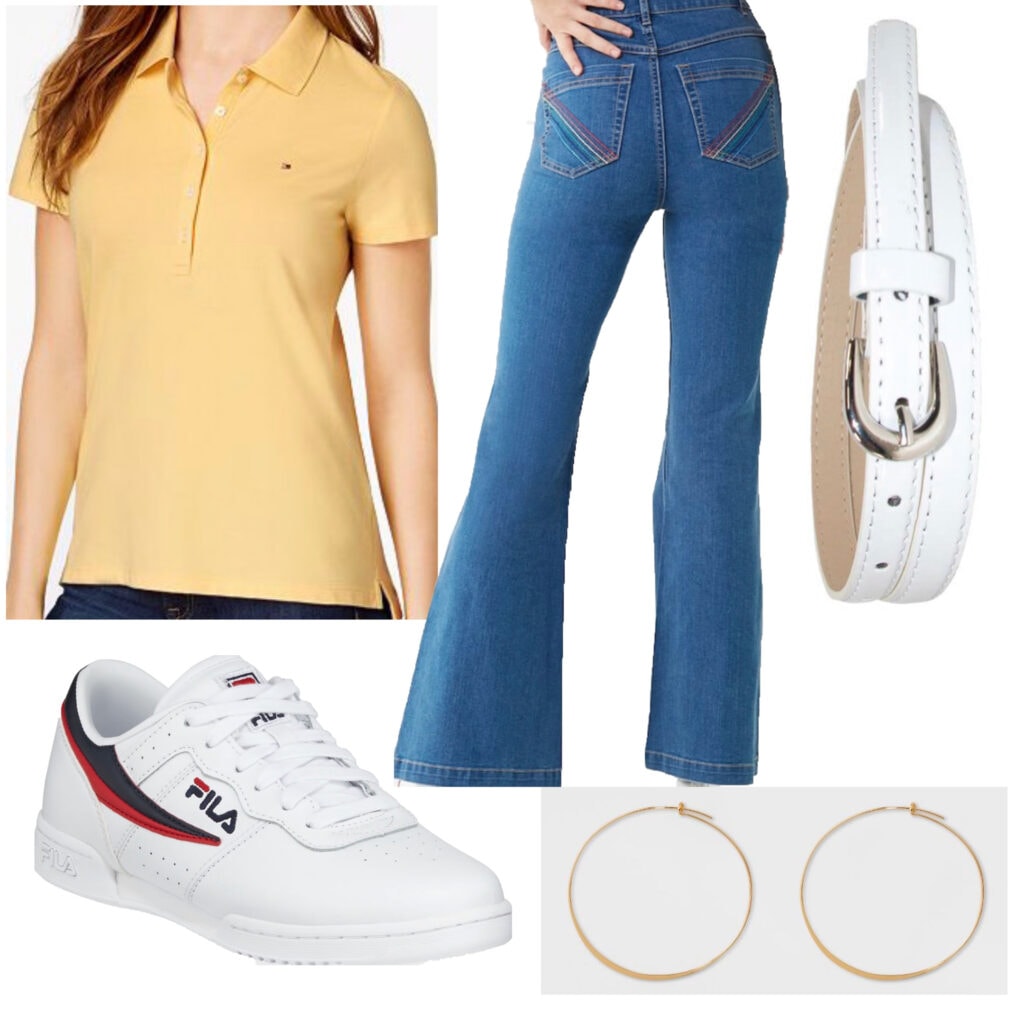 Products:
French tucked, knotted, or tucked in, this pastel yellow polo shirt is the perfect start to an outfit that will brighten your day!
Pair it with '70s-style flare jeans with rainbow embroidery to keep up the color and add an unexpected silhouette to the look.
Continue the colors with a pair of white tennis shoes with a navy and red detail, perfect for picking up the colors in the jeans and adding a refreshing bright white to the outfit. Add another pop of white with a thin white belt to break up the bold colors.
What retro-style outfit would be complete without a pair of funky earrings? Throw on some simple hoops to add some excitement and flare (pun intended) to this '70s summer look!
3. Pattern Play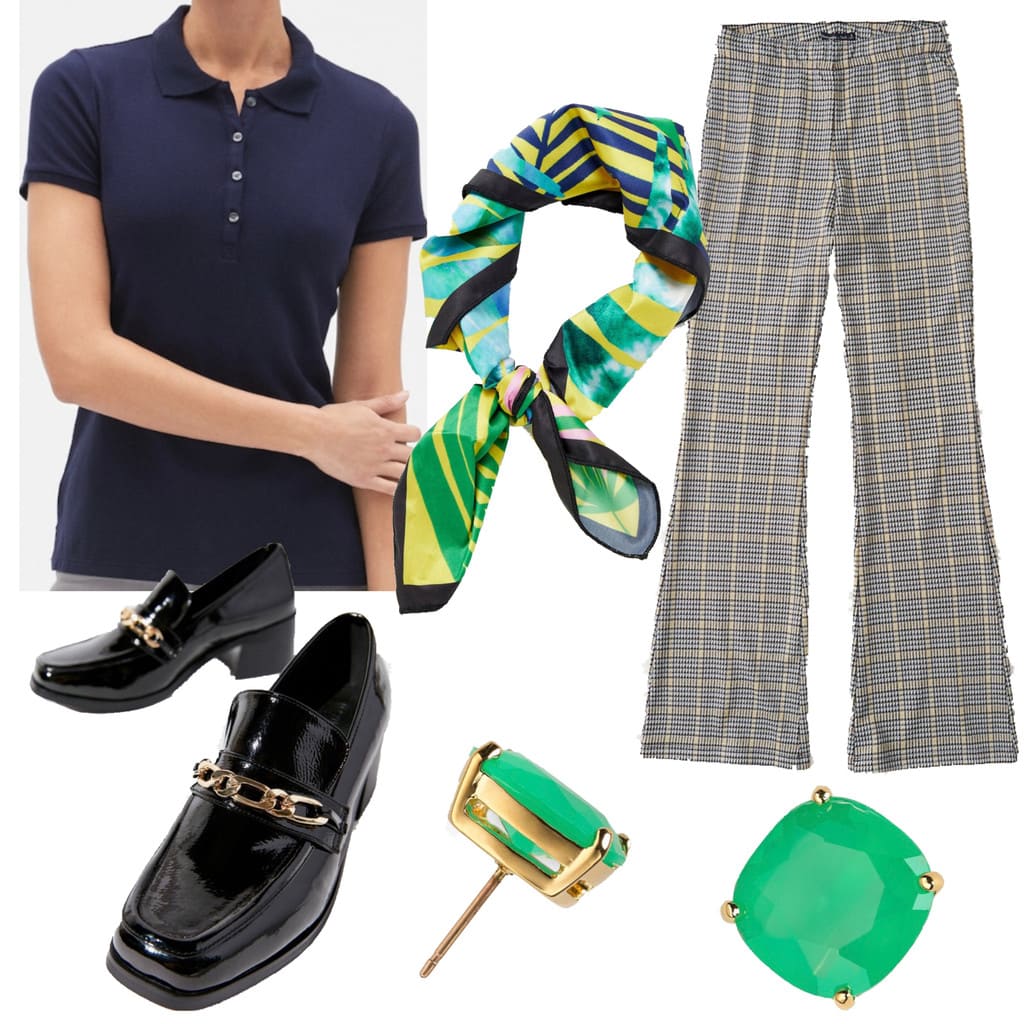 Products:
What says "straight-off-the-steps-of-the-Met" more than a classic navy polo and some cool plaid pants? These pants keep things interesting while staying professional enough for school or the office.
Complete the Blair Waldorf-approved look with a pair of heeled Mary-Jane shoes that scream class and sophistication.
Finally, add a funky twist with a subtle pattern mix! By picking up the colors in the polo and pants, a tropical patterned headscarf brings a prep school-inspired look into the modern day. A pair of light emerald-toned earrings pick up the gorgeous green in the headscarf and add another touch of color to this patterned ensemble.
4 Quick Fashion Tips on Wearing Polo Shirts for Women
Polo shirts are a great way for women to dress comfortably and stylishly. Here are some tips on how to wear them in the best possible way:
Balance your look with either fitted pants or skirts that hit just above the knee. Avoid items such as shorts, jeans, or leggings; instead, opt for tailored trousers or a pencil skirt.
Dress up your polo shirt with a blazer to give you an effortless, professional look. Match the colors of your top and bottoms for a more cohesive style.
For a sporty chic look, choose a collared polo shirt and pair it with slim joggers. Add some sporty kicks to complete the outfit.
If you're feeling extra daring, add a feminine touch with accessories such as statement earrings and show-stopping necklaces.
What do you think about these polo shirt outfits?
Would you try and bring back polo shirts? How would you layer and style a classic polo? What other middle school trends would you like to see restyled?
Let me know in the comments!
For more fashion tips like these polo shirt outfit ideas for females, consider reading our related posts below —