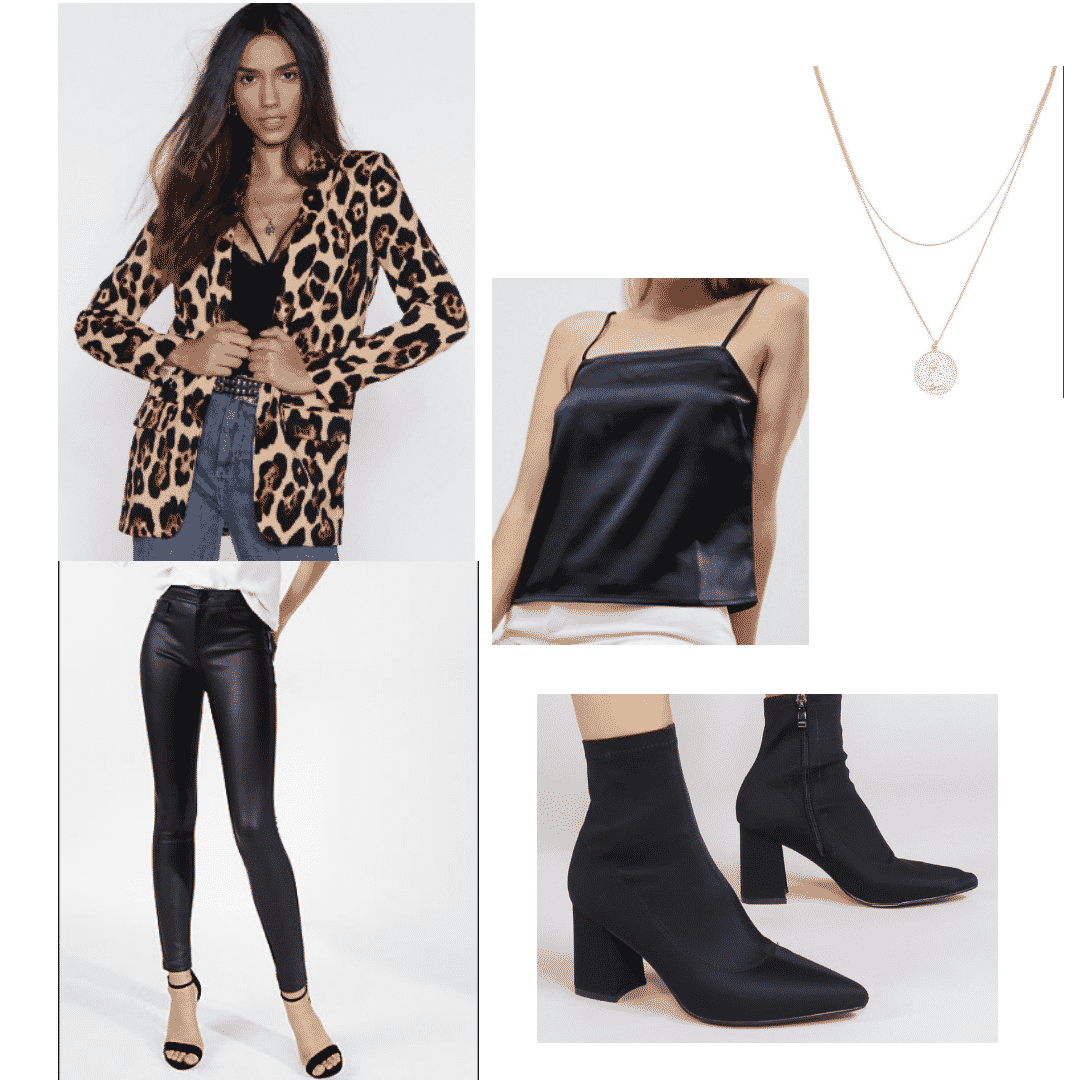 Leggings can be found in every woman's wardrobe, but they can sometimes feel too relaxed to wear everywhere. Don't worry, that doesn't mean you have to be stuck in jeans 24/7, 365 either – there's an option in between those two: leather leggings.
Not only do leather leggings give you the comfort of a normal pair of leggings, they instantly elevate your whole look and dress up any outfit with their shiny, polished texture. They're trending like crazy this season (just look at any Instagram blogger), and we are obsessed.
Wanna get started on wearing them? Here are four ways to style your leather leggings:
Related reading: How to Wear Leggings (The Ultimate Guide)
1. Laid-Back and Western-Inspired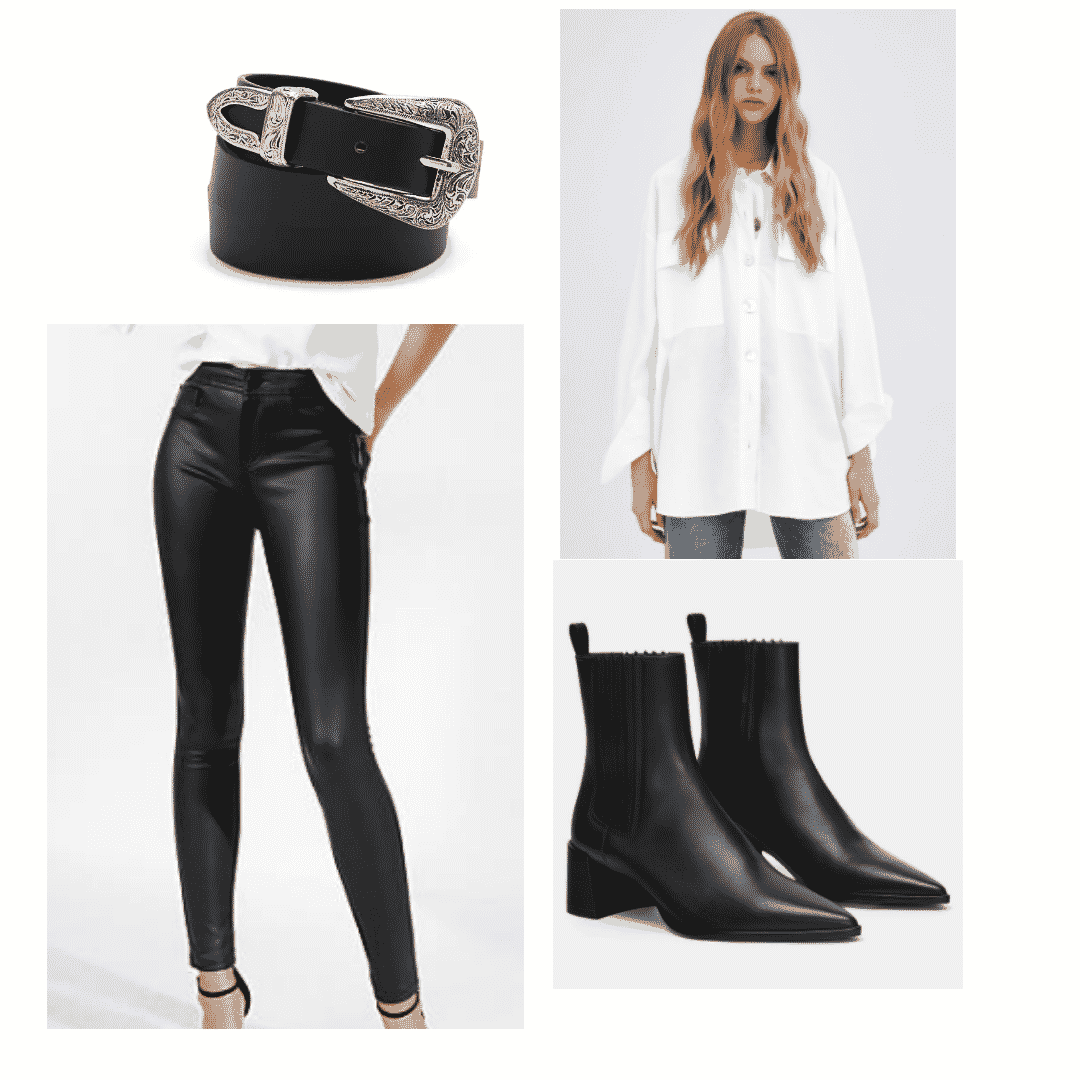 Products: Shirt – Zara, Leather leggings – Express, Belt – Forever 21, Boots – Zara
To create a Western-inspired, yet chic leather leggings outfit, wear an oversized linen shirt with your leather leggings. The simple linen shirt allows the leather leggings to be the focus of your outfit. Cinch your waist with a trendy buckle belt to give definition to your figure, and finish the look with a pair of pointy-toe booties.
2. Cute Yet Edgy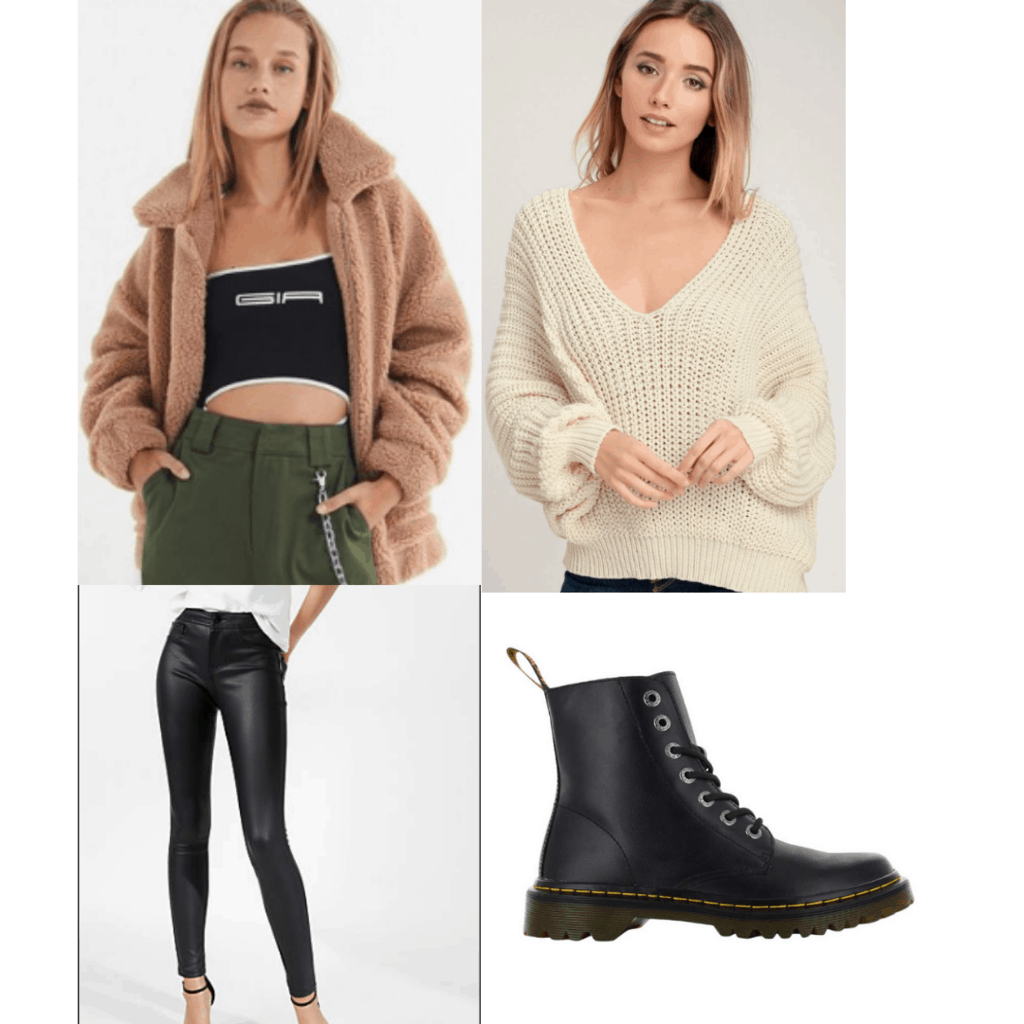 Products: Sweater – Lulu's, Jacket – I.AM.GIA. + UO, Leggings – Express, Boots – Amazon
Edgy ladies, leather leggings should be your BFFs this season. The texture of leather easily transforms a simple outfit into one with drama. To create this cute yet edgy look, wear your favorite cream sweater and match it with an uber-trendy teddy coat. The leather leggings and Dr. Martens toughen up the outfit and balance out the cuteness of the sweater and jacket.
Related reading: The Best Leggings Outfits for Work
3. Seasoned Fashionista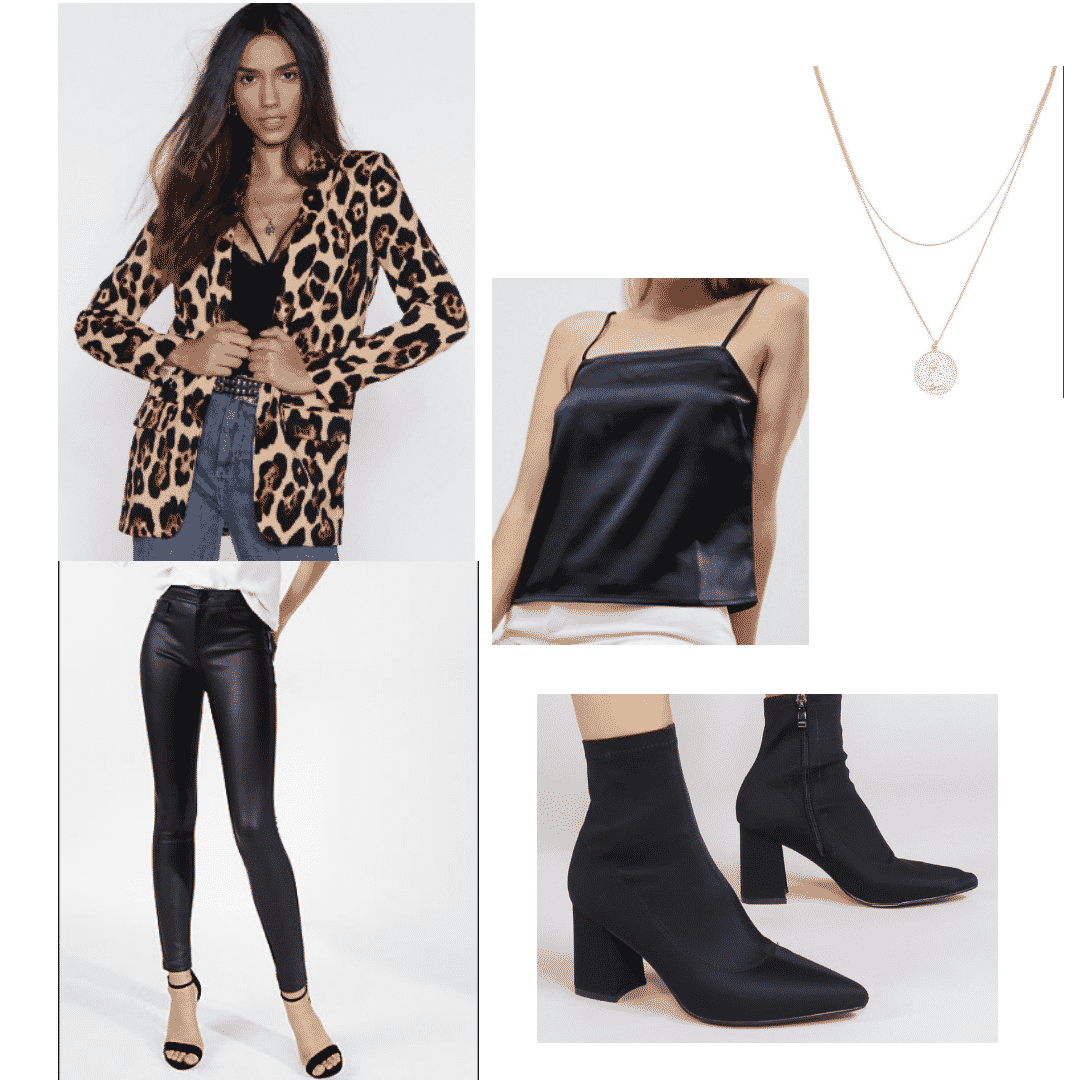 Products: Blazer – Nasty Gal, Cami – ASOS, Leggings – Express, Booties – Public Desire, Necklace – Forever 21
If you're an adventurous fashionista who has no fear in playing with texture and pattern, here is the look for you! Leopard print is huge this season, and the loud print can actually be toned down with a simple, head-to-toe black outfit.
Again, play with different types of textures to add interest to your look. The silkiness of the cami and sock booties creates a surprisingly cohesive look with your leather leggings. Highlight the golden tones of the leopard print with a gold necklace.
4. Sporty + Utilitarian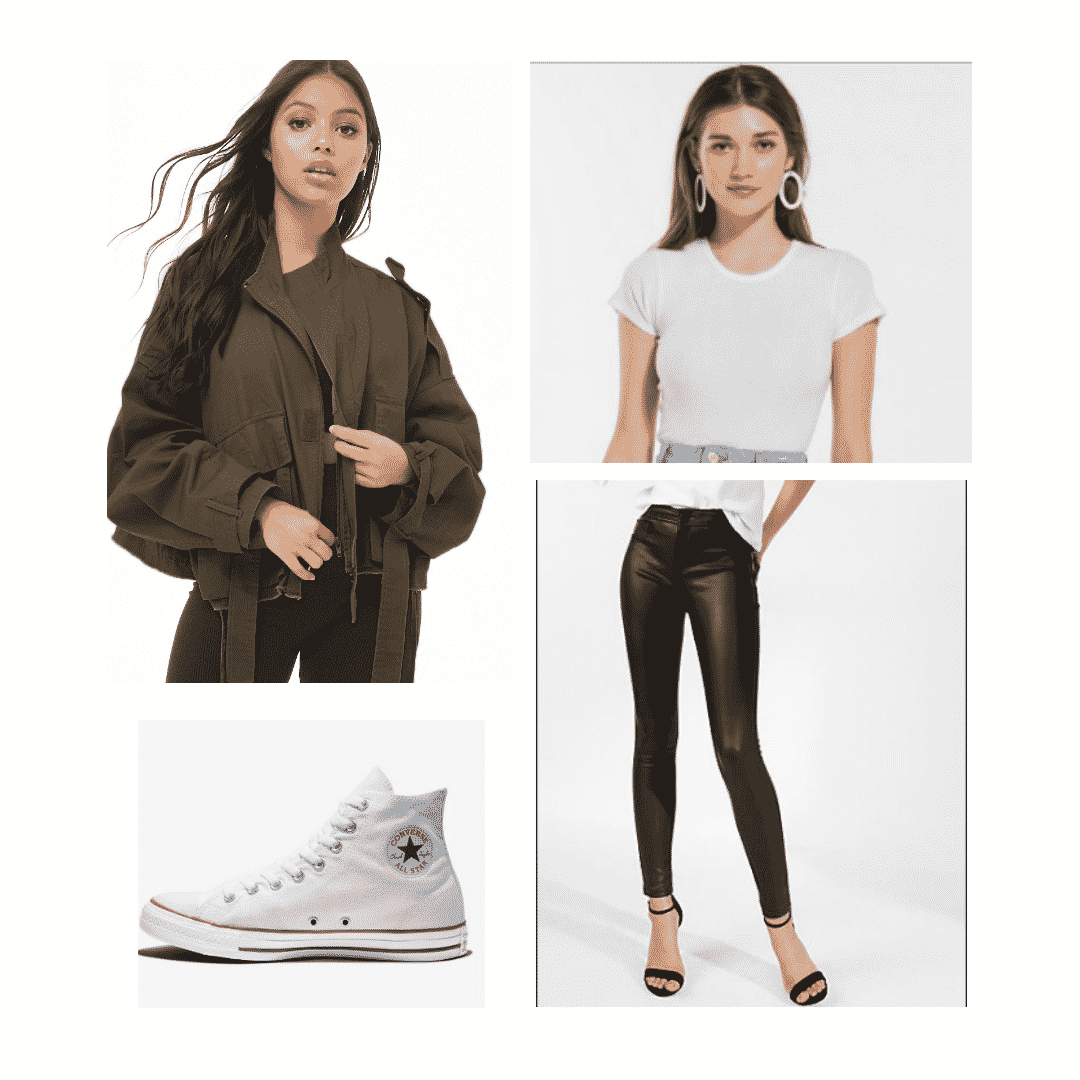 Products: Coat – Forever 21, T-Shirt – Urban Outfitters, Leggings – Express, Shoes – Converse 
Leather leggings are fun to pair your outfits with because they're SO versatile. If you're a casual gal who prefers your Converse over a pair of heeled booties, feel free to swap out your normal pair of black leggings for these fun, leather ones for a twist on a casual outfit. Not only do they dress up the outfit for you, you still get to be comfortable in your leggings. Now that's what I call a win-win scenario!
Related reading: What Shoes to Wear with Leather Pants: The Ultimate Guide
Ta-da! Here is my take on how to style leather leggings!
Do you like leather leggings? Are you wearing them on repeat this season? How would you style them? Let me know in the comments below!