This post breaks down the cottagecore aesthetic trend, with cottagecore clothing and outfit ideas for 2022.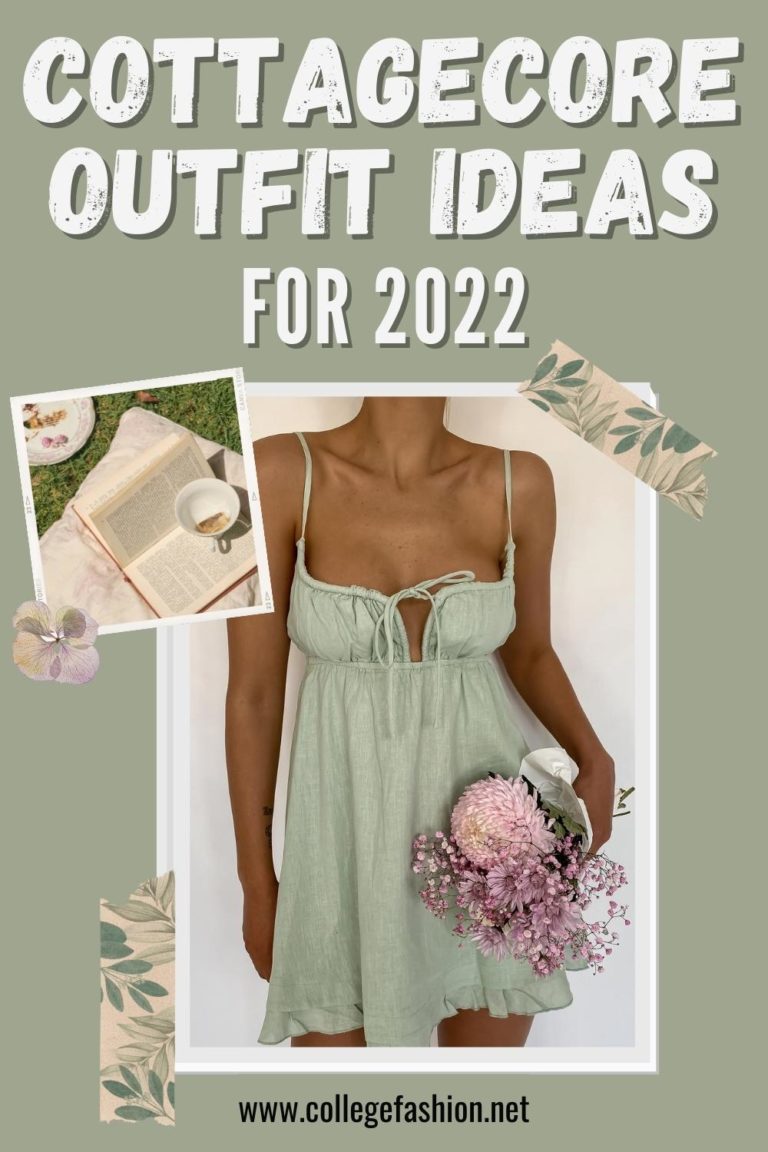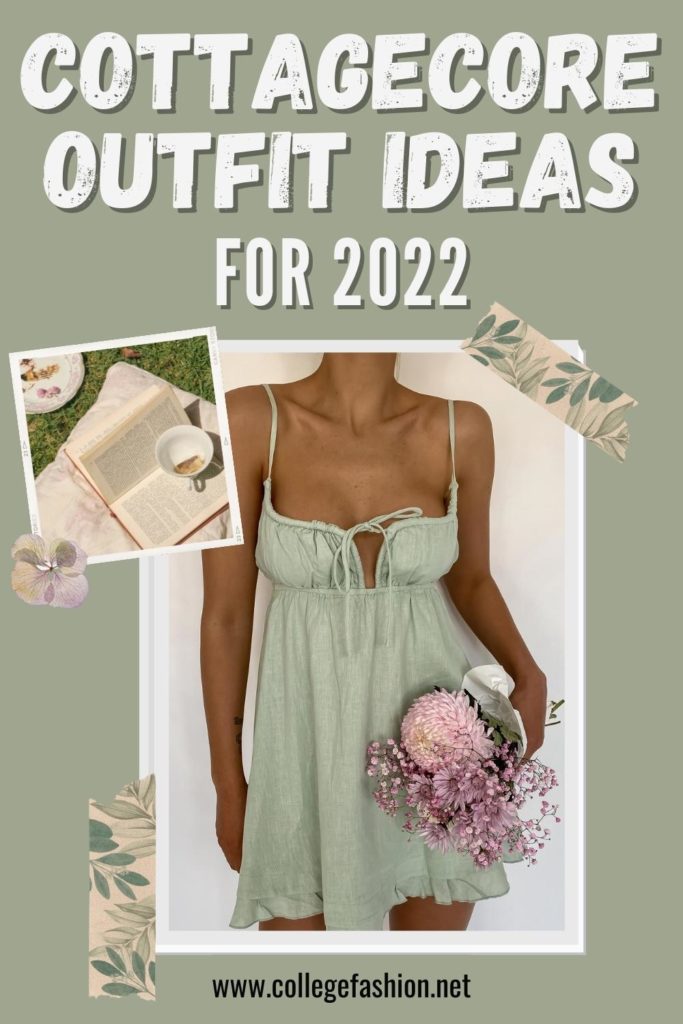 Cottagecore is still going strong, and for good reason. I mean, what's not to like about the idea of living in a cute cottage surrounded by beautiful nature, with a closet filled with whimsical, feminine pieces that make you feel like a modern-day Disney princess?
The cottagecore aesthetic is just as much a feeling as it is a fashion trend. It's charming, cozy, and romantic all at once, and is a way to transport yourself—through your clothing—to a different place and lifestyle (namely, a cozy cottage in the woods).
Of course, we have to note influences that have helped shape this aesthetic: Taylor Swift's folklore and evermore albums, Tumblr, and even Marie Antoinette, who had an entire rustic retreat built as her personal place of leisure to escape from palace life back in the day.
In many ways, cottagecore is about romanticizing your life, a concept that I can absolutely get behind. Even if you're not living the slow life in a quaint cabin, there's no reason you can't dress like you are—and perhaps even embrace some of the activities you'd imagine in your cottagecore dreamscape: have yourself a picnic, read a book outside, bake a loaf of bread (throwing it back to 2020), or take up knitting.
Integrating some comfort activities into your daily life is sure to help you decompress from the hustle and bustle and take pleasure in life's simple moments.
But let's get back to the fashion aspect of the cottagecore aesthetic. If you want to channel your inner cottagecore girlie, the best way to do it is by first using your imagination. Visualize yourself in an idyllic countryside, tending to your garden or frolicking in a field of wildflowers. What would you be wearing? Then, build an outfit from there, incorporating the following elements for your cottagecore look.
Related reading: The Ultimate Guide to the Romantic Academia Aesthetic
Elements of Cottagecore Dressing
Feminine and flowy silhouettes. There is a softness to this aesthetic that is feminine, dainty, and even downright ethereal. Go for flowy fabrics and silhouettes that feel romantic.
Vintage-inspired pieces. Nostalgia is a big part of this aesthetic, and there's no better way to convey that than through thrifted or vintage-inspired clothing. I'm not talking decades past, though—I'm talking about the 18th century. Corsets, puff sleeves, ruffled collars, lace and anything you think Marie Antoinette would approve of will work.
Floral and gingham prints. Since cottagecore has strong ties to nature, embody that with the prints you wear. Floral prints are a no-brainer, while gingham is reminiscent of the picnics you'd surely enjoy at your cottage.
Light and earthy tones. Opt for pieces that feature light colors or earthy hues like cream, sage green, light yellow, terra cotta, and taupe. Neutral tones help evoke the nature-loving cottagecore vibe; stay away from bold jewel tones or primary colors.
Textured accents. Be sure to incorporate textured accents and materials within your outfits like velvet, lace, knits, and crochet for a vintage, handcrafted effect.
Anything cozy. If you lived in a cottage, you'd likely want to curl up with a good book or get cozy by your fireplace… so use that as inspiration when you're getting dressed! Slouchy cardigan sweaters and crochet knitwear is a must, along with rustic fabrics.
Whimsical accessories. Think hair bows and printed hair scarves, straw basket bags, and cute jewelry like lockets, pendant necklaces, pearls, etc.
Cottagecore Outfit Ideas
Ready to try the trend out? These cottagecore outfit ideas are perfect for 2022, with budget-friendly fashion items to help you channel the aesthetic yourself.
Cottagecore Outfit #1
Lean into the cottagecore aesthetic with a darling gingham dress, ruffled ankle socks, and some Mary Janes. This feminine look will make you feel like a modern-day Disney princess, in the best way possible.
This sage green and white gingham print mini dress has all the feminine touches needed for a cottagecore vibe, including puff sleeves, knit jacquard fabric, and a bow tie at the neckline. Play up its girlishness with a satiny ivory hair bow barrette clip—BTW, hair bows happen to be a big trend this season, which is even more reason to accessorize with one!
Ruffles are a must, so don't forget some ruffled lace-trim crew socks to wear with a sweet pair of chalk white Mary Jane pumps featuring a short block heel. These shoes, complete with gold metallic accents, have a totally vintage look.
Complete the ensemble with fun jewelry like some adorable mushroom charm huggie hoop earrings (because surely these would grow outside of your cottage) and a cute faux pearl heart signet ring.
Cottagecore Outfit #2
For a more laid-back cottagecore look that you could totally wear to class, go for a tiered lace-trimmed maxi skirt in a flowy, woven material and a cute cardigan sweater. This cardigan has a short length (which pairs well with the high-waisted skirt) and features floral embroidery and patch pockets for major cottagecore vibes.
Keep the outfit casual with some white Converse Chuck Taylor All-Star high-top sneakers or clogs, like a comfy pair of Birkenstock Bostons.
This bronze-colored corduroy tote bag matches the cardigan to a T, while a faux pearl hair claw adds flair to your hair.
Cottagecore Outfit #3
Though dresses and skirts are at the forefront of cottagecore dressing, you can absolutely wear jeans and still channel the aesthetic.
But rather than baggy jeans, cargo jeans, or skinny jeans, opt for a vintage-inspired denim fit, like a pair of wide-leg jeans. These have lightweight, drapey denim fabric and a dark wash, so they fit the overall vibe and pair well with a puff sleeve lace-up corset top.
Printed headscarves are a must-have accessory for cottagecore dressing, and a floral print one would look adorable with this outfit, along with a dainty silver heart locket necklace.
Be sure to incorporate some natural materials within your outfit like some easy-going clogs with a wooden heel and a straw bucket bag, which will make you feel like going to pick flowers or collect vegetables from your (imaginary) garden.
Cottagecore Outfit #4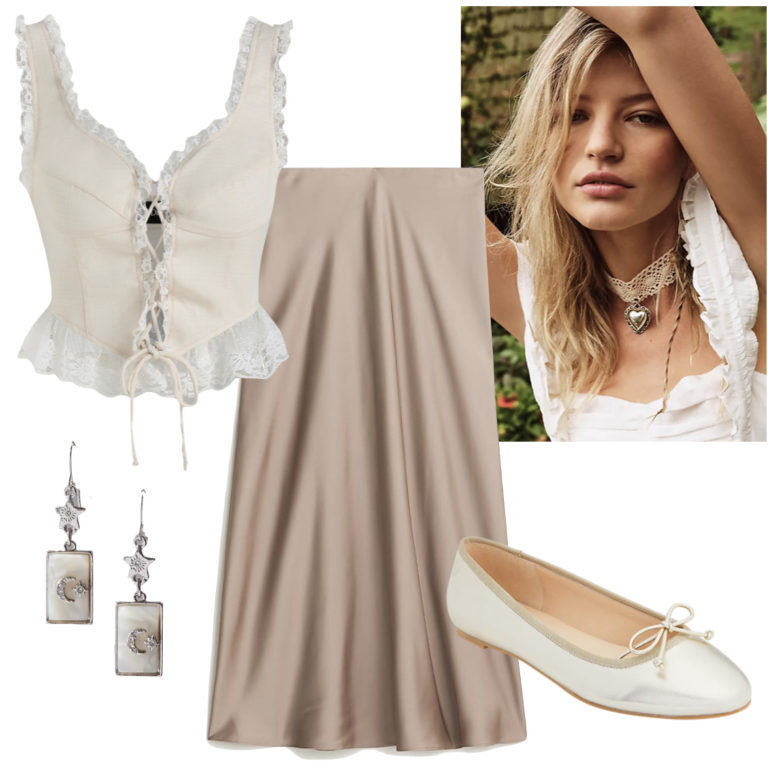 Products: Top, Skirt, Choker Necklace, Earrings, Flats
For a feminine, romantic cottagecore look, wear a silky slip midi skirt with a corset top. The flowy fabric and neutral hue of this slip skirt add to the vintage vibe of the lace-up corset top with dainty lace trimming that is reminiscent of times past.
Opt for jewelry with a whimsical aesthetic, like some celestial charm earrings and a wide crochet choker necklace with a dangling heirloom charm (a silver heart, because romance).
Ballet flats are the perfect shoe to bring the ensemble together, as they are on-trend this season, yet have a classically feminine feel with their grosgrain trim and skinny bow.
Cottagecore Outfit #5
This cottagecore outfit is all about whimsy, from the lace knee-high socks to the dainty floral mini dress to the butterfly stud earrings.
Start with a floral print button-front mini dress with puff sleeves and an exaggerated scalloped collar for an ultra-feminine look. A cropped knit cardigan with a crochet-like knit and delicate details like pearlescent buttons makes for a cute outer layer.
While you could wear casual sneakers or a prim pair of pumps, some bone-colored loafers with a contrasting lug sole add a modern touch to the outfit and keep it on-trend for 2022. Plus, they look adorable with the lace knee-high socks which feature floral motifs.
Accessorize with a satiny padded headband and some whimsical gold butterfly stud earrings as a nod to the woodland creatures.
Cottagecore Outfit #6
With autumn here, it's time to break out the cozy knitwear and transition your summer clothing for the fall. You don't have to store away your floral mini skirts just yet—style them with a cute cardigan and ankle booties for a fall cottagecore look.
This floral print smocked, tiered mini skirt has a flouncy silhouette and a rustic color palette that is giving fall foliage feels, especially when worn with a beige rib-knit cardigan with a relaxed fit.
Add in a few dainty gold items like a heart pendant necklace and this insanely cool metal butterfly claw clip that is both practical and whimsical at the same time.
Don't forget to throw in a few more ruffles with some ruffled crochet trim waffle socks which will make your ankle boots look feminine.
Cottagecore Outfit #7
Sage green and white are a cottagecore color combo you'll definitely want to embrace if you're giving this aesthetic a try.
Couldn't you see yourself frolicking in a field of flowers in this ruffled tiered maxi skirt with crinkled georgette fabric in the shade "cottage garden"? Proof that this piece is meant for this aesthetic.
Pair it with a delicate top featuring a drama collar like this button-front puff sleeve top, which also has sweet eyelet lace detailing.
Some white cowboy ankle booties with an almond toe are right on trend for the season, or you could opt for some casual sneakers instead.
Complete the ensemble with a matching velvet bow hair elastic and some adorable (yet subtle) flower and pearl stud earrings.
Cottagecore Outfit #8
Earthy tones like rust and clay are another cottagecore must, and this puff sleeve dress with a smocked bodice fits the bill. You can either dress it up or give it a more laid-back look by wearing it with some neutral, printed sneakers like a pair of Vans Sk8-hi canvas kicks.
Make the outfit fall-ready with a cozy beige cardigan sweater, and accessorize with some rings like these semi-precious stone rings which come in a set and have a worn gold effect for a vintage vibe.
For a final feminine touch, wear a cute plaid satin hair bow barrette in a matching color scheme.
Cottagecore Clothing Under $100
Looking for more cottagecore clothing items to add to your wardrobe? These pieces will help you nail the aesthetic in a sweet, stylish way—without breaking the bank.
Floral Lace-Up Corset Mini Dress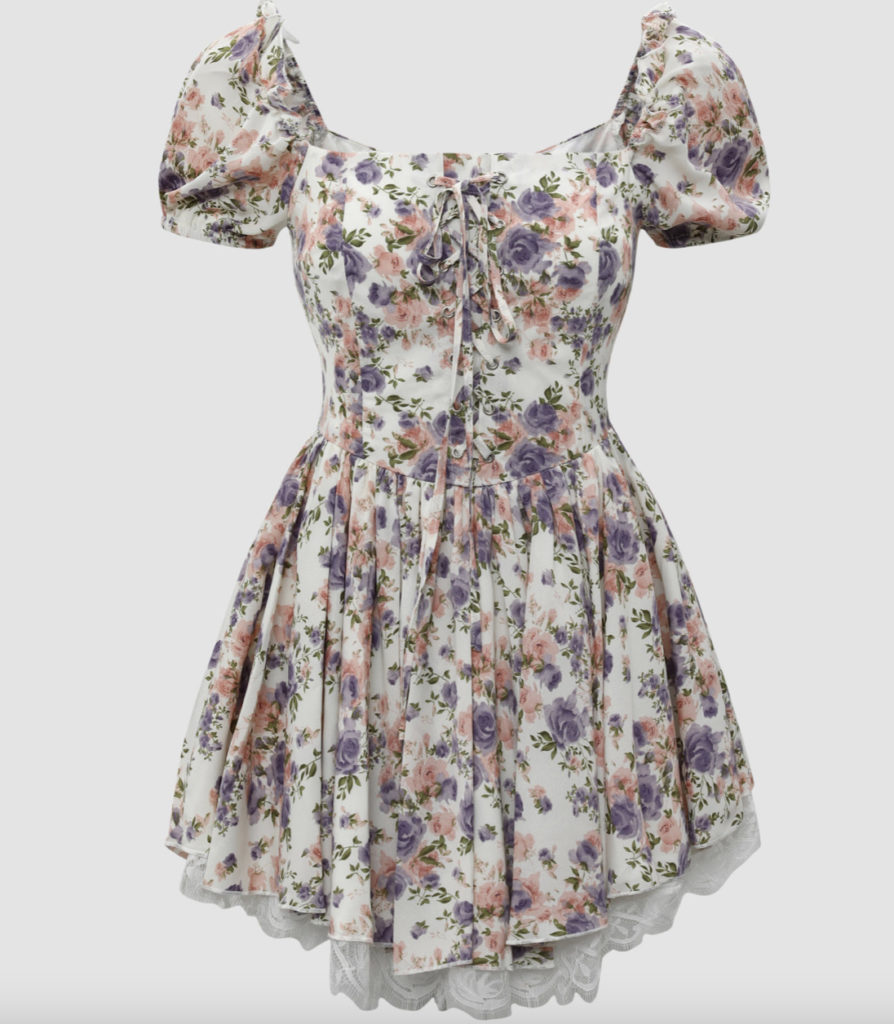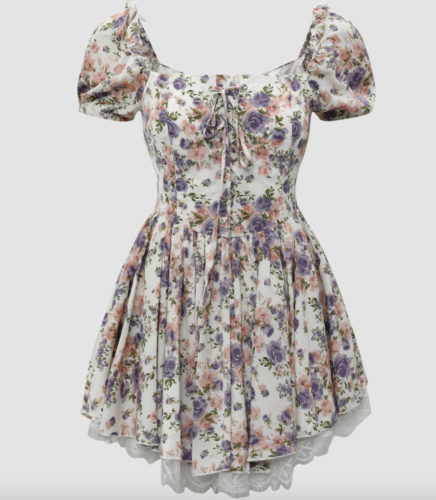 Slip this corset-style mini dress on and you just might have the urge to frolic in a flower field or talk to forest animals… and I wouldn't judge you for it. It's practically made for a modern-day Snow White or Belle, but without looking like a Halloween costume. Delicate lace trim peeks out from underneath, while a lace-up front and fitted bodice creates a flattering fit.
Rustic Sage Mini Dress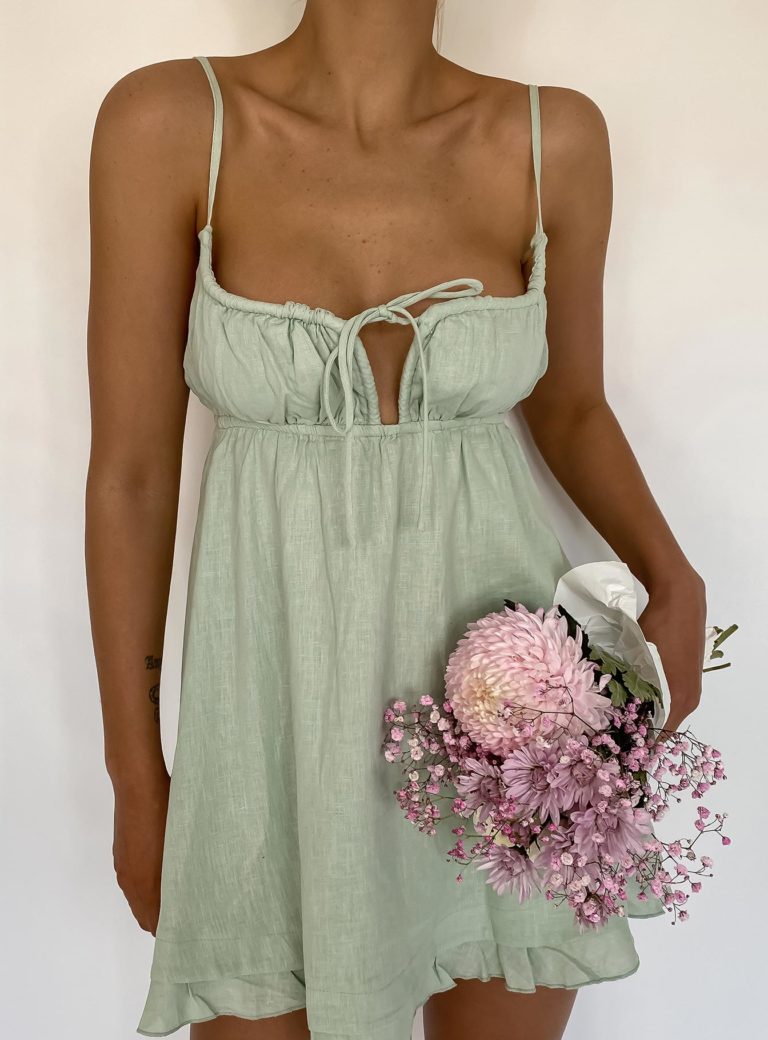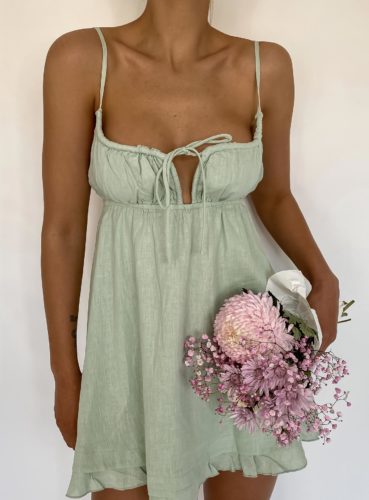 Sage hue? Check. Rustic fabric? Check. Feminine silhouette? Check. This ruffle-trimmed mini dress checks all of the cottagecore boxes!
Its linen blend fabric gives it a rustic effect that contrasts with its feminine silhouette for a look that will make you want to have yourself a picnic.
Topstitched Ruffled Dress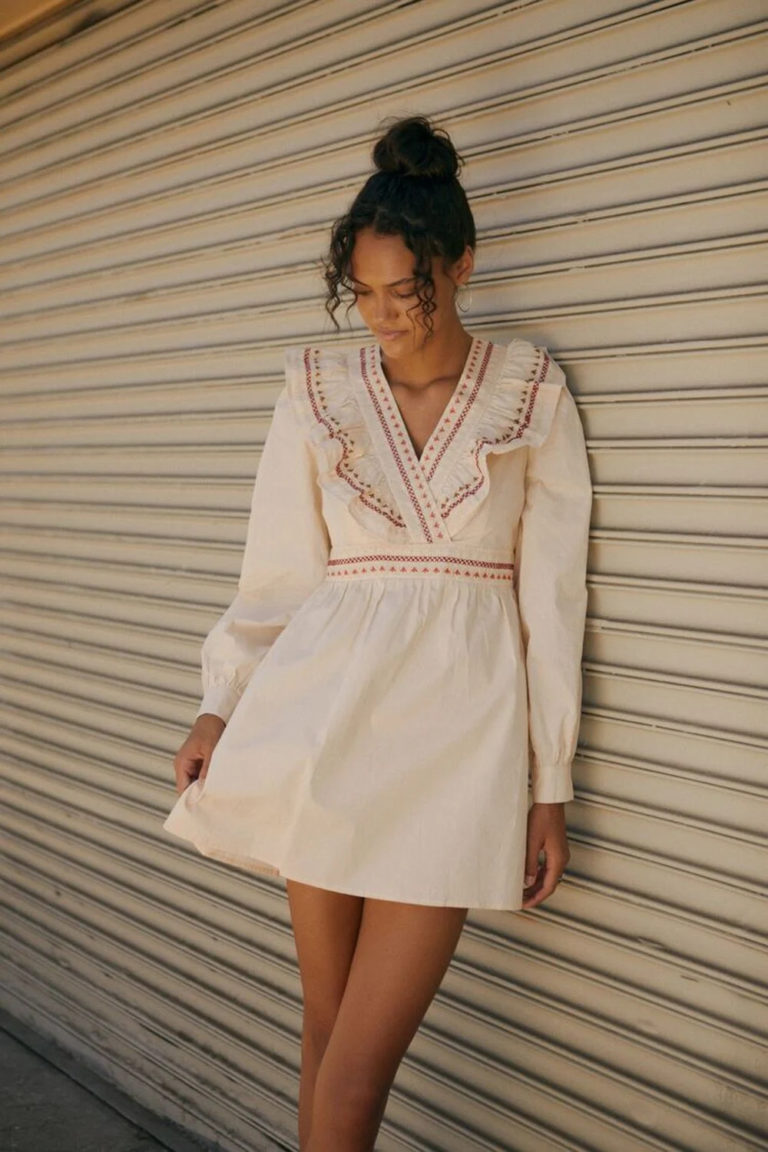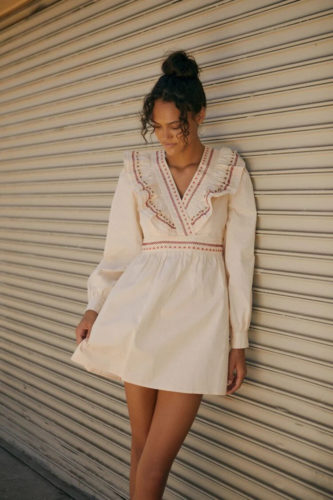 Ruffle trimming and topstitched detailing make this mini dress a cottagecore must-have. The topstitching gives the dress a hand-sewn look and has a similar look to needlepoint, which is a comfort activity for many cottagecore enthusiasts.
Printed Corset Top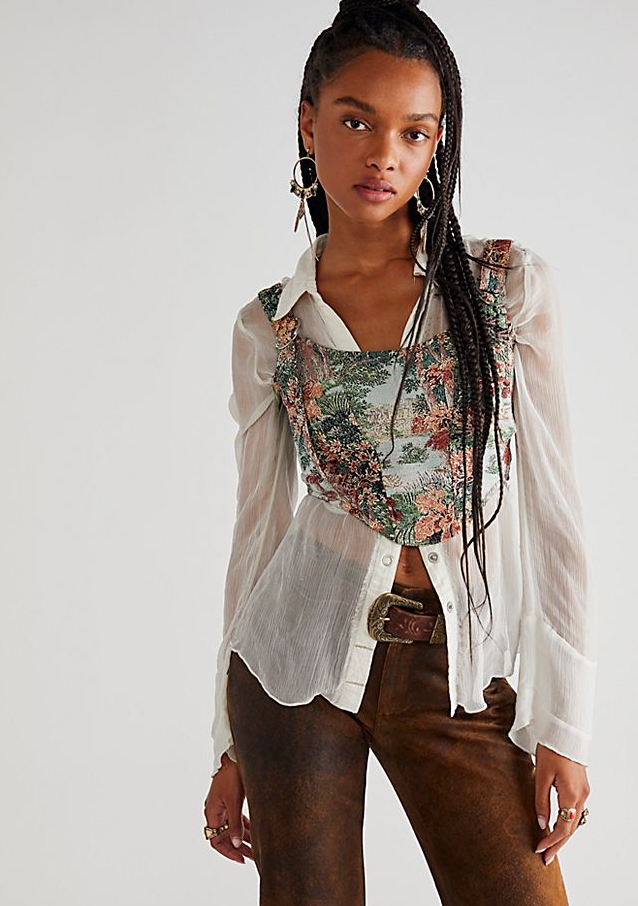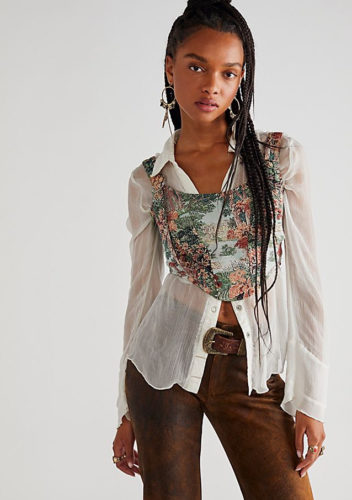 Go for a vintage-inspired look—don't forget that Victorian Era fashion has a big influence on cottagecore—with a printed corset top. This one has florals and rustic scenery in its tapestry-like print, making it an ideal choice.
Gingham Midi Skirt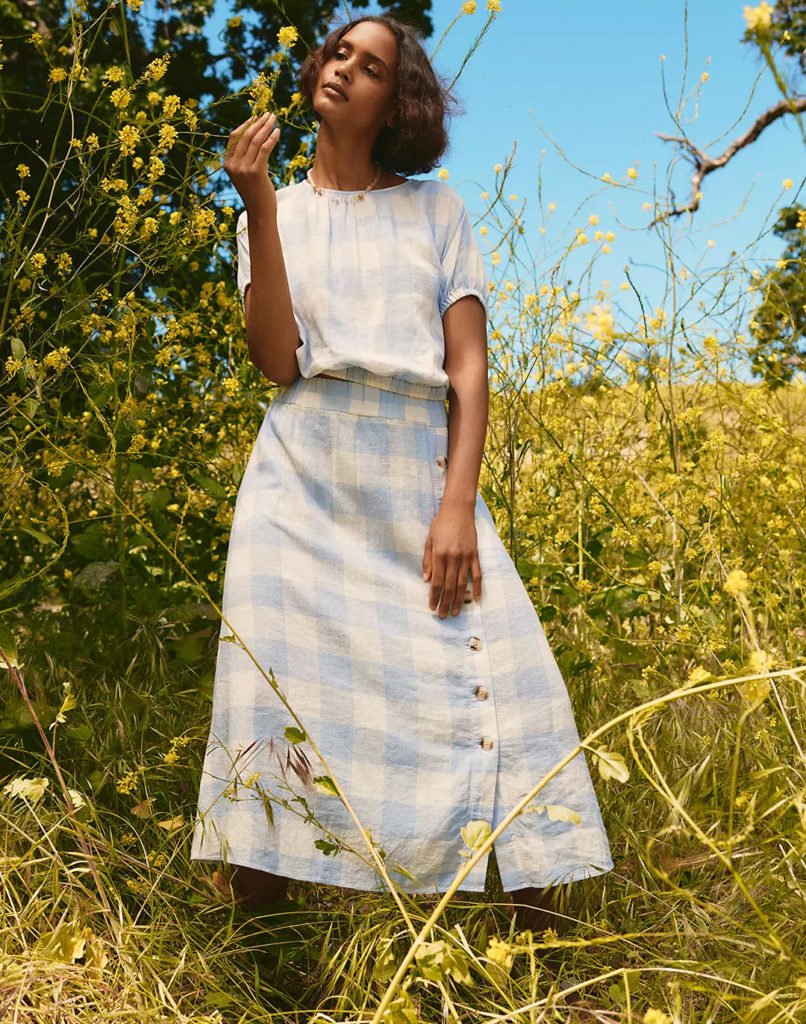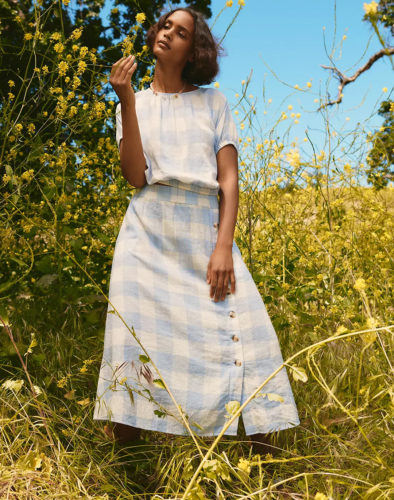 As I mentioned before, gingham is a key print when it comes to cottagecore dressing. This gingham print midi skirt with decorative buttons is made from an airy linen material that gives it a natural, rustic feel. You can wear this piece with sandals, clogs, and sneakers alike.
Gingham Bow-Front Midi Dress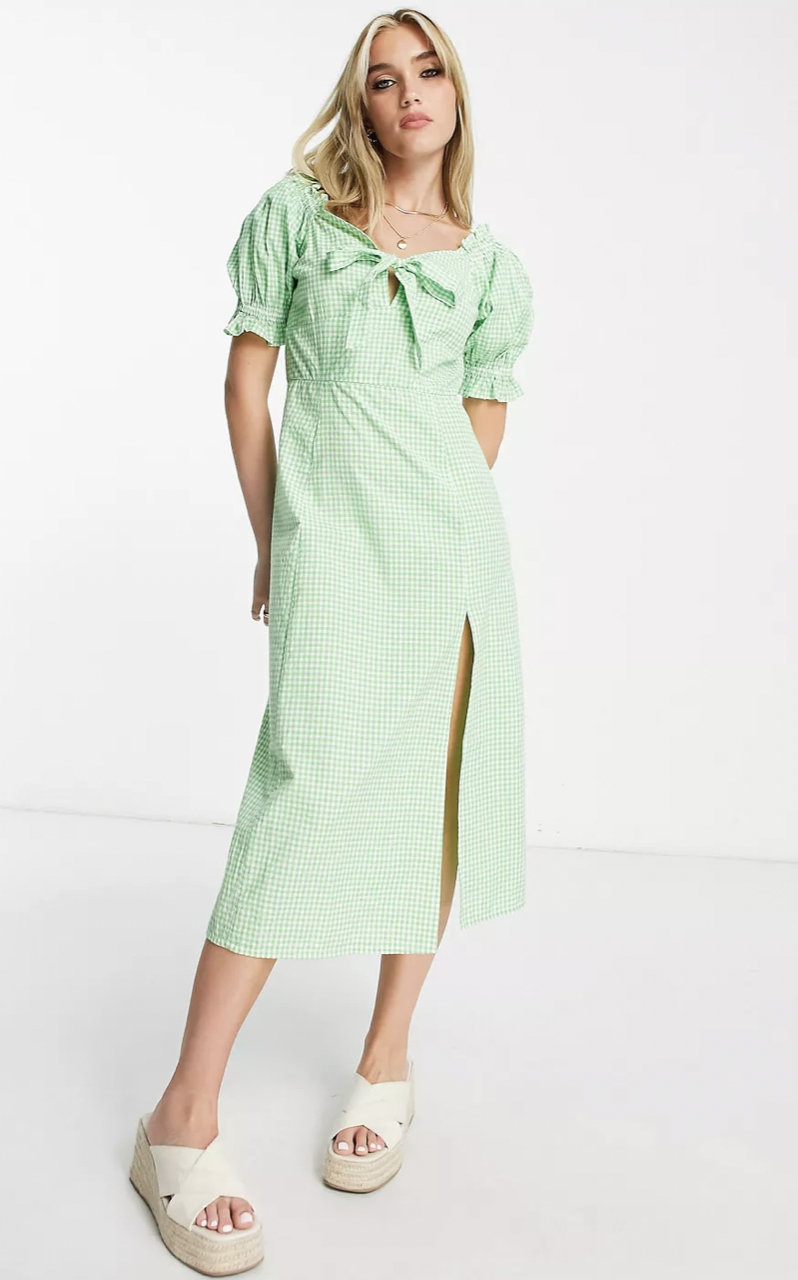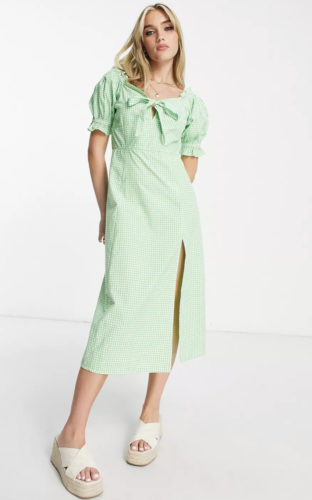 If this green and white gingham print midi dress with a bow front and puff sleeves doesn't say cottagecore, I don't know what does! Its ultra-feminine silhouette has a retro feel with a hint of flirty thanks to its slit up the front.
Knit Cardigan with Jewel Buttons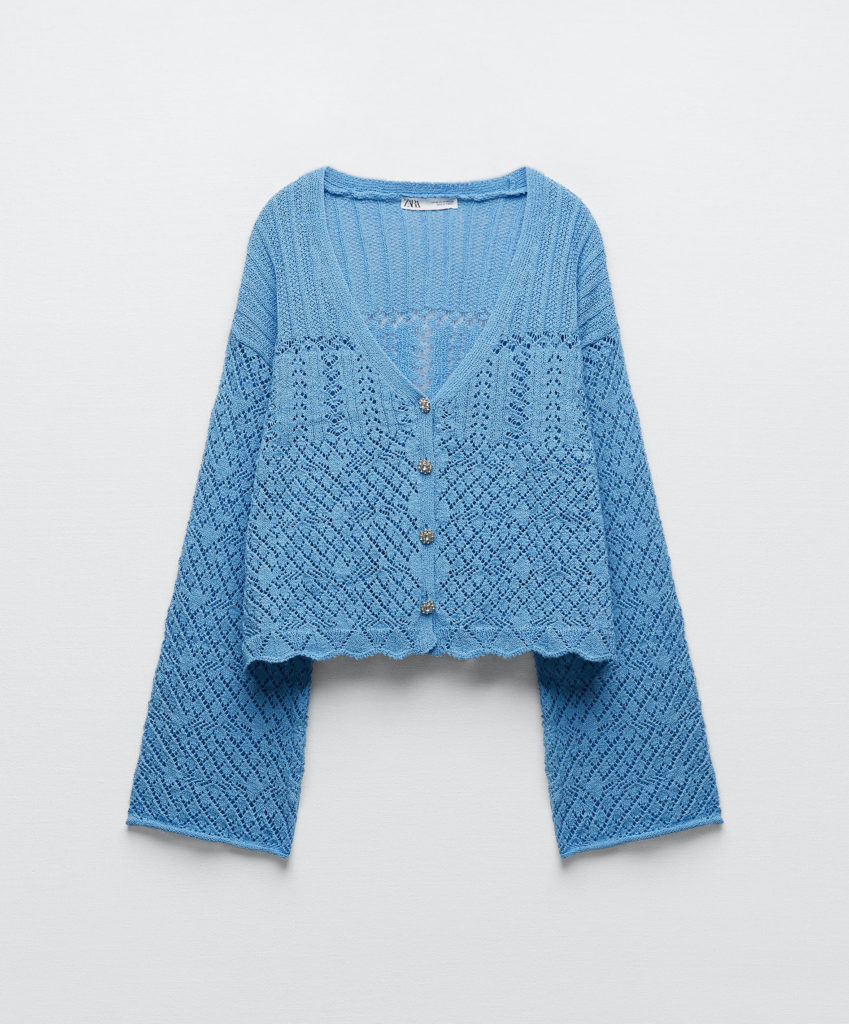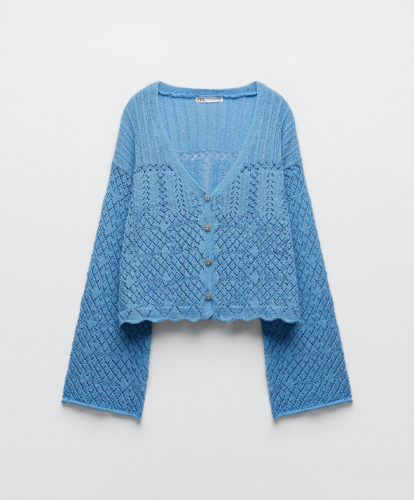 Knitwear, especially crochet, plays into cottagecore's "maybe I knit this myself" vibe, which is very much the look you'll want to convey.
This fun cardigan with a crochet-style knit design is portraying just that, save for its glam jewel buttons (which add to its eclectic look).
Floral Babydoll Midi Dress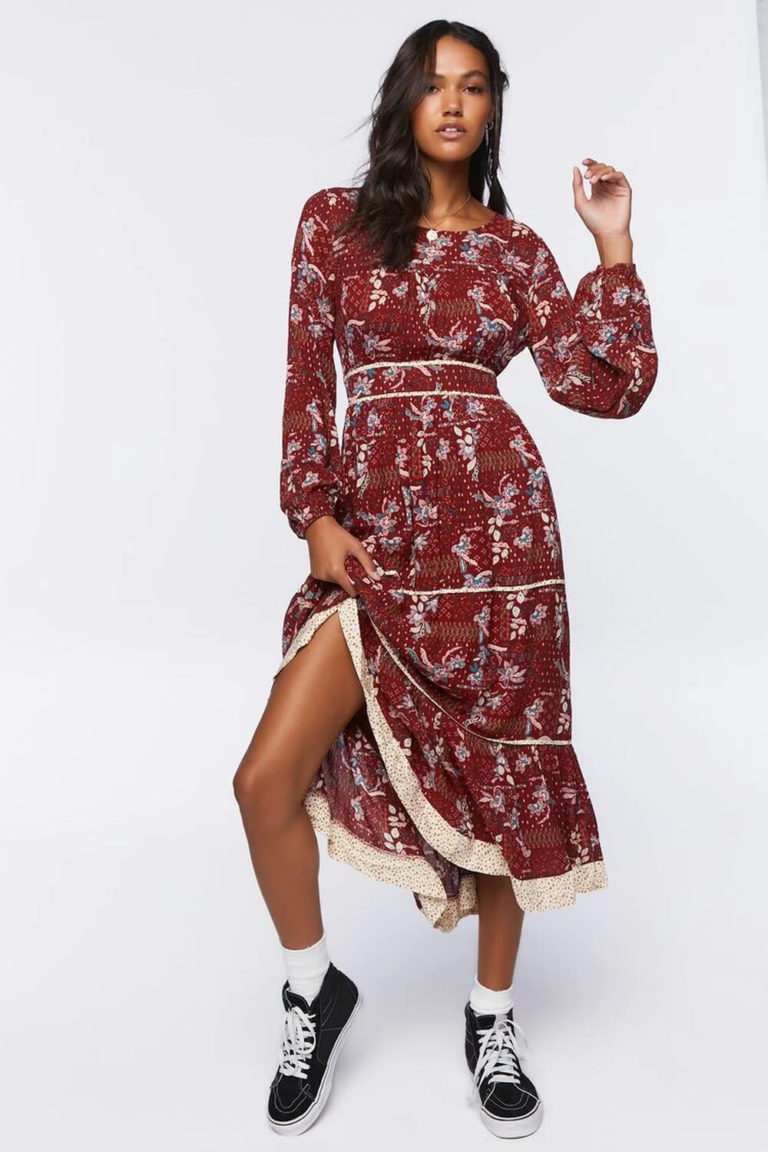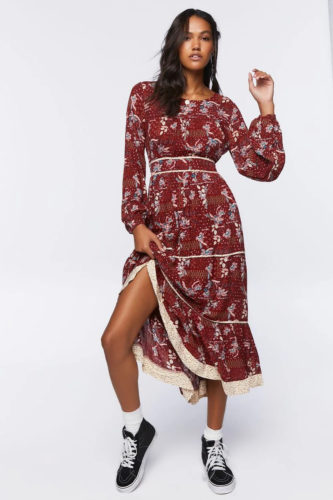 This floral print babydoll midi dress is the perfect way to do cottagecore in the fall. Its darker yet still earthy color palette, along with its peasant sleeves, floral print, and tiered construction make it an essential piece in your wardrobe. Wear it with sneakers, ankle booties, or even knee-high cowboy boots for an on-trend look.
Puff Sleeve Crop Top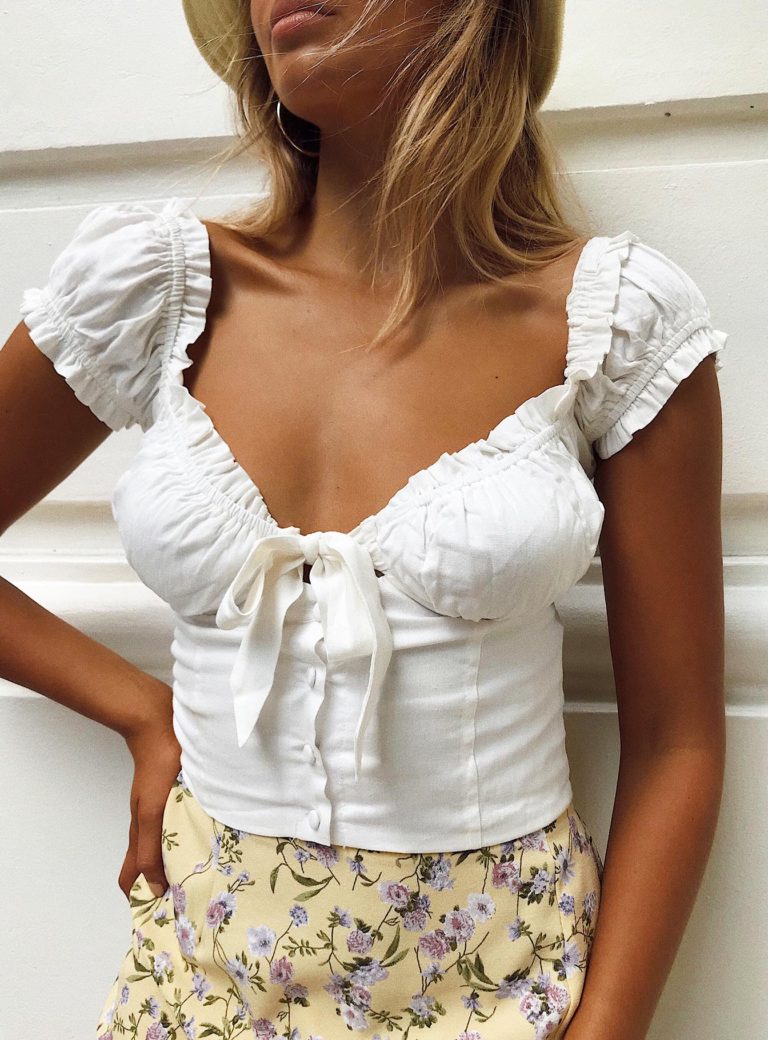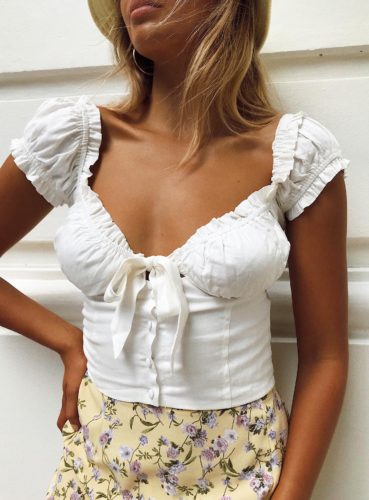 This bustier-inspired crop top has a fitted bodice and feminine details like ruffle trim, puff sleeves, and a bow tie front. It would look so cute with floral print skirts or wide-leg jeans; just be sure to accessorize with some whimsical items like a pretty hair bow and pendant necklace.
Floral Smocked Puff Sleeve Maxi Dress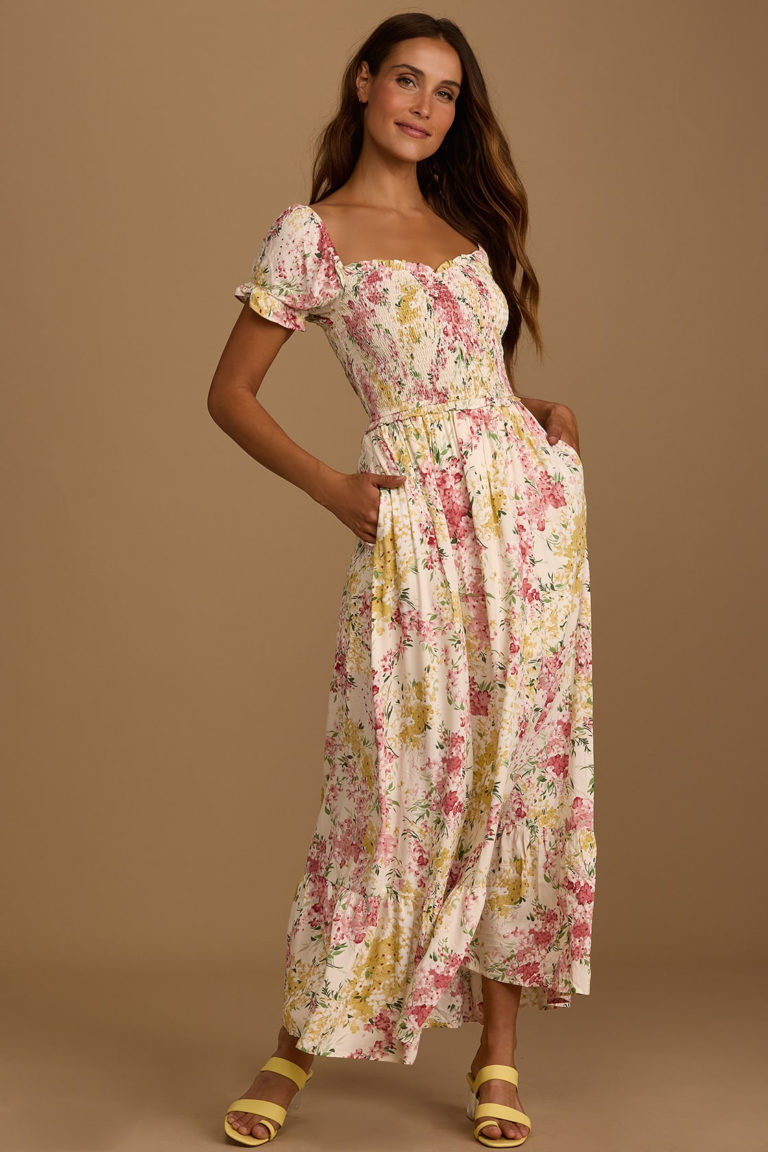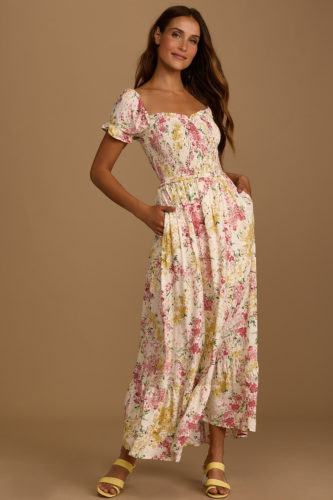 If you want to partake in the cottagecore trend, you're going to need a feminine floral dress… or two, or three. This adorable floral print maxi dress features puff sleeves (which can be worn on or off the shoulder), a smocked bodice, and even pockets (score!). With its flowy silhouette—thanks to its lightweight woven fabrication— this dress will be a breeze to frolic in.
Gingham Lace-Up Corset Top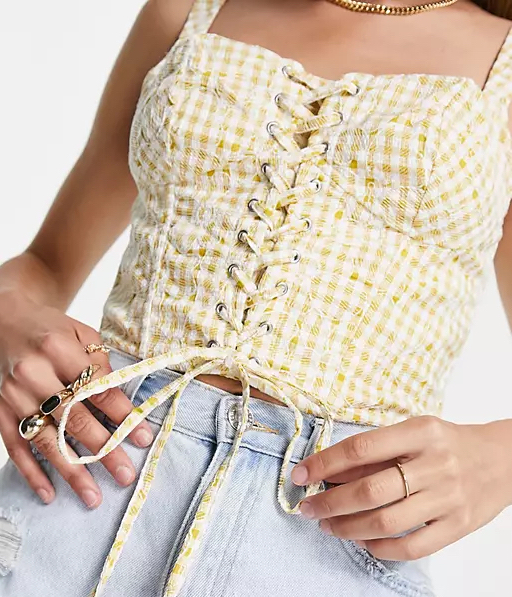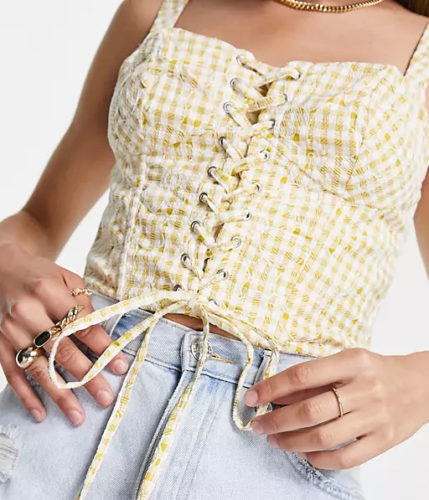 This corset top has all the makings of the perfect cottagecore piece with its yellow and white gingham print and floral overlay (yes, it has both!), and lace-up design. Style it with a ruffled skirt for an extra femme look, or go with wide-leg denim for a more laid-back look.
Floral Embroidered Knit Sweater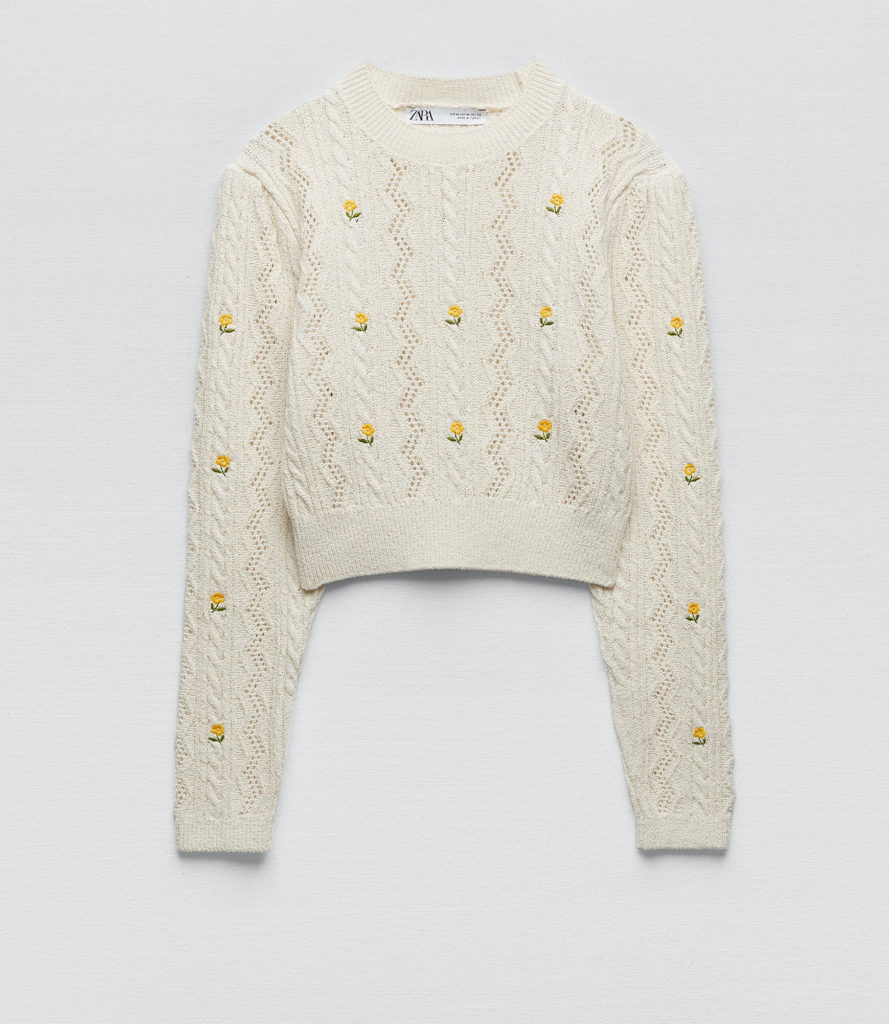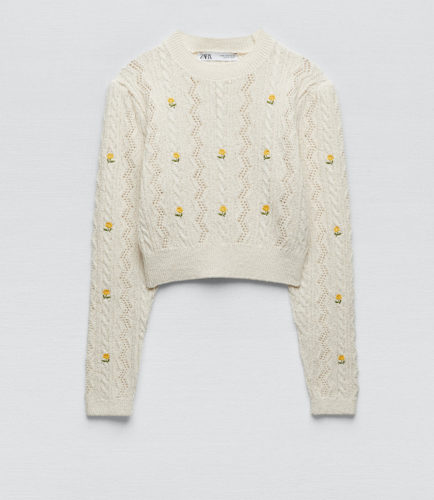 This cropped knit sweater features delicate floral print embroidery for a sweet, homespun touch, along with a partially open-knit design.
There are so many ways to style this piece, from denim to skirts, and even worn over dresses.
Mushroom Sweater Vest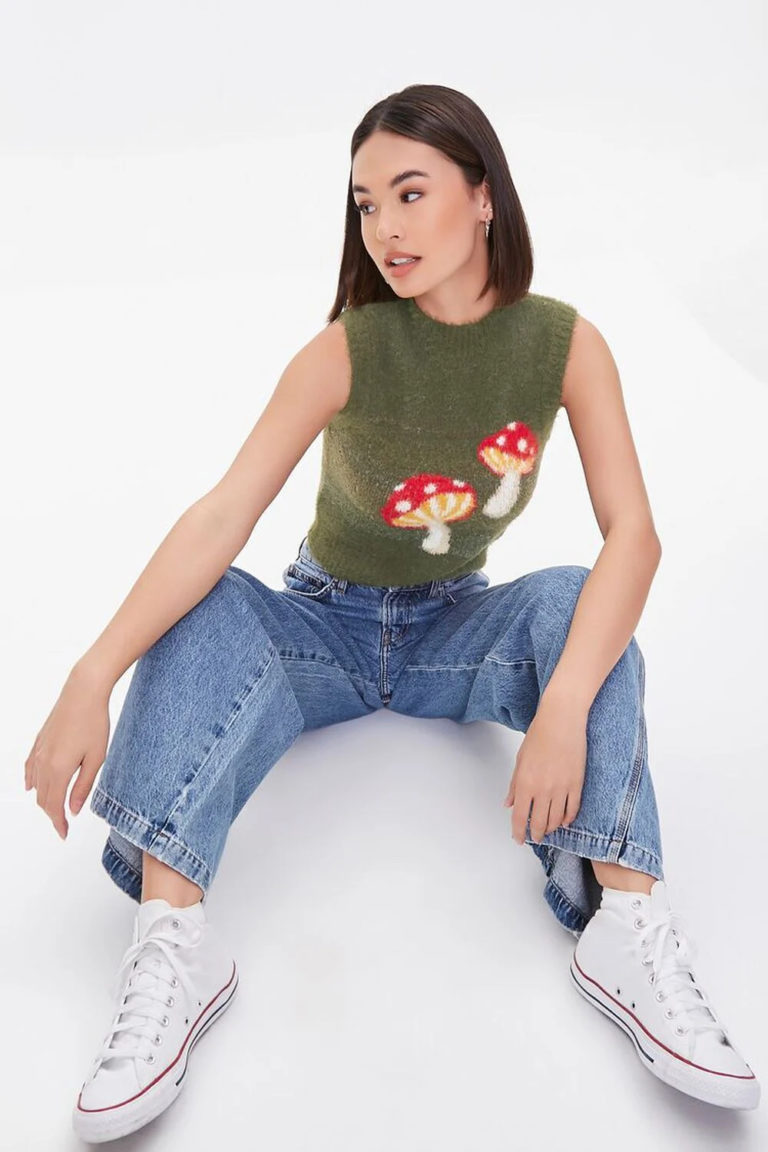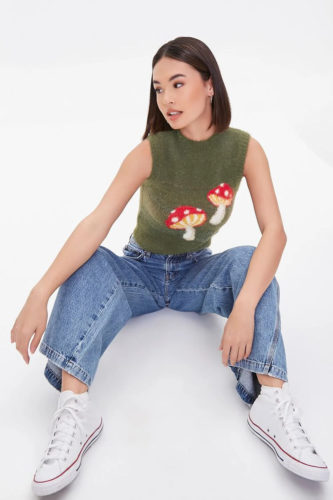 Gingham and florals aren't the only cottagecore prints to choose from: any prints that feature nature or animals (the kind you'd find in a forest, not a jungle, though) is game. With that being said, how cute is this mushroom print fuzzy sweater vest? It's giving major cottagecore vibes and is perfect for the fall.
What do you think of our cottagecore aesthetic guide?
Would you wear this trend? Which outfit is your favorite? Leave a comment and let us know!