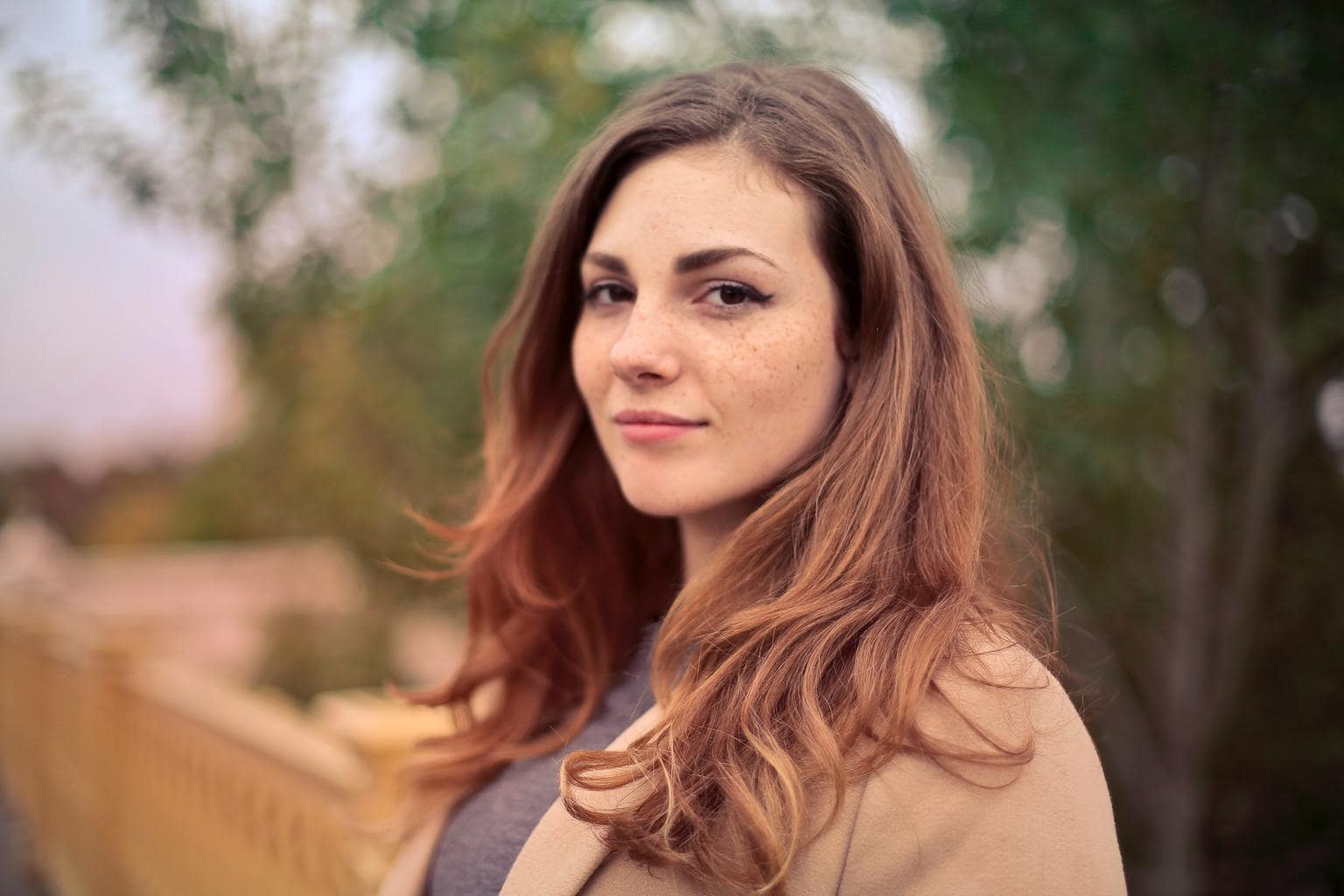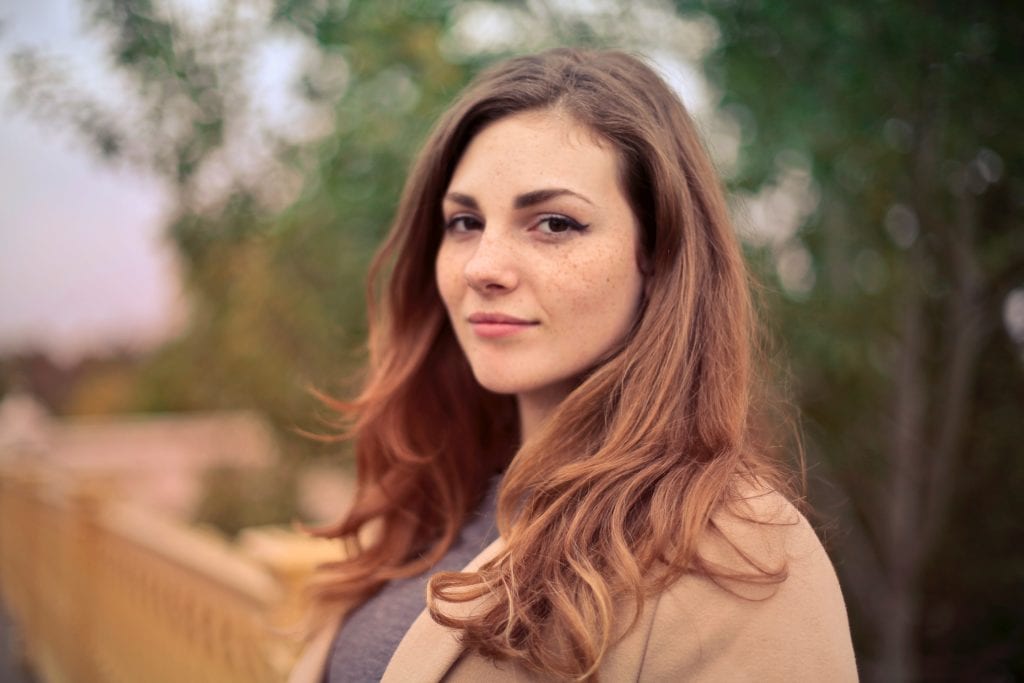 If you have a job or internship, you may have encountered Casual Fridays, AKA the one day of the week when it's acceptable to wear something more laid-back than usual.
While the concept of Casual Fridays sounds simple, in reality, it feels like yet another way for workplace dress codes to confuse us.
So, what does casual Friday dress entail? It depends, honestly.
The best resource for this would be your company's employee handbook or dress code, which should list what is and is not allowed on casual Friday. Another good resource would be your team leader, who can probably give you details on what they expect of you.
Also, if you're at a new job, it never hurts to abstain for a week or two and observe how your peers interpret the dress code. This will give you an idea of what flies, what doesn't, and how that can translate to your wardrobe and personal style.
Need examples, though? We've got you covered.
Below, we've put together six Casual Friday outfits — three styled with a more formal workplace dress code in mind, and three geared towards a more casual workplace dress code. Plus, we've got some tips on what to wear to make getting dressed for Casual Fridays a snap!
To see the looks, all you have to do is keep scrolling.
Casual Friday Outfits for Formal Work Environments:
First, I'll show you three casual Friday outfits for formal workplaces, each with its own vibe and feel.
Outfit #1: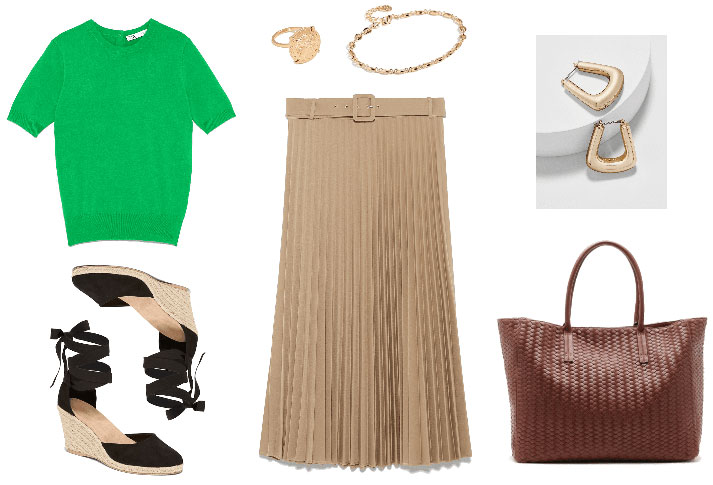 Products: Short-Sleeved Sweater – Zara, Espadrilles – Old Navy, Ring – Shopbop, Bracelet – Shopbop, Skirt – Zara, Earrings – BaubleBar, Tote – Sole Society
In another life, this outfit could pass for business formal. (Just swap the espadrilles for mid-height heels, add a blazer, and switch the jewelry for more low-key pieces.)
However, as it is styled here, it falls somewhere in between business casual and business formal. This makes it a safe look for workplaces that are fairly up-tight about their dress code.
It's easy to copy this look for yourself. Just tuck a brightly colored short-sleeved sweater into a classy pleated midi skirt; then, tie on a pair of summer-y espadrille wedges.
For jewelry, go with a few bolder pieces, like thick hoop earrings, a chain bracelet, and a coin ring to jazz up the solid colors of the clothes.
Finally, add a sophisticated woven tote to pull this feminine and elegant look together.
Outfit #2: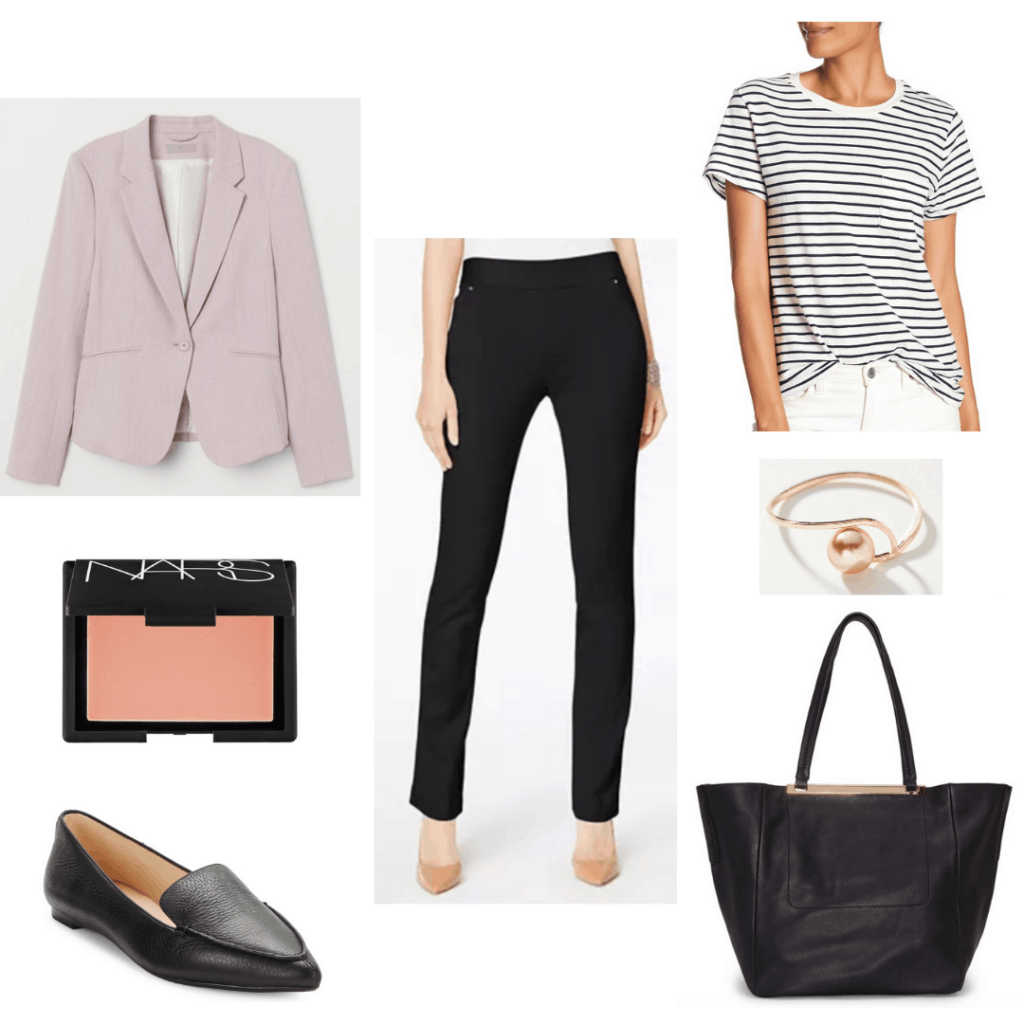 Products: Blazer – H&M, Ring – Anthropologie, Bag – Saks Off Fifth, Tee – Nordstrom Rack, Pants – Macy's, Blush – Sephora, Loafers – Saks Off Fifth
Even the most conservative offices may have a casual Friday policy, and depending on what is and is not allowed by your company's dress code, this one can be the toughest to nail.
A good rule of thumb for stricter dress codes is to swap out one component of your normal work uniform for a more casual (but still polished) piece, like the striped tee shown above.
A striped tee normally is more of a boozy brunch staple than a workwear piece, but when paired with tailored cropped pants in a conservative color and a feminine but structured blazer, the striped tee takes on a cool, creative editor vibe.
Add some luxe-looking accessories, like a textured leather bag and a pair of patent leather oxfords, and you've got a look that says, I'm a casual ladyboss, nbd.
Outfit #3: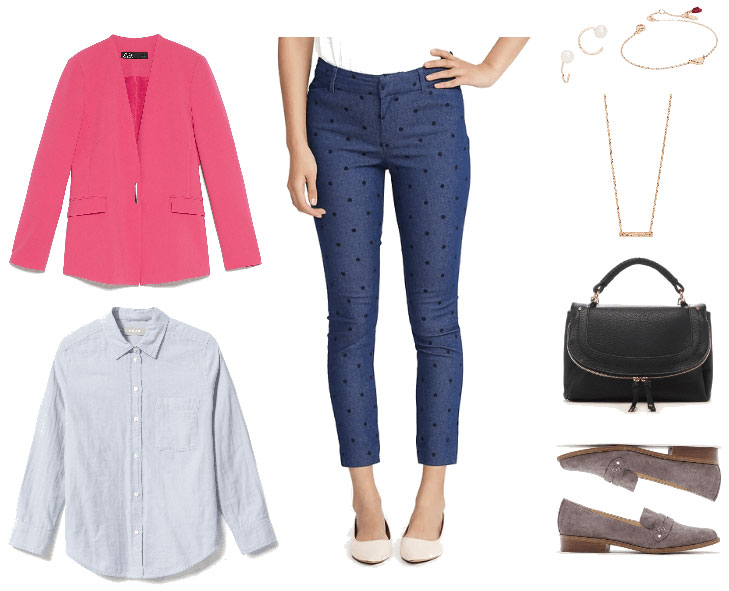 Products: Blazer – Zara (Similar here in more sizes), Button-Up – Everlane, Pants – Old Navy, Earrings – Shopbop, Bracelet – Shopbop, Necklace – Shopbop, Bag – Sole Society, Loafers – Sole Society
In a fancier workplace environment (e.g. business formal), Casual Fridays aren't casual, per se — but they are less done-up, if that makes sense.
That's why I chose a look that falls under the realm of business casual. Think button-up shirts, chinos, midi dresses or skirts, and cardigans and blazers in neutral shades or brights.
Here, I've put together a playful-yet-professional outfit, proof that Casual Friday wear isn't limited to khakis and a shapeless top. In fact, it's totally okay to turn up the fun factor a little, as long as your look isn't too crazy.
To get this look, begin by styling a simple, solid-colored button-up shirt with a cute pair of polka-dotted cropped pants. I like the monochromatic color scheme on these; it makes them easy to pair with a variety of different colored tops.
Next, throw on a bright pink blazer with an interesting closure for a break from the neutral ones you typically see.
For a subtle hint of sparkle, add some delicate jewelry, like these cool pearl on-the-ear hoops, sweet heart bracelet, and classic textured bar necklace.
Finally, slip on a pair of mauve-ish gray loafers and grab a timeless black bag, and you've got yourself a put-together look with plenty of personality!
Casual Friday Outfits for Laid-Back Workplaces:
If your workplace is a little more on the relaxed side, it's even easier to dress for Casual Friday. Below are three outfits to get your ideas going.
Outfit #4: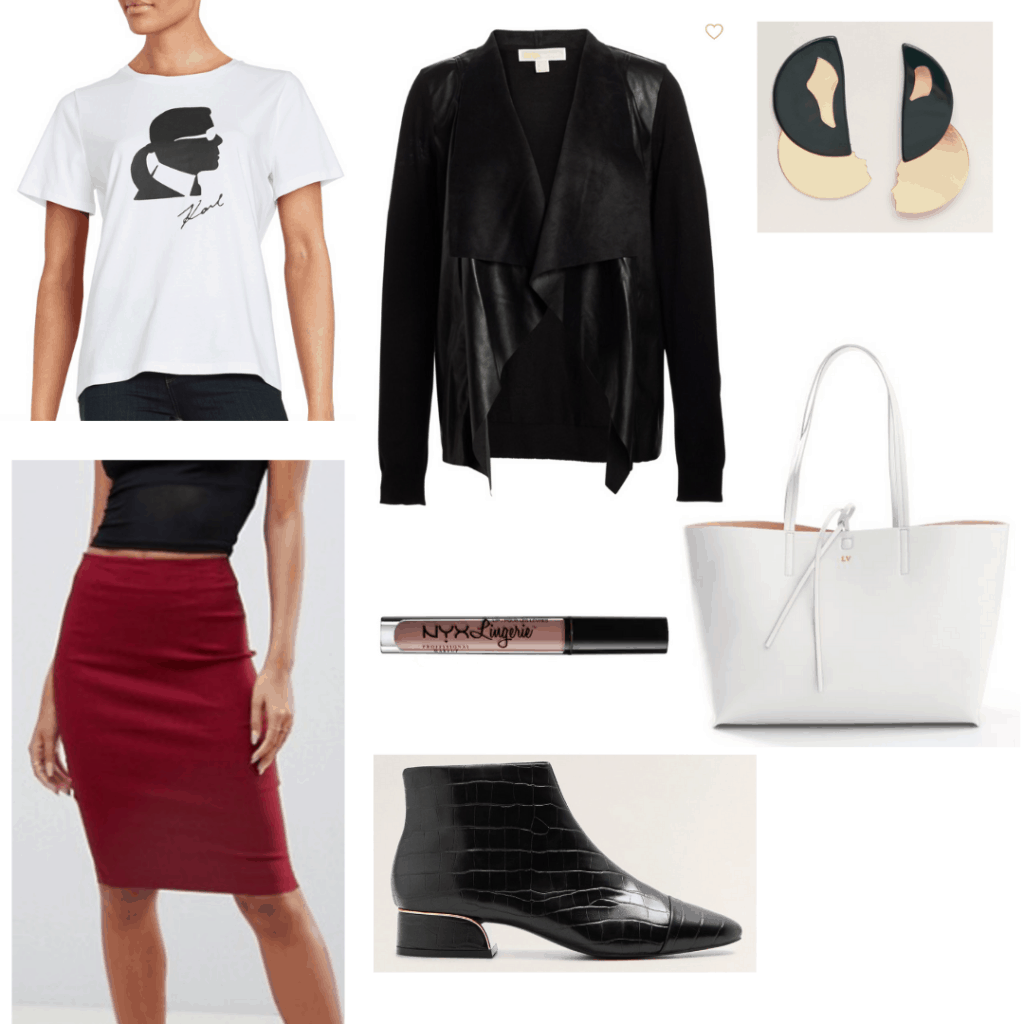 Products: Tee – Lord & Taylor, Cardigan – Saks Fifth Avenue, Skirt – ASOS, Lipstick – NYX, Booties – Mango, Earrings – Mango, Tote – Mark & Graham
Creative offices generally have a more lax dress code than their conservative counterparts, but the expectations are higher than that of casual offices.
That being said, you are probably more likely to get away with trendier or edgier pieces in a creative office as long as they are appropriate and modest – meaning you can try something bold like flashy statement earrings or a cute (but tame!) graphic tee. Just make sure you don't have any important client meetings that day!
I especially love the look of regular workwear like a textured pencil skirt and cardigan paired with a statement tee. When paired with a couple of structured accessories and choice beauty items, you have a look that won't look out of place in an office or on a fashion blog.
Outfit #5: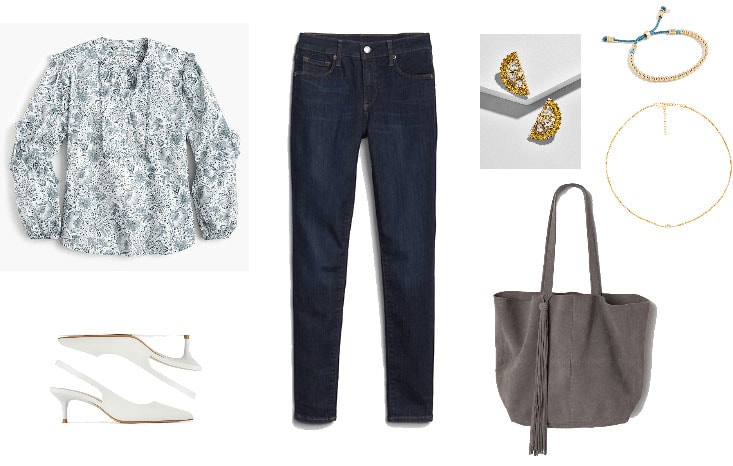 Products: Blouse – J.Crew, Heels – Zara, Jeans – Gap, Earrings – BaubleBar, Bracelet – Shopbop, Necklace – Revolve, Tote – H&M
If you work for a company that already has a pretty lax dress code, e.g. business casual, you can afford to take it easy on Casual Friday and wear something comfortable and casual. Just be sure, once again, that your outfit follows the rules of your workplace. (So if there's a no-ripped-jeans rule, for example, then don't take Casual Friday as an opportunity to try them.)
Also, whatever you do, be careful not to go too casual–remember, you're still going to work, so whatever you pick should still read as professional.
Personally, I think that a good Casual Friday outfit formula for business casual workplaces is nice top + dark-wash jeans + flats/kitten heels. (Again, make sure that this fits in with the culture of your workplace and adjust accordingly if needed.) I followed this for Outfit #3.
To begin, style a flowy floral-print top with basic, dark-wash skinny jeans.
After that, put on a pair of trendy white slingback kitten heels. Accessorize with lemon-shaped stud earrings, a beaded adjustable bracelet, and a subtly sparkly choker necklace.
Complete the look by grabbing a boho-chic tote with a cute tassel detail, and you're all set!
Outfit #6: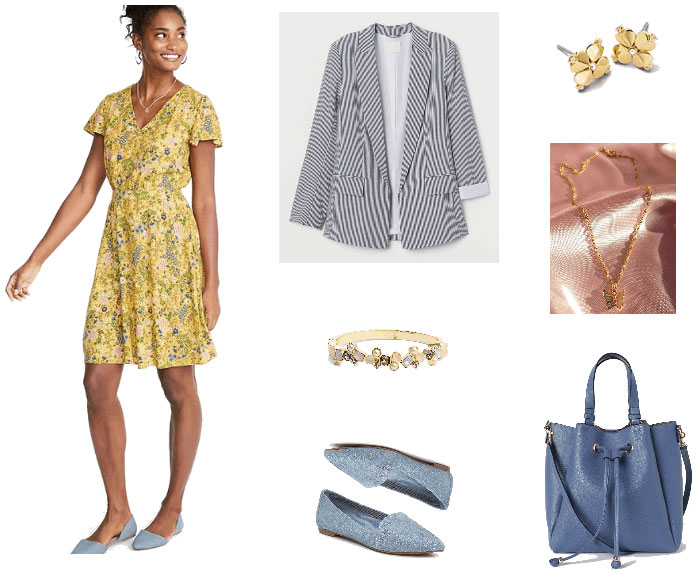 Products: Dress – Old Navy, Blazer – H&M, Bracelet – Nordstrom, Loafers – DSW, Earrings – Kate Spade, Necklace – Frasier Sterling, Bag – H&M
For the final look, we have something that is both girly and professional — because who says you can't show off your feminine side and be taken seriously at work?
All you need to get this pretty and put-together ensemble is a cheerful, floral-print dress that falls to the knee, as well as a striped blazer to add structure and visual interest to the look.
In keeping with the blue-and-yellow color scheme, add a pair of pale blue pointed-toe loafers and a large blue bucket bag. These are not only super-stylish, but also versatile enough to wear with many different work looks.
As for jewelry, a delicate gold butterfly choker necklace and flower stud earrings keep with the ensemble's garden theme without going over the top. A pretty bangle featuring multiple kinds of stones finishes off the outfit.
What do you think?
Does your workplace have Casual Fridays? If so, how do you dress for them? Which of these looks would you be most likely to wear to work on a Casual Friday?
Let me know in the comments!