This post may contain affiliate links, which means we may receive a commission if you purchase through our links. Please
read our full disclosure here
.
For all the professional development I did in college, I wish someone told me to start building my work wardrobe early on. That way, when I started working full-time, I would have had more than a week's worth of clothing; nothing is more embarrassing to a fashion-obsessed girl than feeling like you're repeating the same looks over and over again!
Luckily, you don't have to secretly spend your hard-earned cash on boring black pencils skirts, only to have them languish in your closet for years while you finish school. Incorporating fun but polished pieces you want to wear into your daily wardrobe now will help you transition into the day-in and day-out of professional dressing and build up a work wardrobe you'll look forward to wearing.
The Floral Pencil Skirt
I really don't get the floral hate that's been happening in the fashion world. Sure, florals aren't groundbreaking, but I strongly believe any girl can incorporate florals into her wardrobe— especially their work wardrobe.
Patterns at work can be even trickier to navigate than patterns for casual wear, but you can always bet on a floral pattern to be feminine, trendy, and relatively conservative, so florals should work for any work environment. With a fitted black blazer and white button-down, a floral pencil skirt will work for even the most professional business casual setting.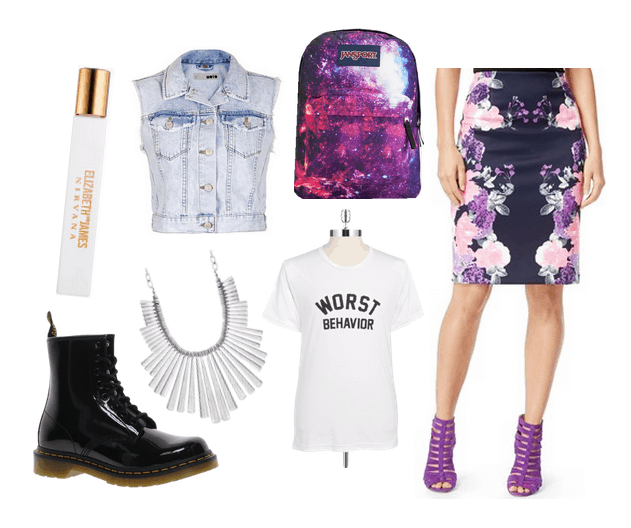 Perfume, Vest, Backpack, Boots, Necklace, Tee, Skirt
For now, however, you'll want to pair that pencil skirt with pieces that read youthful to temper its polished silhouette. A saucy statement tee, a ripped denim vest, and punky patent leather boots bring the fun, while a practical backpack with a complementary color scheme gives the outfit funky attitude.
Finish with a silvery statement necklace and you've got a killer look for your Monday morning class.
The Silky Button-Down
Trust me, you'll want a couple of these wear-with-anything button-downs in both your work and your casual wardrobe. I can't tell you how many times I've reached for mine when I was rushing out the door in the morning in college and now that I'm in the workforce.
A white button-down with a collar is the obvious choice here, but pick up a other few colors and cuts while you're at it. Brights like chartreuse, cobalt, or magenta would work really well in creative offices. Blush pink, black, or even leopard print options are glam but professional neutrals, if that's more your style.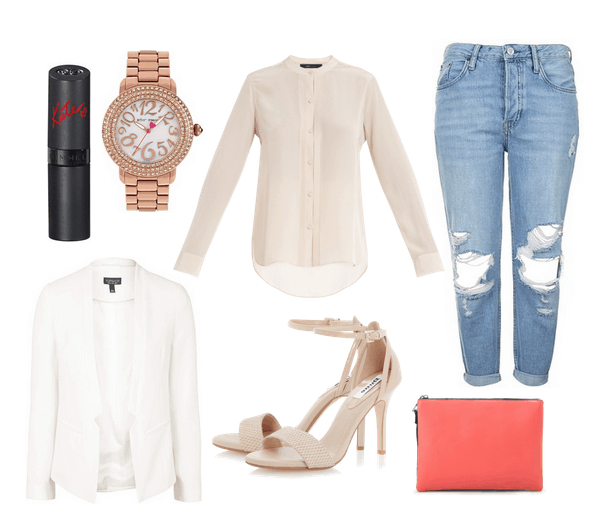 Lipstick, Watch, Blouse, Jeans, Blazer, Heels, Clutch
For a college girl's take on a silky button-down, look no further than this tried-and-true blogger's uniform of a button-down blouse, a white blazer, artfully ripped boyfriend jeans, and strappy heels.
Pair these pieces with glam and femme accessories, like a chic rose-gold watch, a coral clutch, and a smart red lip, and you have a look that you can rock anywhere on campus, whether it's a smart dinner with your professor or a lunch date with that cutie from chem class.
The Bright Trousers
Sad but true: in most offices, jeans aren't going to cut it. The good news is, trousers are a thing, and it's becoming very easy to find cuts and colors that look and feel similar to your go-to denim go-tos.
Just like our silky button-down blouse, find a cut that you love and buy several pairs in various colors— especially if you are able to invest in nicely made ones that will last you a couple of years or so. Investing in a bright may seem like a gamble, since colors quickly come in and out of style, but trust me on this; a sharp color, like cobalt blue, will always look fashionable and professional when paired with black and white.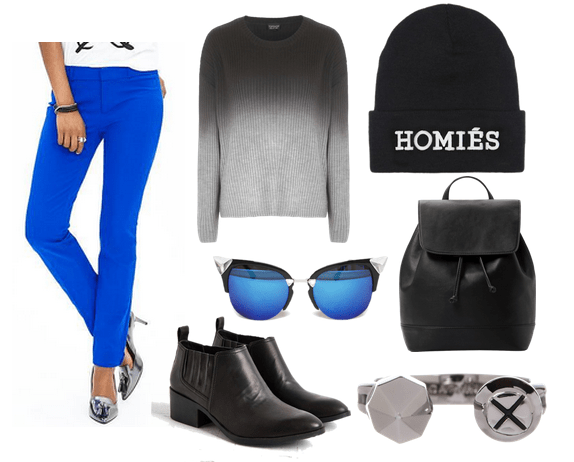 Trousers, Sweater, Beanie, Sunnies, Backpack, Booties, Ring
For now, keep it cozy with a cool ombré sweater and a sassy beanie. A studded bracelet and kicky booties add a bit of edge to this outfit, while a leather backpack adds a super-fashion-y feel.
Finish with bedhead hair and a pair of blue mirrored sunnies, and you have the perfect look for that Friday 8 a.m. you overslept for. (Yeah, we've all been there…)
What do you think?
If you're working, what pieces are key to your professional wardrobe? What topics would you like to see covered in this column? Are you also sick of florals? Let us know in the comments below!