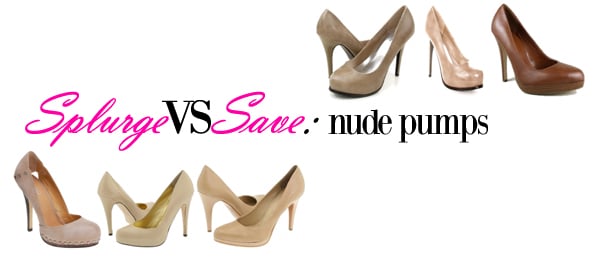 There are some classic fashion pieces every girl needs to own. These classics not only keep you looking chic on campus, but will also help to expand your wardrobe post-grad! Each week I'll feature one classic investment piece and teach you how to incorporate it with inexpensive items you already own. Your money matters, so I'll give you options– you decide where to save and where to splurge!
This week, the focus is on nude heels – such a classic, but should you splurge or save on them?
Why Buy?
You probably already own a killer pair (or four!) of black pumps. Black is classy, goes with everything, and is easy to dress up or down. While black is great, sometimes you just need a little something extra.
That's where nude heels come in. They transition well from season to season, they're phenomenally flattering, and, most importantly, they're different. If you don't have a pair of nude heels of your own, they are a style you must invest in. You'll be able to integrate your new pumps into your wardrobe seamlessly, and may even find yourself picking them instead of your basic black when you're getting ready to go out!
As with all footwear, you get what you pay for, so purchase a pair that are of good quality and your shoes will last you. Buy your trendy, one-time-use party shoes from Wet Seal, but plan to spend a bit more on a pair you'll wear often.
Tips for Buying
Nude heels can work for every skin tone, but they have to match! Like makeup, you just have to find a shade that works for you. Don't be afraid to try on many different colors to find the best hue–nude isn't one size fits all! If you have darker skin, opt for a chocolate, camel, or tan pair instead of basic beige for a complementary match.
The nude you pick should be close to your skin color, but not match exactly as this can look a little creepy/old lady-ish. Textures such as animal prints and patent also help spice up a basic pump.
Tips for Wearing
While they may seem difficult to wear with things you already own, they're not. Because nude (like black) is a neutral, nude heels go with almost everything. Try a pair with black cigarette pants, your favorite skinny jeans, or even super-trendy bright white, shredded denim. You can even wear them with shorts!
Nude heels will lengthen your legs like no other! For this reason, they look fabulous paired with your dresses and skirts.
Post-grad, or if you ever have an internship or job where you need to dress more formally, pair your pumps with a skirt/suit combo. They'll spice up your more conservative outfit and showcase your awesome sense of style while still being office-appropriate.
Get Your Own!
Splurge:

Product Information: online studded stilettos, Aldo. Dolce Vita Madison in Biscuit Crinkle Patent, Zappos.com. Nine West Rocha in Light Natural, Zappos.com.
Save:

Product Information: Qupid Valtina Platform Pumps, cutesygirl.com, Taupe Faux Leather Crinkle Patent Round Pump Heels, amiclubwear.com, Tan Closed Toe Leatherette Pump, GoJane.com.
What do you think?
Do you own a pair of nude heels yet, or are you fine sticking with traditional black? Would you rather splurge or save on this item?
Leave a comment and tell us your thoughts!