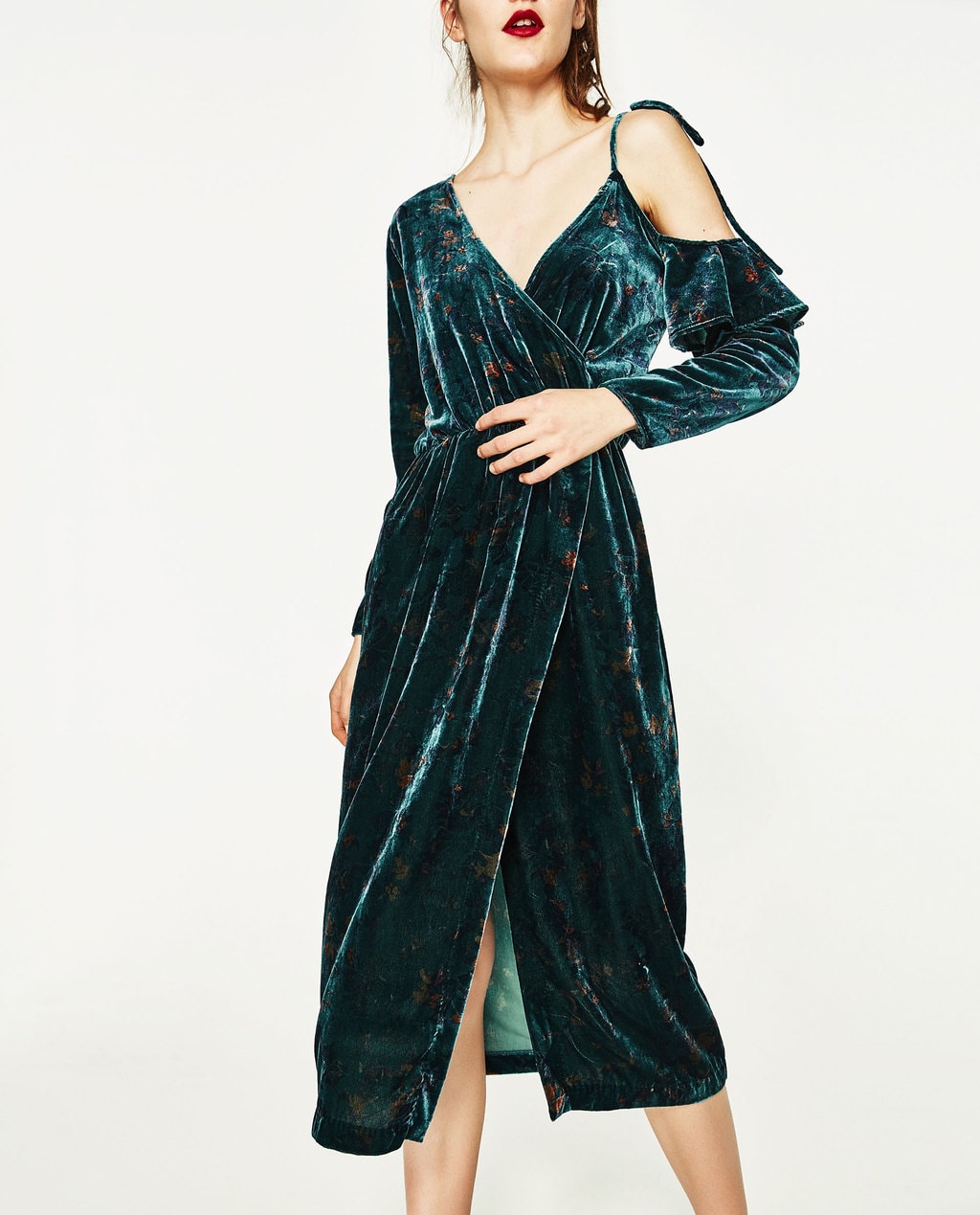 Welcome to the latest edition of Ask CF! Every two weeks, we select a reader fashion question and answer it here on the site. Do you have a specific fashion question for us? Scroll to the bottom of this post to learn how to send it our way!
Ask CF Question
Hi CF!
So I love velvet and want to transition it into spring and summer if possible. Any tips on how I can incorporate some velvet into my spring and summer wardrobe?Thank you!
Velvet maniac
Our Response
Dear Velvet Maniac,
Just because velvet is traditionally thought of as a Winter fabric, that doesn't mean you can't wear it into Spring (or even Summer!). All you need are a few styling tricks. It's about balancing the heaviness of the fabric with the lightness of more "traditional" warm-weather materials.
Keep scrolling to see the outfits that I have styled for you.
Outfit #1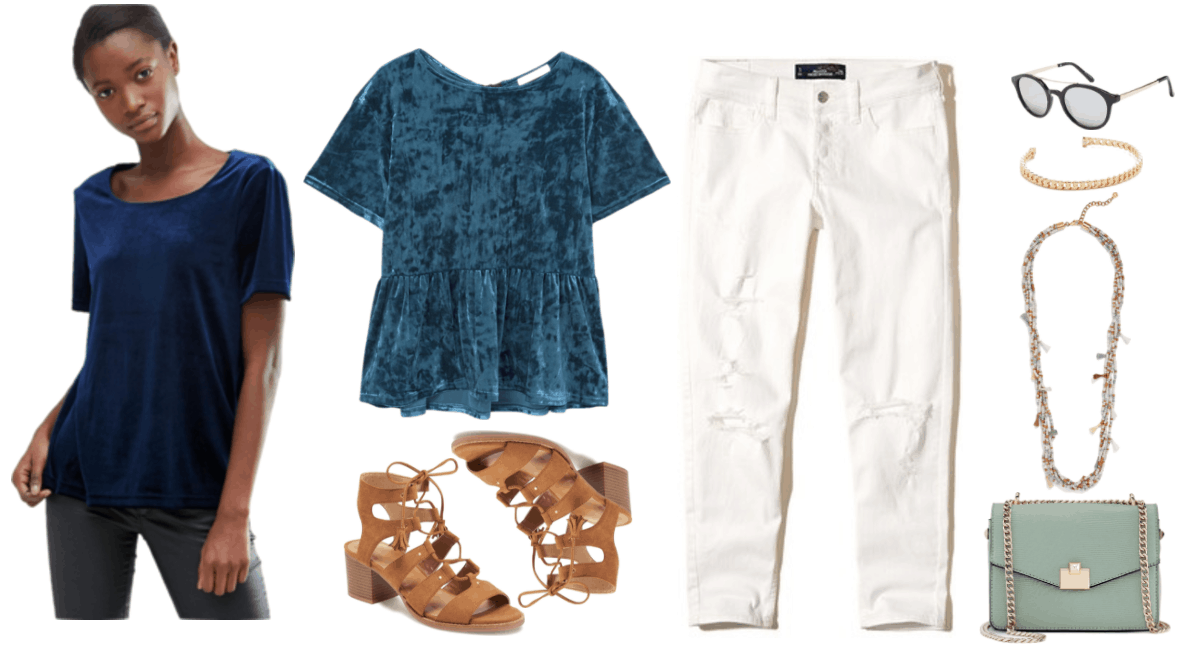 Products: T-Shirt – ASOS, Top – Mango, Heeled Sandals – Old Navy, Jeans – Hollister, Sunglasses – Old Navy, Cuff – Shopbop, Necklace – Baublebar, Cross-Body Bag – Kohl's
A great way to transition velvet pieces into Spring is to wear a velvet top in a breezy cut. I love this peplum-hem one from Mango; however, as it only goes up to size medium, I also included this velvet t-shirt from ASOS, available in more sizes.
For the rest of your outfit, keep everything loose-fitting and simple. That way you won't feel too bundled-up. Here, I've chosen some cool boyfriend jeans and a sleek pair of lace-up gladiator sandals.
For accessories, create a modern, boho feel with a pair of round sunglasses, a chain-link cuff, and a long multi-strand necklace. Grab a cross-body bag in a pretty seafoam-green shade, and you're ready to go!
Outfit #2
Products: Skirt – ASOS, T-Shirt – J.Crew, Tote – Mango, Necklace – Zappos, Earrings – Nordstrom, Bracelet – Shopbop, Flats – Nordstrom Rack
If it's too hot out to wear a velvet top, then a pleated midi skirt is the way to go! Although this one is a little on the formal side, I have decided to dress it down by pairing it with a simple white t-shirt.
Pom pom earrings, an elephant necklace, and a beaded tassel bracelet add fun, whimsical touches, while this tote, with its metal handles, is a great way to add a trendy twist to the look. Finally, pick up some cute scalloped gold flats for an extra dose of shine.
Outfit #3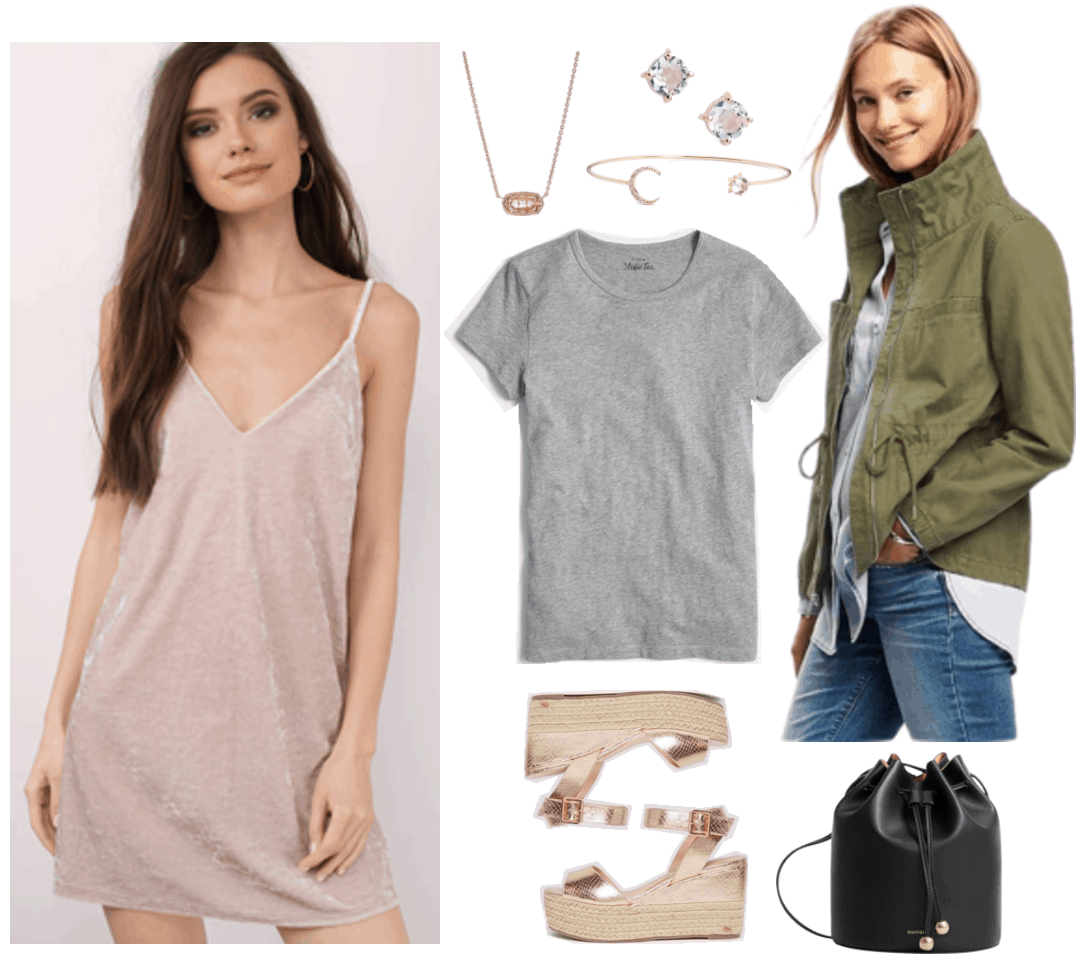 Products: Slip Dress – Tobi, Necklace – Zappos.com, Earrings – Nordstrom, Cuff – Nordstrom, T-Shirt – J.Crew Factory, Espadrilles – ASOS, Jacket – Old Navy, Bag – Mango
Slip dresses have been going strong for a while now; however, it's sometimes hard to find one for everyday wear that doesn't look too much like lingerie. The fact that this one is made of velvet (rather than a slinkier fabric) helps to combat that problem. You can take it even further away from the lingerie realm by layering it with a classic crewneck t-shirt and an outdoorsy olive anorak.
Put on a pair of sturdy flatform espadrilles in rose gold to ground the look, and add some delicate rose gold jewelry — such as subtle stud earrings, a dainty necklace, and a boho moon-and-star cuff — for some feminine polish.
Last but not least, pick up a goes-with-everything black bucket bag to complete the outfit — bonus points if it has cool details, like this one from Mango.
Outfit #4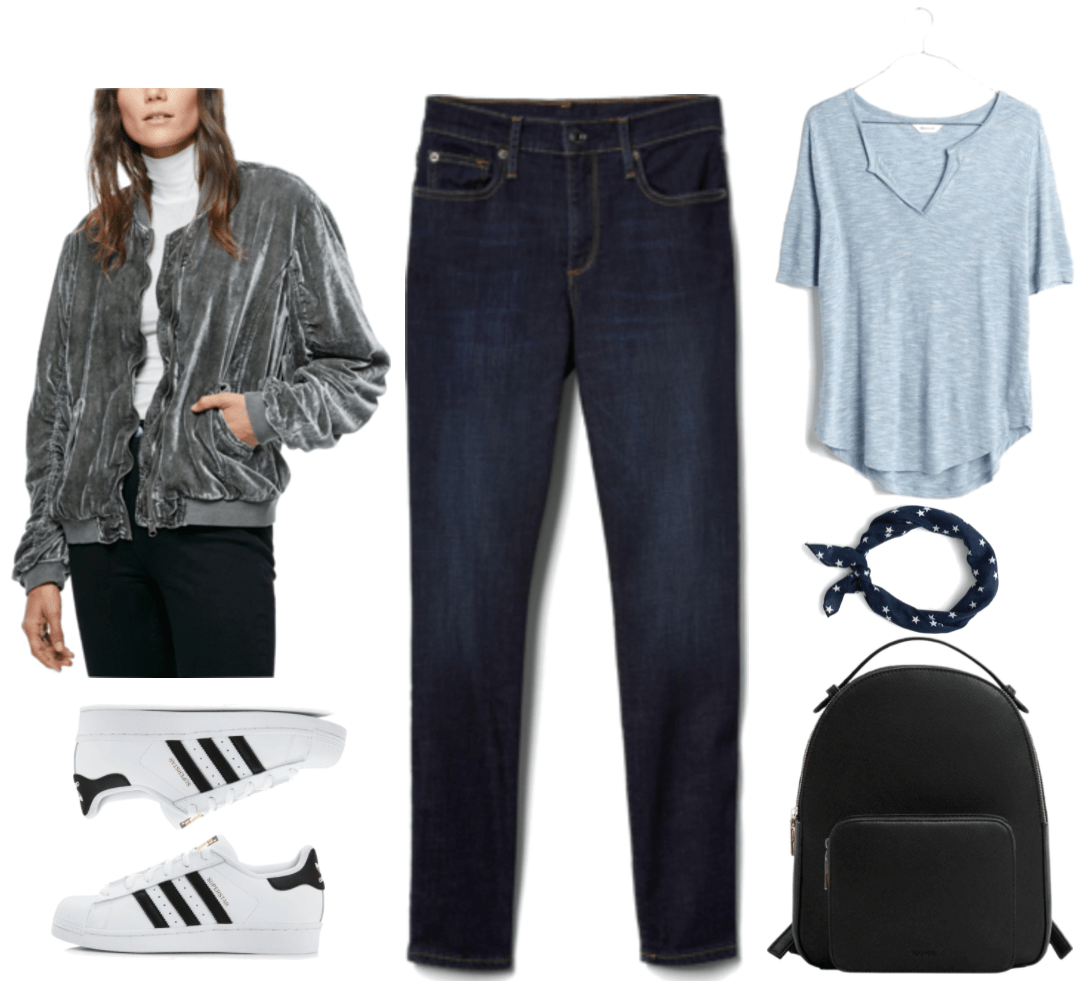 Products: Jacket – Macy's, Sneakers – Nordstrom, Jeans – Gap, T-Shirt – Madewell, Bandana – J.Crew, Backpack – Mango
For those days when you're feeling more casual and the weather is cooler, try layering a velvet bomber jacket over a classic pair of skinny jeans and a laid-back skinny-striped t-shirt.
To up the cool factor, add a pair of on-trend Adidas sneakers and a bandana; I absolutely love the adorable star print on this one from J.Crew!
Finally, pack your things in this minimal-but-chic black backpack; and there you have it — a functional yet fashionable look that can go from class to weekend errands in a snap!
Velvet Extras

Products: Backpack – Bloomingdale's, Quilted Clutch – 6pm.com, Oval Clutch – ASOS, Mary Jane Flats – Macy's, Baseball Cap – Charlotte Russe, Headband – Topshop, Cross-Body Bag – Bloomingdales, Bow Hair Clip – Forever 21, Ankle-Strap Heeled Sandals – Belk
If you want to ease your way into wearing velvet during the Spring — or you just want to add a velvet touch to your outfit — why not try a velvet accessory? Feel free to try a backpack, a clutch, a handbag, a pair of shoes, or a hair accessory. Whatever you choose, you're bound to fashionably stand out this season!
Styling tip: Choose one velvet clothing item plus one small velvet accessory per outfit — maximum — to avoid velvet overload!
I hope that these looks have been helpful in providing you with ideas on how to wear velvet pieces in the Spring. Thank you for your question!
Do you have a fashion question? Send it to us!
Is there something in your closet that you want to wear but have no idea how to style? Do you need advice on what to wear to an upcoming event? Do you have a specific fashion conundrum? If you have a fashion-related question that you would like to see answered in this column, simply email it to askcf @ collegefashion.net, and one day you might see your question answered right here on the site!
What do you think?
Do you like to wear "winter" fabrics in warmer weather? What are some of your favorite ways to wear velvet? Do you prefer velvet clothing, velvet accessories, or both? Let me know in the comments!