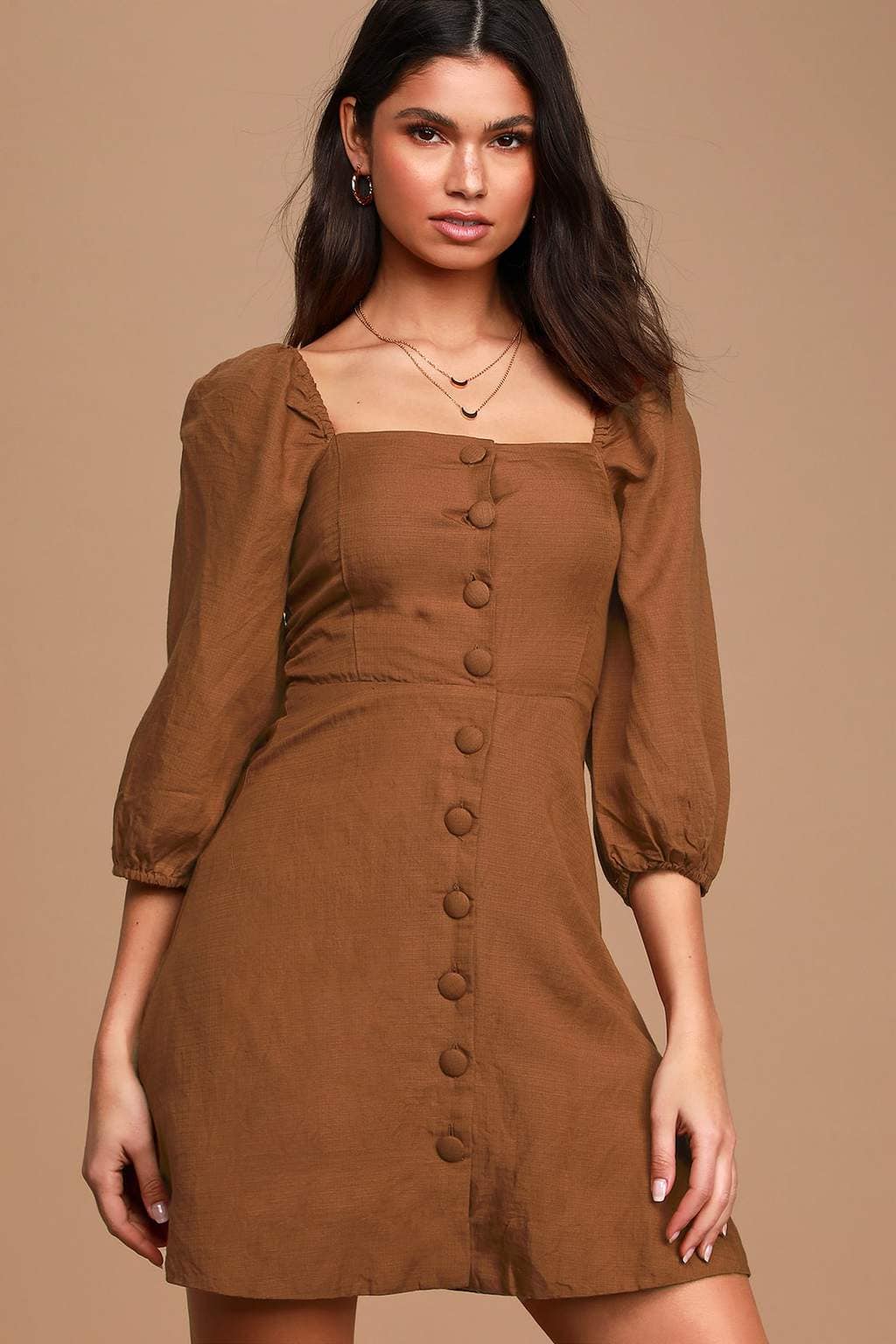 Over the years, fashion lovers have come to embrace the whole of spectrum colors, from subdued neutrals to out-there neons. However, one color that we rarely hear about being "in style" is brown.
This is a bit confusing to me. After all, we already wear brown accessories such as shoes and bags, in addition to brown makeup. So, why not brown clothes as well?
One of the main reasons why is likely as simple as this: no one really knows how to wear brown as a centerpiece.
After all, brown is a neutral, so it goes with almost everything. It's also timeless and can be worn for any occasion. Additionally, brown is one of the most flattering shades out there, as it tends to bring out the warmth in one's features.
So, really, why aren't we all wearing brown more often?!
I've crafted three looks, each of which features a brown clothing item as the statement piece. Hopefully they will inspire you to add more brown to your wardrobe!
How to Wear Brown: Outfit #1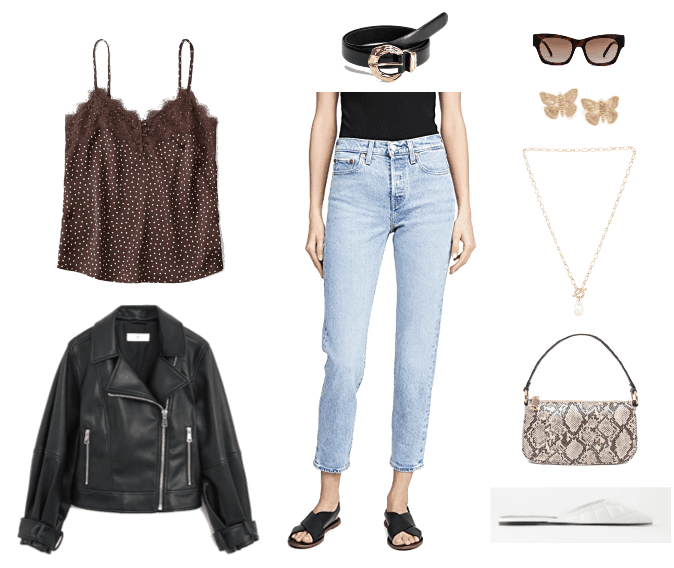 Products: Camisole – Abercrombie & Fitch, Jacket – Mango, Belt – Mango, Jeans – Shopbop, Sunglasses – Revolve, Earrings – Frasier Sterling, Necklace – Revolve, Bag – Frasier Sterling, Mules – Zara
This casual, yet trendy outfit is perfect for wearing out and about on warm days (once it is deemed safe to do so, of course!).
To get the look for yourself, half-tuck a silky brown camisole into a pair of light-wash cropped jeans with a simple black belt (because, despite what the old fashion "rules" say, brown and black can and should be worn together!).
A faux leather motorcycle jacket gives the look some edge.
I chose these white, quilted mules because they are a comfortable and cool way to make this outfit really pop.
As far as jewelry goes, delicate gold pieces, such as these cute butterfly studs and this classy pearl necklace are the perfect way to add some shine.
Finally, a snake-print rectangular bag – a fun nod to the early 2000s – is the perfect way to complete this stylish look.
How to Wear Brown Outfit #2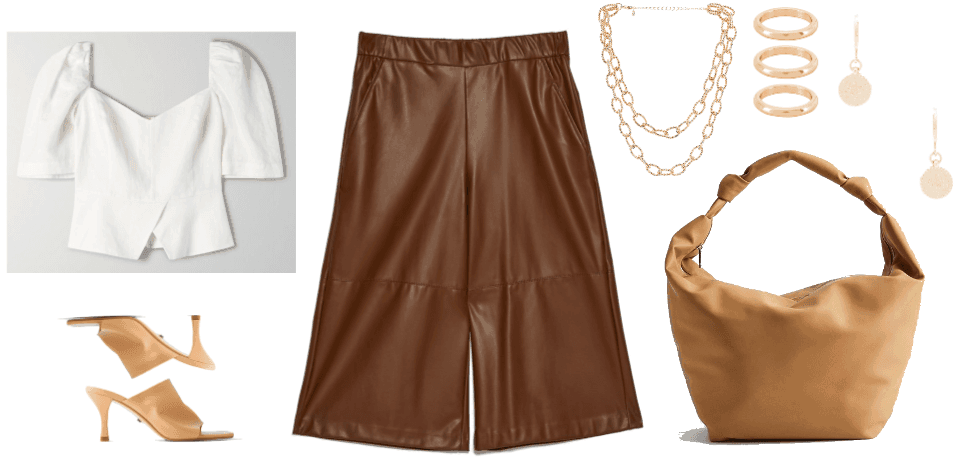 Products: Top – Aritzia, Heeled Mules – Zara, Culottes – Zara, Necklace – Revolve, Ring Set – Revolve, Earrings – Revolve, Bag – Mango
For the second outfit, I put together something a little more daring. Though this look might seem like a lot at first, it's actually quite wearable.
To copy this style, begin with a cropped, white top with a pair of trendy, faux leather culottes. Note: It's crucial that the top have a more fitted silhouette in order to offset the bagginess of the culottes. This will ensure that the look's proportions are balanced and sleek.
To further balance out the outfit's proportions, put on some fashionable heeled mules (they're really trendy this season, seriously).
A double chain necklace, a thick stacking ring trio, and huggie hoop earrings add a little something extra to the look without overwhelming it.
Last, an oversized bag makes for a playful finishing touch to this of-the-moment ensemble.
How to Wear Brown Outfit #3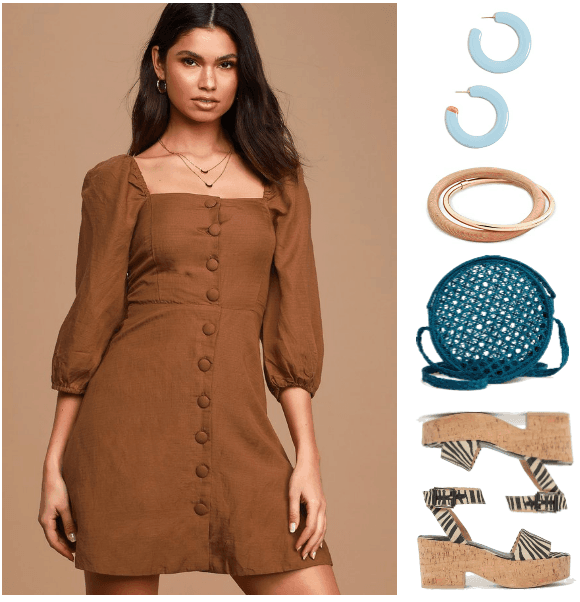 Products: Dress – Lulus, Earrings – Shopbop, Bracelet – Shopbop, Bag – Nordstrom, Platform Sandals – H&M
Look #3 is the most formal of the outfits featured here. However, it's also the easiest to put together, proving that you should definitely consider wearing brown the next time you dress up!
To recreate this look, start off by throwing on a brown mini dress. This button-front one from Lulus is totally giving me Reformation vibes!
Next, walk on the wild side by putting on a pair of fun zebra-print platform sandals.
Personally, I love the way blue accessories pop against brown clothing. So, put on a pair of light blue earrings, such as these oversized, face-framing resin hoops.
Since the earrings are rather big, I decided to forgo a necklace in favor of a fun interlocking wood and brass bangle.
To finish off this fancy and feminine outfit, simply add a deep turquoise-blue woven circle bag.
Now we want to know what you think!
Do you ever wear brown? If so, how do you wear it? If not, would you consider giving it a try?
Let me know in the comments!