This post will show you how to style jerseys and what to wear on game days.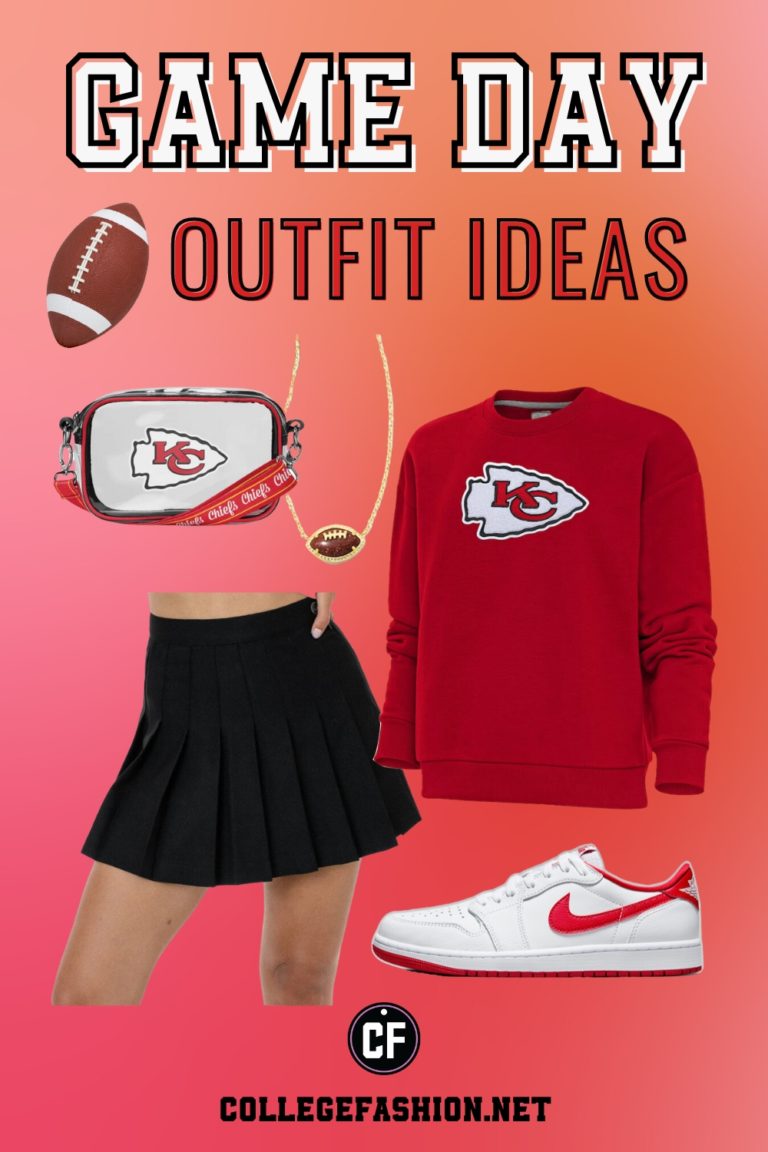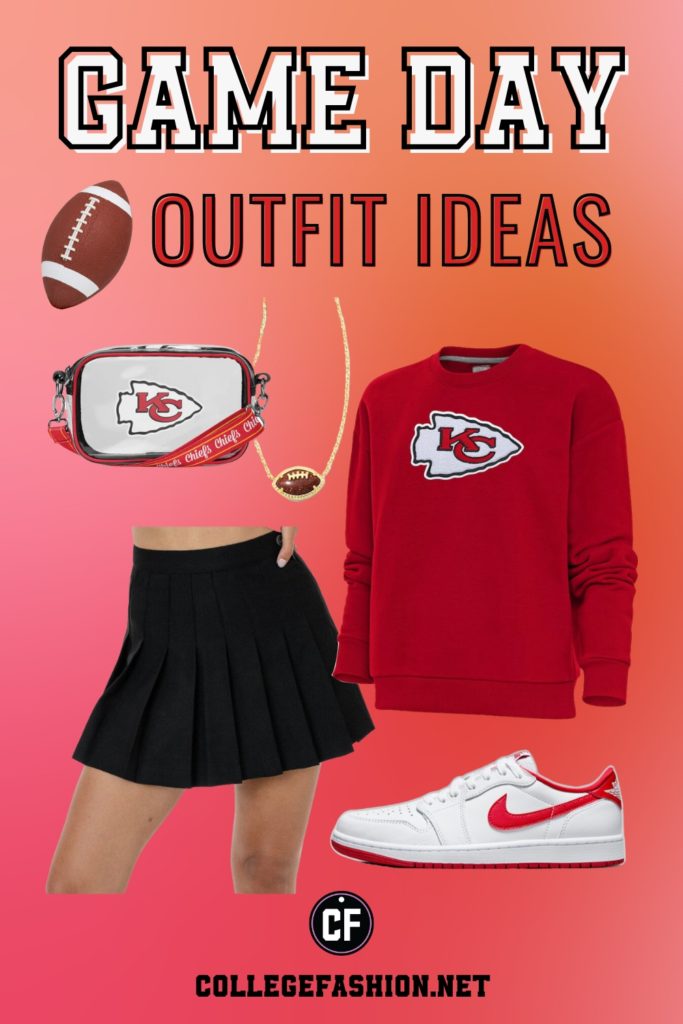 Whether you're a true football fan or just going to the game for the fanfare (and the stadium dogs), attending a football game is the ultimate reason to rep your team from head to toe.
But is it possible to actually style a football jersey? The answer is yes!
In fact, there's never been a greater focus on fashion off the field than this season, thanks to stars like Taylor Swift and Alix Earle, who have been consistently showing up and showing out for their (rumored) NFL beaus in game-day looks that have given us major fashion inspo.
If you're wondering what to wear to a football game (be it the NFL or college), we've got you covered. Get ready to slay the sidelines with nine game-day outfits that are as fashionable as they are practical and the perfect way to show off your team spirit and style.
Note: While this post focuses on NFL jersey outfits, you can just as easily wear these looks to other sporting events (basketball, baseball, etc.) with the jersey of your choice.
Related reading: Our Favorite College Game Day Outfits That Are Cute & Comfy
NFL Jersey Outfit Inspired by Alix Earle
From tailgates at U Miami to Miami Dolphins football games, TikTok star Alix Earle has pretty much mastered game-day style.
Recently, she started a viral fashion trend by cutting her oversized NFL jersey down the center, giving it the look of a lightweight jacket/cardigan, which allowed her to show off her cute corset top underneath. Pretty genius, if you ask me!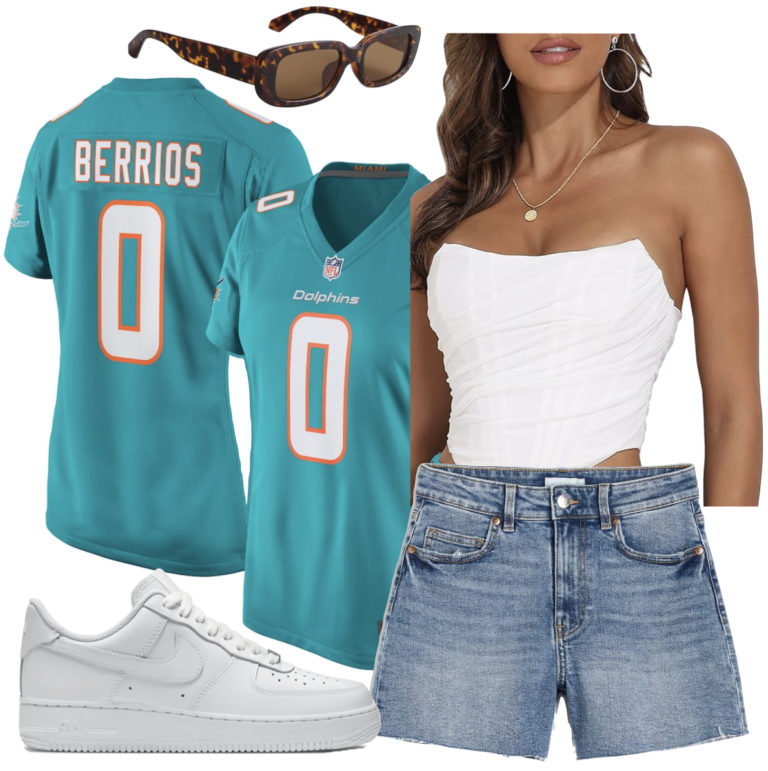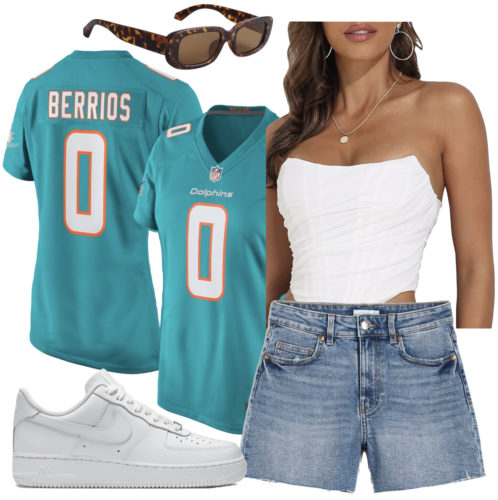 Products: Jersey, Corset Top, Sunglasses, Shorts, Sneakers
To get Alix's game day look, you'll need a pair of trusty scissors and an oversized sports jersey that you aren't afraid to cut up and give a makeover (or "perform a little bit of surgery," as Alix says).
After DIY-ing your jersey, you'll be able to wear it over many other tops, giving you the opportunity to create multiple looks over the football season, making this trend surprisingly versatile.
Wear it over a white strapless corset top and jean shorts for an Alix-approved look that's ideal for warm weather. White low-top sneakers like Nike Air Force 1's or Adidas Sambas keep the outfit casual and comfy, which is key since you'll likely be on your feet for most of the game. Don't forget a cute pair of sunglasses to bring it all together like Alix did.
Sporty Skirt Ensemble Inspired by Taylor Swift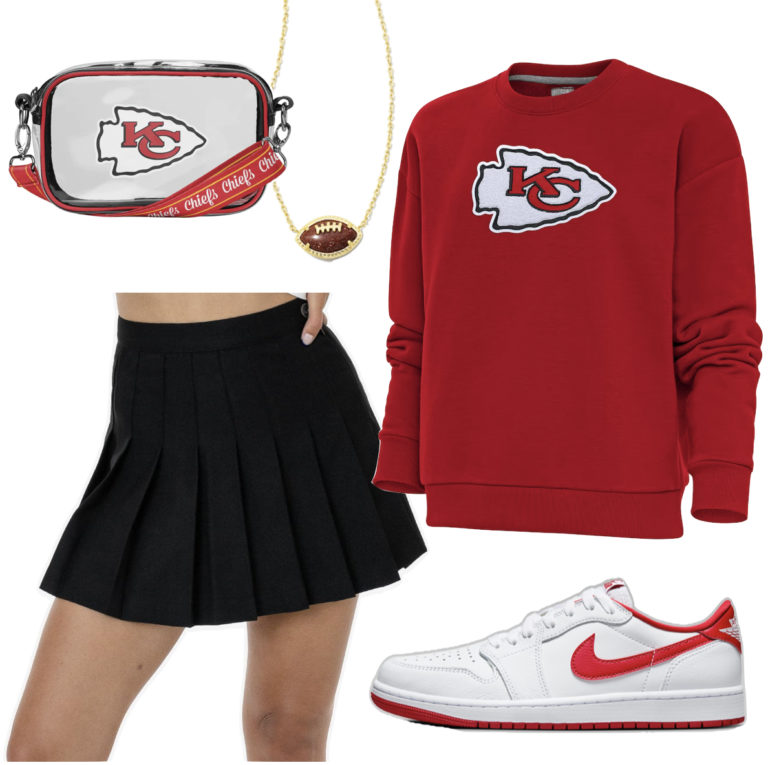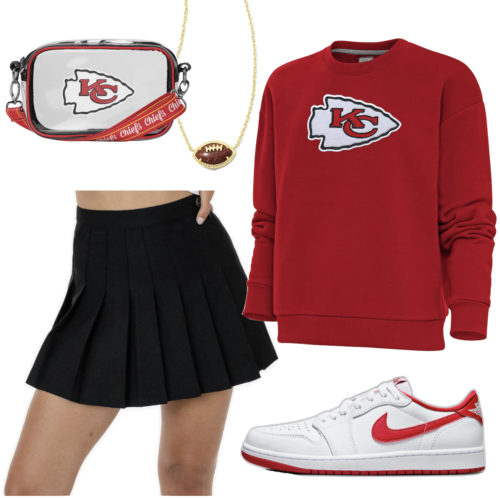 Products: Skirt, Sweatshirt, Necklace, Bag, Sneakers
Game day style (Taylor's version).
Taylor Swift has not been shy about showing her support for Travis Kelce and his team, the Kansas City Chiefs, and she's got the outfits to prove it. She attended a recent football game wearing a pleated black mini skirt with a red Chiefs crewneck sweatshirt and white Nike sneakers with red accents to match.
Take a page out of Taylor's style book with a black pleated mini skirt (or sporty skorts) and a crewneck sweatshirt featuring your team's logo. Bonus points if you wear sneakers that feature your team's colors!
The NFL has a clear bag policy that requires stadium-goers to use small, clear, or translucent bags if they are bringing bags (though they are encouraged not to). Since most of us girlies need a place to stash our lipgloss, phones, and other necessities, invest in a clear crossbody bag that adheres to stadium policies while also repping your team like the one above.
A football charm pendant necklace adds an adorable final touch to this ensemble.
NFL Jersey and Jean Shorts Outfit Inspired by Simone Biles
You can also look to Simone Biles for game day outfit inspiration, as she's often cheering on her NFL player husband, Jonathan Owens.
Simone rocked his jersey with some denim shorts and white knee-high cowboy boots for a cute, effortless game-day look that incorporates one of the biggest footwear trends of the year.
Cowboy boots have become a style staple, and they are an excellent choice for sporting events and concerts since they have a fairly casual (yet cute) look, cover your toes (because in big crowds, there's a good chance of getting stepped on or spilled on), and are (decently) comfortable.
Since this combination makes such a statement, keep accessories on the minimal side — a clear mini backpack is a must, though!
Game Day Outfit with Cargo Pants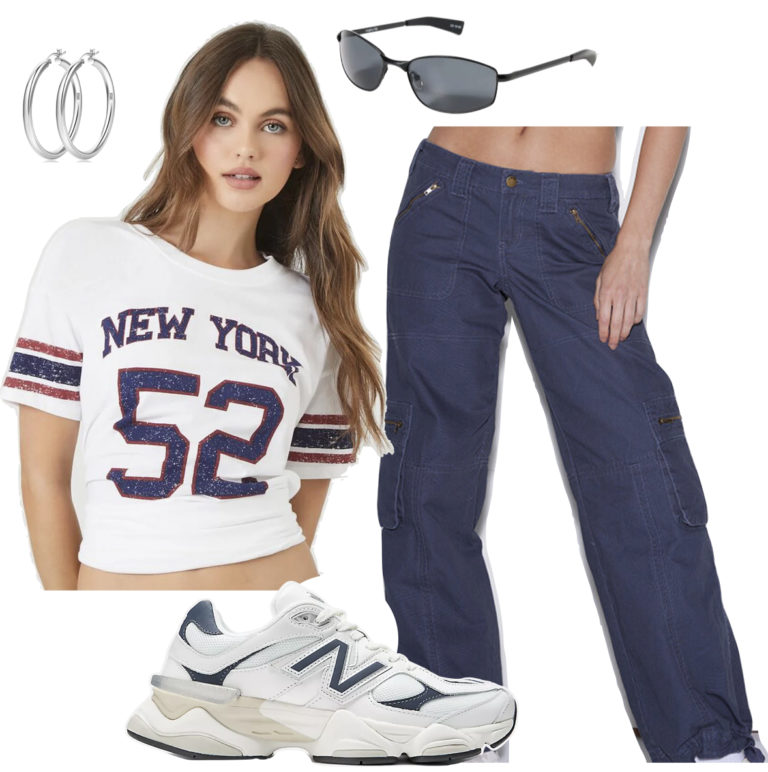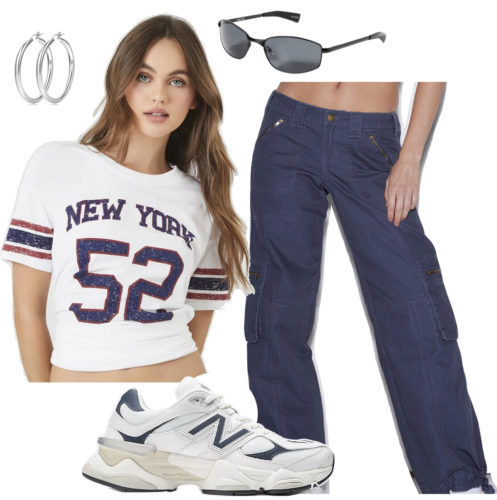 Products: T-Shirt, Pants, Earrings, Sunglasses, Sneakers
Cargo pants have a laid-back vibe that makes them perfect for game days, whether you go the "little top, big pants" route and pair them with a crop top or keep your ensemble entirely baggy by styling them with a jersey. Just be sure to opt for cargos in a hue that matches your team's colors to create a cohesive look!
This jersey-inspired t-shirt can be tied up (as shown above) to give it a cropped effect and allows you to control how much skin you want to show. Add in trendy accessories to keep the outfit fresh, like some chunky hoop earrings, slim-fitting sunnies, and cool sneakers that feature a similar color palette as the rest of the look.
Layered Faux Leather Leggings Look
When attending games during chilly seasons, it's all about layering. There's no doubt you want your team pride to show rather than be covered up, which is why layering is essential.
For example, wear your NFL jersey over a slim-fitting turtleneck top with long sleeves. This will help you retain heat without covering up your team apparel. (If it's really cold, wear for heat-retaining base layers; Uniqlo's Heattech innerwear line is a great option).
You can still look put-together by wearing some faux leather or liquid leggings for a trendy vibe, plus some chunky lace-up boots.
This stadium-approved transparent crossbody bag is the perfect accessory, which features a chic vegan leather trim and chain crossbody strap for convenience and style.
Cute Dress Game Day Outfit
Just because you're attending a sporting event doesn't mean you have to dress ultra-sporty. If your style leans girly, why not wear a dress in your team's colors?
Don't go for anything too fancy, of course; this easy ribbed tank dress is relaxed enough to be worn with white low-top sneakers and a denim jacket for a cute, casual look.
If you want to go the extra mile, consider wearing a jean jacket that features your team's logo like this printed one, or DIY a plain denim jacket by ironing on logo patches yourself.
Football-themed jewelry is an adorable way to accessorize your outfit, like these "Touch Down" earrings and bracelet stack featuring a team charm.
NFL T-Shirt Dress Outfit
A t-shirt dress featuring your team's logo is another great option for wearing dresses on game days.
With a short length and loose fit, this dress would look great with some over-the-knee boots to balance it out, like these faux leather OTK boots with chunky soles.
I would suggest staying away from heels (those are better suited for indoor sporting events, like NBA games) and opting for flat or low boots that will allow you to stand and walk around comfortably, on or off the field.
Throw on a coordinating team hat, and you'll be ready to take on football Sunday.
Football Game Outfit with Jeans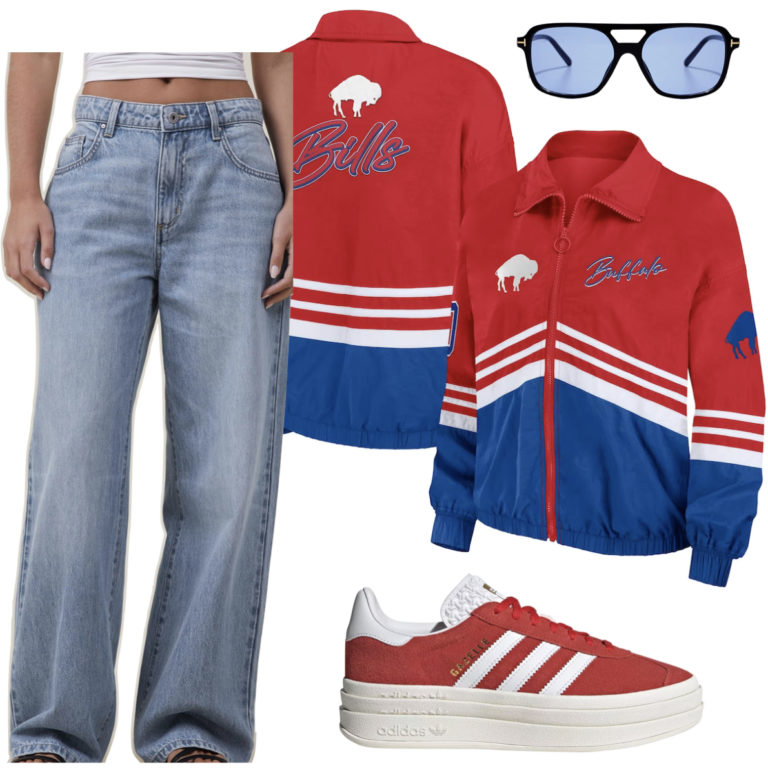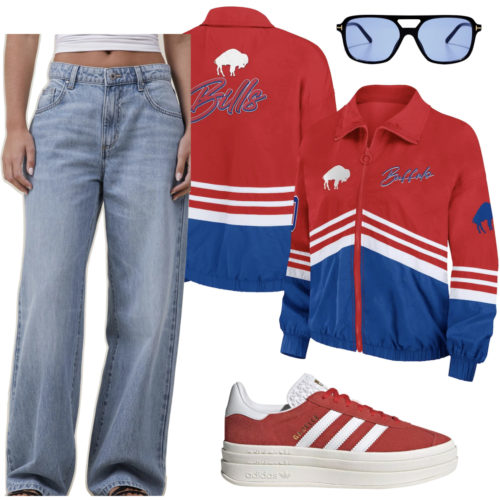 Products: Jeans, Jacket, Sunglasses, Sneakers
Jeans are a no-brainer for sporting events, but rather than just throwing on a jersey with your denim, style them with cool, vintage-inspired sportswear.
If you haven't been able to score actual vintage pieces, no worries. This throwback windbreaker jacket has all the vintage vibes with modern-day style sensibilities and will upgrade your denim, especially a pair of baggy or wide-leg jeans.
Go all out with eye-catching accessories like some retro aviator sunglasses and trendy platform sneakers, both featuring your team's colors. You'll look cool but feel comfortable in this outfit combo.
Trendy Football Game Outfit with Sweatpants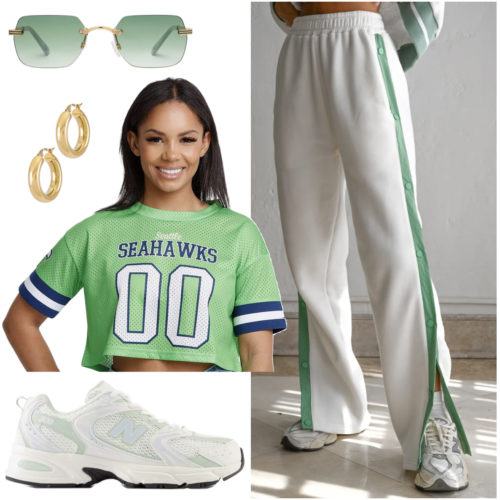 Products: Jersey, Sweapants, Sunglasses, Earrings, Sneakers
Could you just throw on sweats and head to the game? Sure. But why not style them up for a *lewk* that is just as fashionable as it is comfortable?
Show off your style with some sweatpants that match your jersey — these tearaway fleece pants have contrasting trim and a high rise which makes them look elevated (and are a top pick for Seahawks fans).
Wear your sweatpants with a cropped football jersey (this mesh crop top is available with other team logos, as well), plus some Y2K-inspired rimless sunglasses and chunky hoop earrings for trendy touches.
While any sneakers work, I love the perfectly coordinated look of a pair that matches your team's apparel, and these New Balance 530s are a hot pick.
What do you think of our NFL jersey outfit ideas?
Would you wear these game-day outfits? Which jersey look is your favorite? Leave a comment and let us know!