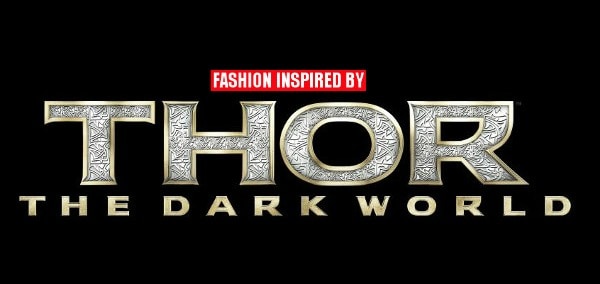 All photos courtesy of The Walt Disney Company
Considering how much I've rhapsodized about The Avengers and Tom Hiddleston's Loki here at the Geek Chic column, I didn't have to think twice about seeing Thor: The Dark World by myself when I wasn't able to wrangle any friends to accompany me. (Besides, I kind of like going to the movies alone. Although my loud guffawing sometimes garners me a weird look or two.)
Ushered in by previews for the next installments of Captain America, The Hunger Games, and The Hobbit trilogy, Thor: The Dark World was already a cornucopia of fandom love before the film even started.
I laughed, I cried, I marveled at the glory that is Chris Hemsworth's shirtless body, I screeched at people around me not to leave right at the start of the ending credits. (It's a Marvel movie, people! There will always be at least one post-credits scene. If you're paying more than $10 to see a movie, why not get your money's worth?)
Thor: The Dark World stars Chris Hemsworth, Tom Hiddleston, Natalie Portman, Christopher Eccleston, Stellan Skarsgaard, Kat Dennings, Adewale Akinnuoye-Agbaje, Idris Elba, Rene Russo, and Anthony Hopkins. (It also briefly features Chris O'Dowd from The IT Crowd!)
Know Your Geek: About Thor: The Dark World
Thor: The Dark World was directed by Alan Taylor, who has directed several episodes of HBO's Game of Thrones. It is the 8th installment in the Marvel Cinematic Universe.
This sequel to 2011's Thorpicks up right where The Avengers (2012) left off: Thor has returned to Asgard and is tasked with restoring peace to the Nine Realms. Meanwhile, his brother Loki has been imprisoned for his usurping scheme.
The supervillain du jour is Malekith, the leader of the Dark Elves. The forces of Asgard defeated Malekith thousands of years ago and hid away his source of power, the Aether, a red blob of Magic Jell-O powerful force that converts all matter to darkness.
For five thousand years, the Aether passed out of all knowledge. But something happened then that the Aether did not intend: it was discovered by the most unlikely creature imaginable — an astrophysicist, Jane Foster, of the planet Earth. (Okay, I'll get off my Lord of the Rings soapbox now.)
Malekith and his army sense that the Aether has been found and seek to reclaim it so that its power can be unleashed during The Convergence, a rare event in which all Nine Realms are aligned.
When Thor discovers that the Aether has invaded Jane's body, he brings her back to Asgard. With the help of both Earthling scientists and Asgardian warriors, they embark on a quest to defeat Malekith and destroy the One Magic Jell-O to Rule Them All Aether once and for all.
Outfits Inspired by Thor: The Dark World
Ready to leave Midgard behind and travel to the mighty realm of Asgard? Grab hold of a strapping demigod and check out these five looks inspired by Thor: The Dark World!
The Brothers United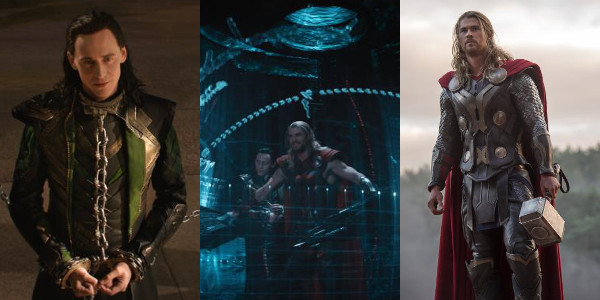 Although Thor's relationship with his brother definitely took a turn for the worse when Loki a) tried to steal the throne and b) subsequently attempted to conquer Earth, leaving a trail of chaos and destruction in his wake, the two are forced to work together in order to save Asgard. When tragedy strikes, they must set their differences aside and learn to trust one another again.
Despite their rocky past, the two make quite the dynamic duo: Thor is clearly the brawn of the pair, but also displays great emotional maturity and clear foresight. Loki, on the other hand, is a talented and cunning sorcerer whose ambition and ego often prove to be his own undoing. (Basically: Thor=Gryffindor, Loki=Slytherin.)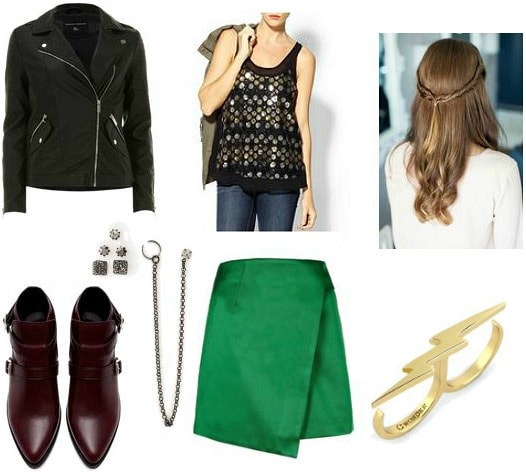 Product Information: Top, Jacket, Skirt, Boots, Ear Cuff, Ring, Hair Tutorial
While past articles have featured more direct takes on each character's style, this time I wanted to combine elements from both Thor and Loki's signature looks to symbolize their partnership. Just like their personalities, the two have opposing color palettes: Thor's outfits are predominantly silver and red, while Loki's are predominantly green and gold.
Pair a sequined tank reminiscent of Thor's armor with a luxe satin skirt in Loki's signature emerald hue. Next, add edgy touches in the form of a motorcycle jacket and burgundy ankle boots. Mixing metals might have once been a fashion faux pas, but these days it's totally cool and allows for lots of fun styling opportunities, so slip on a golden lightning ring to represent Thor and a silver ear cuff chain to represent Loki's imprisonment.
Here on Earth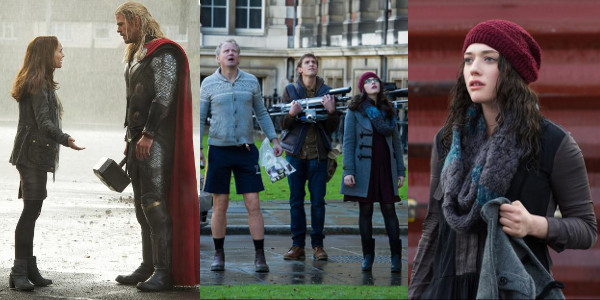 It's been two years since the events of Thor (2011), so Jane is understandably upset that Thor hasn't returned for her as he promised, despite making a high-profile appearance in the Battle of New York alongside the Avenger Initiative.
Nevertheless, she and her intrepid intern Darcy have kept up their research (which I assume is funded by the Department of Supernatural Science) and have traveled to London along with mentor Dr. Erik Selvig to investigate some strange anomalies. Along the way, Darcy picks up an intern and Erik decides that pants are optional.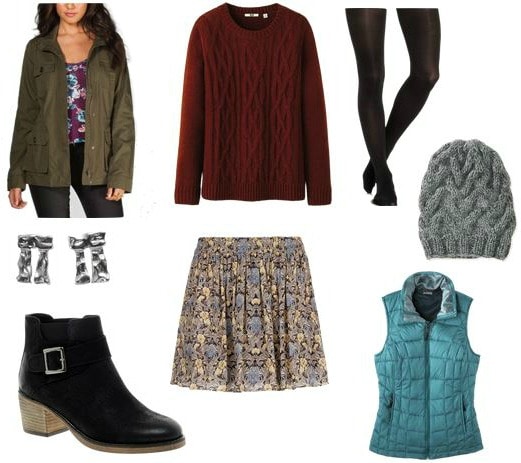 Product Information: Jacket, Vest, Sweater, Skirt, Tights, Boots, Earrings, Hat
Both Jane and Darcy have a cute but functional style sensibility well suited to the movie's London setting: there's a nice mix of layers in neutrals, jewel tones, and subdued floral and plaid prints. Take style notes from this astrophysicist and her intern for an ideal outfit for a chilly day!
A preppy cable knit sweater pairs perfectly with a floral skirt, while sturdy ankle boots with a low heel ground the look. Stay toasty with a practical anorak jacket and a cozy knit hat. For additional warmth, slip on a cute puffer vest like the one that Intern – I mean, Ian – wears. Finally, a pair of Stonehenge earrings are a subtle reference to Dr. Erik Selvig's post-Battle-of-New-York shenanigans.
Welcome to Asgard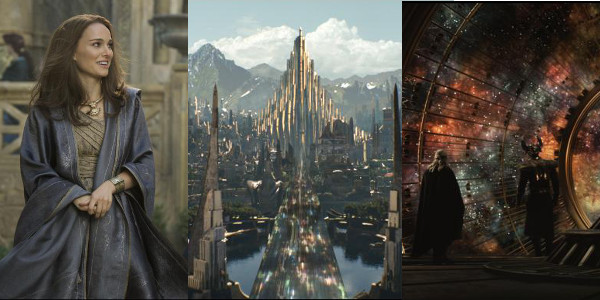 Although it was destroyed by Loki's mischief, the Bifrost, the rainbow bridge that allows Asgardians to travel between realms, has been repaired. Heimdall, the Bifrost's stoic and all-seeing guardian, greets Jane as she arrives in Asgard for the first time.
However, she is not so warmly received by Odin, who initially orders her to be sent back to Earth. It's soon discovered, though, that it's the Aether that has infected her and she must stay in Asgard until Malekith has been stopped.
Product Information: Top, Cardigan,Jeans, Boots, Bangle, Necklace
Take inspiration from the glittering spires and majestic halls of Asgard, as well as from the Bifrost. Start with a floaty galaxy-print top reminiscent of the Bifrost, then add a sturdy pair of coated jeans and a draped cardigan reminiscent of the Asgardian robes Jane is given.
Next, add a few regal accessories that convey the grandeur of Asgard without being too ostentatious: a sleek pair of metallic bronze ankle boots evoke the burnished armor worn by warriors, while an avian bracelet is a subtle reference to Odin's crows Huginn and Muninn.
P.S. Did anyone think Asgard looked just like Minas Tirith from a distance and like Rivendell during the palace interior scenes?
Lady Sif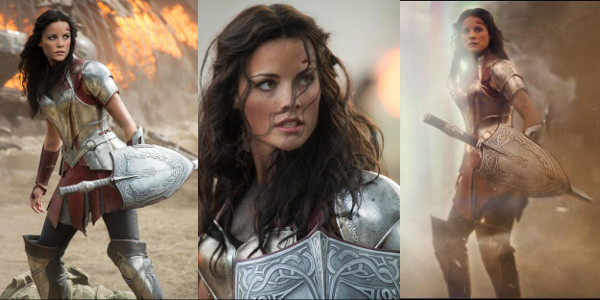 Originally I wanted to base an outfit on the Warriors Three – Hogun, Fandral, Volstagg (played by Tadanobu Asano, Zachari Levi, and Ray Stevenson, respectively) – but I changed my mind after developing a huge girl crush on Jaimie Alexander as Lady Sif.
Along with the Warriors Three, Lady Sif is a trusted and loyal ally, as well as a confidante to Thor. As the Asgardian goddess of war, she's highly skilled and confident in battle.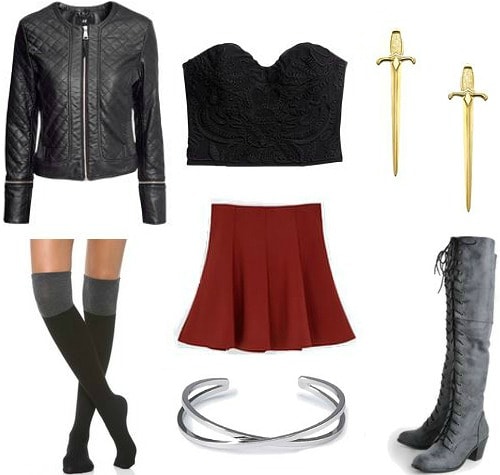 Product Information: Jacket, Top, Skirt, Socks, Boots, Cuff, Earrings
Snag Lady Sif's enviable confidence with an edgy but playful look inspired by her battle attire. If you've been itching to try the crop top trend but don't want to bare too much skin, one great way to style such a piece is by pairing it with a high-waisted skirt. Next, add a quilted faux leather jacket.
Lady Sif wears a practical pair of leggings on the battlefield, however, since you probably won't be fending off marauders on Vanaheim, why not try layering a fun pair of socks underneath a pair of kickass over-the-knee boots?
The Return of the Dark Elves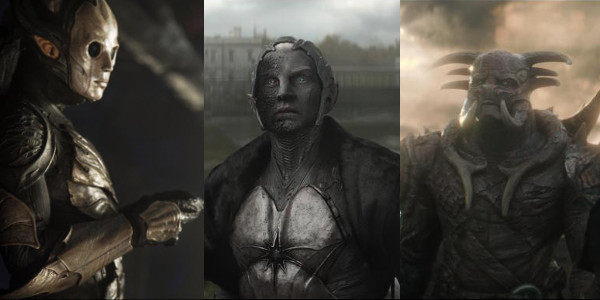 Led by the Ninth Doctor wearing Lucius Malfoy's wigMalekith and his right hand man, Mr. EkoAlgrim/Kurse, the Dark Elves of Svartalfheim are an ancient race bent on spreading darkness throughout the universe. With the exception of the two leaders, the Dark Elves wear expressionless metal masks that add to their foreboding appearance.
Besides their overpowering desire to reclaim the Aether, not much else is disclosed about this malevolent army. But that's okay, we all know they're really just bit background players in Thor and Loki's Excellent Adventure.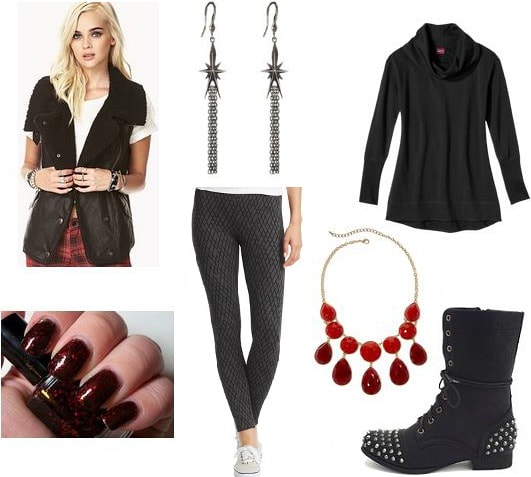 Product Information: Sweater, Vest, Leggings, Boots, Necklace, Nail Polish, Earrings
I have to admit, the more of these articles I write, the more I wish that there were more Professor Umbridge-type villains wearing pink twin sets or flamboyant Mugatu-esque baddies. It can get awfully tedious seeing villain after villain clad in head-to-toe black! Nevertheless, there's still inspiration to be found in Malekith and the Dark Elves, since their attire and ships all look like stone and metal, thus providing a stark contrast to the twisting ruby tendrils of the Aether.
Layer a faux shearling vest over a turtleneck tunic for a stylish take on Malekith's "possessed by dark matter" look. A pair of thick ponte leggings with a subtle print are thick enough to provide full coverage (but if you must, sub in a pair of gray jeans), while studded combat boots are practically required for a big-bad-inspired look.
Even Dark Elves love their accessories, so add some gunmetal earrings reminiscent of the markings on Malekith's chestplate, along with a deep red necklace and vampy glitter polish to represent the Aether they so desperately seek.
More Geek Chic!
Need more geekiness in your life? (Is that even a question? Of course you do!)
If you enjoyed this post, don't miss our previous articles in the Geek Chic series: The IT Crowd-inspired fashion, City of Bones-inspired fashion, How To Train Your Dragon-inspired fashion, Rise of the Guardians-inspired fashion, Loki-inspired fashion, What to Wear to SDCC, Doctor Who-inspired fashion (And parts 2, 3, and 4), Star Trek Into Darkness-inspired fashion, Buffy-inspired fashion (and Part 2), Castle-inspired fashion, Firefly-inspired fashion, The Hobbit-inspired fashion, Supernatural-inspired fashion, Bones-inspired fashion, Princess Bride-inspired fashion, The Dark Knight trilogy-inspired fashion, Pokemon-inspired fashion, Star Wars Prequel-inspired fashion, Lost-inspired fashion, Sailor Moon-inspired fashion, Sherlock-inspired fashion, Star Wars Original Trilogy-inspired fashion, The Big Bang Theory fashion, the Lord of the Rings fashion, and Star Trek-inspired fashion.
What did you think?
Would you wear these outfits? Have you seen Thor? Did you stay for the two post-credits scenes? Are you getting excited for Captain America: The Winter Soldier, Guardians of the Galaxy, and The Avengers 2? What other geeky inspirations would you like to see? Next time, we'll be dropping in on the Capitol to see how our favorite tributes are doing in the Quarter Quell!