Let's call this time travelling Thursday: it's the Geek Chic column's third and final installment of fashion inspired by Doctor Who! Last time, we covered Eleven's friends and foes, so now it's time to talk about the companions of the Ninth and Tenth Doctor.
Never watched the show or need a quick recap? Read Fashion Inspired by Doctor Who Part 1 and Part 2 to catch up!
For more Geek Chic, check out previous articles about BBC's Sherlock-inspired fashion, Star Wars Original Trilogy-inspired fashion, The Hunger Games-inspired fashion, The Lord of the Rings-inspired fashion, The Big Bang Theory-inspired fashion, and Star Trek-inspired fashion!
Know Your Geek: About the Doctor's Companions
Also called an "assistant," a companion is someone who travels with the Doctor on his adventures. They're not always there by choice and they don't always stay for long, but one thing's for sure: they certainly are lucky! (I'm sure most of us would absolutely love a trip on the TARDIS!)
Since the Doctor has pretty much seen it all in his centuries of time travel, he likes having humans around so he can vicariously re-experience the excitement of seeing the universe for the first time. Companions also often act as his conscience; the Doctor once said "my friends have always been the best of me." He's captivated by their oh-so-human capacities to hope, to love, and to dream.
In addition, the human companions serve as a lens for the audience; since we're not 900-year-old Time Lords, the companions often ask the same pressing questions about time and space that we want answered.
Outfits Inspired by the Doctor's Friends and Foes
Fasten your seat belts: it's going to be a wibbly wobbly ride!
Rose Tyler
Rose Tyler, played by former pop star Billie Piper, is an average teenage girl with no real direction in life or bright future awaiting her — until she meets the Doctor. During their first encounter, he rescues her from sentient plastic mannequins (really), but it soon becomes evident that he's not the only one doing the rescuing. Rose helps the Doctor heal from the emotional scars of the Time War, while finding her own inner strength and purpose.
When the Doctor regenerates into his tenth form, the romantic tension between the two becomes increasingly evident. It's a poignant, heartbreaking kind of love, though, because the Doctor is essentially immortal: though Rose can spend the rest of her life with him, he cannot spend the rest of his life with her. I don't want to spoil the show for anyone, but let's just say that the Kleenex brand definitely benefits from Rose and the Doctor's relationship.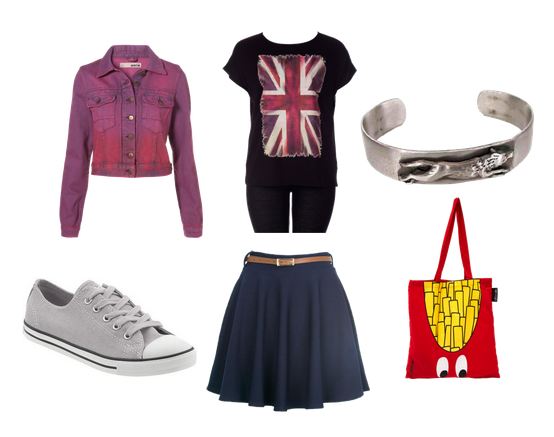 Product information: Jacket, Shirt, Skirt, Shoes, Bracelet,Tote
Rose generally wears casual hoodies, funky t-shirts, and bootcut jeans. Her style is very early 2000s, an era that reminds me of middle school. (Yikes!) Above, I've put together a more modern outfit based on some of her most memorable ensembles.
A jean jacket is a springtime essential, and this purple dip-dyed version is a fun take on the traditional blue. Pair a slouchy Union Jack tee with a full skirt for a casually cool look that has elements of Rose's 1950s getup. Comfy but cute sneakers ensure that you'll be ready to run with the Doctor at a moment's notice. Carry your books in a graphic tote that references Rose's love of French fries. (Okay, "chips.") Finally, a sleek bangle gives you "something of the wolf."
Martha Jones
Martha Jones, played by Freema Agyeman, is a savvy medical student and later, doctor, who impresses the Doctor with her intellect and ability to stay calm in frightening situations (e.g. you and the entire hospital you work in have been teleported onto the moon). Though he's still hurt from losing Rose, the Doctor invites Martha for a spin on the TARDIS. Along the way, she falls in love with the Doctor; though he doesn't return her affections, Martha remains fiercely loyal and capable of tremendous self-sacrifice. Plus, she gives darned good inspirational speeches!
During her stint as companion, Martha literally walks the earth — yes, the entire planet — to singlehandedly save the human race. Though she will always care for him, Martha eventually realizes that she doesn't need the Doctor to be a champion for Earth: her own independence and stalwart determination are more than enough.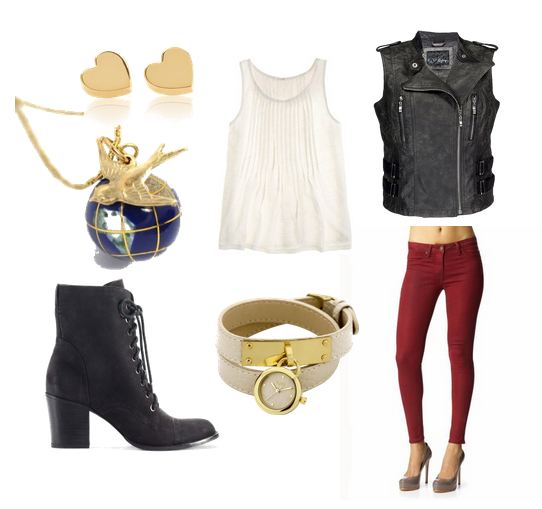 Product information: Vest, Top,Jeans, Boots, Necklace, Earrings, Watch
Like Emma from Once Upon a Time, Martha loves a good leather jacket and great-fitting jeans. Since red leather jackets aren't easy to track down, why not try out out the coated jeans trend? This sleek red pair goes perfectly with a motorcycle vest and tough ankle boots, which recall Martha's all-black walking-the-earth outfit. A pleated white tank top softens the look (and is much cuter than a med student's white coat).
Jazz up the ensemble with jewelry: heart earrings represent Martha's love for the Doctor, while a bracelet watch references a Time Lord fob watch. Finally, a globe-shaped necklace alludes to Martha's saving-the-world-on-a-frequent-basis ways.
Donna Noble
Remember how I said that Amy Pond isn't the sassiest redhead ever to grace the TARDIS? Introducing the real deal: Miss Donna Noble, played by Catherine Tate. (You might recognize her from The Office!) With a typing speed of over 100 wpm, Donna's the best temp in Chiswick and possibly the most obnoxiously hilarious woman on the planet.
When she first meets the Doctor, she's totally self-absorbed and initially rejects his invitation to travel with him. Later, though, she rejoins him and proves to be a strong and incredibly compassionate woman. She keeps the Doctor in line, and more so than any other companion, truly becomes his best friend. Donna undergoes a tremendous transformation of character, which makes her ultimate fate so very, very tragic.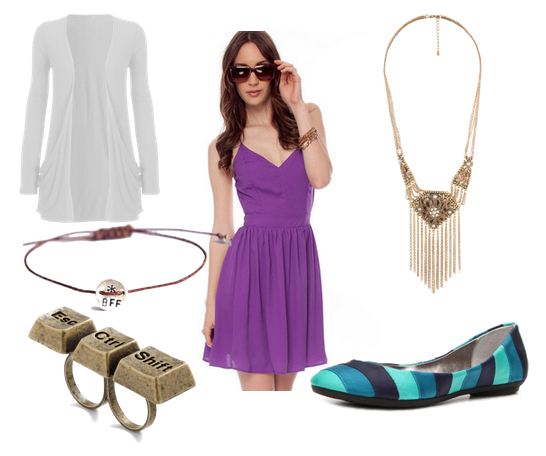 Product information: Cardigan, Dress, Shoes, Necklace, Ring, Bracelet
Despite her brash personality, Donna favors easy, breezy layers. When it comes to traveling to the past, though, she likes to get decked out in period clothing: her Pompeii and 1920s get-ups are pretty fabulous! This outfit pays tribute to her styles of the past and present.
A soft jersey cardigan and pretty purple dress are a no-fail combination; add turquoise flats for an extra hit of color. Reference Donna's flapper dress with an intricate beaded necklace, then work on your typing skills with a quirky keyboard ring. Finally, call up your favorite Doctor Who-loving friend and slip on matching BFF bracelets.
Captain Jack Harkness
Captain Jack Harkness, played by John Barrowman, is a suave con man from the 51st century, although Rose and the Doctor meet him during the London Blitz. He's omnisexual and brimming with confidence; it's immediately clear that the Doctor feels a little threatened by his presence, especially when Jack starts flirting with Rose. (Really, though, Jack will flirt with anything that moves.) Jack becomes immortal, thanks to a certain Bad Wolf, and later joins up with the Torchwood Institute to fight aliens.
(Okay guys, gotta brag a little: I met John Barrowman last month! He was on my school's campus filming a TV pilot. I almost died from excitement.)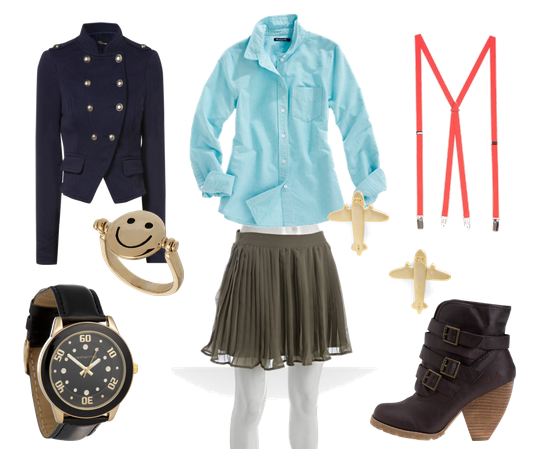 Product Information: Jacket, Shirt, Skirt, Boots, Suspenders, Ring, Earrings, Watch
Since it's springtime, Jack's WWII greatcoat might be a little too toasty; instead, slip on a cute military-inspired jacket. A crisp oxford shirt is a nice contrast to a pleated chiffon skirt. Add a touch of menswear-inspired flair with pink suspenders, then slip on buckled ankle boots.
Airplane earrings reference Jack's stint as a Royal Air Force officer, while a smiley face ring is a subtle hint about Jack's far-off future. A leather watch is reminiscent of his vortex manipulator; though it might not let you travel through time, it'll definitely help you be on time!
The Daleks
Sure, by today's intense CGI standards, the Daleks may look a little goofy, but make no mistake: these aliens are the Doctor's archenemies and his worst nightmare. Their sole agenda is to destroy anything that is not Dalek. (Thus, their battle cry: "EXTERMINATE!") Every time that they show up, you know that nothing good is going to happen.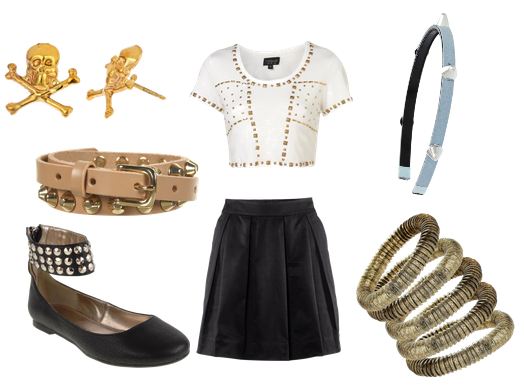 Product Information: Top, Skirt, Shoes, Belt, Headband, Bangles, Earrings
This is the one time I'd recommend judging the book by its cover: under the metal shell, Daleks basically look like tentacled, one-eyed slugs, which is why this outfit is only based on their exterior.
Try out a big spring 2012 trend with a studded crop top; pair it with a full skirt for an abdomen-baring but still appropriate look. Then, pile on the metallic accessories! I wouldn't suggest wearing tons of studded pieces at once, but one or two will give you an edgy look. Skull earrings reference the Daleks' determination to eradicate all life forms. Exterminate!
What did you think?
Would you wear these looks? Do you have a favorite companion? (I don't think I could ever choose!) What other geeky inspirations would you like to see? (Next time, we'll be taking a break from science fiction to fight evil by moonlight with a certain Sailor Scout!) Let me know in the comments!