When it came to picking an inspiration source for this week's Geek Chic post, the answer was really quite elementary: BBC's hit show Sherlock is smart, gripping, and surprisingly stylish — the perfect choice for a fashion/geek interpreter! The show stars Benedict Cumberbatch and Martin Freeman as the original bromance/dynamic detecting duo, Sherlock Holmes and John Watson.
Unlike most American shows, Sherlock has only three episodes per season, but each is 90 minutes long. Since there are only 6 episodes total, it's a show you can definitely marathon in a weekend, but be warned: you may suffer withdrawal afterwards, since there won't be new Sherlock episodes until mid 2013! It's a fantastic program, so watch at once if convenient. If inconvenient, watch anyways.  
For more Geek Chic, check out previous posts about Star Wars-inspired fashion,Hunger Games-inspired fashion, Doctor Who-inspired fashion (and Part 2), The Lord of the Rings-inspired fashion, The Big Bang Theory-inspired fashion, and Star Trek-inspired fashion.
Know Your Geek: About BBC's Sherlock
Created by Steven Moffat and Mark Gatiss (both of Doctor Who fame), Sherlock is a modern take on Sir Arthur Conan Doyle's classic series.
Many canonical elements have been retained, but given a contemporary twist. For instance, Doyle's stories were narrated by Dr. Watson, who served as Holmes's biographer. In this show, John blogs about his flatmate's cases as an assignment from his psychiatrist.
In the Doyle stories, the protagonists addressed each other as "Holmes" and "Watson"; in the update, they go by the more personal "Sherlock" and "John." The episodes are also updates on the original stories: for instance, the first episode, "A Study in Pink," is loosely based on the first Sherlock Holmes novel, "A Study in Scarlet."
Outfits Inspired by Sherlock
According to Sherlock, breathing is boring. The fashion of the series, though, is anything but! Since technology plays a large role in Sherlock, I've included an iPhone case in each of these outfits inspired by the characters of Sherlock.
Sherlock Holmes
Sherlock, played by the incredible Benedict Cumberbatch, is the world's only consulting detective; Scotland Yard turns to him when faced with seemingly unsolvable crimes. Sherlock is a self-described high-functioning sociopath with incredibly astute powers of observation and deduction. Despite his keen ability to understand other human beings and their actions, he distances himself from the world. In his mind, the rules of society don't apply to him.
Sherlock can be unapologetically arrogant and manipulative; he sometimes gets so caught up in his own brilliance that he's unintentionally cruel.  Nevertheless, when it comes to John and Mrs. Hudson, their landlady, he does show rare signs of affection and devotion.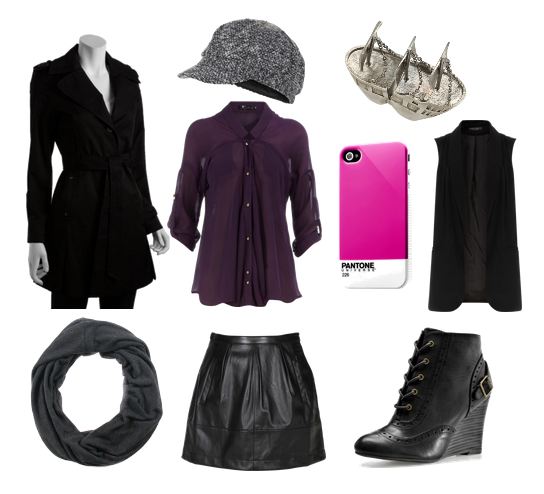 Product Information: Trench, Shirt, Skirt, Vest, Shoes, Ring, Scarf, Phone Case 
While the man himself is incredibly mysterious, his wardrobe is not hard to decipher. For someone who is utterly absorbed in science and logic (and supposedly has zero interest in fashion), Sherlock is quite well dressed and favors streamlined fits and a dark palette of black, navy, purple, and gray.
To get his look, start off with the all-important black coat: this mid-length trench is totally timeless. Pair a refined purple blouse with a sleek faux leather skirt, then add a sleeveless jacket for a feminine take on a menswear suit. As a boy, Sherlock aspired to become a pirate, so reference that childhood whimsy with a tallship ring. Finally, a hot pink iPhone case echoes the pink phone that Sherlock acquires in the first episode.
John Watson
John, played by Martin Freeman, is an army surgeon who's just returned from Afghanistan. In his search for an apartment, he's introduced to the resident of 221B Baker Street, Mr. Sherlock Holmes. John is often frustrated with his eccentric flatmate, especially with his habit of leaving forensic experiments in the refrigerator. Despite his complaints, John still craves the adrenaline rush of the battlefield and becomes a willing partner in Sherlock's cases. He and Sherlock achieve minor celebrity status due to his blog about their adventures.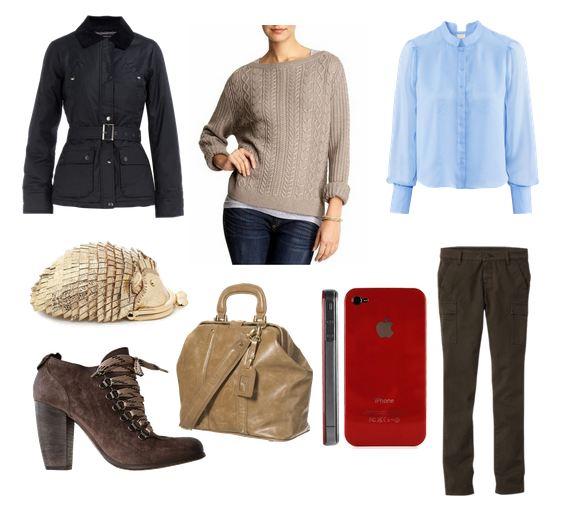 Product Information: Jacket, Jumper, Blouse, Trousers, Boots, Satchel, Coin Purse, Phone Case
John dresses for comfort and utility, not for fashion, but his casual style is easily adapted for the college campus. Layer a slouchy fisherman sweater over a periwinkle blouse, then slip on comfy cargo trousers that reference John's military background. If spring hasn't yet sprung where you live, a waxed cotton jacket will keep you warm and protect you from the elements.
Heeled hiking boots look both rugged and stylish and lend a bit of polish to the otherwise casual outfit.  A doctor bag is quite fitting for an outfit inspired by a surgeon; a red phone case references John's trusty red laptop.
Jim Moriarty
Moriarty, played by Andrew Scott, is Sherlock's arch-nemesis (the consulting criminal to Sherlock's consulting detective). This "Napoleon of Crime" is traditionally played by a grim, older man, but this modern Moriarty is hilariously terrifying and more than a little bit bonkers. He might be batty, but he's got a huge criminal network at his disposal and an intellect that rivals Sherlock's. (Also, he has a groovy ringtone.)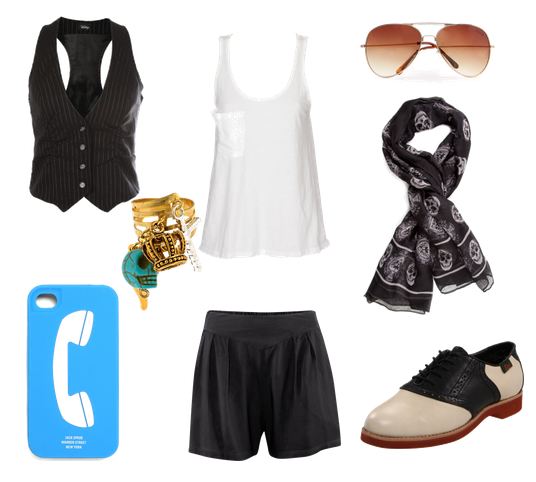 Product Information: Tank, Vest, Shorts, Shoes, Scarf, Ring, Sunglasses, Phone Case
With his slicked-back hair and devious grin, Moriarty has a polished look that always makes me think of Prohibition-era mobsters. For a fun, spring-appropriate take on the menswear trend, try a combination of high-waisted shorts, a slouchy tank, and a pinstriped vest. A pair of classic saddle shoes adds to the retro appeal, while cool aviator sunglasses reflect Jim's devil-may-care attitude.
In the show, Andrew Scott wears an Alexander McQueen skull tie; the designer's skull scarves are super-popular among celebrities, but will set you back around $300 a pop. Luckily, there are tons of inexpensive versions on the market! Last but not least, slip on a cool charm ring to reference one of Moriarty's more dastardly feats. (Honey, you should see him in a crown!)
Irene Adler
Irene Adler, played by Lara Pulver, is the only person to ever outsmart Sherlock Holmes and the ultimate femme fatale. In this modern spin on the iconic character, she's a dominatrix who has compromising photos of a British royal family member on her cell phone. She's practically oozing with confidence and definitely knows how to use her looks and charms to great advantage; the first time she meets Sherlock, she greets him in the nude in hopes of throwing him off his game. Sherlock is fascinated with her (and she with him) not because of real romantic interest, but because they represent a rare challenge to one another.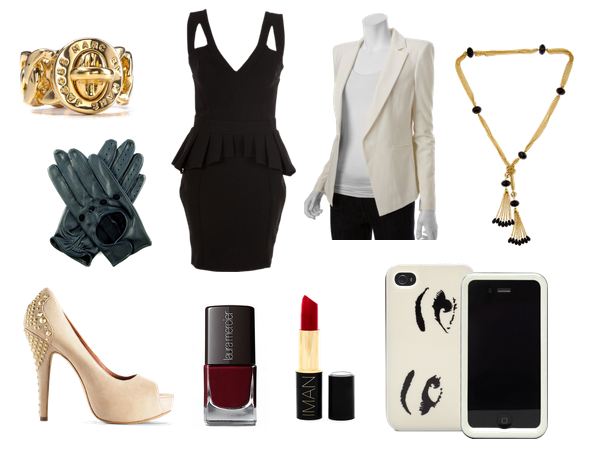 Product Information: Blazer, Dress, Pumps, Necklace, Ring, Gloves, Lipstick, Nail Polish, Phone Case
When she's not in her battle/birthday suit, Irene dresses in a sophisticated yet seductive manner that highlights her dangerous curves. Snag her sultry look with a tailored dress; not only are peplums totally hot right now, they'll make your waist look tiny! Peep-toe platforms (pick a pair that's close to your skin tone) will visually elongate your legs. For a more professional occasion, slip on a sharp blazer.
Next, pile on the fun extras!  A tassel necklace (tassels are vaguely whip-like, no?) references Irene's profession, while a lock ring relates to an important plot point. Vampy red lips and nails are always chic, and leather driving gloves up the femme fatale factor. Finally, an iPhone case emblazoned with a seductive gaze is absolutely perfect for this sultry villainess. You'll be fielding your fair share of dinner invitations in this Irene-inspired outfit!
Mycroft
Mycroft Holmes, played by show co-creator Mark Gatiss, is Sherlock's older brother and the very picture of British decorum. Sherlock concedes that Mycroft is more intelligent than he, but is too busy with his mysterious governmental position to be bothered solving everyday crime. The brothers frequently have hostile, snarky exchanges that typically involve Sherlock mocking Mycroft's weight.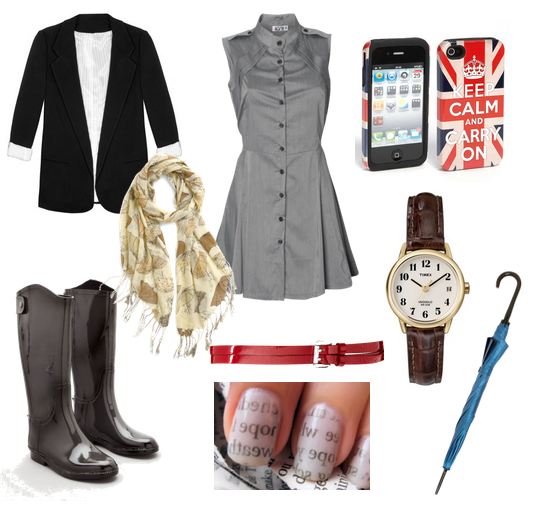 Product Information: Blazer, Dress, Boots, Scarf, Belt, Umbrella, Watch, Phone Case 
Since so much of this post has focused on menswear, I took some liberties with this Mycroft-inspired outfit to make it a cute ensemble for a rainy day. A crisp shirtdress and sharp blazer make a polished but effortless outfit; add refined accessories like a red patent belt and classic watch for extra pop. Mycroft is never without a trusty umbrella; equestrian rainboots, an umbrella-covered scarf, and an actual umbrella will keep you cute (and dry) in inclement weather.
According to Sherlock, his brother is the British government, so this "Keep Calm and Carry On" iPhone case seems incredibly appropriate for Mycroft. Finally, have some fun with your nails: reference Mycroft's reading materials with newspaper nails!
Molly Hooper
Molly, played by Lou Brealey, is a forensic pathologist at St. Bart's Hospital and an original character created for the show. She's endearingly awkward (there's a reason she works in the morgue) and harbors a serious crush on Sherlock. Although she knows he'll never return her affections, she maintains a fierce loyalty for him and proves to be an invaluable resource.
Unlike the larger-than-life Irene Adler, Molly's just a normal girl. Personally, though, I think that's what makes her a compelling character: we can all see ourselves in Molly and aspire to be the kind of person and friend that she is.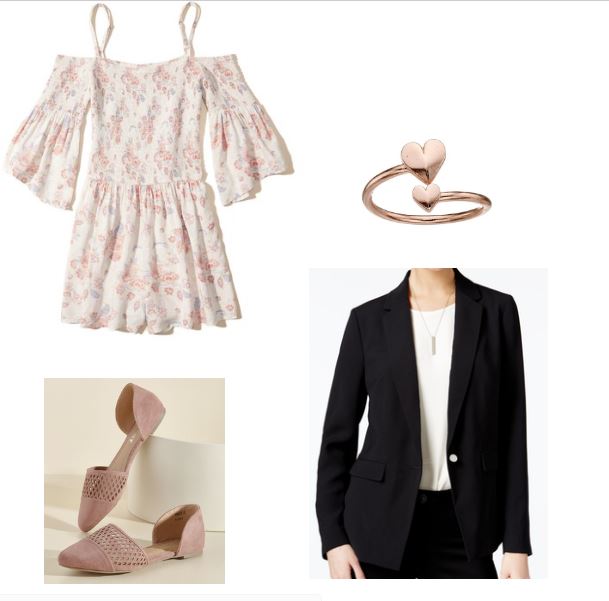 Product Information: Jacket, Blouse, Vest, Trousers, Shoes, Nail Polish, Earrings, Phone Case
Since she spends most of her time in the morgue, Molly is almost always seen wearing a traditional white lab coat and sensible shoes. Despite her macabre profession, she's a girly-girl at heart and favors floral prints and ruffly cardigans. Channel her cute look with a tie-neck blouse and pink sweater vest; a white jean jacket is a stylish take on her lab coat.
Cropped trousers and oxford flats are trendy, but still fit the long pants and closed-toe shoe requirements of a lab setting. A few coats of lavender nail polish are definitely cuter than a pair of latex gloves. Finally, tone down the girliness of the outfit with these slightly-creepy earrings that reference Molly's job.
What did you think?
Would you wear these outfits? Do you watch Sherlock? Which character's style do you like best? What other geeky inspirations would you like to see next? (We'll soon be taking one final trip on the TARDIS…next stop: everywhere!) Let me know in the comments! 
P.S. Apologies to Lestrade fans for his absence in this post. Fashion: not his division.