While I may wax poetic about Geek Chic icons like Star Trek and The Lord of the Rings, I didn't really join those fandoms until after the movies were released. But this particular inspiration hearkens back to my early childhood, when I had a babysitter who only owned one movie (meaning I watched it on repeat): the gloriously campy, fantastically cheesy, and utterly flawless The Princess Bride.
Fencing. Fighting. Torture. Revenge. Giants. Monsters. Chases. Escapes. True love. Miracles. Giant rodents. And yes, a little bit of kissing. Who could possibly resist?
In case you missed our past posts, check out: Buffy-inspired fashion, The Dark Knight trilogy-inspired fashion, Pokemon-inspired fashion, The Amazing Spider-Man-inspired fashion, Dr. Horrible's Sing-along Blog-inspired fashion,  Star Wars Prequel-inspired fashion, Lost-inspired fashion, The Avengers-inspired fashion,Sailor Moon-inspired fashion, Doctor Who inspired fashion (plus Part 2 and Part 3), Sherlock-inspired fashion,Star Wars Original Trilogy-inspired fashion, The Hunger Games-inspired fashion, The Big Bang Theory-inspired fashion, the Lord of the Rings-inspired fashion, and Star Trek-inspired fashion.
Know Your Geek: About The Princess Bride
The Princess Bride, released in 1987, was based on the 1973 novel of the same name by William Goldman. (It's actually incredibly faithful to the book, which seems to be a rarity these days!)
Cary Elwes, Robin Wright, Mandy Patinkin, Wallace Shawn, Andre the Giant, and Chris Sarandon star as residents of the fictional land of Florin.
The film is set up as a story within a story: a grandfather visits his grandson, who is sick in bed, and persuades the boy to set down his video games long enough to listen to him read a book. That book is, of course, the tale of the Princess Bride.
Outfits Inspired by The Princess Bride
Ready to go on a fashion-fueled fantasy adventure? Read on for five outfits inspired by The Princess Bride!
As You Wish
At the beginning of the film, Buttercup is a beautiful country girl who loves nothing better than riding horses and tormenting Westley the stable boy, whom she refers to only as "Farm Boy." In turn, he quietly performs all the tasks she demands, responding only with the phrase: "As you wish."
As attractive men and women are wont to do in romantic comedy films, the two quickly fall in love. But their love is torn asunder when Westley sets out to seek his fortune and is tragically murdered by the Dread Pirate Roberts.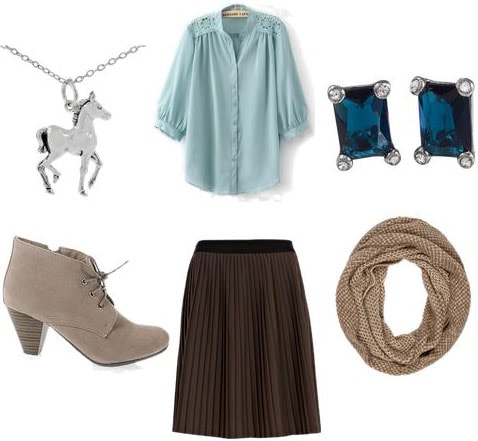 Product Information: Blouse, Skirt, Boots, Scarf, Earrings, Necklace 
Get Buttercup's rustically pretty style with a pale blue blouse and pleated brown midi skirt. A wheat-hued scarf in a waffle knit adds some texture to the outfit while taupe ankle boots are stylish yet functional.
Accessorize with references to Buttercup's two great loves: a horse charm for her love of riding, and cerulean earrings to represent Westley, who has "eyes like the sea after a storm." Wuv, twue wuv indeed!
Princess Buttercup
Although a grieving Buttercup swears that she will never love again, her unparalleled beauty does not go unnoticed. She attracts the attention of the arrogant Prince Humperdinck, who forces her to marry him. Although the people of Florin adore Buttercup, nothing can fill the ache left by the loss of her true love.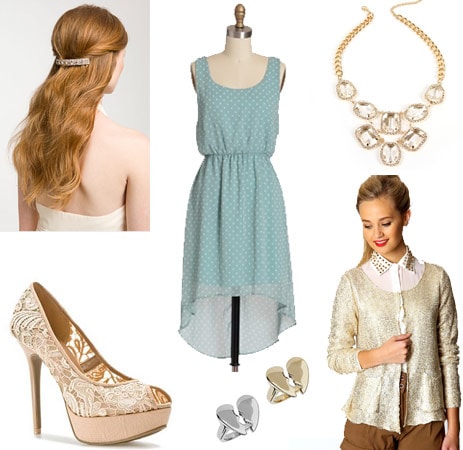 Product Information: Cardigan, Dress, Pumps, Necklace, Ring, Barrette
In the castle, Buttercup wears ornately embroidered silk gowns and splendid jewels. For a regally elegant look, slip on an ice blue dress with a slight metallic sheen.  A sequinned cardigan in a neutral tone looks luxe but not over-the-top. Lace peep-toe heels add another touch of luxury to the ensemble.
Since Humperdinck lavishes Buttercup with jewels, bling it on with a sparkling barrette and rhinestone bib necklace. A broken heart ring, though, alludes to Buttercup's true emotional state.
A Battle of Wits
Newly engaged Princess Buttercup finds solace only in her daily ride in the woods of Florin. However, on one such ride, she encounters three bizarre looking men — a Sicilian, a Spaniard, and a giant — who claim to be circus performers. Not so! They turn out to be bandits who kidnap Buttercup and take her to the Cliffs of Insanity.
Vizzini, the mastermind of the group, is a pompous fellow who prides himself on his intelligence and has a serious yen for the word "inconceivable." When a mysterious stranger tracks down the bandits and demands that they hand over the princess, Vizzini challenges him to a battle of the wits, which culminates in what is probably one of the greatest movie deaths in cinematic history.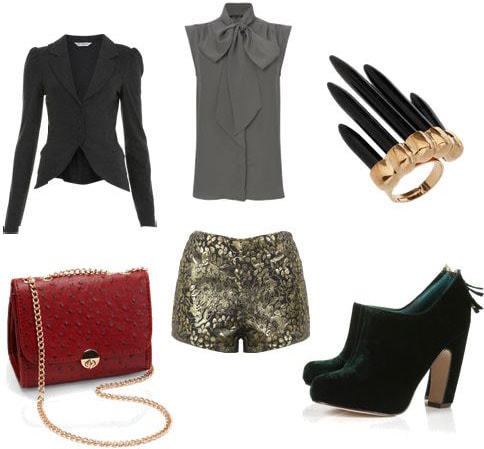 Product Information: Blazer, Top, Shorts, Boots, Bag, Ring
While Vizzini doesn't have the most enviable personality (though self-confidence — in moderation — is always good), his brocade attire is worth trying out. Go for baroque with a pair of metallic shorts and puff-sleeve blazer. A tie-neck blouse adds some Vizzini-like flair without being too ostentatious. Slip on a pair of opulent velvet ankle boots in hunter green, a hot fall shade .
For a pop of color, stash your belongings in a deep scarlet cross-body bag, then top off the look with a fun spike ring that resembles the Cliffs of Insanity.
The Dread Pirate Roberts
Alack! The mysterious stranger is none other than the vicious Dread Pirate Roberts, who purportedly leaves no survivors. Not to mention, he's the heartless man who killed Westley and destroyed Buttercup's life. But wait! Doesn't that chiseled jawline and those stormy blue eyes look familiar? (Well, to us, at least. Buttercup doesn't seem to notice.) Who is this master swordsman, this brilliant strategist, this dashing pirate? Could it be…Westley himself?
Spoiler alert: The answer is yes.
Product Information: Blouse, Bralet, Pants, Boots, Scarf, Necklace, Ring
The mysterious Dread Pirate Roberts dresses in head-to-toe black… and he looks good. (Sorry, is my childhood crush on Westley showing?)
Get into a swashbuckling spirit with this monochromatic ensemble! With such a limited color palette, add interest to the look by layering and playing with texture.  A cropped lace bralet goes perfectly under a sheer black blouse, while leather-look pants up the trendiness factor.
Should you need to participate in a sword duel, a pair of low-heeled ankle boots will serve you well.  Accessorize with a silky head scarf and pewter charm jewelry.  You'll look great, even after tumbling down a very steep hill while screaming "as you wish!"
My Name is Inigo Montoya
Inigo Montoya is a spirited Spaniard bent on revenge. His father, a master sword-maker, was cruelly murdered by a six-fingered man, who had commissioned a weapon from the elder Montoya. Although Inigo was only a child when this occurred, he challenged the assailant to a duel. Though the murderer spared his life, Inigo was left heartbroken, with two scars in the shape of an "x" slashed on each of his cheeks. Since then, Inigo has worked on his dueling skills, becoming an expert swordsman.
Although he and his friend Fezzik the Giant work for Vizzini as bandits, Inigo's only real desire in life is to hunt down the six-fingered man. And when he does, he will walk up to him and say the immortal words: "Hello. My name is Inigo Montoya. You killed my father. Prepare to die."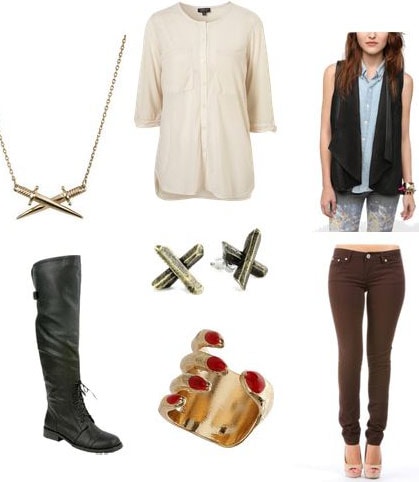 Product Information: Blouse, Vest, Jeans, Boots, Necklace, Earrings, Ring 
Inigo wears a cream colored shirt along with a leather jerkin and boots. (It's like a medieval take on the Han Solo outfit…apparently renegade heroes have dress code guidelines!) His utilitarian outfit is well suited to his swordfighting.
Get Inigo's laid-back look with a similar button-up blouse and brown jeans. Over-the-knee boots and a waterfall faux-leather vest are trendy takes on his more Renaissance-faire-like attire. A sword necklace and criss-cross earrings allude to Inigo's duel, while a hand-shaped ring references his archenemy. (Just pretend there's an extra finger.)
What did you think?
Would you wear these outfits? Are you a fan of The Princess Bride?  What other geeky inspirations would you like to see? (Next time, we'll be tagging along with the Jeffersonian's top forensic anthropologist!) Let me know in the comments!
P.S. Have fun storming the castle!