This post may contain affiliate links, which means we may receive a commission if you purchase through our links. Please
read our full disclosure here
.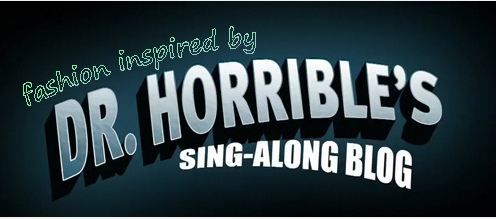 I love all things geeky. I love musicals. So what a crazy random happenstance it is that this Geek Chic post is all about a beauteous blend of both!
Dr. Horrible's Sing-along Blog, a three part web vlog, stars geek icons such as Neil Patrick Harris, Nathan Fillion, Felicia Day, and Simon Helberg; plus, it was written and directed by Joss Whedon, Zack Whedon, Jed Whedon, and Maurissa Tancharoen, Jed's wife.  If you've never watched the blog, it's available for download on iTunes.
For more Geek Chic, check out previous articles on  Star Wars Prequel-inspired fashion, Lost-inspired fashion, The Avengers-inspired fashion,Sailor Moon-inspired fashion, Doctor Who inspired fashion (plus Part 2 and Part 3), Sherlock-inspired fashion,Star Wars Original Trilogy-inspired fashion, The Hunger Games-inspired fashion, The Big Bang Theory-inspired fashion, the Lord of the Rings-inspired fashion, and Star Trek-inspired fashion.
Know Your Geek: About Dr. Horrible's Sing-along Blog
The Sing-Along Blog is a relatively small and low-budget production created during the 2007-08 Writers Guild of America Strike. It had an Internet-only release. Since Joss Whedon paid for the entire production out of pocket, the initial proceeds all went directly to reimbursing the cast and crew.
Dr. Horrible, alter ego Billy, is an idealistic wannabe supervillain. Although he's queasy about committing acts of real violence, he's convinced that he can change the world once he's inducted into the Evil League of Evil.
To get inducted, he must prove his evilness to Bad Horse, leader of the League and the infamous Thoroughbred of Sin. However, his plans are always foiled by the pompous  and shallow superhero, Captain Hammer, whose favorite pastime is bullying Dr. Horrible.
Billy/Horrible is infatuated with Penny, an altruistic redhead whom he sees weekly at the laundromat. When Dr. Horrible learns that Captain Hammer has started dating Penny solely to mock him, he snaps and decides to commit an ultimate act of evil.
Oh, and along the way, there's plenty of song and dance!
Outfits Inspired by the Blog
Even if you don't have a freeze ray, you'll stop the world in its tracks with these ensembles inspired by the dastardly Dr. Horrible and his nefarious blog.
On the Rise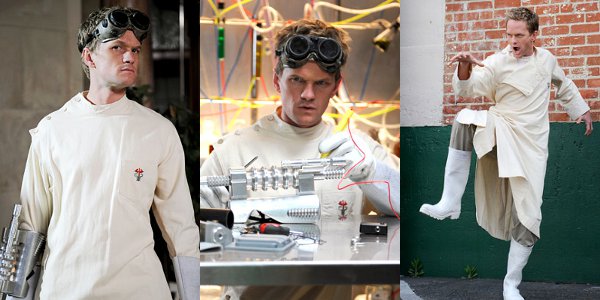 The hapless Dr. Horrible is determined to gain entry to the Evil League of Evil. He has somewhat jumbled ideas about anarchy and world domination; he's convinced that the world is morally bankrupt and that he has the power to fix it…by ruling it. With the help of his henchman, Moist (who has the terrifying ability to make things damp), Dr. Horrible builds inventions such as a freeze ray that he hopes will help him commit dastardly deeds.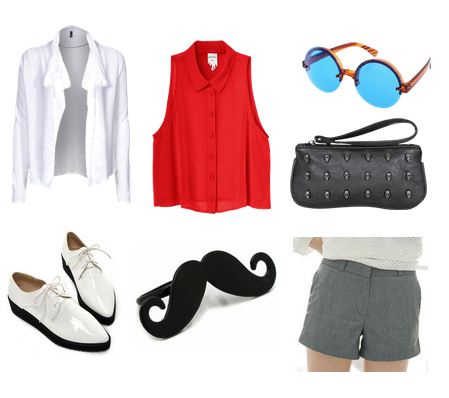 Product Information: Cardigan, Top, Shorts, Shoes, Wristlet, Sunglasses, Ring
Dr. Horrible wears a mad scientist-like getup consisting of a lab coat, rubber gloves, goggles, and white boots. Snag his style with a modern spin on his look. A red sleeveless blouse will pop against a white cardigan and crisp gray shorts, while patent oxfords will lend an edgy feel to the outfit. Pile on the extras, such as round sunglasses that allude to Dr. Horrible's goggles, a skull-emblazoned wristlet (for a dash of evil), and a mustache ring that recalls one of Horrible's dastardly disguises.
Laundry Day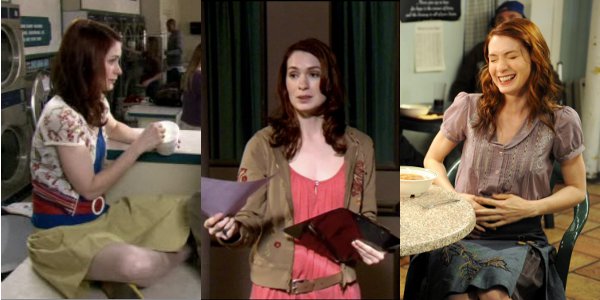 Penny is a girl whose dream is to help the helpless by converting a condemned city building into a homeless shelter. Although her kind nature and charitable desires technically go against all that Dr. Horrible should stand for, he develops a crush on her after seeing her every week at the laundromat. Although she is swept off her feet by Captain Hammer, Penny does have feelings for Billy, her laundry buddy.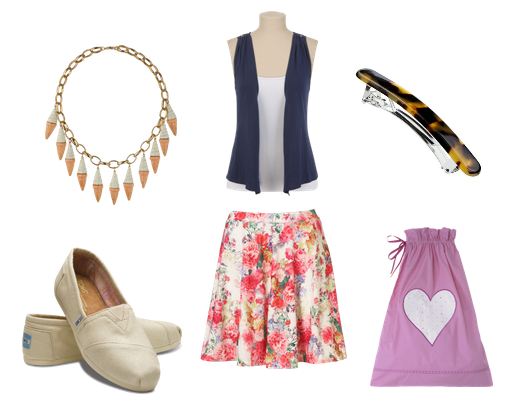 Product Information: Vest, Skirt, Shoes, Necklace, Barrette, Laundry Bag
Penny has a casual and girly wardrobe and wears lots of floral prints. Channel her sweet style with a crocheted vest and full floral skirt. A pair of TOMS shoes would surely appeal to Penny's altruism, while a cute charm necklace alludes to Penny's love for fro-yo. A polished barrette will keep your hair out of your face, while a pretty printed laundry bag will make you stand out at the laundromat.
Everyone's a Hero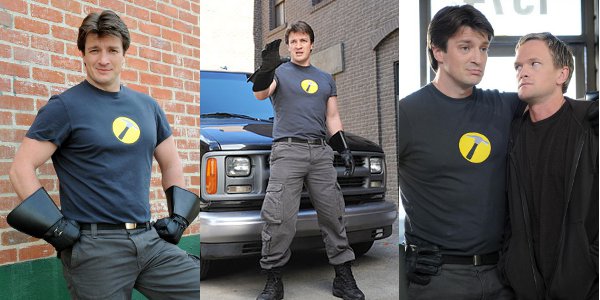 Photo credits: 1, 2, 3
Captain Hammer, corporate tool, is a self-absorbed hero adored by the oblivious public despite his less-than-heroic personality. Hammer doesn't really have a desire to champion good; he just likes all of the attention. Plus, with his super strength, it's just so easy for him to beat up Dr. Horrible. When he discovers that Dr. Horrible has a crush on Penny, he starts dating her just to spite his nemesis.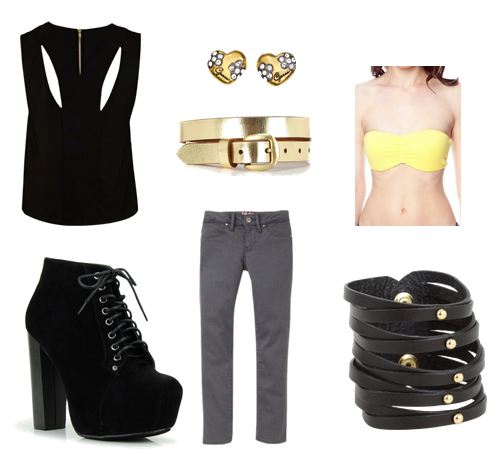 Product Information: Top, Bandeau, Jeans, Shoes, Cuff, Earrings, Belt
Although I wouldn't recommend adopting Captain Hammer's attitude full-time, there are certain times when it's beneficial to take on his confident demeanor. Case in point: a night out on the town.
To get a night look inspired by the Captain, slip on a slouchy tank over a colorful bandeau. Gray skinny jeans feel more unexpected than blue or black but are just as cute. Add some bold accessories like sky-high platform boots, a leather cuff, and metallic belt. (I want to slip in a punny line here that involves the word "hammer" but I can't think of anything appropriate. Take from that what you will.)
What did you think?
Have you seen Dr. Horrible's Sing-along Blog? (If you haven't, you definitely should!) Would you wear these outfits? Are you excited about the rumors of a sequel? And what other geeky inspirations would you like to see covered? Let me know in the comments!