Luckily for those of us who love all things geeky, 2012 has been the summer of Marvel mania. First there was the smash hit The Avengers, and now The Amazing Spider-Man has hit the big screen. Directed by Marc Webb (whose last name wins an award for Best No Pun Intended) of 500 Days of Summer fame, the film stars Andrew Garfield, Emma Stone, and Rhys Ifans.
As a big fan of the Sam Raimi-directed films, I was curious to see how this reboot would compare. I wasn't disappointed: it's a funny, shiny, and all-around exciting – not to mention stylish – movie.
Check out previous articles to add some more Geek Chic to your week!  Dr. Horrible's Sing-along Blog-inspired fashion,  Star Wars Prequel-inspired fashion, Lost-inspired fashion, The Avengers-inspired fashion,Sailor Moon-inspired fashion, Doctor Who inspired fashion (plus Part 2 and Part 3), Sherlock-inspired fashion,Star Wars Original Trilogy-inspired fashion, The Hunger Games-inspired fashion, The Big Bang Theory-inspired fashion, the Lord of the Rings-inspired fashion, and Star Trek-inspired fashion.
Know Your Geek: About Spider-Man
Spider-Man was created by Marvel Comics artists Stan Lee and Steve Ditko in 1963. (Spidey serves as Marvel Comics' mascot!)  At the time, the character was considered unprecedented due to his young age and struggle with typical teen problems like low self-esteem and fear of rejection.
The original comics have spawned several spinoffs, including animated and live-action TV shows, newspaper comic strips, a Broadway musical, and of course, movies. The first three films, which starred Tobey Maguire and Kirsten Dunst, established Spider-Man as one of the most successful movie franchises ever. (And oh, that upside-down kiss launched a million fanboy/fangirl daydreams!)
Like Spider-Man (2002), The Amazing Spider-Man is an origin story. In the reboot, Peter Parker starts his journey towards superhero-dom as a high school student instead of as a photographer for the Daily Bugle. The film also focuses more on Peter's deceased parents and the mystery surrounding their deaths. Otherwise, you'll probably recognize most of the characters and settings.
Outfits Inspired by The Amazing Spider-Man
Ready to swing into action and spin a web of style? Try out these outfits inspired by your friendly neighborhood superhero/trendsetter!
Peter Parker
Peter Parker, played by Andrew Garfield, is a good-natured teenage boy who was raised by his Uncle Ben and Aunt May after his parents were killed in a mysterious plane crash. His hobbies include skateboarding, science, and photography. Although he's relatively introverted, Peter has a wry sense of humor and can be brashly sarcastic even when he's about to get pummeled by Flash Thompson.
Of course, once he's bitten by a radioactive, genetically manipulated spider, everything changes…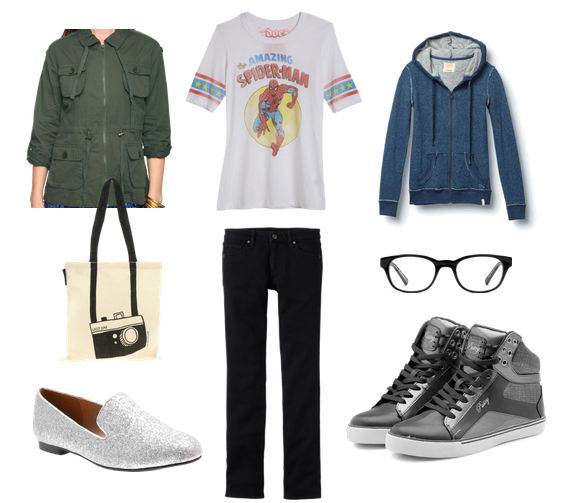 Product Information: Jacket, Hoodie, Tee, Jeans, Sneakers, Loafers, Tote, Glasses
Peter wears the standard Hollywood geek uniform (see also: Leonard from The Big Bang Theory) of jeans, a graphic T, and a layered hoodie and cargo jacket. A cliche combination, perhaps, but it's always cute and comfy. If it ain't broke…
Snare Peter's laid-back style with your own version of the "uniform" that lets you wear your favorite beat-up hoodie and grungy vintage T-shirt, while still looking put together. Add a quirky camera tote bag and black glasses that are similar to the ones that Peter wears. (Bonus reference: this particular Warby Parker eyeglass style is called "Webb.") Last but not least: shoes! If skater sneaks aren't up your alley, try out a glittery pair of loafers for a more feminine hit of sparkle.
Spider-man
A while back, my international roommate asked me why Spider-Man is such a beloved superhero in America. I'm pretty sure it's for the same reasons that people tend to prefer Batman over Superman: Peter Parker is a flawed human being to whom we can all relate. He's the eternal underdog trying to protect his city even though he's villainized by the press. (Bruce Wayne at least has his fabulous fortune to back him up.) Peter exhibits poor judgment at times and doesn't always have the right motivations. But at the end of the day, he always remembers that with great power comes great responsibility.
Plus, Spider-Man movies almost always include a Crowning Moment of Heartwarming when, in Spider-Man's darkest hour, the people of New York put aside their differences and band together to support their friendly neighborhood superhero. I cry every time.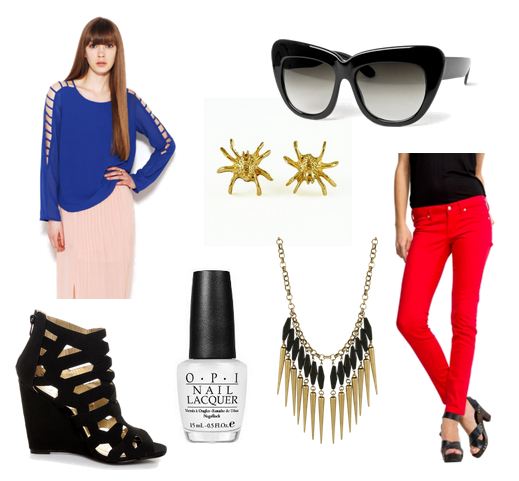 Product Information: Top, Jeans, Shoes, Earrings, Necklace, Nail Polish, Sunglasses
Spider-Man's outfit is pretty iconic and doesn't really need further description on my part. Good news: you can totally channel this arachnid hero without resorting to spandex!
Primary colors red and blue are always a knockout combination, so pair sleek scarlet jeans with a cutout cobalt top for an eye-catching look. Jet black accents like a spiky necklace and web-like wedges add visual interest without distracting from the bold color scheme. Add a subtle spider reference in the form of delicate stud earrings, then slip on some not-so-subtle cat-eye sunglasses that recall Spider-Man's face mask. Go get 'em, tiger! (Oops, wrong movie.)
Gwen Stacy
Gwen Stacy, played by Emma Stone, is Peter's classmate and love interest. Plus, she works at Oscorp as Dr. Conners's assistant (how a 17-year-old managed to get hired as director of intern programs makes little sense to me, but hey, we're talking fashion here and not plot points…) and provides Peter valuable information about Dr. Conners's genetic experiments.
Even though her father is the chief of police and has declared Spider-Man public enemy number one, Gwen is supportive of Peter's efforts to protect the city.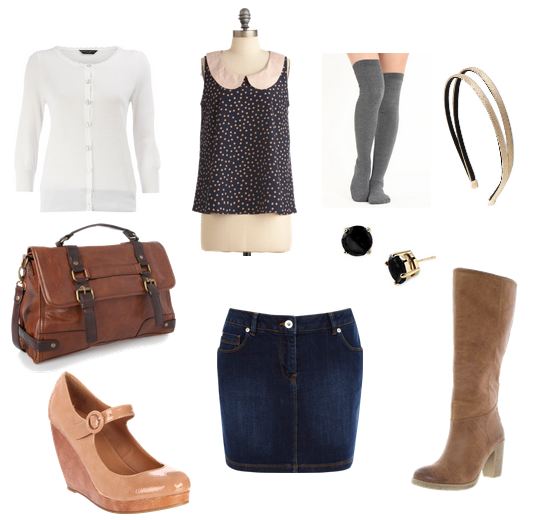 Product Information: Top, Cardigan, Skirt, Boots, Socks, Wedges, Satchel, Headband, Earrings
Gwen favors sweet and preppy outfits that feature cardigans and delicate prints. Though it shows way more leg than would ever be allowed in a real-life lab, her skirt-and-boot combination is seriously cute! Pair a polka dot blouse and scalloped cardigan with a dark wash denim skirt to tone down the girly top.
These tan boots are similar to the ones that Gwen wears in the movie, but if it's still too hot to rock them, try out a pair of leg-elongating nude wedges. (Yep, putting Mary Jane shoes in a Gwen Stacy outfit is my idea of humor.) Stash your books in a classic leather satchel; finally, slip on a pretty headband for a perfectly polished hairstyle!
Dr. Curt Conners/The Lizard
Dr. Curt Conners, played by Rhys Ifans, is an Oscorp scientist who dreams of harnessing cross-species genetics to cure mankind of all ills. He specializes in herpetology, the study of reptiles, and is particularly fascinated by lizards' ability to regenerate limbs since he himself has lost an arm.
Although Conners has good intentions, he is pressured into testing out his experimental injection on himself.  The results, as you can guess, are rather disastrous.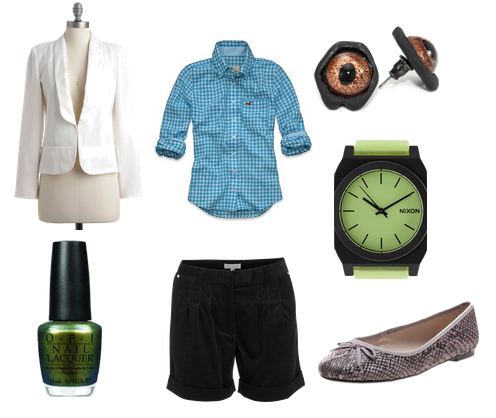 Product information: Blazer, Shirt, Shorts, Flats, Watch, Earrings, Nail Polish
This well-mannered scientist and his alter ego, the homicidal ten-foot-tall Lizard, seem worlds apart, but why not try reconciling the two in a stylish outfit? See, fashion brings us all together!
A gingham shirt and cuffed shorts form a classic summertime silhouette, especially when topped off with a white blazer. Spice up the look with subtle reptilian details like these baleful eye earrings and faux snakeskin flats. This iridescent nail polish from the OPI Spider-Man collection adds another rich accent. Finally, strap on a quirky glow-in-the-dark watch for those jaunts to the dark city sewers! (Or to the dimly lit city library. It's up to you.)
What did you think?
Would you wear these outfits? Have you seen The Amazing Spider-Man? Are you a fan of the reboot or a staunch lover of Tobey and Co.? What other geeky inspirations would you like to see? (Next time, we will travel across the land, searching far and wide…) As always, let us know in the comments!