Ever since the Geek Chic column began earlier this year, CF readers have been requesting a post on Supernatural. This posed a problem for me, though: Although I'd heard about the show and even attended its Comic-Con panel a couple years ago, I'd never actually watched an episode.
Fast forward a couple months and multiple Netflix marathons, and I can now use Dean's catchphrase with conviction: Supernatural is awesome. It's got a little bit of everything: spine-tingling horror, heroic sacrifices, adrenaline-pumping action, torrid romances, and lots of cheeky humor. Oh yeah, and a really, really ridiculously good-looking cast that frequently cries in a highly attractive manner.
Today, Geek Chic finally completes the SuperWhoLock trifecta! Read on to check it out.
In case you missed our past posts, check out: Bones-inspired fashion, Princess Bride-inspired fashion, Buffy-inspired fashion, The Dark Knight trilogy-inspired fashion, Pokemon-inspired fashion, The Amazing Spider-Man-inspired fashion, Dr. Horrible's Sing-along Blog-inspired fashion,  Star Wars Prequel-inspired fashion, Lost-inspired fashion, The Avengers-inspired fashion,Sailor Moon-inspired fashion, Doctor Who inspired fashion (plus Part 2 and Part 3), Sherlock-inspired fashion,Star Wars Original Trilogy-inspired fashion, The Hunger Games-inspired fashion, The Big Bang Theory-inspired fashion, the Lord of the Rings-inspired fashion, and Star Trek-inspired fashion.
Know Your Geek: About Supernatural
Supernatural is a TV show created by Eric Kripke, whichpremiered on the CW in 2005.  The show is currently in its 8th season.
Dean and Sam Winchester are brothers from Lawrence, Kansas, who have spent the majority of their lives on the road, hunting demons, ghosts, and other monsters.  After their mother's death at the hands of a yellow-eyed demon, they were raised as hunters by their father, John.
The brothers are mentored by Bobby Singer, an older, more experienced hunter with a wealth of knowledge about demon lore.
Initially, the brothers just try to "gank" as many monsters as they can; however, they soon find that they may not be as in control of their own destinies as they thought.They have unwittingly become intertwined in an epic battle against forces trying to bring about the apocalypse. 
The introduction of biblical monsters and lore in Season 4 also introduced a new ally for the Winchesters: the angel Castiel.
Outfits Inspired by Supernatural
Well, if you can't actually join Team Free Will, why not dress like the team members? Check out these six looks inspired by the humans, angels, demons, and vehicles of Supernatural! 
The Brothers Winchester
Dean, played by Jensen Ackles, is four years older than Sam. He is the quintessential soldier, obeying his father's orders even when the motives are questionable.  Dean has been instilled with a deep sense of responsibility for the well-being of everyone around him, especially Sam; this frequently leads to unwarranted guilt when he is unable to protect innocents and loved ones. Despite these traits, Dean also has a fun-loving, womanizing, pie-obsessed side.
On the other hand, Sam, played by Jared Padalecki, is the wayward son who rejects the hunting life and instead chooses to study law at Stanford University. Although he enjoys a brief period of relative normalcy during college, he learns there's no rest for the weary Winchesters. Sam's girlfriend, Jessica, is killed by the same demon that killed his mother. Subsequently, he rejoins Dean on the quest to protect humanity from evil and discovers that he possesses alarming psychic skills.
Despite their differences, Sam and Dean are extremely close. The Winchesters are a formidable team, but their greatest strength is also their greatest weakness: each other. Their foes are quick to exploit this brotherly devotion.Over the course of  the show, each brother has sacrificed himself for the other at least once.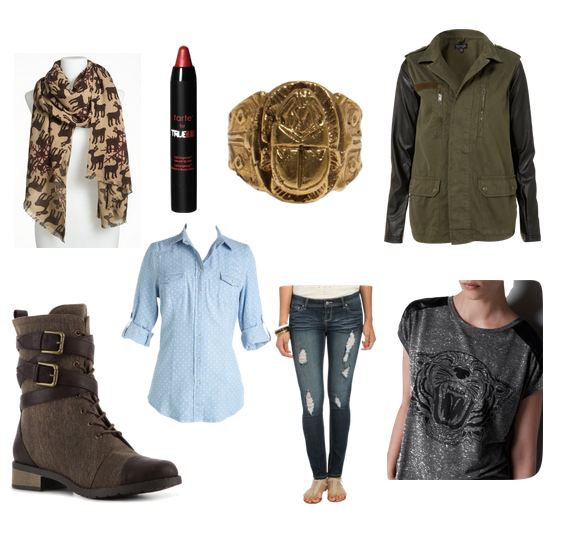 Product Information: Jacket, Chambray Shirt, Tiger Shirt, Jeans, Scarf, Ring, Boots, Lip Tint
A life on the road doesn't lend itself to high fashion. (Though I should note that Dean has occasionally proven to be a bit of a clothes horse..not that he'd never admit it.) When they're impersonating CIA/FBI/other special agents, the boys suit up (yes, please!) but the rest of the time, they dress down to remain ready for action. At the start of the show, Sam sported typical college-boy hoodies, but his style has since evolved to resemble his brother's. The two tend to wear layered button downs with jeans, although Dean also has a sweet leather jacket.
Snag both brothers' style with a comfortable but cute ensemble that merges elements inspired by each Winchester. Not only is mixed-material outerwear a hot trend this year, it also combines Sam's cargo jackets with Dean's leather one. A polka-dot chambray shirt is a great layering piece over a charcoal graphic tee that pays tribute to Dean's brief but glorious lip-syncing career.
Slip into jeans and cool lace-up boots, then start accessorizing! This scarab ring resembles the amulet that Dean always wears, while a moose-print scarf alludes to the nickname Crowley bestows upon 6'4″ Sam. Go low-key with makeup: a swipe of blood red lip stain is all you need! Now get to hunting!
Heavenly Creatures
In the Supernatural mythology, angels are a powerful species who, in the prolonged absence of their father, manage heaven. In their true form, angels burn out human eyes and their voices shatter glass. However, they can manifest in a more manageable form by taking on a human vessel. Some of the angels that the Winchesters meet include Castiel, Anna, and Balthazar.
Castiel, played by life-ruiner Misha Collins (see: GISHWHES), is an angel assigned to monitor the Winchesters who has taken on the vessel of human Jimmy Novak. He rescues Dean from Hell, and in the process, becomes deeply invested in the lives and wellbeing of the brothers. Anna, played by Julie McNiven, is a former angel who chose to rip out her grace and leave Heaven, becoming human in the process. Balthazar, played by Sebastian Roche, is a snide angel who is loyal to Castiel.
Since Castiel's costume is probably the most well-known from Supernatural, I've put together two outfits, one casual, one a bit dressier, inspired by this rebellious angel. (We previously suggested his outfit as an easy Halloween costume!)
Look 1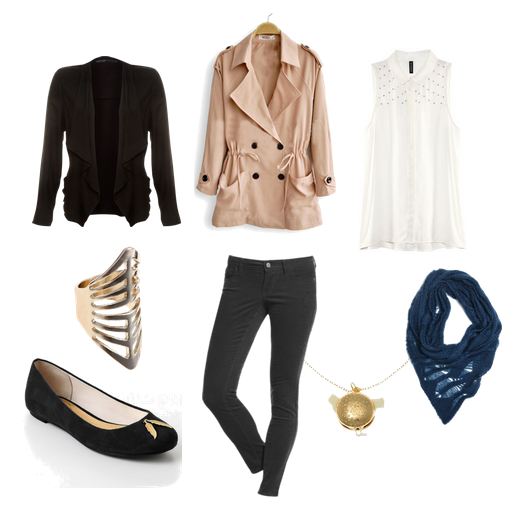 Product Information: Trench, Cardigan, Top, Cords, Shoes, Ring,Necklace, Scarf
This Castiel-inspired ensemble would be perfect for a weekend jaunt or stroll in a garden on an eternal Tuesday afternoon. A waterfall cardigan, sleeveless ivory blouse, and charcoal corduroys form a dressed-down, feminine take on Castiel's "nerdy accountant" suit, while a pretty navy scarf replaces his tie.
Now it's time for extras. Give a nod to angel wings with some feather-embellished flats, then bling up the look with jewelry. A gold ribcage ring refers to where Castiel carved angel-warding Enochian symbols in the Winchesters. A golden hamburger necklace references Jimmy/Castiel's favorite food: he once ate over a hundred of them in one sitting!
Look 2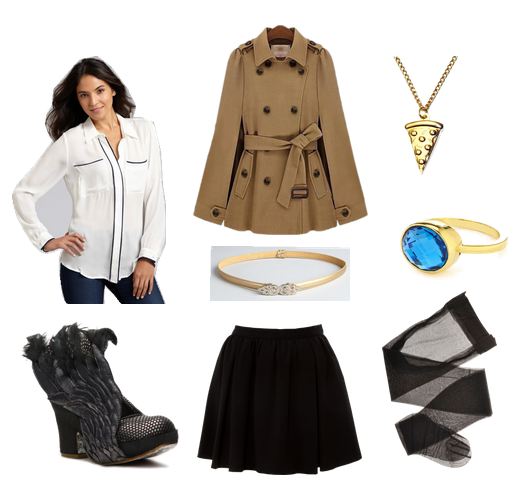 Product Information: Coat, Top, Skirt, Shoes, Belt, Ring, Necklace, Tights 
If you're dressing for a slightly fancier occasion (say, oh, world domination or something like that), try out this formal take on our favorite trench-wearing angel.  This time, go for a sophisticated trench cape that will look great over a silky blouse.
With statement-making shoes like these feather heels, it's best to keep the rest of the look simple – a solid pleated skirt and sheer tights are perfect. Add some sparkle with a cerulean gem ring (just like the color of Misha's dreamy eyes…sorry, where was I?) and a pizza charm necklace — because, as we all know, Castiel learns some pretty important life lessons from the pizza man!
Bad Girls Club
During their cross-country adventures, the Winchesters encounter their fair share of femme fatales: some human, some not.
Ruby, played first by Katie Cassidy and later by Genevieve Cortese (Jared's real-life wife), is a demon who claims to have switched sides and is now batting for the Winchesters in their fight against the demon Lilith. Much to Dean's chagrin, she encourages Sam to develop his psychic powers.
Meg, played by Nicki Aycox and Rachel Miner, is one of the first major demon adversaries we see on the show. (To clarify the multiple actor situation: the demons possess humans and frequently jump to a new body as an escape mechanism when their host is injured or killed.)
Bela Talbot, played by Lauren Cohan, is the lone human of the bunch. She's a con artist and thief who makes a living stealing and selling supernatural objects. Bela takes sides when convenient, and occasionally serves as an ally to the Winchesters. More often than not, though, she's perfectly happy to double-cross them when it suits her.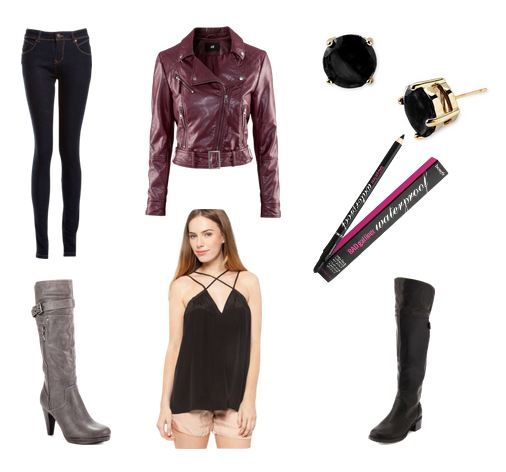 Product information: Jacket, Top,Jeans, Heeled Boots, Flat Boots, Earrings, Eyeliner
The standard Supernatural bad girl outfit seems to consist of a fitted leather jacket, a slinky top, and second-skin jeans. To channel your inner devil/talisman thief, pair a black silk tank with dark-wash jeans, then top things off with a sleek oxblood faux leather jacket. Depending on your heel preference, go with sky-high platform boots or flat over-the knee boots: either way, you'll be sure to turn heads.
With a badass look like this, keep it simple and just add earrings: these onyx studs resemble the black eyes of the demon-possessed. Finish with smudgy liner and a smoldering gaze.
King of the Damned
Crowley, played by Mark Sheppard, is a devious crossroads demon who has served as the main antagonist for several seasons of Supernatural. Although he often offers his support to the Winchesters, beware: this demon's deals always come at a steep price. Crowley always keeps the big picture in mind when he agrees to become an ally, often managing to double-cross the other party while never really reneging on the deal.
Despite his sadistic tendencies and status as current reigning King of Hell, Crowley usually seems rather jovial and has a snarky sense of humor.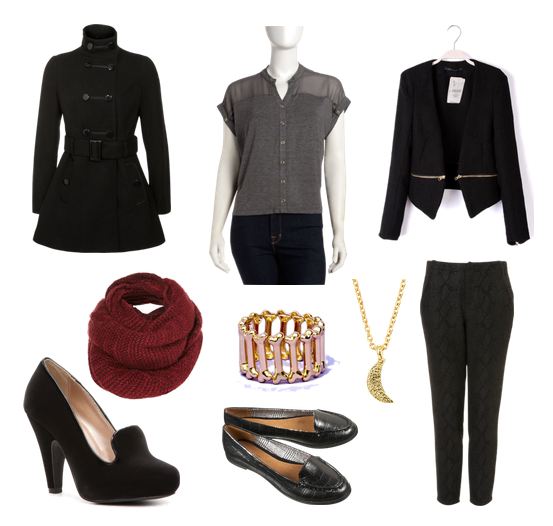 Product Information: Coat, Jacket, Top, Trousers, Flats, Heels, Scarf, Necklace, Bracelet 
One of the few times we've seen Crowley get really flustered is when he's ranting about how the Leviathans ate his tailor. Clearly, this demon takes his clothing very seriously! His wardrobe consists primarily of perfectly tailored, classic pieces all in black.
You can get the King of Hell's sophisticated style without resorting to crossroads demon deals: just make sure that every piece you wear fits perfectly! For a tailored look, pair a gray blouse with crisp wool trousers and a sharp zippered jacket. Top it off with a smart black coat and classic burgundy scarf. For footwear, opt for either heels or polished loafers – your choice!
Nobody Puts Baby in a Corner
Just as the TARDIS and U.S.S. Enterprise are essential to Doctor Who and Star Trek, the Impala from Supernatural definitely qualifies as a character in her own right.
The Impala originally belonged to John – upon his death, she was passed down to Dean. Luckily, Dean is a skilled mechanic who keeps the 1967 Chevy in pristine condition; he lovingly refers to her as "Baby."  Despite all the battles she's faced, the Impala is always ready take the road with pride.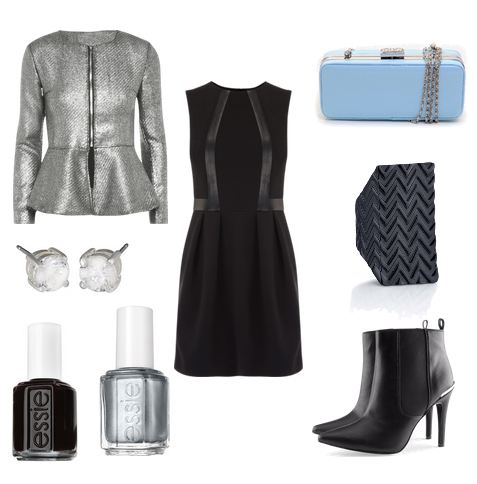 Product Information: Jacket, Dress, Boots,Ring, Earrings, Clutch,Black Nail Polish, Silver Polish
While a car isn't exactly standard fashion fodder, it's hard not to be inspired by Baby's gleaming jet-black exterior and chrome detailing. (And besides, a Baby-inspired outfit would make Dean happy. I, for one, would certainly like to make him happy.)
Translate the elegant Impala into a sleek ensemble perfect for a fancy dinner or night out. A panelled black dress and a metallic peplum jacket are a chic combination, especially when paired with pointy-toed ankle boots. Crystal stud earrings evoke Baby's headlights, while a gunmetal tire-tread ring adds a bit of fun to the dressy outfit. Finish off the look with a silver and black French manicure and a sky blue clutch that resembles the KAZ2Y5 license plate!
What did you think?
Do you watch Supernatural? Do you have a favorite brother? (Sorry Sammy, it's Dean all the way for me!) What other geeky inspirations would you like to see? Next time, we'll be going there and back again on an unexpected journey… As always, tell me your thoughts in the comments!