Bones is one of those rare cases of a TV show that increased my interest in a class rather than distracting me from it. I marathoned through six seasons of the show during the same semester I took anatomy lab: learning all the details of the human skeleton suddenly became much more enjoyable when I realized that I knew exactly what all that wibbly-wobby TV forensic jargon meant! (What could be more Geek Chic than that?!)
In case you missed our past posts, check out: Princess Bride-inspired fashion, Buffy-inspired fashion, The Dark Knight trilogy-inspired fashion, Pokemon-inspired fashion, The Amazing Spider-Man-inspired fashion, Dr. Horrible's Sing-along Blog-inspired fashion,  Star Wars Prequel-inspired fashion, Lost-inspired fashion, The Avengers-inspired fashion,Sailor Moon-inspired fashion, Doctor Who inspired fashion (plus Part 2 and Part 3), Sherlock-inspired fashion,Star Wars Original Trilogy-inspired fashion, The Hunger Games-inspired fashion, The Big Bang Theory-inspired fashion, the Lord of the Rings-inspired fashion, and Star Trek-inspired fashion.
Know Your Geek: About Bones
Bones, created by Hart Hanson, aired in 2005 on FOX (it's currently in its 8th season!)  and stars Emily Deschanel, David Boreanaz (aka Angel), Michaela Conlin, TJ Thyne, Tamara Taylor, and John Francis Daley.
Based on the bestselling book series by forensic anthropologist Kathy Reichs, Bones focuses on the partnership between Dr. Temperance "Bones" Brennan, a brilliant scientist who works at the Jeffersonian Institution in Washington D.C., and Agent Seeley Booth, a hotheaded FBI agent and former Army Ranger. In a nice little twist, TV Brennan writes a book series about a fictional anthropologist named Kathy Reichs!
Although she prefers historical and cultural research, Brennan has been recruited by the FBI to help solve cases where there are minimal soft-tissue remains; with the help of her team, she deduces the story left behind by the victim's bones. (Hence the nickname that Booth bestows on her!)
The Jeffersonian team (Booth calls them the "squints", because they're always squinting into their microscopes) consists of Bones; Angela, a forensic artist; Hodgins, an entomologist; Zack Addy, Bones's assistant; Cam, their boss/a coroner; and a team of "squinterns." On the FBI side, there's Agent Booth; Sweets, a psychologist; and Caroline Julian, a sassy prosecutor.
Outfits Inspired by Bones
Ready to carefully examine kerf marks under a microscope, analyze larvae growth cycles, test out potential murder weapons, and look fantastic while doing so? Check out these four looks inspired by our friends from the Jeffersonian!
Dr. Temperance "Bones" Brennan
Dr. Brennan, played by Emily Deschanel (Yes, Zooey is her sister!), is a scientist through and through who puts her trust only in the facts. Despite her academic intellect, she's somewhat lacking in the social-graces department and can sometimes be ruthlessly blunt. She frequently takes things too literally and often draws a blank when others make pop culture references.
When she was a teenager, Brennan's parents disappeared, which led to her entering the foster care system. Due to the deep hurt she's felt from her perceived abandonment, Brennan devotes herself to her research and puts up an emotional wall…that is, until Special Agent Seeley Booth comes along!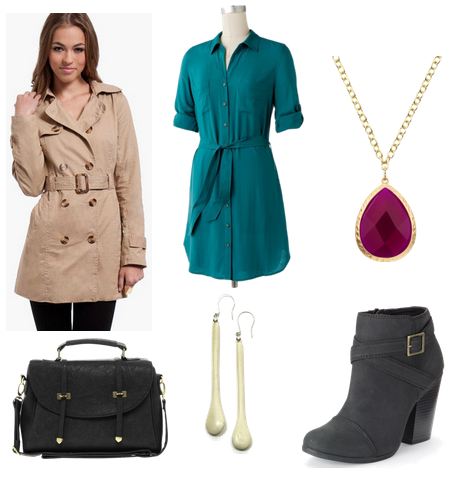 Product Information: Trench, Dress, Boots, Necklace, Earrings, Satchel
One of the great things about starting to watch a show late in its run is that you get to see each character's style evolution condensed into a shorter time period. For instance, when the show began in 2005, Brennan favored structured blazers, dark jeans, and statement pendant necklaces. Over the years, she's developed a softer style that features polished trench coats and fit-and-flare shirt-dresses in saturated jewel tones. (And go figure: the anthropologist wears a ton of Anthropologie!)
Get Brennan's smart and classy look with a classic khaki trench and a teal shirtdress. A fuchsia stone necklace is a throwback to earlier seasons and perfectly complements the frock, while sleek ankle boots and a professional-looking satchel round out the ensemble. Finally, slip on a pair of bone-colored earrings made of Zuluwood; Bones would surely approve of this sustainable jewelry made by Maasai women.
Angela Montenegro
Angela, played by Michaela Conlin, is Brennan's best friend and the wild child of the Jeffersonian team. She's an artist/computer science whiz/hacker who combines technology and her artistic skills to recreate victims' faces, test out cause of death hypotheses, and do other ridiculous computer-related things that aren't feasible in real life but look really cool on TV.
Unlike the other squints, Angela sometimes has difficulty separating her emotions from the case, which makes her a great foil for the overly-rational Bones. Since Angela is more empathetic, she's often able to see the case from a new perspective.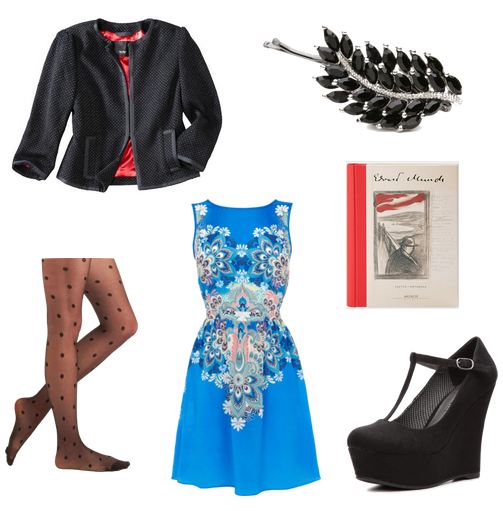 Product Information: Jacket, Dress, Tights, Shoes, Hair Clip, Sketchbook
Angela clearly understands fashion – after all, she's the daughter of a rock star! Early in the show, Angela typically wore more bohemian pieces . These days, she's developed a slightly more polished style and frequently wears trendy cropped jackets and minidresses with fun prints.
Angela's playful, on-trend vibe is easy to emulate: first, slip on your favorite printed frock. Next, it's time for fall-appropriate extras: A cropped tweed jacket is perfect for the season, as are cute polka-dotted stockings. T-strap wedges visually balance the heavier jacket while adding another fashion-forward touch. On the beauty side, clip your hair back with a pretty jeweled pin. Finally, no Angela-inspired look would be complete without a sketchbook!
Dr. Camille "Cam" Saroyan
Cam, played by Tamara Taylor, is a former New York City coroner who's now heading the Jeffersonian's Forensic Division. Although Cam initially butted heads with Bones over issues of seniority, the two have finally developed a strong rapport as both colleagues and friends. Cam proves to be a capable administrator who can make tough calls between following protocol or solving the crime.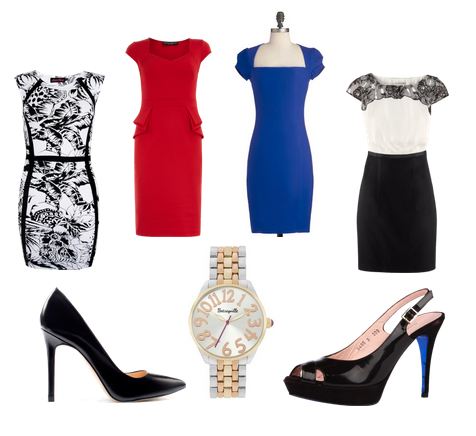 Product Information: Dress 1, 2, 3, 4 (L-R), Shoes: L, R, Watch
Cam might just be the only character on TV who could give Victoria Grayson a run for her money in the bandage dress department! While my fellow science majors will likely agree that Cam's body-hugging outfits are wildly inappropriate for a lab setting, Cam's sleek wardrobe is quite suited to her role as an administrator in the public eye.
Snag Cam's sexy-but-profesh style for yourself with a well-tailored sheath dress. Since the silhouette is so formfitting, make sure to keep the hemline conservative (a couple inches above the knee is ideal).  For footwear, you can't go wrong with a patent pump or peep-toe slingback! Add a classy timepiece, and there you go: you look like a boss!
The Squints
What Bones fashion post would be complete without these characters? The Squint Squad, as Booth calls the Jeffersonian's finest, consists of experts from a wide range of fields who all come together to help the FBI solve crimes.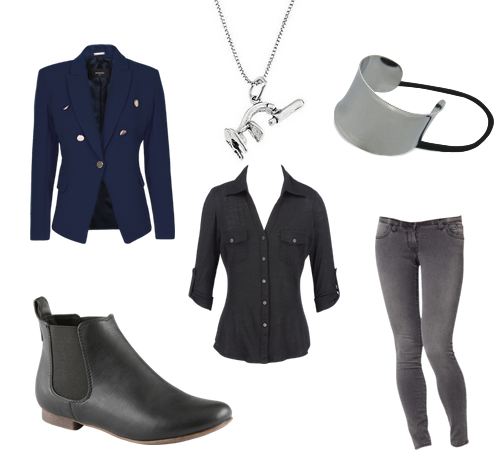 Product Information: Blazer, Shirt, Jeans, Boots, Hairtie, Necklace
For this look, I've created a squint-inspired (squintspired?) ensemble that's suitable for a laboratory setting. I personally couldn't make it through a lab without spilling something on myself, so I recommend wearing dark-colored, washable clothing. A black blouse with 3/4 length sleeves is thin enough to layer under a lab coat, while the shorter sleeves decrease the likelihood of getting the cuffs dirty. Long pants are a must; these charcoal jeans are unlikely to show any stains.
Check off the "close-toed shoes" requirement with a cute, comfy pair of ankle boots — ideal if you're going to be on your feet for hours! If you have long hair, tie it back with a sleek hair-tie that'll add some flair to your 'do. On your way to and from lab, swap out your lab coat for a sleek navy blazer reminiscent of the coats the Jeffersonian staff wears.
What did you think?
Would you wear these outfits? Do you watch Bones? Who's your favorite squintern? (Love me some Wendell, but gosh, I miss Zach and Vincent.) What other geeky inspirations would you like to see? Next time, we'll carry on like wayward sons and go for a spin on a '67 Impala!  Let me know in the comments!