I saw How To Train Your Dragon in theaters back in 2010, and I have to mention that it's the only film I've ever actually enjoyed watching in 3-D. (A good 50% of that enjoyment was squealing over how freaking cute Toothless is.)  Who doesn't love a spirited romp full of endearingly gruff Vikings and soaring dragons? (Raise your hand if you also teared up at the end. No shame!)
The animated film, based on Cressida Cowell's book of the same name, tells the story of Berk, a small Viking village plagued by dragons who plunder livestock and threaten the villager's safety. How To Train Your Dragon was nominated for Academy Awards for Best Animated Feature and for Best Original Score.
Outfits Inspired by How To Train Your Dragon
Hiccup
Hiccup, voiced by Jay Baruchel, is the village chieftain's son, but he just doesn't seem to fit in with his fellow Vikings. Much to his father's dismay, he's more interested in studying dragons than killing them. Hiccup is a talented inventor: when one of his creations manages to injure the dreaded and mysterious Night Fury dragon, he thinks he's found his chance to prove his quality. But when it comes time to kill the dragon, he's unable to do so and instead forms a bond with the creature that changes the future of Berk forever.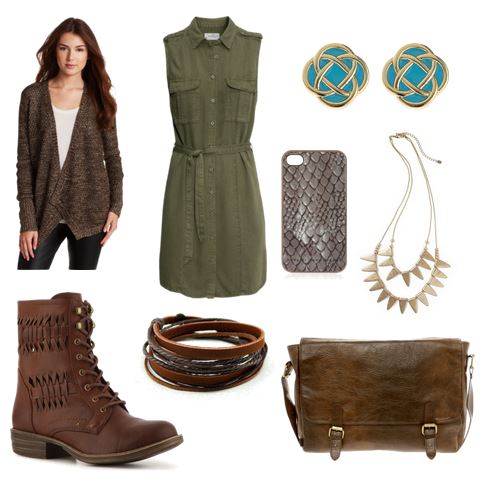 Product Information: Dress, Cardigan, Boots, Earrings, Satchel, Necklace, Phone Case, Bracelet
Hiccup wears a simple outfit consisting of an olive tunic, brown fur vest, leggings, and furry boots. The earthy color palette is perfect for the upcoming back-to-school season. A shirtdress is a natural foil for a cozy brown cardigan and rugged boots. Accessorize with a rope and leather bracelet reminiscent of the harness that Hiccup builds for Toothless and a trendy spiked necklace.
You can tote all of your school supplies in style with a perfectly worn-in satchel. Last but not least, dress up your phone with a cute dragon-scale case. (Not that you'd ever text in class…)
Astrid
Astrid, voiced by America Ferrera, is a tough, ambitious warrior-in-training who's determined to be the very best. Although she can be bossy and overly competitive, she has a compassionate heart and an open mind. Initially disdainful of Hiccup due to his inferior fighting abilities, she comes to learn that not all strength is proven in the battlefield.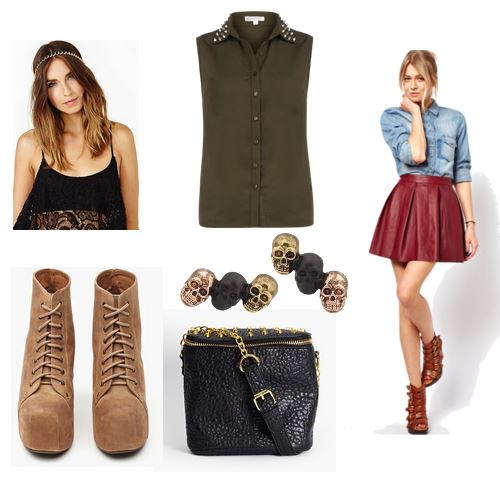 Product Information: Top, Skirt, Shoes, Headband, Purse, Earrings
Astrid's wardrobe features lots of studs, skulls, and leather, which matches her tough-girl persona perfectly. Try out the badass Viking babe look with a faux-leather burgundy skirt and studded green top. While they're not exactly battle-appropriate, Lita platform boots make it practically impossible to walk down the street without a swagger in your step.
Pack on the hardware with a pair of cool skull earrings and a studded bucket bag. Top it all of with a trendy headband that resembles Astrid's.
Toothless
Toothless is the only known Night Fury — a rare species renowned for its intelligence and incredible speed. His name's a bit of a misnomer, as Toothless does have a full set of very sharp but retractable teeth. (Best to catch him in a good mood!) Toothless often displays behavior akin to that of a playful puppy or kitten, but he also has a bit of an attitude. Like Hiccup, Toothless is curious and has a dry sense of humor. The two aren't just master and pet: they're best friends.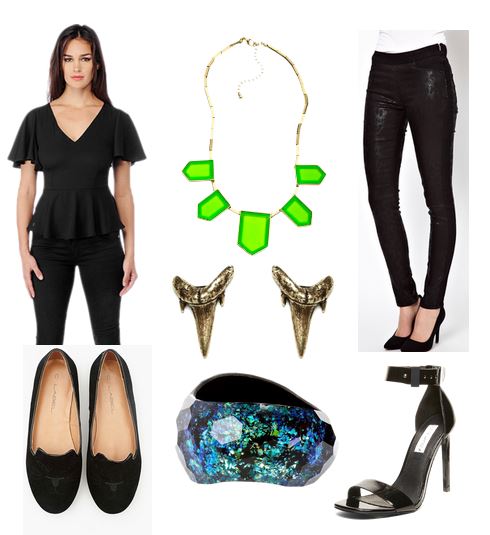 Product Information: Top, Jeans, Loafers, Heels, Necklace, Earrings, Bangle
Channel this Night Fury's playful and daring nature with a fun outfit for a night out. A fluttery batwing top recalls Toothless's wings, while a pair of edgy snakeskin print jeans resemble his gleaming scales. If you're attending a slightly dressier event, patent heels will amp up the look, while more casual cat-shaped loafers are perfect for a low-key dinner with friends.
Finally, add some fun, dragon-inspired extras like an iridescent bangle, tooth-shaped earrings, and a neon necklace the shade of Toothless's eyes to complete the look.
What did you think?
Would you wear these outfits? Did you see How To Train Your Dragon in 3-D? Are you excited for the sequel? (And have you seen the teaser pictures of Hiccup? He clearly attended the Neville Longbottom School of Post-Puberty Attractiveness.) What other inspirations would you like to see? Let me know in the comments!