This post may contain affiliate links, which means we may receive a commission if you purchase through our links. Please
read our full disclosure here
.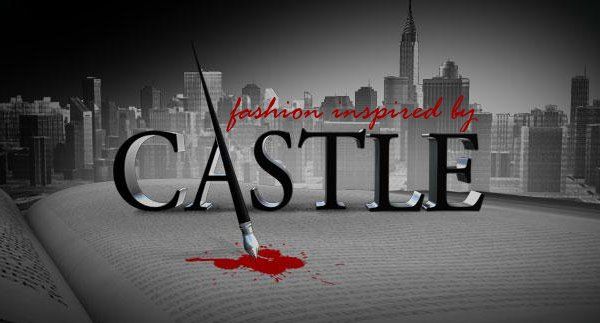 For all the Geek Chic articles I write about television shows, you might think that I've spent all my life parked in front of the TV. In truth, I wasn't allowed to watch much TV during high school, so I had to do a massive number of catch-up-marathons during college. (Thank you, Netflix!)
Castle, though, is one of the few shows that I've followed ever since its premiere. The playful procedural about a NYPD detective and the mystery writer who tags along with her on cases is just too fun to miss!
Don't you just love it when you catch the premiere of a new show and it goes on to become a big hit? Makes you feel like you bet on the right horse!)
(For more Geek Chic, check out previous articles: Firefly-inspired fashion, The Hobbit-inspired fashion, Supernatural-inspired fashion, Bones-inspired fashion, Princess Bride-inspired fashion, Buffy-inspired fashion, The Dark Knight trilogy-inspired fashion, Pokemon-inspired fashion, The Amazing Spider-Man-inspired fashion, Dr. Horrible's Sing-along Blog-inspired fashion,  Star Wars Prequel-inspired fashion, Lost-inspired fashion, The Avengers-inspired fashion,Sailor Moon-inspired fashion, Doctor Who inspired fashion (plus Part 2 and Part 3), Sherlock-inspired fashion,Star Wars Original Trilogy-inspired fashion, The Hunger Games-inspired fashion, The Big Bang Theory-inspired fashion, the Lord of the Rings-inspired fashion, and Star Trek-inspired fashion.)
Know Your Geek: About Castle
Created by Andrew Marlowe, Castle debuted on ABC in 2009; the show is currently in its 5th season. The show stars Nathan Fillion in the title role, and also features Stana Katic, Jon Huertas, Seamus Dever, Molly Quinn, Susan Sullivan, and Tamala Jones.
The show revolves around Richard Castle, a successful crime novelist who has used his friendship with the mayor to get access to the NYPD, or, more accurately, to Detective Kate Beckett.
Beckett serves as Castle's muse for his new series, which focuses on the fictitious Detective Nikki Heat and writer Jameson Rook. (Anyone else notice this sounds just like Bones with gender role-reversal?) Though Beckett initially chafes at his presence, the two eventually become a solid team.
Rounding out the story are Ryan and Esposito, Beckett's fellow detectives; Lanie, the medical examiner; and Alexis and Martha, Castle's red-headed daughter and mother, respectively.
Outfits Inspired by Castle
Is the pen mightier than the sword? (And is the pencil skirt mightier than the stiletto?) Let's find out!
Castle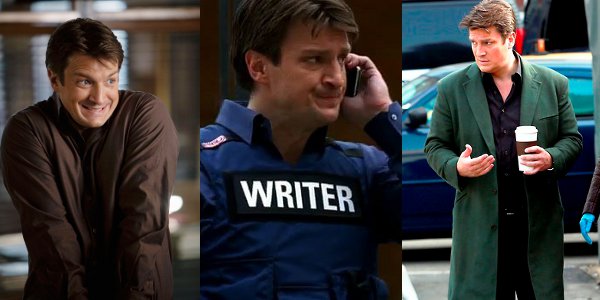 Richard Castle, played by geek icon Nathan Fillion, is a bestselling crime novelist who has decided that he needs to do some hands-on research with the NYPD for his newest series about Nikki Heat, a tough-as-nails detective. Naturally, as a TV amateur detective, he tends to have brilliant insights that always help to catch the killer of the week.
Castle is the quintessential man-child: despite his sharp intellect and enormous literary success, he can also be incredibly immature. His irreverent enthusiasm sometimes gets him in trouble with NYPD authority. Also, he's a total fanboy when it comes to sci-fi and geeky gadgets. (Basically, he's Nathan Fillion playing Nathan Fillion.)
And yes, he really is ruggedly handsome.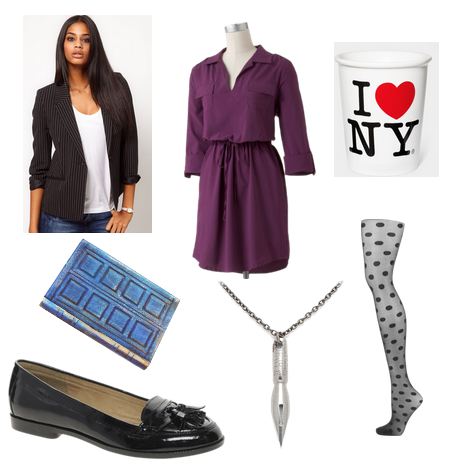 Product Info: Blazer, Dress, Tights, Shoes, Journal, Necklace, Cup
Castle doesn't just write books, he also makes serious bank off of them! It's no wonder, then, that he's usually fastidiously decked out in a crisp button-down, sports jacket, and well-cut coat.
Get your own swanky writer/detective vibe with this feminine twist on Castle's style. Pair a silky dress (for some reason, I really like putting Nathan Fillion characters in shirtdresses! See: Mal Reynolds) with a sharp pinstripe blazer and menswear-inspired loafers for a sleek look. But it's Castle, so you've got to put a slightly mad spin on it; polka dot tights will do the trick!
An old-fashioned pen-nib necklace alludes to Castle's profession without being quite so obvious as the word "WRITER" emblazoned across your chest. A ceramic coffee mug references Castle's daily habit of preparing coffee for Beckett. While it's never been mentioned, I'm sure that sci-fi obsessed Castle's a big fan of Doctor Who, so bring along a blue notebook to jot down all of your aspiring-novelist brainstorms!
Beckett
Kate Beckett, played by Stana Katic, is a highly successful NYPD detective who's driven by the haunting memories of her mother's unsolved murder.
As the straight-laced foil to wacky Castle, Kate is often exasperated by his antics. However, the two develop a will-they-won't-they dynamic with a tension that you could cut with a knife: they're pretty much tied with Booth and Bones on the TV-tension scale. As her partnership with Castle progresses, Beckett starts to show her softer side and let down the emotional wall she put up after her mother's death.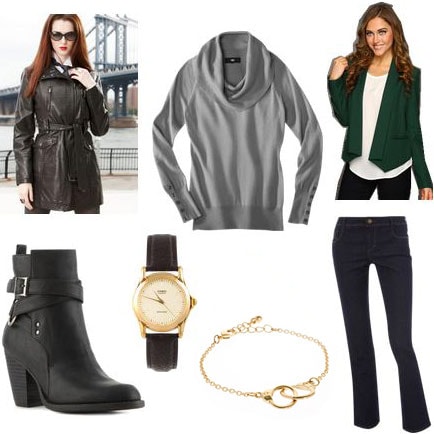 Product Info: Coat, Blazer, Sweater, Jeans, Boots, Watch, Bracelet
As a detective, Beckett has to face all sorts of scary people — administrative and criminal alike — so it makes sense that her attire is professional yet functional. Her typical work ensemble consists of a leather trench, neutral sweater, blazer, trousers or jeans, and really high heels. (Let's chalk that last one up to it being a TV show – pretty sure that real detectives don't show up to work in 5-inch stilettos.)
Giving a presentation or meeting with a professor? Why not try this polished look inspired by our favorite detective?  Kate favors turtlenecks, but if you, like me, can't stand the feeling of fabric encasing your neck all day, try a comfy cowl-neck sweater instead. A sleek blazer in a hot 2013 color and dark-wash, straight-leg jeans round out the look. Ankle boots with a thick heel won't kill your feet as you run errands/catch criminals, and a classic watch will keep you on track throughout the day.
Alexis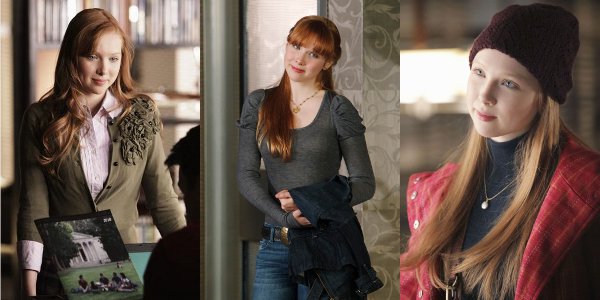 Alexis, played by Molly Quinn, is Castle's precocious teenage daughter, whose actions are frequently more rational than those of her father. She's exceedingly responsible and mature, in contrast to her tempestuous family members. Nevertheless, she is a teenager and she often experiences minor crises that just so happen to echo the case-of-the-week: when she goes to her father for advice, he usually experiences some sort of epiphany that helps crack the case wide open.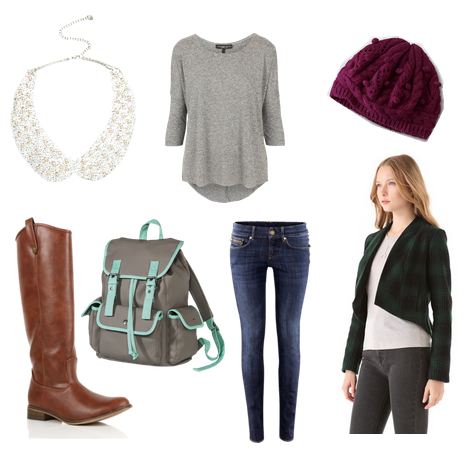 Product information: Blazer, Top, Jeans, Boots, Hat, Necklace, Backpack
Alexis is sweet and bubbly, but her ambitious side also shines through in her fashion sense, which often features feminine twists on professional pieces like cardigans and blazers. As a high school – and later on, college – student, Alexis does dress for comfort, donning cute sweaters and worn-in jeans. Her look has become slightly less preppy over the years, as she has matured.
Get Alexis's put-together but trendy style with a soft charcoal top and classic skinny jeans. The no-fail combination goes perfectly with cognac riding boots and a chic plaid blazer. Add fun extras in the form of a berry-colored beanie, pearl-encrusted bib collar, and a sensible-but-cute backpack for toting around your study essentials.
Martha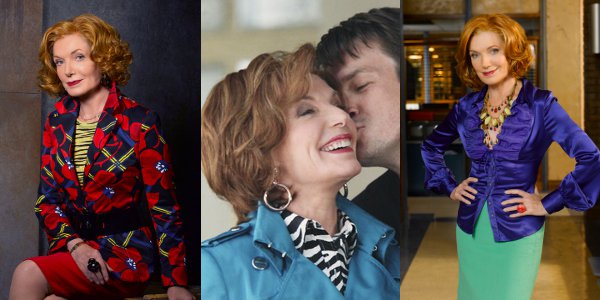 Martha, played by Susan Sullivan, is Castle's sometimes overbearing actress mother who has moved into her son's apartment…without his permission. She can be quite the diva and has opened an acting studio in the apartment. Although Castle is frequently annoyed with her, he begrudgingly admits that she does give him excellent advice. After all, at the end of the day, Martha has her son's best interests at heart.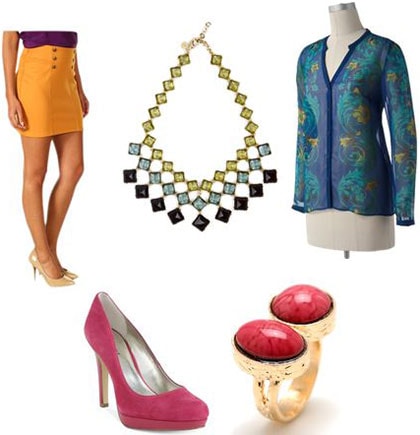 Product Information: Top, Skirt, Shoes, Necklace, Ring
Martha's bold fashion sense corresponds perfectly with her larger-than-life personality: she favors bright colors and vivid patterns, as well as an abundance of blingy jewelry. If your list of fashion resolutions includes wearing more color, Martha is your ideal inspiration! Bring out the diva in you with an eye-catching combination of cobalt, teal, and mustard. Add even more kick to the outfit with a few splashes of fuschia, then lavish yourself in (costume) jewels!
What did you think?
Do you watch Castle? Would you wear these outfits?  Do you want to be best friends with Alexis even though you think you'd kind of hate her for being so gosh-darned perfect? What other geeky inspirations would you like to see? (Next time, we'll walk through the fire as we make a long awaited return to Sunnydale, CA!)  As always, let us know in the comments!