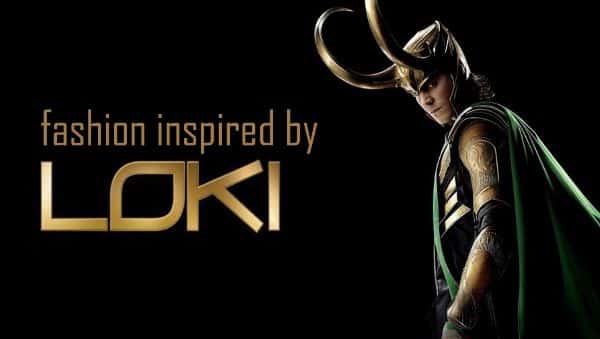 Thanks to San Diego Comic-Con, my head has been swimming with ideas for the Geek Chic column — so many big sci-fi blockbusters, like Ender's Game and Catching Fire, are coming out soon, not to mention shows like Agents of S.H.I.E.L.D.. But, after the major Hall H hoopla during this year's Marvel panel, in which Tom Hiddleston addressed the 6,000-strong crowd in costume as Loki, I realized that it was about time that this rather lovable villain got his share of the limelight here on College Fashion.
I first wrote about fashion inspired by The Avengers over a year ago, and I got the feeling that lots of Loki lovers were feeling a bit let down by his absence. So, here it is at long last: fashion inspired by everyone's favorite adopted Asgardian wannabe-king….Loki!
(Speaking of Comic-Con, a few of you asked about my cosplays last time. My Mulan costume made it into a SDCC photo gallery: check it out!)
Know Your Geek: About Loki
Loki, played by Tom Hiddleston, was the villain in both 2011's Thor and 2012's Marvel's The Avengers, and is also set to appear in the upcoming film Thor: The Dark World.
The demigod grows up in the shadow of his older brother, Thor. Loki is constantly striving to impress his father Odin, king of Asgard, unaware that he is actually the son of Laufey, the ruler of the evil Frost Giants.
Loki is the brains to Thor's brawn: he typically wins his battles through cunning scheming rather than through brute strength. He is also a powerful shapeshifter.
Loki's hunger for power and desire for vengeance against what he feels is an unjust system lead him to betray Thor. Later on, Loki utilizes a powerful tool called the Tesseract to unleash an alien army upon Earth.
Outfits Inspired by Loki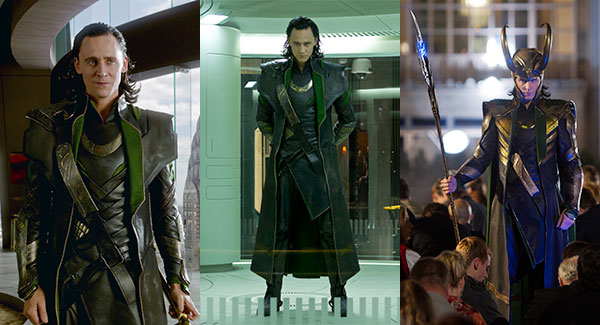 Photos courtesy of The Walt Disney Company
Burdened With Glorious Purpose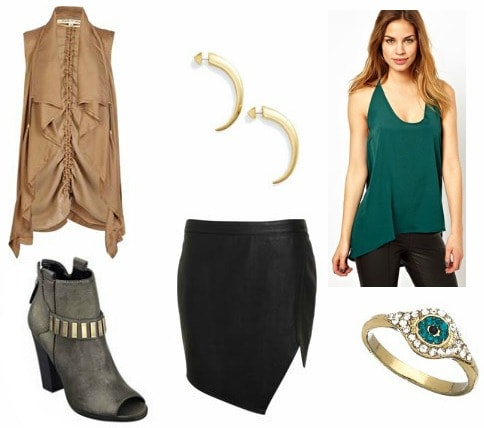 Product Information: Top, Vest, Skirt, Shoes, Earrings, Ring
Adapt Loki's signature colors – green, gold, and black – for your own dastardly purposes: namely, this edgy outfit that incorporates several elements of Loki's style. A faux leather skirt with a trendy asymmetrical hem resembles his armor, while golden spike earrings allude to Loki's horned helmet.
Add a forest-green cami and unique vest, then slip on a pair of studded peep-toe booties that add to the outfit's tough vibe. Finally, an evil eye ring references both the glowing blue Tesseract and the eyes of Loki's hypnotized pawns. All you'll be burdened with are glorious compliments on your outfit!
You Will Always Kneel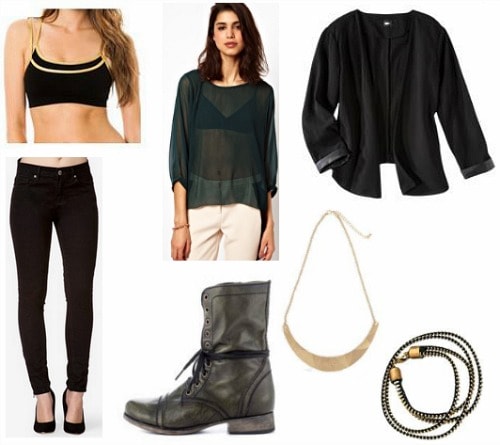 Product Information: Top, Bralette, Jacket, Jeans, Boots, Necklace, Bracelet 
Loki is bent on world domination and never misses an opportunity to flaunt his power. During an attack on an opera house in Germany, he commands the terrified crowd to kneel at his feet and is furious when he's challenged. (Tom Hiddleston, on the other hand, had the Hall H crowd willingly kowtowing to him in a heartbeat.)
Megalomaniac tendencies aside, sometimes it sure is nice to feel ready to take over the world! Boost your confidence with a take-no-prisoners ensemble that'll have you feeling unstoppable. A black and gold bralette provides some coverage under a sheer emerald blouse, while tough combat boots complement black skinny jeans. Add some flair to the look with accessories reminiscent of Loki's armor, such as this golden collar necklace and zipper bracelet.
Full Tilt Diva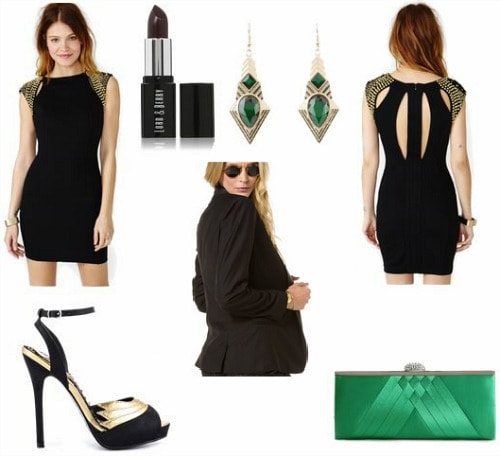 Product Information: Dress, Jacket, Heels, Earrings, Clutch, Lipstick
Tony Stark says it best when he describes the power-hungry Loki as a "full-tilt diva." Indeed, with his domineering monologues and seriously oversized headgear, the demigod does demonstrate a flair for the dramatic. And what's more dramatic for a night out than a studded body-con dress with daring cutouts, paired with a pair of sky-high metallic platforms?
Drape a tuxedo jacket reminiscent of the one Loki wears to the opera over your shoulders, then tuck a woven satin clutch under your arm. Finally, a pair of eye-catching, Art-Deco inspired earrings and a carefully applied dark berry lip complete this showstopping ensemble.
More Geek Chic!
Need more geekiness in your life? (Is that even a question? Of course you do!)
If you enjoyed this post, don't miss our previous articles in the Geek Chic series: What to Wear to SDCC, Doctor Who-inspired fashion (And parts 2, 3, and 4), Star Trek Into Darkness-inspired fashion, Buffy-inspired fashion (and Part 2), Castle-inspired fashion, Firefly-inspired fashion, The Hobbit-inspired fashion, Supernatural-inspired fashion, Bones-inspired fashion, Princess Bride-inspired fashion, The Dark Knight trilogy-inspired fashion, Pokemon-inspired fashion,  Star Wars Prequel-inspired fashion, Lost-inspired fashion, Sailor Moon-inspired fashion, Sherlock-inspired fashion, Star Wars Original Trilogy-inspired fashion, The Big Bang Theory fashion, the Lord of the Rings fashion, and Star Trek-inspired fashion.
What did you think?
Are you a Loki fan? Would you wear these outfits? Are you excited to see Tom Hiddleston in the Thor sequel?  Did you catch the Comic-Con Marvel panel?  What other geeky inspirations would you like to see next? As always, let me know in the comments!