This post may contain affiliate links, which means we may receive a commission if you purchase through our links. Please
read our full disclosure here
.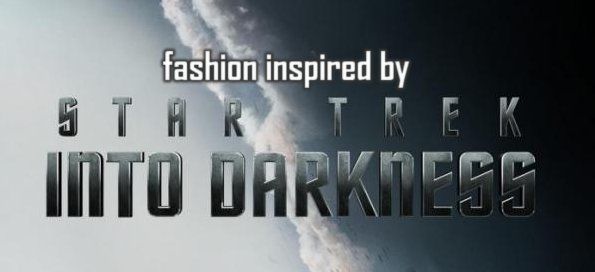 It seems like it's been ages since I've penned a Geek Chic post. But, given that the very first article in this column was about fashion inspired by the 2009 Star Trek film, I'd say that the new Star Trek Into Darkness movie is the perfect reason to get geeky again!
While I missed the midnight premiere of Into Darkness (I was flying home from Madrid), I caught a showing of the film with my friends a couple of days later. I'd been a bit nervous about the sequel living up to the standard of the first movie, but I loved seeing the new spin on a well-known baddie. Plus, it was nice to see more girl power on the Enterprise bridge with the addition of Alice Eve to the cast!
P.S. If you haven't seen the film yet, there's a SPOILER about a major villain reveal later in the article.
Check out previous Geek Chic articles: Buffy-inspired fashion (and Part 2), Castle-inspired fashion, Firefly-inspired fashion, The Hobbit-inspired fashion, Supernatural-inspired fashion, Bones-inspired fashion, Princess Bride-inspired fashion, The Dark Knight trilogy-inspired fashion, Pokemon-inspired fashion,  Star Wars Prequel-inspired fashion, Lost-inspired fashion, Sailor Moon-inspired fashion, Doctor Who-inspired fashion (plus Part 2 and Part 3), Sherlock-inspired fashion, Star Wars Original Trilogy-inspired fashion, The Big Bang Theory fashion, the Lord of the Rings fashion, and Star Trek-inspired fashion.)
Know Your Geek: About Star Trek Into Darkness
While it's the sequel of the rebooted series, this is actually the 12th film in the Star Trek franchise.
As with the 2009 reboot, the creative team – director J.J. Abrams and writers Roberto Orci, Alex Kurtzman, and Damon Lindelof – will be quite familiar to fans of Lost.
Chris Pine, Zachary Quinto, Zoe Saldana, Karl Urban, Simon Pegg, John Cho, and Anton Yelchin reprise their roles aboard the Enterprise. Alice Eve, Peter Weller, and Benedict Cumberbatch (AKA Sherlock!) round out the ensemble cast.
Captain Kirk and his crew continue their adventures with Starfleet, the peace-keeping armada of the United Federation of Planets. When a brilliant Starfleet officer goes rogue, the Enterprise crew must find and neutralize the threat before he can cause more harm. However, Kirk and Spock soon discover that they have become unwittingly entangled in a plot with a much graver endgame.
Outfits Inspired by Star Trek XII
Although the crew still wears the classic blue, red, and gold outfits from the 2009 movie, they also showed off several new uniforms in Into Darkness. Follow the Prime Directive of fashion and boldly wear what you haven't worn before!
It's My Landing Party (And I'll Cry If I Want To)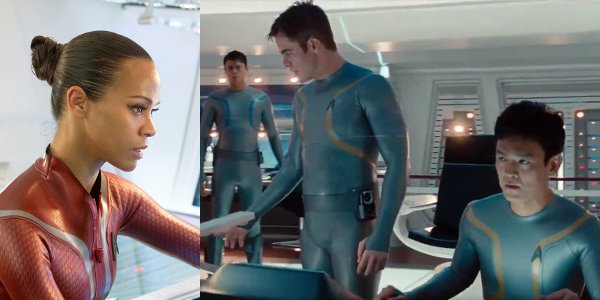 (Wet)Suit up! In the opening scenes of the film, Kirk and company are on an observation mission that quickly goes awry. In the process, they're forced to take a quick underwater jaunt. The cool holographic Starfleet wetsuits they wear don't leave much to the imagination, but they're sleek and beautifully designed. (I'm a proponent of movie characters changing costumes every five minutes or so…who cares if it's not realistic? Movies are supposed to be escapism!)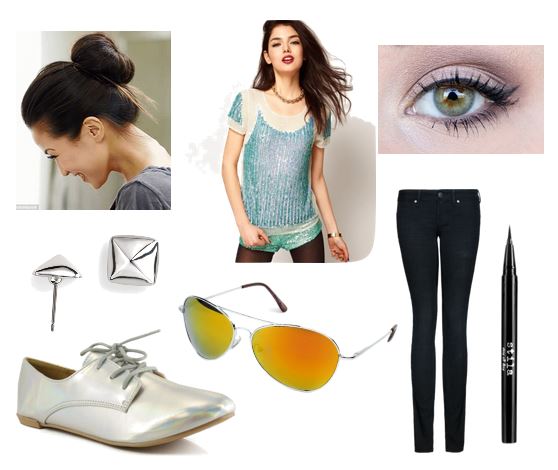 Product Information: Top, Pants, Shoes, Sunglasses, Eyeliner, Earrings, Hair Photo
While you could show up to class in a shiny skintight unitard, you'd probably field some inquisitive looks. Try out the holographic trend in a more subtle way with an iridescent top that recalls the Enterprise dive suits and snazzy chrome oxfords. Tone down all the shiny with a pair of simple black jeans. Mirrored sunglasses are big this spring (plus they're suitably futuristic for a Trek-inspired outfit!). Follow Uhura's lead and try out chic winged eyeliner and a high sock bun for a look that's out of this world!
Science Officer Blues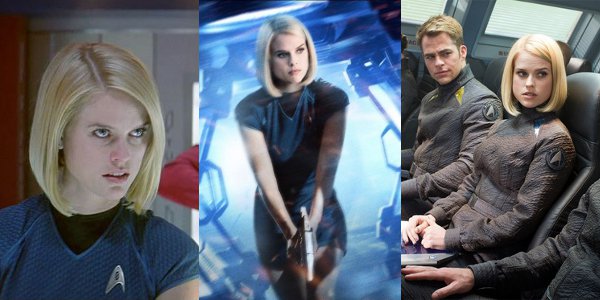 Dr. Carol Marcus, played by Alice Eve, is a physicist with a specialty in advanced weaponry. She's whip-smart and highly determined; when her father, Admiral Marcus, the head of Starfleet command, denies her access to a set of stealth photon torpedoes, she manages to get on board the Enterprise to examine them. In the process, her loyalties are tested and her intellect is challenged, but she stands her ground.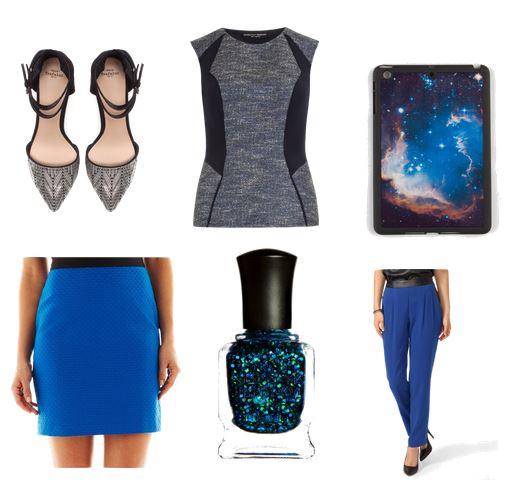 Product Information: Top, Skirt,Trousers, Shoes, iPad case, Nail Polish
While I might be biased (I'm a science major), I've always liked the blue science uniforms the best. Try out this modern spin on science blue! A sleek gray top evokes the streamlined Starfleet flight suits. In a rich cobalt hue, either a pencil skirt or a chic pair of trousers will put a more modern spin on a classic silhouette, while referencing the color assigned to Starfleet scientists.
The iPad is said to be inspired by the data PADDs used in the original Star Trek television series, so a cool galaxy case is a perfect homage to the Trek franchise. Glittery nail polish in the aptly named "Across the Universe" is a fun touch. Remember: smart is always sexy!
Klingon The Night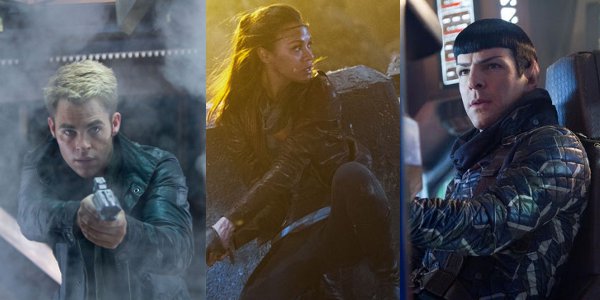 When Kirk, Spock, and Uhura are forced to beam upon the Klingon homeworld Qo'noS in search of a rogue Starfleet officer, they must go undercover as civilians, as the discovery of Federation presence on a Klingon planet could lead to all out war between the Federation and the Klingon Empire. Kirk orders the landing party to wear casual clothing, which seems to consist of sweet leather jackets that wouldn't look out of place in a Rick Owens or AllSaints Spitalfields display. If this is casual Friday attire in 23rd century Earth, someone send me to the future now please!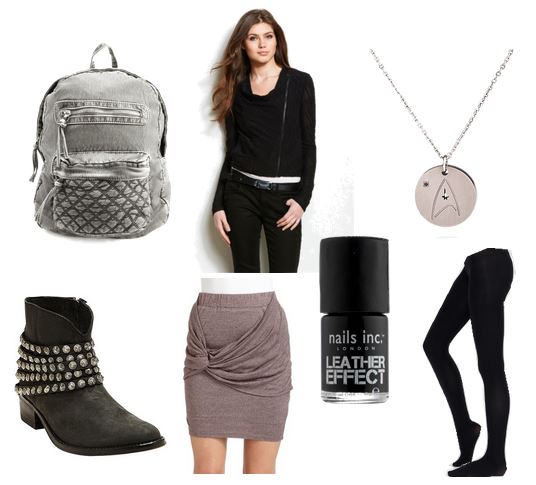 Product Information: Jacket, Skirt, Tights, Boots, Backpack, Nail Polish, Necklace
You don't need to speak Klingon to get Uhura's tough-girl style! Pair your favorite worn in tee with a slouchy motorcycle jacket and a knotted bandage skirt in a neutral color.  Studded ankle boots add to the I'm-a-badass-Starfleet-officer-in-disguise vibe (A specific description, yes. But also awesome.) Slip on a Starfleet pendant for a subtle reference to the fandom.
Test drive a cool nail polish trend with a top coat that will give your nails a leather effect.  Finally, sling a quilted faux leather backpack over your shoulder for a look that'll leave even Klingons envious!
(Okay, guys, spoiler alert!!)
Khan You Feel The Love Tonight?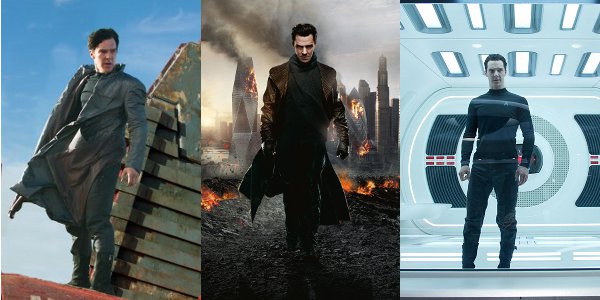 Is it a bird? Is it a plane? Is it Sherlock? No – it's Khan, a genetically engineered superhuman who's sworn revenge upon all of Starfleet.
The villain, played by Benedict Cumberbatch (yes, of Sherlock fame), initially identifies himself as Starfleet officer John Harrison. However, it's quickly revealed that he is, in fact, Khan Noonien Singh, a 300-year-old cryogenically preserved former tyrant who was Kirk's arch-nemesis in the original series. Ruthless, brilliant, and nigh unstoppable, Khan proves to be a formidable foe for the U.S.S. Enterprise.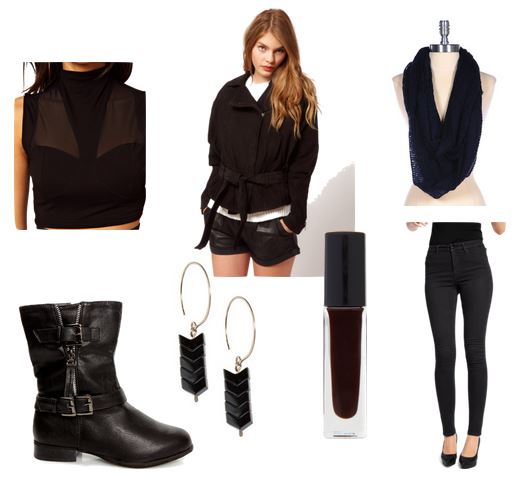 Product Information: Coat, Top, Jeans, Boots, Earrings, Scarf, Nail Polish
For someone who's just spent 300 years in a deep freeze, Khan looks pretty snazzy: he goes the typical villain sartorial route with a long, sweeping black coat, but he does it with panache. His look is monochromatic but interesting due to the distinctive silhouette and incorporation of several different textures. Emulate this iconic villain (trust me, his style's more enviable than that of Ricardo Montalban, the original Khan actor) with a mesh crop top paired with high-waisted black jeans.
This wrap coat might not be as dramatic as Khan's, but the unique shape will make you stand out in a crowd. Finish off with tough motorcycle boots, sleek chevron earrings, and a textured navy scarf (shoutout to Benedict's other famous role!). A coat of blood-colored nail polish serves as a reference to Khan's super-charged genetically-engineered physiology.
What Did You Think?
Would you wear these outfits? Did you like Star Trek Into Darkness? Do you think it lived up to the first movie? Did you cringe at my puns? What other geeky inspirations would you like to see ? (Next time, we'll run and remember with the Doctor's newest companion!) As always, let me know in the comments!