Greetings, fellow Doctor Who-loving CF readers…and may I offer you a tissue to dry off your post-Matt-Smith-departure-announcement tears?
I have to say, I can't wait for November's 50th Anniversary Special and the Christmas Special, but I'm also dreading the emotional breakdown I will inevitably suffer after the Eleventh Doctor's regeneration. (Mom, consider this an early warning for the uncontrollable sobbing over a fictional character and the wretched fetal position you'll find me in come Christmas Day.)
On a happier note, let's talk fashion! In previous Doctor Who-inspired Geek Chic posts, we covered outfits inspired by the Doctor and his companions (Part 1 for the Doctor, Part 2 for Eleven's companions, Part 3 for Nine and Ten's companions). This time around, let's get inspired by the newest companion, "the girl who can" – Clara.
For more Geek Chic, check out previous articles: Star Trek Into Darkness-inspired fashion, Buffy-inspired fashion (and Part 2), Castle-inspired fashion, Firefly-inspired fashion, The Hobbit-inspired fashion, Supernatural-inspired fashion, Bones-inspired fashion, Princess Bride-inspired fashion, The Dark Knight trilogy-inspired fashion, Pokemon-inspired fashion,  Star Wars Prequel-inspired fashion, Lost-inspired fashion, Sailor Moon-inspired fashion, Sherlock-inspired fashion, Star Wars Original Trilogy-inspired fashion, The Big Bang Theory fashion, the Lord of the Rings fashion, and Star Trek-inspired fashion.)
Know Your Geek: About Clara "Oswin" Oswald
Jenna-Louise Coleman plays the latest traveler to tag along with the Doctor on his travels through time and space in the TARDIS.
The Doctor keeps encountering various incarnations of Clara everywhere – from Victorian England to a Dalek prison planet – and loses her each time.
He's utterly baffled by Clara's "impossible" existence and invites her on board to investigate her mysterious appearances in his adventures.
Outfits Inspired by Clara
While I'm not so sold on her character development thus far, I do adore Clara's fashion sense!  Read on for three outfits inspired by this clever companion!
If you haven't caught up with season 7, be warned: SPOILERS, sweetie!
Souffle Girl
We met this mysterious companion in "Asylum of the Daleks," where she goes by "Oswin Oswald." This opera-loving, souffle-baking, quick-witted junior entertainment manager helps save the Doctor, Rory, and Amy from impending doom, but she must first face a horrifying truth about herself.
Oswin's fitted crimson dress and trendy sneaker wedges perfectly match her bold personality. Get inspired by her fun fashion choices with a red skater skirt and black sneaker wedges. (If you're not feeling the sneaker wedge trend, try a pair of regular Converses or Keds.) An embroidered top is reminiscent of Oswin's apron. Finish off the look with some futuristic touches like a gunmetal watch and a pendant in the shape of a whisk. Egg…eggs…eggs-celent!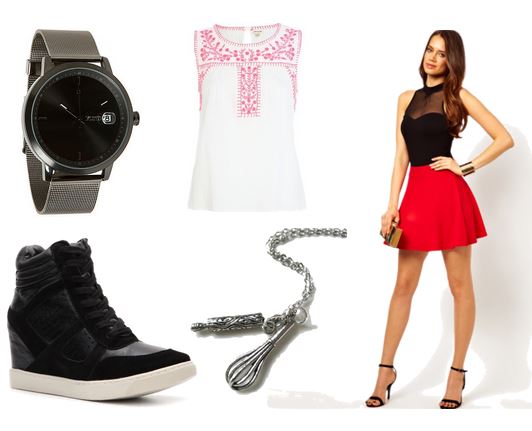 Product Information: Top, Skirt, Shoes, Watch,Necklace
Run You Clever Boy And Remember
Like Clara, I'm a big fan of the cargo jacket, ankle boot, and fit-and-flare frock combination. She rocks this look several times throughout the show. Luckily, it's an easily attainable outfit!
To get Clara's look, pair a lightweight anorak (bonus points if it's waterproof with a hood – you never know when a summer shower might strike) or moto jacket with your favorite patterned dress. Clara also loves her red satchel – I think this is the first time we see one of the modern companions carry a handbag – so follow her practical lead and sling on a cute cross-body in TARDIS blue. Finally, add a pretty leaf pendant as a reference to the treasured memento that Clara sacrifices in The Rings of Akhenaten.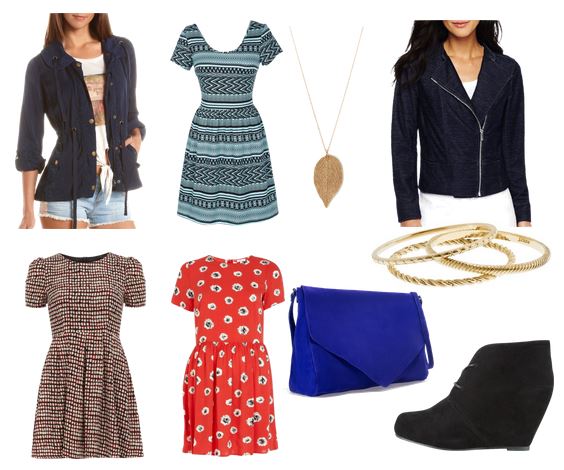 Product Information: Anorak, Motorcycle Jacket, Red Dress, Checkered Dress, Mint Dress, Wedges, Bangles, Purse, Necklace
The Impossible One
It makes sense that this time traveler has retro details in her wardrobe, like Peter Pan collars and floral ditsy dresses, as well as futuristic touches such as metallic fabric and sparkly shoes. Create some contrast in your own outfit: for instance, a prim polka-dot blouse is a great foil for a pair of gutsy glitter oxfords.
Clara also likes easy layering pieces like lightweight blazers and cardigans. A well-cut blazer in a classic color like navy will serve you well and go with everything in your closet. Slip on a pair of comfy high-waisted shorts like Clara's and add a turquoise cross-body for a pop of color. Clara might be "impossible," but snagging her style sure isn't!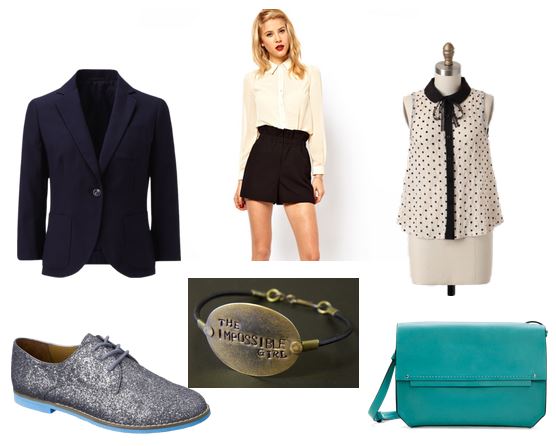 Product Information: Top, Shorts, Blazer, Oxfords, Purse, Bracelet
Sidenote: While writing this article, it occurred to me that the two latest female companions — Amy and Clara — are almost always seen wearing skirts or dresses, while previous companions Rose, Martha, and Donna typically wore jeans while traveling with the Doctor. Anyone else noticed this? Any thoughts? I'm wondering if it's just a reflection of current fashion trends or if it's intentional on the part of the show creators.
What did you think?
Would you wear these outfits? Do you like Clara's style? What do you think of her as companion? Are you sad that Matt Smith's leaving the show? And who do you think will replace him? Let us know in the comments!