Ever since I began writing the Geek Chic column, I've been told several times by friends and CF readers alike that I was not allowed to bear the title of "geek" until I watched Firefly. Although it took me a while to get around to it, (hey, I had to finish Buffy first!) I finally sat down and watched all 14 episodes in a single day.
It's easy to see why Firefly carries such a cult status, with its oh-so-Whedon witty dialogue, unique take on humanity's future in space, and bizarre mishmash of Old West and Chinese motifs. Plus, the show stars fan favorites Nathan Fillion, Gina Torres, Alan Tudyk, Morena Baccarin, Adam Baldwin, Jewel Staite, Sean Maher, Summer Glau, and Ron Glass. Shiny!
Know Your Geek: About Firefly
Created by Joss Whedon (of Buffy the Vampire Slayer, Dr. Horrible's Sing-along Blog, and The Avengers fame), Firefly premiered in 2002 but was cancelled only three months after its debut.
Despite its short run, Firefly garnered a strong fanbase; members of the fandom refer to themselves as "Browncoats." Although the show was not revived, Serenity, a movie based on Firefly, was released in 2005.
The show is a Western space drama set in 2517 that follows the crew of Firefly-class ship Serenity, which specializes in cargo runs and smuggling deals.
The renegade team is led by Captain Malcolm Reynolds, who fought on the losing side of a civil war and now must tread carefully when it comes to dealing with the government, known as the Alliance.
In the Firefly universe, the United States and China were the two remaining superpowers when mankind left a barren Earth to colonize space. As such, the official language is a blend of English and Mandarin (as a Chinese speaker, though, I have to say that the actors have pretty terrible pronunciation).
Outfits Inspired by Firefly
Ready to take to the skies? Try out these outfits inspired by the crew of Serenity!
Captain Mal Reynolds
Mal Reynolds, played by Nathan Fillion, is the crew's fearless leader and one of science fiction's most beloved anti-heroes. Like Han Solo, another famous cargo smuggler, Mal doesn't always play by the rules. In the gritty world of Firefly, he has to do whatever it takes to ensure his and his crew's survival. Mal aims to misbehave!
The captain can be gruff and cynical at times, but ultimately retains his faith in humanity. Once he accepts someone as a member of his crew, he is unwaveringly loyal to them.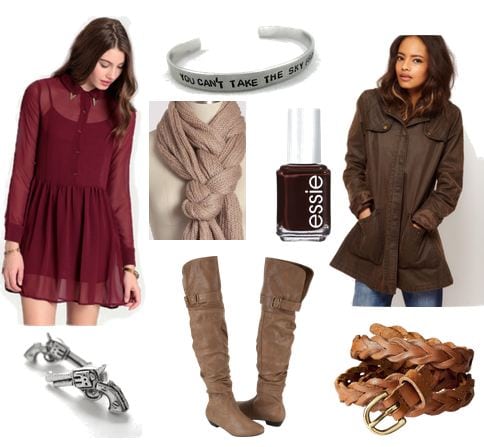 Product Information: Jacket, Dress, Boots, Belt, Earrings, Bracelet, Scarf, Nail Polish
Mal typically wears a maroon shirt and beige trousers, along with his signature brown coat. During the civil war, the independence fighters with whom Mal sided were known as "Browncoats" (which is where the term for a Firefly fan comes from). Additionally, the captain always keeps his trusty gun holstered at his side, in case of Reaver attacks or unexpectedly dangerous cargo dropoffs.
Give Mal's style a feminine spin with a burgundy shirtdress that resembles his top. Add a pair of over-the-knee taupe boots and a soft blush scarf to lighten the look.  A braided leather belt and revolver-shaped earrings recall the Western themes of the show, while a stamped silver cuff quotes the theme song. Finally, add the all-important brown coat in the form of a chocolate-colored parka, as well as a "coat" of espresso nail polish.
Zoe
Zoe Alleyne Washburne, played by Gina Torres, is Serenity's first mate. She and Mal go way back: the two fought alongside one another during the war. Though the two have never shared a romantic relationship, Zoe and Mal have an indelible bond and always have each other's backs. The only time she expressly went against Mal's orders was when she married Hoban "Wash" Washburne (played by Alan Tudyk), Serenity's pilot.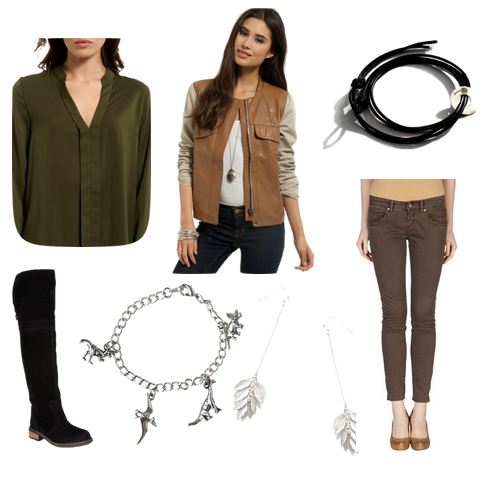 Product information: Jacket, Top, Pants, Boots, Necklace, Earrings, Bracelet
Zoe is Malcolm's right-hand woman, so she's always cool, calm, and collected. Her sleek style matches her demeanor; Zoe's usually seen in streamlined pants and leather vests. Snag her look by pairing a silky olive blouse with a trendy two-tone leather jacket. Dark brown jeans and knee-high boots add to the earthy color palette.
Now it's time to accessorize: tie on a knotted leather necklace that resembles Zoe's, and slip on a dinosaur bracelet. (There'll be no sudden and inevitable betrayal with this charm bracelet!) Finally, add a pair of delicate leaf earrings as a tribute to ace pilot Wash. After all, he's a leaf on the wind, watch how he….
(Sorry, that was mean.)
Kaylee
Kaylee Frye, played by Jewel Staite, is Serenity's chief mechanic. Though she's never had official training, Kaylee has an intuitive understanding of the ship's inner workings and refers to Serenity as a "she", not an "it." Mal regards Kaylee as a younger sister and is often highly protective of her.
Kaylee is very affectionate and optimistic: she truly loves and cares for the other members of the Serenity crew. Over the course of the show and movie, Kaylee develops feelings for Simon Tam.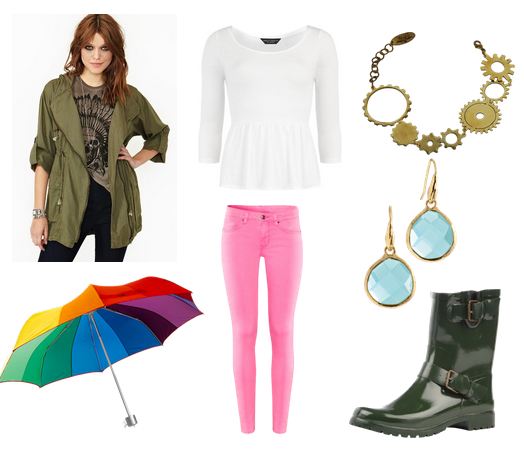 Product Information: Jacket, Top, Pants, Boots, Umbrella, Earrings, Bracelet
Kaylee's fashion sense perfectly matches her sunny disposition: it's fun, bright, and feminine. She has a penchant for all things frilly and pink, as evidenced by her choice of formalwear in the episode "Shindig."  Her job requires her to wear a cargo jumpsuit most of the time, but she always adds a girly touch to the uniform.
Kaylee's fashion sense is perfect inspiration for a rainy day outfit. After all, she could brighten up the cloudiest sky! A peplum adds a little flair to a basic white tee, while a pair of bubblegum pink jeans complements a dusty olive anorak. Motorcycle-inspired rainboots toughen up the look; keep dry with a rainbow umbrella inspired by Kaylee's parasol. Finally, add a cute gear charm bracelet to represent Kaylee's skills as a mechanic.
Inara
Inara Serra, played by Morena Baccarin, is a highly esteemed Companion; Companions are licensed courtesans who belong to a guild and are well-regarded by society. She rents one of Serenity's two small shuttles, where she entertains clients.
Although she definitely has a sassy side, Inara is gentle, compassionate, and dignified. She serves as a surrogate older sister to Kaylee, who often seeks Inara's advice about romance. Malcolm and Inara have a constant romantic tension throughout the show, though they never act on these feelings.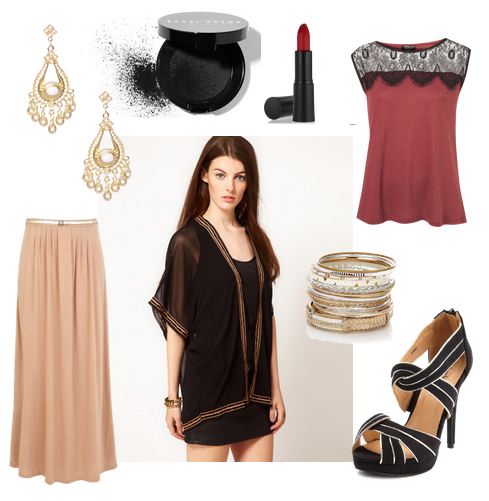 Product Information: Top, Jacket, Skirt, Shoes, Lipstick, Eyeliner, Bangles, Earrings
Inara's profession demands grace and sophistication; her elegant style certainly meets these requirements. She often wears long, silky gowns embellished with Eastern-inspired details, as well as intricate jewelry.
Get the Companion's look for yourself with a pale pink maxi skirt and pretty lace top. Top it off with a sheer black kimono jacket that resembles one of Inara's gowns. Inject some sparkle into the look with a stack of bangles and chandelier earrings. Finally, add a sensuous touch in the form of vampy red lips and sultry black eyeliner.
River
River Tam, played by Summer Glau, is a child prodigy who attracted the attention of the Alliance with her precocious intelligence and psychic abilities. She was admitted into the Academy, a school for the gifted which in reality was a government experimental facility trying to create the perfect assassin.
River and her older brother, Dr. Simon Tam, are on the run from Alliance agents after he broke her out of the Academy. The Alliance's operations on her brain have left River mentally unstable, unable to distinguish reality from hallucination. Nevertheless, she has uncanny fighting abilities.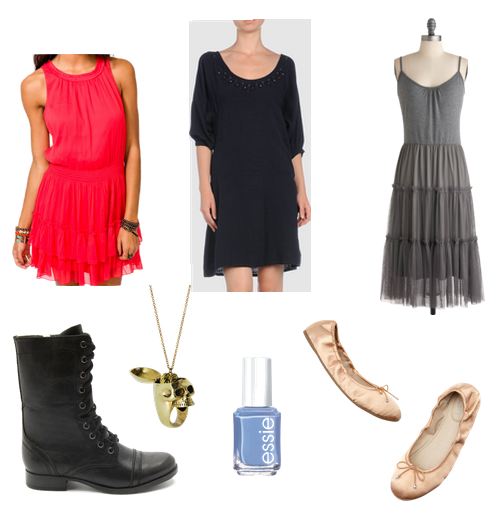 Product Information: Red Dress, Black Dress, Gray Dress, Boots, Flats, Nail Polish, Necklace
River frequently wears loose sundresses and goes barefoot while wandering the ship, although she occasionally slips on a pair of heavy leather boots. Choose a flowy dress in a gauzy fabric to imitate this child prodigy's laid-back look. Tough combat boots are a great contrast to a girly frock; if you prefer River's barefoot look, choose a pair of ballet flats instead. (Fun fact: Summer Glau's first professional acting role was as a ballerina in Angel…which is also how she got to know Joss Whedon!)
A slightly creepy skull necklace refers to the operations performed on River's brain, while a glossy coat of periwinkle nail polish alludes to "two by two, hands of blue," the chilling chant a delirious River uses to describe the Alliance agents who are pursuing her.
Bonus Look: The Hat
Since I didn't include an ensemble for Jayne Cobb or for Serenity, I felt it was only fair to include a bonus look inspired by what might be sci-fi's most famous piece of millinery: Jayne's hat. When the normally surly Jayne receives a care package from his mother, he's thrilled by the "cunning" hat enclosed within. As Wash says, "a man walks down the street in that hat, people know he's not afraid of anything." Who wouldn't want that kind of confidence?
Put some Jayne-like swagger into your day with an oxblood sweater, orange skirt, and yellow knitted hat. Bone-colored moto boots toughen up the look while a metallic star ring adds some glitz. Finally, pay tribute to Jayne's beloved gun Vera with a spritz of Vera Wang perfume.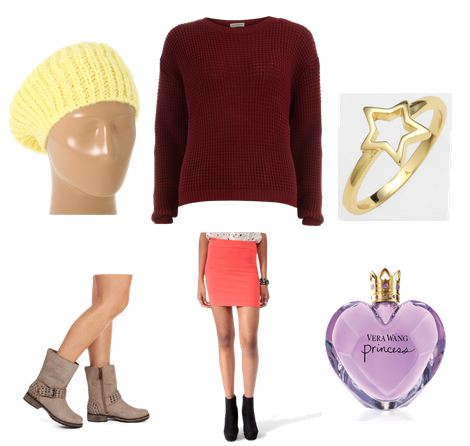 Product Information:  Sweater,  Skirt, Hat, Ring, Boots, Perfume
What did you think?
Would you wear these outfits? Are you a loyal Browncoat?  What other geeky inspirations would you like to see? (Next time, we'll be getting our fill of Fillion by tagging along with Detective Beckett and best-selling mystery novelist Richard Castle!) Let us know in the comments!