I've been a fan of The Mortal Instruments author Cassandra Clare for quite some time: I loved her 2001 parody series, The Very Secret Diaries of the Fellowship of the Ring, so much that I once wrote my own Star Trek version of the Diaries. (The Geek Chic columnist writes fan fiction? What a shocker.) However, I didn't get around to reading Clare's foray into professional writing until earlier this year. While her books aren't incredibly original, they're definitely a fun read full of pop culture references and fantastical elements.
The City of Bones, the first in The Mortal Instruments series, was recently adapted into a film version starring Lily Collins, Jamie Cambell-Bower, Kevin Zegers, Jemima West, Robert Sheehan, Lena Headey, Jonathan Rhys Meyers, and Godfrey Gao.
Know Your Geek: About The Mortal Instruments: City of Bones
The Mortal Instruments books are set in New York City and revolve around Clary Fray, a teenager who discovers that she is one of the Nephilim — also called Shadowhunters — an angel-human hybrid race that protects humanity from demons.
There are six books in the Mortal Instruments series: City of Bones, City of Ashes, City of Glass, City of Fallen Angels, City of Lost Souls, and the soon-to-be-released City of Heavenly Fire. Clare has also written a prequel series called The Infernal Devices.
As I mentioned, Cassandra Clare got her start writing wildly popular Harry Potter and Lord of the Rings fan fiction. While the stories aren't quite the same, The Mortal Instruments does draw inspiration from her HP series, The Draco Trilogy. (Hmm, what plucky red-headed witch and platinum blond bad boy might she have been inspired by?)
Outfits Inspired by City of Bones
Mundanes
In The Mortal Instruments universe, magical beings such as the Nephilim refer to non-magical humans as Muggles Mundanes. Before Clary discovers her true identity, she and her best friend Simon are just two Star Wars-loving high school students with fairly normal hobbies: she loves to draw, while he's in a band. When Clary's mother disappears, the two friends' lives are turned upside down as they find themselves drawn into a magical world full of unfathomable power.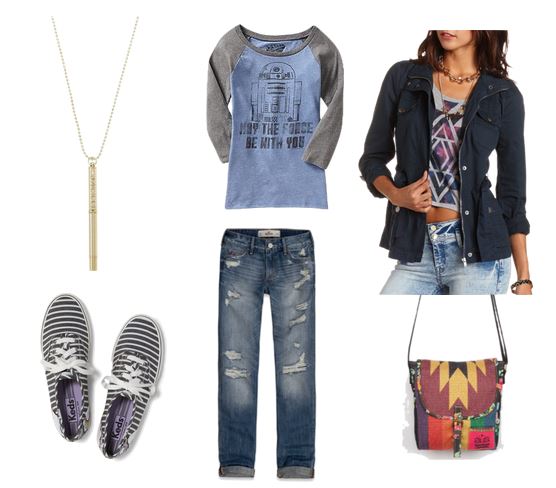 Product Information: Jacket, Shirt, Jeans, Shoes, Bag, Necklace
Clary's wardrobe is fairly, well, mundane, but not necessarily in a bad way. After all, a tee-shirt, jeans, and sneakers are a practical and foolproof outfit for those days when your alarm doesn't go off and you need to make a quick dash to lecture.
If you're in a rush or if you just want a casual ensemble for a lazy weekend, just make like Clary and pair a favorite graphic tee with a pair of comfy boyfriend jeans. (Bonus points if it's a Star Wars shirt.) A lightweight anorak is perfect for unpredictable weather. Throw in some mixed patterns, like a pair of striped Keds and a graphic messenger bag reminiscent of the rune drawings in Clary's room to pep up the look. Finally, add a cute pen necklace to reference the steles that the Nephilim use to make runes.
Shadowhunters
Look 1
The first Shadowhunters that Clary encounters are Isabelle and Alec Lightwood and their adopted brother Jace Wayland. Raised in a magical environment, the three are experienced, dangerous warriors, well-versed in the ways of the Nephilim. Although Jace and Clary immediately feel a connection, the Lightwoods are initially reluctant to welcome her into their circle.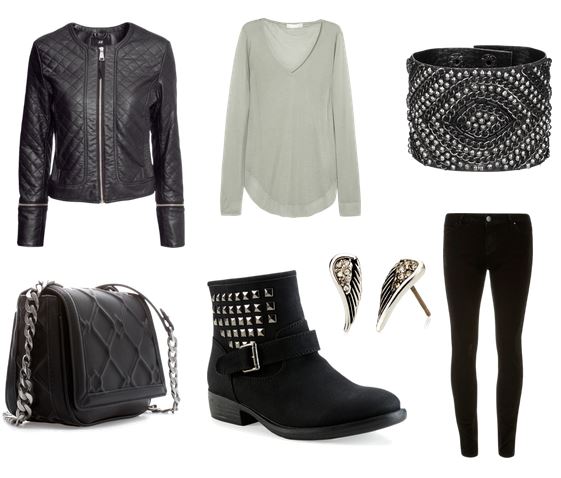 Product Information: Jacket, Top, Jeans, Boots, Bag, Cuff, Earrings
Skintight leather and thigh-high boots for tough supernatural soldiers? Groundbreaking.
While I think the film costume designer could have been slightly more creative, there's no denying that the presence of chains, buckles, and head-to-toe black is a pretty reliable indicator of a movie character's badassery. (Badass-ness?) For a look that's evocative of the Shadowhunter sartorial sensibility but still wearable, try a combination of textures to break up all that black.
A quilted leather jacket is the standout piece here, so keep the rest simple — a gray top and black jeans won't detract attention from the jacket. Since it's such a monochromatic outfit, have some fun with the accessories: a flashy cuff, angel-wing studs, motorcycle boots, and a cute crossbody bag are stylish ways to incorporate all those buckles and chains without looking costumey.
Look 2
In the books, Isabelle frequently disparages Clary for her tomboy-ish clothing choices. When the group attends a party thrown by Magnus Bane, Isabelle jumps at the opportunity to put her in more Nephilim-appropriate clothing. Isabelle clearly favors an abundance of lace as well as steampunk-y details such as corset belts and tall boots.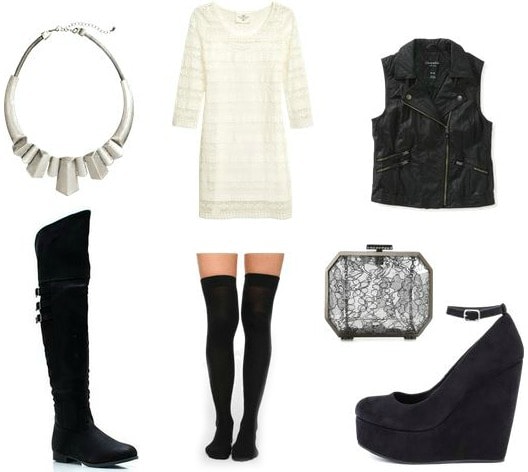 Product info: Vest, Dress, Boots, Socks, Wedges, Necklace, Clutch
While black lace definitely packs a sexier punch, I personally love the contrast between demure white lace and edgy leather.
A lace dress goes great with a tough motorcycle vest, while a lacy top with a leather skirt or trousers is also a winning combination. Thigh-high boots are a popular trend for fall. If you're not sure you want to invest in a pair, though, you can easily achieve the look with by wearing black thigh-high socks with your favorite pair of black wedges or heels.
The High Warlock of Brooklyn
Magnus Bane is the High Warlock of Brooklyn. He's also the one responsible for Clary's inability to remember her childhood among the Shadowhunters. He's also really, really, ridiculously good-looking. Seriously, scroll back up and just look at that face.
As a warlock, Magnus is considered one of the Downworlders, as he is the offspring of a demon and a human. He enjoys throwing lavish parties, although he typically doesn't invite Shadowhunters, who are frequently condescending or hostile towards Downworlders.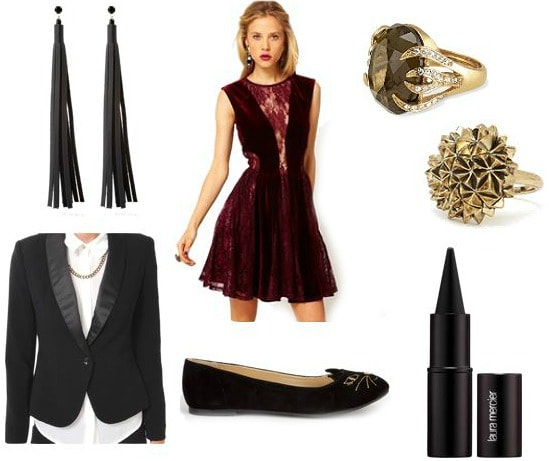 Product Information: Blazer, Dress, Flats, Jewel Ring, Gold Ring, Earrings, Eyeliner
In the books, Magnus has a penchant for flamboyant clothing. While his attire is more subdued in the film adaptation, it's still a great source of inspiration.
Instead of a velvet blazer, spring for a lush burgundy dress that's perfect for fall and winter. A tuxedo jacket adds a sophisticated touch, while sleek cat slippers reference Magnus's cat eyes (as well as his pet feline, Chairman Meow). Pile on the sparkly cocktail rings for an opulent look, and don't forget the all-important smudgy eyeliner!
What did you think?
Would you wear these outfits? Have you read the Mortal Instruments series and/or the Infernal Devices? Have you gotten the chance to see the film yet? What other geeky inspirations would you like to see? As always, let us know in the comments!