While The Big Bang Theory springs to mind whenever anyone discusses a "nerd show", Britain's The IT Crowd was actually the first sitcom to celebrate nerd culture. I'd seen a few clips of the wildly hilarious show a while back, but never got around to the full episodes.
Determined to get the most mileage out of my Netflix free trial month, I re-discovered The IT Crowd and pretty much devoured it in one sitting. And let me say that in terms of Geek Chic-ness, it is fabulous. Richard Ayoade, Chris O'Dowd, and Katherine Parkinson star in the program, which highlights the often comical disconnect between an IT Department and the folks upstairs.
Know Your Geek: About The IT Crowd
Created by Graham Linehan in 2006, The IT Crowd ran for four series of six episodes each. A special finale episode was aired in September 2013.
The show revolves around the three staff members of the IT Department at Reynholm Industries: Moss, a genius-level nerd who knows just about everything about computers, but is incapable of telling a plausible lie; Roy, an IT technician who despises his job; and Jen, their hapless, technology-illiterate relationship manager.
Rounding out the cast of characters are Richmond, the friendly Goth who lives in the basement and Douglas Reynholm, the lecherous, idiotic CEO of the company.
Roy and Moss's social awkwardness frequently leads to misunderstandings and bizarre, ever-escalating shenanigans, such as an unwitting assistance in a bank robbery and Moss almost being eaten by a cannibal. Although Jen is the "normal" one in the IT Department, the show makes just as many jokes at her expense as it does at Moss and Roy's.
The pilot episode of an American version starring Richard Ayoade, Joel McHale, and Jessica St. Clair was filmed in 2007, but was never aired.
The IT Crowd relies less on pop culture references for humor and more on situational comedy. While it's often compared to The Big Bang Theory, it's not really fair to compare the two shows: the uniquely zany British humor of The IT Crowd is more comparable to that found in American shows like Community or Modern Family.
Outfits Inspired by The IT Crowd
You might not know what IT stands for (what doesn't it stand for?), but you can definitely take inspiration from the main characters of Reynholm Industries's IT Department!
Roy
Ah, Roy. Sweet, gentle, Irish Roy. Played by Chris O'Dowd (a.k.a. cute Irish cop from Bridesmaids), this sarcastic IT technician absolutely detests the technology-challenged employees of Reynholm Industries and always answers the IT hotline with his catchphrase, "Have you tried turning it off and on again?"
Although he is openly disdainful of sports culture, he secretly harbors a desire to be "one of the lads" and jumps at the opportunity to prove himself as a man. He hates balloons, which "are filled with the capacity to give [him] a little fright, and [he] finds that unbearable."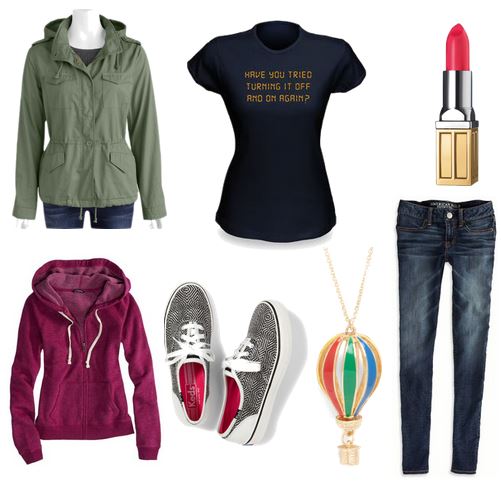 Product Information: Jacket, Hoodie, T-Shirt, Jeans, Shoes, Necklace, Lipstick
Roy's style is classic TV nerd: he wears lots of graphic tees, baggy jeans, and hoodies. While it may not exactly be haute couture, it's a comfortable, no-fail combination for a busy day of classes or a laid-back weekend. Reference Roy's classic line with a fun t-shirt, then slip on your favorite pair of boyfriend or skinny jeans. A cargo jacket layered over a colorful hoodie provides just enough warmth for those crisp autumn days.
For a pop of color, add a coat of hot pink lipstick (much like the lipstick Roy once inadvertently sported), and accessorize with a cute balloon pendant. No worries –this one is guaranteed not to burst and give you a little fright!
Moss
Maurice Moss, played by Richard Ayoade, is a socially incompetent genius who often takes things entirely too literally and winds up grossly misinterpreting the situation. He has a vast and comprehensive knowledge of all things technical, but cannot deal with everyday problems such as extinguishing a fire or telling a plausible lie.
Although he's terribly frightened of the teenage bullies he encounters in the park, Moss can also be quite confident, delivering zingers like "I came here to drink milk and kick ass. And I've just finished my milk." As he says, weird is all he's got. That and his sweet style.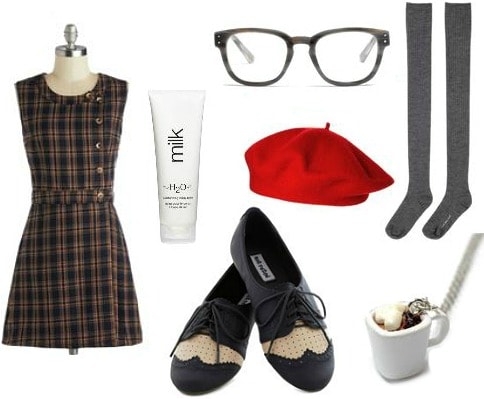 Product Information: Dress, Socks, Oxfords, Hat, Glasses, Necklace, Lotion
Speaking of sweet style, why not try out an interpretation of Moss's signature short-sleeved shirt and khaki/corduroy trousers outfit? A retro plaid frock pairs perfectly with cozy thigh-high socks and a pair of quirky oxfords. Top it off with a bold red beret like the one Moss sports in the 8+ Club. Finally, a sweet little mug necklace references Moss's eternal consternation at his disappearing cup.
Jen
Jen Barber, played by Katherine Parkinson (you may recognize her from Sherlock), is highly ambitious, but doesn't really have the skills to back up her aspirations. Even though she knows absolutely nothing about computers, she's able to lie her way through a hiring interview (luckily, the boss is even worse with technology) and is saddled with managing the antics of Moss and Roy.
Jen can be dense, quite shallow, and self-obsessed at times; for instance, she's unable to explain to a potential employer exactly what "IT" stands for, and she breaks up with someone simply because he "looks like a magician." Her lies and narcissism frequently come back to haunt her. Nevertheless, she develops a close bond with her employees and does her best to improve the IT Department's standing at Reynholm Industries.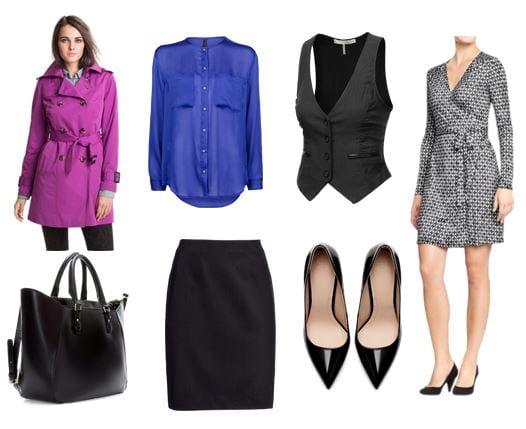 Product Information: Dress, Blouse, Vest, Skirt, Heels, Coat, Tote
Jen is a perfect example of how to "dress for the job you want, not the one you have." She has a go-getter attitude (though she's not that great at actually doing any work) and always shows up to the basement office impeccably dressed. Jen favors jewel-toned blouses with pencil skirts and frequently wears vests, which stand out from a sea of blazers. Outside of the office, she usually wears printed dresses and a colorful trench coat.
Try out her put-together style for work or for a business function…you'll be Employee of the Month in no time! (Although it might just be the result of a coworker claiming that you're dead.)
Richmond
Richmond Felicity Avenal, played by Noel Fielding, was once second-in-command at Reynholm Industries, but was banished to the basement after he became a goth. Despite his tendency to lurk, creep, and stare into the distance while saying things like "an ill wind is blowing," he's actually quite a nice guy.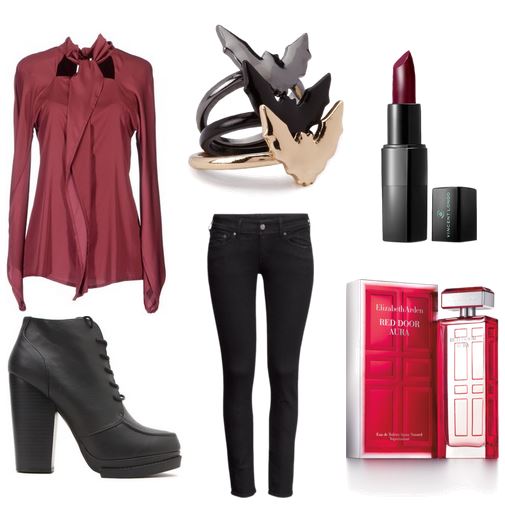 Product Information: Blouse, Jeans, Boots, Rings, Perfume, Lipstick
Get Richmond's pseudo-gothic look with a burgundy bow blouse and black skinny jeans. Lace-up ankle boots have a vaguely Victorian feel about them, while vampy lipstick adds to the dark vibe. Add a stack of bat-shaped rings to reference the bat necklace Richmond frequently wears. Finally, Red Door perfume alludes to Richmond's home in the basement.
What did you think?
Have you tried turning it on and off again? Would you wear these outfits? Have you seen The IT Crowd? What other geeky inspirations would you like to see? As always, let us know in the comments! P.S. Did you see that ludicrous display last night?