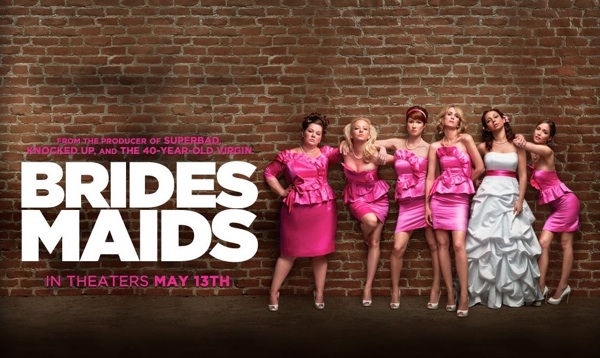 I had heard people talking about Bridesmaids for weeks, but thanks to finals I didn't get around to seeing it until this past week. While everyone I had spoken to told me how funny the movie was (and if you haven't seen it, it is hilarious!), no one ever mentioned the fabulous wardrobe of Kristen Wiig's character, Annie Walker.
Throughout the entire movie, I could not stop obsessing over Annie's ensembles – she was impeccably dressed in nearly every scene. Even better, she re-wore many of the same pieces throughout the movie, making her look both realistic and relatable. Therefore, I thought it was fitting to share my love for her wardrobe with you. Below, I have recreated four of my favorite looks from Bridesmaids.
Outfit #1: Dress Shopping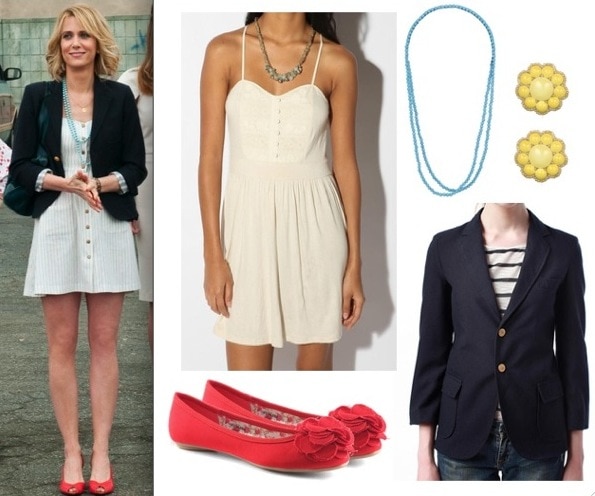 Photo Credit | Product Information: Dress, Necklace, Earrings, Blazer, Shoes
Annie wore this simple yet chic outfit to go bridesmaid dress shopping with the other ladies at a fancy dress store. She looked perfectly put-together for the fun occasion, while still keeping her look casual and daytime-appropriate.
A solid-colored blazer like navy one above is a wardrobe staple that goes with everything. (Annie wore hers numerous times throughout the film.) Throwing it on top of a simple cream dress creates a chic color contrast. A turquoise beaded necklace is a playful and easy way to accessorize, while red ballet flats add a fun pop of color. Lastly, Annie always had on a bright pair of studs throughout the film, so I chose these pretty yellow ones to emulate her look.
Outfit #2: Plane Ride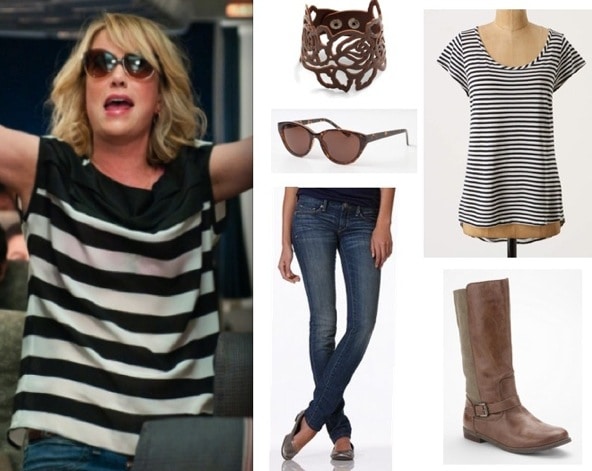 Photo Credit | Product Information: Bracelet, Top, Boots, Jeans, Sunglasses
I love the simplicity and classic feel of this outfit that Annie wore on the (unsuccessful) plane ride to Vegas.
Once again, Annie based her look around a classic piece, choosing a loose, basic striped top. Get her look by starting with a similar tee – this one has small stripes, making it ultra-flattering and versatile. Next, tuck some medium wash denim jeans into brown leather riding boots like these. Lastly, this cool rose cut-out leather cuff bracelet and these tortoiseshell sunglasses add some interest to this rather simple outfit.
Outfit #3: Engagement Party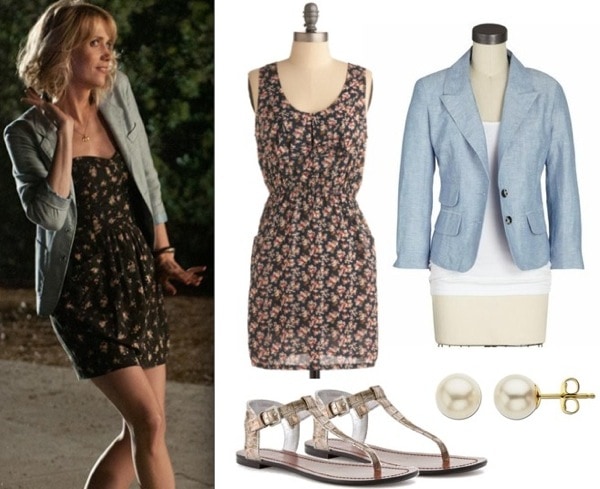 Photo Credit | Product Information: Dress, Jacket, Earrings, Sandals
This might be my favorite look from the movie. Again, we see Annie's love of the fitted jacket and its amazing ability to transform a simple dress into a pulled together, sophisticated look. The fact that the jacket is chambray, however, gives it a whole new dimension that is perfect for summer. And while Annie wears this outfit with heels in the movie, I thought a pair of flat snakeskin print sandals would be more practical for a college girl on the run.
Outfit #4: Bridal Shower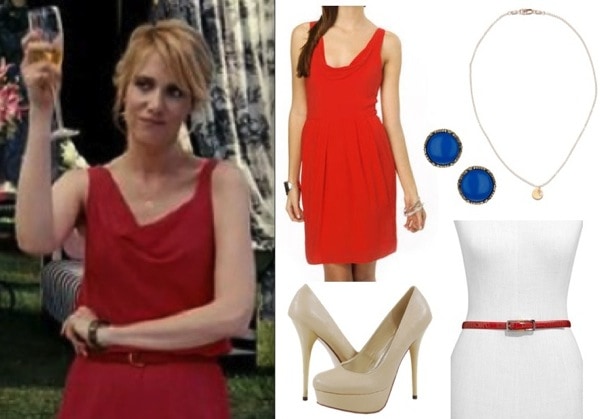 Photo Credit | Product Information: Dress, Earrings, Necklace, Belt, Shoes
For her best friend's bridal shower, Annie wore a gorgeous red draped dress. This one from Lulu's has a similar shape and color to the original that Annie wore in the movie. A belt in a similar red hue helps to define your waist.
The accessories here are simple. First, this simple gold pendant necklace reminds me of Annie's necklace that she wears throughout the film. Next, these colorful blue studs (Annie's signature) add a simple pop of color to the outfit. To finish the ensemble, you can't go wrong with a simple pair of nude heels (choose some in a shade similar to your skintone for the most flattering look).
What do you think?
Did you like Kristen Wiig's character's wardrobe as much as I did? Which of these outfits is your favorite? Was there another outfit in the movie that you loved that I missed? Please let us know what you think by leaving a comment!