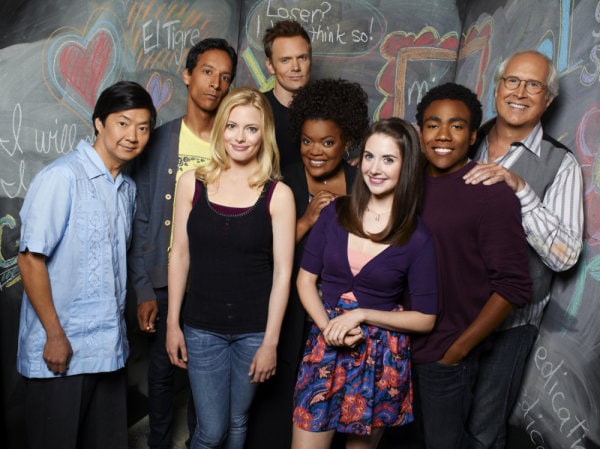 Even though it's almost October, I'm still having trouble getting back into the swing of things– I still feel like I'm in summer mode! Thankfully, the second season of my favorite TV show, Community premiered last Thursday and is slowly but surely helping me get back into my school year routine.
In case you didn't know, Community follows a ragtag group of students at fictional Greendale Community College. While the show is absolutely hilarious and ridiculously smart, over time I've also grown to appreciate the style of two characters: Annie (Alison Brie), and Britta (Gillian Jacobs). Although they're on the opposite ends of the fashion spectrum, these girls are both excellent sources for fashion inspiration.
Want to learn more about the unique styles of two (fictional) college girls? Read on:
Annie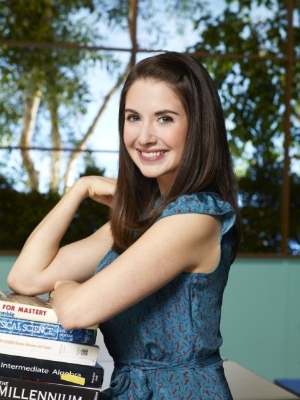 Annie Edison is a Type-A perfectionist who spent her senior year of high school in rehab after an addiction to Adderall– yikes!— and finds herself attending community college instead of the Ivy Leagues. Determined to make the best of her time at Greendale, she resumes her over-achieving ways and always looks super-stylish whether she's learning Spanish or getting into shenanigans with her study group.
Elements of Annie's Style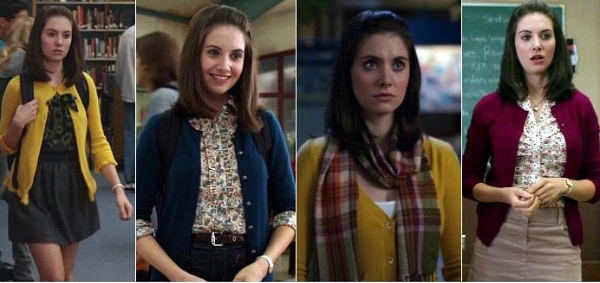 Polished perfection. Ms. Edison usually looks like she stepped out of a J. Crew catalog thanks to her carefully put together looks. Her outfits are always expertly color-coordinated and perfectly fitted.
Feminine flair. Annie loves all things girly– ruffles, florals and bows abound in her closet! Her wardrobe is also filled with skirts and dresses and she is rarely seen in pants.
Cardigans, cardigans, cardigans! This college must-have is a staple in Annie's wardrobe. She has cardigans in every shade and style imaginable and uses them to layer and add bright pops of color to all of her looks.
Outfit Inspired by Annie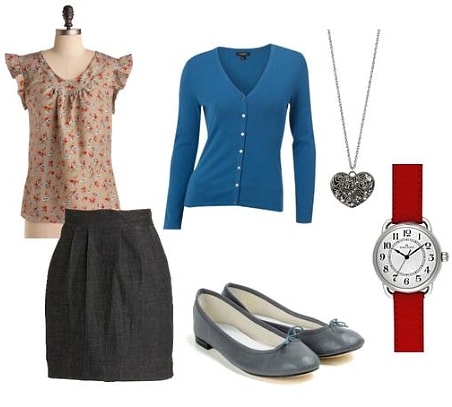 Blouse, Skirt, Cardigan, Flats, Necklace, Watch
You can mimic Annie's girly-meets-preppy aesthetic with a structured skirt and feminine printed blouse. Two of Annie's favorite pieces– a bright blue cardigan and red watch– pick up on the top's colors, while simple flats and a demure necklace complete the look.
More Annie Inspired Pieces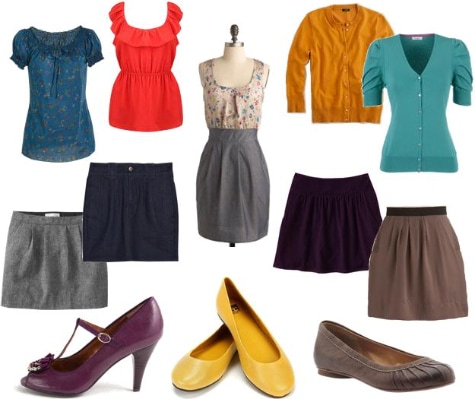 Blue Printed Blouse, Red Blouse, Dress, Mustard Cardigan, Turquoise Cardigan, Gray Skirt, Denim Skirt, Purple Skirt, Taupe Skirt, Purple Heels, Yellow Flats, Brown Flats
Britta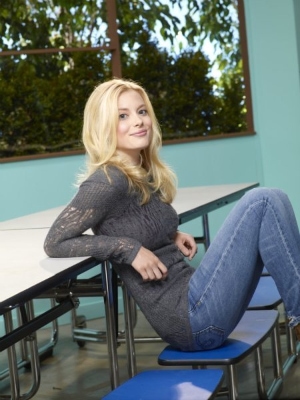 After traveling the world, being a groupie and joining the Peace Corps, Britta Perry has decided it's time to get her life on track and start attending college. At Greendale, Britta is often the voice of reason for the group and has a closet full of cool edgy-meets-casual pieces.
Elements of Britta's Style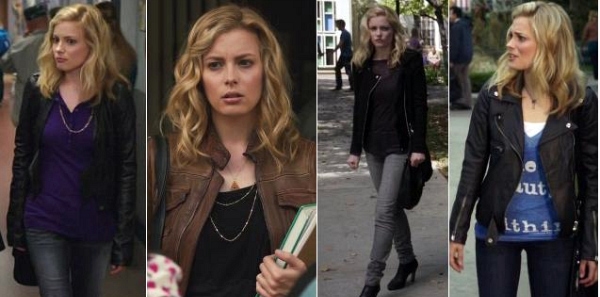 Casual basics. Fitted jeans and slouchy tops form the foundation of Britta's wardrobe. However, she never lets them look sloppy and makes sure the cuts and styles are proportionate.
Edgy pieces. Britta steps up her basics with edgier accessories. Great jackets, boots, and well-chosen accessories amp up the style and make her look anything but boring.
Love for leather. This material seems to be Britta's favorite and she often incorporates multiple leather pieces in each look. From jackets to footwear to belts, Britta uses pieces in her go-to material to toughen up any look.
Outfit Inspired by Britta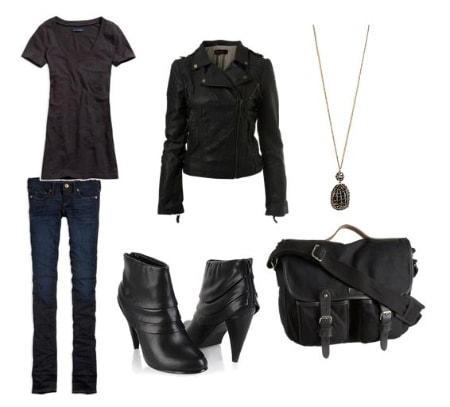 Tee, Jeans, Jacket, Boots, Necklace, Bag
To channel Britta's causal-yet-edgy style, all you need are your favorite worn-in jeans and a comfy tee. Add some heeled boots and a matching leather jacket for a rocker-chic feel and accessorize with a unique necklace and roomy messenger bag.
More Britta Inspired Pieces
Striped Top, Gray Henley, Purple Tee, Plaid Shirt, Faux Leather Jacket, Fleece Moto Jacket, Tan Jacket, Gray Denim, Blue Jeans, Black Pants, Wedge Boot, Slouchy Boot, Lace-up Boot
What do you think?
Have you ever watched Community? Who is your favorite character? Do you like Annie and Britta's style? Which character's style is your favorite? Be sure to let me know your thoughts by leaving a comment!
Also: if you aren't already watching, make sure check out Community on Thursdays at 8 p.m. on NBC! Episodes are also available to watch on Hulu if you live in the United States.